| | | |
| --- | --- | --- |
| January 26th, 2016 |   | Vol. V, Issue IV |
Some email providers may trim this message. If this happens, please click 'view entire message' at the bottom, or check Transformus.com for the link to the full newsletter.

Change is the only constant and this year is no different - members leave, new blood comes on board, and this train keeps chugging along thanks to the hard work of all involved.
Please join us in thanking Midnightt for her 5 years of service on the BoD. Midnightt has been a participant at Transformus since 2005 and a Theme Camp Organizer for Philosopher's Stone for many years. She has done great work handling many different teams and our public relations department. Don't worry, she won't be going far; though she is leaving the board of directors, she'll be staying on as lead for our Community Outreach Team, continuing her good public relations work!
Cherm is also stepping down from his position as BoD Liaison. Cherm has been a tremendous help to Transformus over the years from leading our First Aid team, to serving as Emergency Services Department Coordinator and BoD Liaison. He's stepping back in order to focus on family in the upcoming year, and we wish him well in this endeavor. Like Midnightt, he isn't dropping out of site. Cherm will be working on our Consent Committee helping us with issues as they pop up and using his experience to support this effort across our Transformus family of burns.
Thank you to both Midnightt and Cherm for all they've done and will continue to do!
2016's Board of Directors will be made up as follows:
Firefly - V.P. & Treasurer
Many thanks to Carter for stepping up from Liaison to a full Board member, and congratulations to Collette and Jessamyn on their new role as BoD Liaisons! This role exists to help provide the BoD with succession planning and the opportunity to train potential future chartered members of the BoD. Liaisons participate in our meetings, take shifts on site, and may support a couple of teams. Though they do not have official voting privileges, their opinions and thoughts on all things Transformus are appreciated and considered in all our decisions.
You may be asking yourself, what happened to Moon? Great question, check out the Synthesis announcement in this very newsletter and see for yourself! We promise he hasn't gone far!
It's that time again: time for Creativity Grants! Hopefully you've been dreaming up the art you'd like to make this year, because now is the time to fill out the application!
Applications will close on February 5th.
One of the most incredible elements of the Transformus experience is the artwork and creativity that blankets the landscape and fills the corners of Mysteria.  It lives in the memories of everyone who has attended.  We invite you to contribute to that experience, and we would love to hear your ideas and see if we can help fund their completion. Anyone can apply for an art grant; you don't have to be a professional or even consider yourself an artist. We want YOU to make something awesome!  
All forms of creativity may apply. In addition to fire and lights, other awesome iterations of creativity are: performance art, crazy costuming, interactive installations, sculptures great and small, floating and flying dreams, mutant transportation, and ephemeral experiences. You can engage any or all of the five senses and give us all an experience to take home that we won't find anywhere else.  The number of projects we will fund is not limited, nor the amounts granted to each, but the total amount of funds we have limits the final results. There were over 100 applications submitted in 2015, and we expect many more this year.
Here is the link to the form for the application - fill it out early so you don't forget!
Please forward any questions to creativity@transformus.com.
Share your creativity with the Transformus family!
Remember: You only have until February 5th. DO IT NOW!
We are excited to announce that the application process has begun for this year's Effigy and Temple!
Do you have an awesome idea for the Effigy or Temple for 2016? Do you have the wherewithal to make your plans a reality?
We want you to apply for the Effigy or Temple Grant and build us something amazing to burn!  The application period will be open from now until
11 pm February 21st
.  Links will be posted on the website and other pertinent places. You'll need to provide a plan including the full design idea, a full estimated budget, and a plan of action to make it happen. The BoD will select the grant winners from the pool of applicants in early March. So start getting your ideas together, make your plan, and get ready to build some great art! If you have any questions you can email effigy@transformus.com or temple@transformus.com.
New Art Burn Announcement
We are also very excited to announce that we will be adding an additional art burn on Friday this year.  We wish to honor Jay Marx and all of those that our community has lost with a floating effigy burn on the upper lake.  We are currently working on guidelines and an application for this grant.  If you are interested in building this effigy, get your brainstorming!  We will release the application in the next few weeks.

We can't wait to see your ideas come together!  Remember, you are Mysteria!
I am sure most of you have noticed over the past few months that we have a brand new Transformus website.  Please make sure you check it out and register for an account.  Your old account is not active on the new site.  Creating an account will ensure you stay up-t0-date on all items pertaining to Transformus including receiving the latest edition of Mysterian Musings each month.
Registration is simple.  Go to www.transformus.com and click on the REGISTER icon on the menu across the top of the screen.

Then enter your Burner Name, E-mail Address, and select a password. Then click register.

Our new web team is working diligently to get things in order, so please be patient. All of the items you have grown accustomed to will be available but in a nice new format.
Working hard behind the scenes are:
Olivia (Tranformus Content Lead)
Peter (Ignite! Content Lead)

We are excited to announce the members of the 2016 IPA.  Returning for a second year, we have Todd, Abi, Vreanie, Shawman, Don, and Lizifer.  Joining the IPA in her first year, we have Dawn 'Chickadee'.  As mentioned in last month's newsletter, Kelly has stepped down from a full role, though fortunately she has agreed to stick around in an advisory capacity. We have also added a new role, H.O.P.S. (Honorary Organizing Person of Service). The role of a H.O.P.S. is quite similar to that of a B.O.D. liaison. Aaron 'Gatsby' has agreed to be our inaugural H.O.P.S. and he will be assisting us in planning Ignite 2016, along with taking on responsibilities on-site.
This year our Virginia Burn, Ignite!, returns to Memorial Day weekend. As a family orientated event, the long holiday weekend makes for a special time to reunite and make our magic together. We are excited to return to the Blue Ridge Mountain valley of Spirithaven to build Combustia!
Ticket costs will be: $65 plus taxes and fees  (
68.26 with fees plus Va Taxes)
Youngins price breakdown:
Tickets Sales Round 1 (250 tickets) :
Sunday February 7, 2016: 4:20pm
Tickets Sales Round 2 (250 tickets)
Monday March 7, 2016:  8:40pm
Important event weekend dates:
Ingress: Friday May 27, 2016
- with a special art burn/ peacock bonfire!
Effigy Burn Night: Saturday May 28, 2016
Kindleton Temple Burn: Sunday May 29, 2016
Exodus: Monday May 30, 2016 (all participants off property by noon)
Our learn and burn mission continues this year with a return of the popular PLAYFORMS - so start thinking about what knowledge, skillshare, and creative offerings you want to propose. Deadlines and announcements will be coming up before you know it.
New for 2016 - Combustia Art Grants! Keep eyes out for that information to be forthcoming.
Ignite! is a family friendly, all ages burn, committed to participation for all.
To start 2016, the Ignite! Planning Association (IPA) is hosting a community design contest for the 2016 sticker. Ignite! is about lighting and tending the Burner fire in the Learn and Burn city of Combustia.
This year we invite the citizens of Combustia to design and vote on what will be our Ignite! welcome sticker. This sticker will be handed out by the G.R.E.A.T.L.Y. volunteers at the entrance of the city, and become the legacy image of the Ignite! Burn 2016 for years to come. Your vision could be stuck on all the gear, bins, bumpers, computers, and any number of things burners carry with them!
The Sticker submission window is open from January 14th thru February 14th 2016.
Email the art directly OR give us links to a dropbox or google drive! Send submission to:
These submissions will be posted on a Google Form and shared in the email newsletter, website, and on social media. Voting will be processed through this form.
Voting Deadline is March, 14th 2016 and will then be tallied. The IPA will select from the top 3 the image for printing and report to the community.
Some templates for reference - http://stickerobot.com/templates/
Sticker dimensions we are considering are
2x3" Die Cut and 3" Square or smaller.
Selected images are subject to re-design work to make image printer friendly for our sticker vendor.
Please feel free to make images and stickers with the Ignite! Logo for your own or camps gifts.
The IPA wishes to make the illustrator file, jpg, and png all available for your personal and camp's use. We welcome you to customize, reinterpret, and turn it into amazing artwork to enrich our visual experiences!
May you light many fires with your matches!
Logo can be downloaded here:
Return to Table of Contents
The IPA is accepting submissions for the Effigy starting Jan 14th and closing
Feb 7th
.  Please send questions/proposal to fireart@ignite-burn.com.  Ignite's effigy is smaller than Transformus, so please keep the scale appropriate to Spirithaven's burn pad.
For those with smaller ideas, there will be an Art Burn on Friday night at the fire pit on the south side of the Spark neighborhood.  These will be limited to pieces that are pre-built, and easily carried by 1-2 people and placed on the fire, once it burns down.  No accelerants or pyrotechnics of any kind allowed on these carry on pieces.  One Art Burn piece will be funded and will be placed atop the fire when ignited (approx 6'x6'x6').   If you are interested in making this featured Art Burn piece, please send questions/proposal to fireart@ignite-burn.com.
The Transformus Board of Directors is extremely pleased to announce we are working to build a new sister burn to Transformus in the fall in South Carolina called
Synthesis
!
Synthesis, [sin-thuh-sis]
The combining of the constituent elements of separate material or abstract entities into a single or unified entity

A complex whole formed by combining.
You get your yearly burner spark started with the "Learn & Burn" style of Ignite in Virginia in the spring, you transform yourself and find your love of the burn world in the mountains of NC at Transformus in the summer, and now you will be able to combine all our component parts into something new and greater at Synthesis in the fall.
Synthesis will be held in South Carolina, and we are excited about this opportunity for the burn community. The property we've located to build our next temporary city is an amazing piece of land, nicely isolated from neighbors, fenced in, with large open spaces for huge theme camps to sprawl out and large works of art to be shown in all their glory. As always our practice of slow, controlled, and responsible growth will be evidenced here. We know you will be as excited about this space as we are once you see it.
The Synthesis Planning Force will be heading up the effort to create this new burn from scratch:
vespa: Former president and member of the Tfus BoD for 9 years, team lead for FRT at Tfus
Jordan La Liaison: Long time burner and event organizer, Freeze Your Burn team lead for Tfus
DTR: Former president and member of the Tfus BoD for 7 years
Moon: Former vice president and member of the Tfus BoD for 3 years
Kricket: Greeters team lead at Tfus since 2011 and a multi team volunteer
Nugget: Multi-year ranger lead and former Alchemy BoD
Winter Sun: Burning man RC for Tennessee, creator of multiple effigies and temples for Tfus
No burn can work without a dedicated community and great team leads. Synthesis will need experienced and passionate people to step up who want to help build out the teams and infrastructure it needs. Are you interested in helping lead a team at Synthesis? Fill out the
leadership interest form
and let us know!
Details are still being worked out, contracts handled, and dates/prices being determined. As more info becomes available, we'll keep the community posted via Mysterian Musings, the Transformus website, and the soon to be built Synthesis website. In the meantime, keep your fall plans open and think about what YOU want to contribute to the newest east coast burn.
Participation and Communal Effort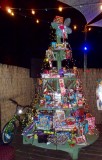 By: Slightly
Burners know how to do gifting right. Bass 4 Bratz, an annual charity event hosted by BurnGang Presents, was a huge success for its fourth year running. The cost of admission was $5 or a donation of a new, unwrapped toy. A raffle, silent auction, and proceeds from T-shirt sales also raised funds to complement the truck- and van-load full of toys donated to Salvation Army and Toys for Tots in Charlotte. There were as many toys already donated this year before the event began as the first year's total! Held at L4 Lounge in Charlotte on December 19th, the party featured family-friendly daytime fun, 25 DJs indoors and out, food, fire entertainment, and a variety of vendors for a thumping good time all night.
Dana Young, one of the event coordinators, attributed the event's outstanding success to a community of participation: "Right from go time, everyone's willingness to help was very quickly apparent. From helping with the kids' entertainment, to lighting and sound, the community was hands-on. I'm sure we could not have done it without you all! Though I don't have small children at home anymore, it was a very gratifying Christmas morning to think that we put smiles on the faces of a lot of children this Christmas. For everyone who came out, and/or sent your donation with someone else, BurnGang Presents would like to thank you! If you didn't make it then just remember, 'Next year was better anyhow!'"
If you simply can't wait until next year's Bass 4 Bratz to indulge your spirit of gifting, there are many charities which accept donations of new and/or gently used toys – year-round – to gift economically disadvantaged children. Some will even pick up donations; 
www.donationtown.org
is one resource to locate a charity near you. Donating toys to charity is a great idea any time of year!
"Beyond the Burn" features Mysterians who bring the Burn magic to Defaultia. To nominate a group for inclusion in Mysterian Musings, please contact
communicate@transformus.com
.
Theme Camp Organizers Thaddeus and Jessica interviewed by Artina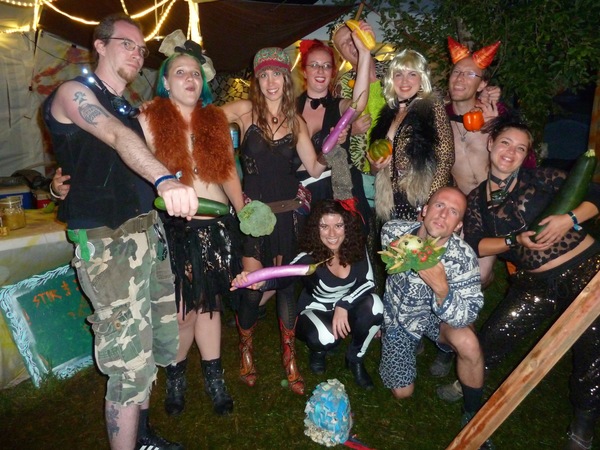 What does your camp bring to Transformus?
We provide large amounts of hot, scratch-made, vegan soup to the lovely people of Mysteria! We also provide a space for events such as miracle berry tastings, figure drawings, special drink events, and sauerkraut symposiums.
Where in Mysteria is your camp usually located?
We are always in Eden, close to the upper lake.
How did your camp start? Who came up with the idea? How long has your camp been a part of Mysteria?
It started many years ago with Thaddeus and Jezebel wanting to give back to Mysteria, and we were both good at cooking and also into the politics of food. So we started serving soup! Moon Cabbage, though, is another story. Thaddeus came up with the crew name on a whim years ago, but it wasn't until the name had been adopted and he got into making sauerkraut that the metaphorical door was unlocked. See, if you are preparing sauerkraut, you basically cut up cabbage, add salt, and let it sit at room temperature for a moon, or a month. Naturally occurring yeasts colonize the cabbage and contribute to added nutritional value and added flavor. A transformation occurs and the whole becomes greater than the sum of its parts. So Moon Cabbage is about discovering the aspects of life that unlock our potential, both as individuals and as a community.  
How many members does your camp have? How do you recruit more members?
We have a solid core of about 8 or 10, with another 10 or 15 satellite members.
Does your camp welcome Burn virgins? If so, do you take any special steps to acclimate them to the culture?
Yes, we love Burn virgins! We love to educate interested people about the principles of our culture, and to lead by example.
How do you decide/plan on what your camp will contribute each year?
We have a very cooperative style of getting things done, in that each member does what they are good at and want to do. There are no obligations or coercions, you simply commit to the level that you feel comfortable, and then we structure our theme camp around everyone's contributions.
Do you encourage your members to volunteer outside of camp? Does your camp usually have a strong representation on any particular team (or has your camp adopted a Volunteer Team)?
We do encourage volunteering, but again there is no obligation.
How do you fund your camp?
What suggestions do you have for anyone who is thinking about starting a camp of their own or taking over leadership of an existing camp?
It's a very rewarding experience! Plan for rain!
What sorts of events are you planning for Transformus?
Next year we hope to continue our solid tradition of feeding the masses. (Bring your own cup.) We also hope to widen our net a little and perhaps hold a few workshops/presentations. Education is very important to our community and society as a whole, so we feel that it would help to share our knowledge and experiences with y'all.
The Communications Team is accepting nominations of Theme Camps to be featured in Mysterian Musings! Please send your nomination to communicate@transformus.com. Include a TCO's Burner name, contact information, and a brief paragraph explaining why you're nominating that camp.
Your child wants help putting on his ninja turtle shell. And mask. Picking up his plastic odachi, he states, 'Outside.'
There is only immediacy when you are two years old.
We head out the door to walk in the woods. 'Bike,' he remembers, so we look for his wooden scooter and come across the stroller instead. He climbs in and is ready to go. Down the dirt driveway, past the creek, he points in the direction of our neighbors'. The home of three older boys, sandbox, dump trucks, tree house, home made zip line and new go karts. So that's where we go.
The thought process is clear. Something is presented, and if appealing, that's it. There's no sense in later – there is only now.  
A distant friend dies instantly in a head on collision. She and her partner, travelling south from Oregon for a climbing weekend, meet death unexpectedly. But she's too strong to not be alive. She lives a full life - exploring, biking, hiking, climbing, kayaking… Teaching. Not someone to let any wonder of her surroundings escape her.
A random slip of the wheel and it's done. It seems the only lesson is that maybe any moment could be that moment, the end of this experience in this form. A reminder that there is only now. Later might not actually exist. Giving your all to every moment, every waking breath - impermanence may inspire us to make the most of this fleeting time on Earth.   
Yet, how easy is it to practice immediacy in the long stretch between the beginning and the end of life? How do you function in the community and keep steadfast to your responsibilities, while not getting lost in planning and thoughts of the later? How do you keep your mind open to your surroundings, aware of each wonder as it is being presented?
I consulted my kid brother with these questions. A wild and wise spirit, he has embraced the solitude of a zen monastery as well as the raw naked fun of Transformus. I'll leave you with his words…
"I like to make a plan, or an outline, and then let my physical environment and the things I meet in everyday life color the outline in. It's like when you set off on a hike - you have a plan of where you want to go. But if you spend the whole hike looking at the map, you'll miss the beauty of your surroundings. The freshness of the green trees blowing in the wind, the crystal clear sparkle of a waterfall. Check the map from time to time to make sure you're not lost, but don't let the plan get in the way of real life and wonderful beauty surrounding you."
I had an opportunity to sit down with Eli Jackson recently and talk about music, burns, Flow and his dog Jeff. Eli is a part of Flow, which is a group of amazing people that provide security and EMT services at burns, festivals and events in the Southeast.
Eli: They take care of people in the hardest state to take care of people. It is a collective of conscious minded people full of medics and security professionals. To be a part of Flow is to forget your whole 'I am here to party' mindset. (The members of Flow) are the eyes and ears of one of the most amazing medical teams I've ever been a part of. They give up so much just to help people in an environment where everyone signed a waiver acknowledging that the environment contains elements of risk. Flow is at Transformus, Serendipity and Alchemy.
EZ: As a DJ you go by BeatRex, what the huh??
Eli: He is a prehistoric T-Rex devoted to creating beats. Many other dinosaurs have talked shit about his short arms and inability to touch the turntables, but somehow he still manages.
EZ: What styles do you play?
Eli: Future Bass, Trap, whatever his little arms can reach. Always evolving...
Eli: BeatRex has a deep compassion for people dancing. So whatever will make those silly humans dance, he will manage to do it with his tiny arms.
EZ: Let's talk production work. What have you been using to make music?
Eli: Keys, EMX1 Synth/Drum. This was for a hip-hop band. Sebastian aka Campaign, taught me Reason. We opened for Del the Funky Homosapien in 2006 and The Nappy Roots in 2004.
EZ: How about the tracks you play?
Eli: They are inspired by modern Top 40 & 50's, 60's soulful feel.
Eli: It's where the world is going.
EZ: Is that a good thing?
Eli: It's uncontrollable - good or bad, you have to know what modern top 40 is because it sways the pulse of an entire nation. If you can understand what they hear day-to-day, you can use it to show them something they will also love.
EZ: Who should we be listening to and why??
Eli: Mr. Bungle because Mike Patton did do some cool shit. Daft Punk because they have been doing it right for so long. The Weekend, and I am also heavily influenced by Operation Ivy - it's moving music once you listen to it you will know it. Marley Carroll - epic production, great DJ sets.
EZ: What is your mission?
Eli: Make people shake their asses. You can't start with a shake their asses track, you gotta start with something people know, and then you have to show them something they love, and they will shake their asses to the new shit.
Eli: Jeff, my dog, was introduced to me by one of my good friends Jeremy Rose - lead singer and composer of Total War. Everyone that I've ever met, I'm pretty sure they know about Jeff (the dog) or they didn't look at my FB.
EZ: What do you like about burns?
Eli: Talk about the family you never knew you had... Friends you didn't want but all of a  sudden they are the best friends you ever had.
EZ: Anything else you would like to say to Mysteria?
Eli: A big "Thank you" for everyone I've met and everyone that becomes a part of something productive.
"Music to Our Ears" features Mysterians who bring the Burn music magic to Defaultia. To nominate a group or individual for inclusion in Mysterian Musings, please contact
communicate@transformus.com
.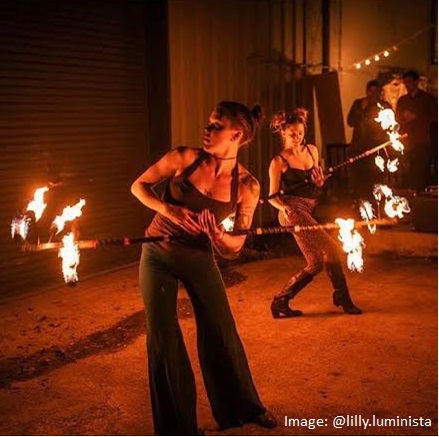 For the past three months, a group of creators, artists, entertainers and performers have been gathering one night each month at TrimTab Brewery in Birmingham, AL for The Happening: A Spark of Collaborative Expression. The event series has brought fire dancers, trapeze performers, henna artists, DJs and many other talented individuals from near and far to convene for a night that feels like a burn inspired event in Camp Reality. Indeed, several of the organizers are familiar faces at Transformus as well as Alchemy and Euphoria. No surprise, despite being thrown in Defaultia, these events have a distinctly burn 'feel' and are complete with waivers at the door, a 'leave no trace' policy and reminders to 'be nice or leave'.   Radical self-expression and active participation by all those in attendance is highly encouraged by collaborative art projects and a throbbing dance floor. While the first event in October was filled with bewildered and wide-eyed (albeit smiling) faces spectating the talented fire dancers and aerialists, November's event saw the majority of people step out of 'normal' attire and adorn themselves in accessories and attire more akin to what one would see parading in the streets of Mysteria. Mannerisms followed costumes and the second and third events had an air of inclusivity and non-judgement that I've only fully experienced after coming home to Mysteria. All in all, the events have set fire, figuratively and literally, to the Birmingham nightlife scene and have garnered a quick and loyal following.
At NYE The Happening: Circus of Love saw 300+ people convene at TrimTab for a Vaudeville Circus themed night of fire performance, aerial/trapeze exhibitions, live music, DJs and a midnight countdown climaxing with trapeze artists showering the dancing crowd with glitter from above. Ring masters, lion tamers, circus freaks, jewel encrusted glamazons and mustached men (some real, some faux) in top hats of all sizes pulsed on the dancefloor to the tunes of DJ Sexpanther, TrimTab's owner and most-beloved disc jockey. Indeed, a huge component of these events success is TrimTab's willingness to host and create a safe space for radical self-expression. One need not look further than the extended metaphor that inspired TrimTab's moniker to understand why a burn-esque event aligns with their personal and business ethos:
Something hit me very hard once, thinking about what one little man could   
do. Think of the Queen Mary—the whole ship goes by and then comes the
rudder.And there's a tiny thing at the edge of the rudder called a trim tab.
It's a miniature rudder. Just moving the little trim tab builds a low pressure
that pulls the rudder around. Takes almost no effort at all. So I said that the
little individual can be a trim tab. Society thinks it's going right by you, that
it's left you altogether. But if you're doing dynamic things mentally, the fact
is that you can just put your foot out like that and the whole big ship of state
So I said, call me Trim Tab.
No doubt, each one of us living in Defaultia is capable of being our own community's trim tab by keeping Burn Principles at the forefront of our thought and infusing more inclusion, immediacy and joy into our surroundings.
Interested in attending The Happening as a participant or performer? The next event will occur on February 20th and all event info can be found at the Facebook page for Magic City Happenings. For fire/aerialist performance, art installations, DJ scheduling or artist pop-up inquiries please email Lilly Luminista at
lillyisonfire@gmail.com
.
"Fire It Up" features Mysterians who bring the Burn artistic magic to Defaultia. To nominate a group or individual for inclusion in Mysterian Musings, please contact
communicate@transformus.com
.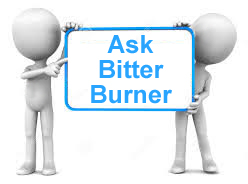 By: Dutchess VonYumYum
I have attended the past few events as a member of a theme camp.  Can you tell me the benefits of camping as an individual versus as a theme camp member?  I don't want to limit my opportunity to grow and fear that I might be missing out by always camping with a group.
Always a Theme Camp Member, never an Individual
FOMO is real. It is also detrimental to our experiences. Only you can conform to that which you seek. Often times we tend to fall back on our social behaviors as a method for comfort and security. While we are stronger in numbers than alone, I have seen a single burner do magnificent things. The potential for camping in a beautiful, quiet, remote spot is multiplied infinitely as a lone Mysterian. The groceries may be granola and yogurt instead of Pad Thai, but the company when you come to camp will be what's important. Clearly you are self aware and self sufficient or we wouldn't be having this little talk. Check in with yourself when the tickets roll around, do you want that Pad Thai, or do you want a wonderful memory that you yourself created? Are you prepared to sacrifice the warm fuzzy feeling of wandering into camp to the greetings of those you love for the solitude of your tent and granola in a beautiful spot soaking in the bliss of your own making? I can tell you that in my experience, the steps I take will always lead me to the bottom of the walk path from the upper lake and into the arms of my IHOP crew. No matter what your choice, you will be Home, and that is a beautiful thing.
P.S. As long as you aren't one of the poor souls that get trapped in your tent for hours you should be fine on your own. If you are, I don't suggest camping alone :)
To ask Bitter Burner for advice, please contact
communicate@transformus.com
.
I know there are some camps and individuals that are preparing for their journeys to The Love Burn and/or Frost Burn within the next month, and what better way to prepare than taking a little piece of Home with you.  I reached out to White Dragon Noodle Bar, Mermaid Oasis, and Taint Town to see if they would be willing to share some of their famous recipes with the rest of the phamily.
We adore grilled cheese, it's easy to make and clean up.  It's filling and it can be fancy! Three of our favorite luxury sandwiches
Frostburn is our home burn and it's a beast of an event.  We absolutely recommend making your meals ahead of time and sealing them in "foodsaver style" vacuum bags. When you are on-site, all you will need to do is heat a pot of water and drop the bag into the water. Once it's hot, carefully remove the bag, and then cut the corner or top of the bag open. (We recommend having a large bowl to catch spills.) Pour or scoop the contents into personal bowls.  You can use the warm water from the pot to make a french press of coffee, wash your personal dishes, etc.  Cleaning frozen food off of cooking pans is THE WORST when it's -20 outside. Ask us how we know.  
One of our favorite pre-make and vacuum sealed meals:
1 (14) ounce can of fire roasted tomatoes

1 (8) ounce can of tomato sauce

1 tablespoon garlic powder

1 tablespoon chili powder

2 tablespoons smoked paprika

salt and pepper, to taste
In a large pot, add your cubed bacon and let cook down.

While the bacon is cooking, chop all your veggies.

In a separate pan, brown the ground beef.

When the bacon has browned and is a bit crisp, add your veggies.

Let cook for about 6 or so minutes, then add your ground beef and all the spices.

Add your tomato sauce and fire roasted tomatoes.

Mix well and let all the flavors meld together while cooking on low for the next 8 minutes or so, stirring occasionally.
Bourbon Hazelnut Hot Chocolate:
Optional whipped cream topping
1 stick butter, room temp
For the butter: In a mixer using the paddle attachment, add all ingredients. Mix well until all ingredients are incorporated. You can either wrap it with plastic wrap into a roll, or do what I did and throw it in a container. Then refrigerate. To make a hot buttered bourbon, slice/spoon a good dollop off of the butter, add to a mug with bourbon, fill with hot water, stir to incorporate, and commence noms.
Greetings Mysterians! Mermaid Oasis is wet with delight to provide you with hydrating beverage recipes for those who are attending The Love Burn, Frost Burn or simply to enjoy while in reality camp.
For those of you are heading to Love Burn, stay wet! As you know it will be hot in Miami! Stay cool and hydrated with my recipe for cucumber mint water. It's simple and deeply refreshing. I suggest making a large jug of this to keep at camp or make a mini version for your water cup, the great thing is that you can pour water over the ingredients several times a day and you will still get the same refreshing flavor.
Cucumber Mint Water (3 gallon jug)
Place all ingredients into water jug and let sit overnight or for a couple hours.  Keep all ingredients in container. Enjoy and repeat. This is a very simple recipe, please experiment with other ingredients such as citrus, different berries, apples, etc. Also keep an eye your fruits and veggies, especially in hot weather. I recommend changing the fruits and veggies every day to ensure that they don't spoil.
For Mysterians heading to Frost Burn, allow this magical mushroom brew support you in staying warm, energized, and stress free.
Magical Stress Less, energizing, chocolate mushroom drink
Milk of your choice (I personally love almond)

1 cup of cacao or cocoa powder

½ a cup powdered Reishi Mushroom

½ cup of powdered Chaga Mushroom

½ cup (or to taste of sugar or sweetener of your choice)
Combine all powdered herbs, mushrooms, etc. and mix well. Add 2 Tablespoons of magical mushroom stress less, energizing chocolate drink to 12 ounces of heated milk and/or water, stir or whisk well. Sip and enjoy. You can also add a shot of whiskey for a warming cocktail. Some of the Benefits of Magical Mushroom Stress Less Chocolate Drink Ingredients: Reishi Mushroom - stimulates immune system, supports adrenals (aiding in stress relief), liver regenerator, and anti-inflammatory Chaga Mushrooms- rich in nutrients and antioxidants, aids immune system and adrenals, aids liver function and benefits cardiovascular system. Maca Root Powder: balances hormones, nourishes adrenal system, reduces stress, increases energy.
Hi Mysteria!  I recommend pre-cooking as many of your meals at home.  This makes life a lot easier when you get to the burn.  
Your favorite type of pork to BBQ

Your favorite type of BBQ Sauce
Slowly smoke pork over hickory coals for 13 hours at 200 degrees.  Chop and serve immediately or store in Ziploc bags and freeze.