WINTER IS COMING… FOR A FOURTH SEASON
AND IT'S SHOWING NO SIGN OF FATIGUE
HBO's BIGGEST EVER UK CAMPAIGN
RETAIL REACTS TO PHENOMENON
WAY OUT WESTEROS: EXHIBITION KICKS OFF GOT FEVER
MARKETING "COVERS OFF EVERYTHING"
TV LEADS THE CHARGE
COME DINE WITH MEN…
AN ICE BIT OF PR
JOURNALISTS PUT TO THE SWORD
PRE-ORDERS HIGHER THAN S3
AT THE MOVIES WITH GAME OF THRONES…
If you can't read this newsletter or see the ads, please click
here
It's the biggest TV phenomenon to hit these shores for some time, a programme whose success has been driven by home entertainment, be it digital, ppv and other online elements, or Blu-ray and DVD. It's generated millions of pounds at retail and, in 2015, it's set to do it all over again. We are, of course, talking about Game Of Thrones, the book to TV and beyond sensation that continues to dominate every area it's in. Much talked about, much downloaded and much bought, it's turned ordinarily sane people into gibbering wrecks at some of its more outre moments, muttering words such as "hodor" and ominously warning "winter is coming". The latest season of Game Of Thrones, the fourth, arrives on Blu-ray and DVD on Monday February 16 amid what HBO's UK arm is calling its biggest ever marketing campaign. And to mark the event, we're offering an in-depth look at Game Of Thrones, HBO's plans for the release and much, much more… Normal service will be resumed on Friday with the newsletter for the week ending February 14...
The huge success of Game Of Thrones in recent years and particularly in 2014 – the franchise was worth a whopping £25 million purely through DVD and Blu-ray, with sales of 875,000 units making it the biggest TV franchise of the year in value terms – means that HBO has a lot to live up to in 2015. And it's not just for HBO itself either – with the franchise alone making up almost 10 per cent of the overall TV DVD market, there's a lot riding on it for the whole industry too. But rest assured, with the franchise still growing and showing no signs of fatigue – bucking the kind of trends you'd normally associate with TV series – and HBO upping its marketing commitment, the fourth season is getting the kind of push it deserves. "The incredible thing about Game Of Thrones is that every metric indicates that it's still a growing franchise," says HBO's Ian Fullerton. "In response to this, we've implemented HBO's biggest marketing campaign to date and we're expecting record busting Week 1 sales."
---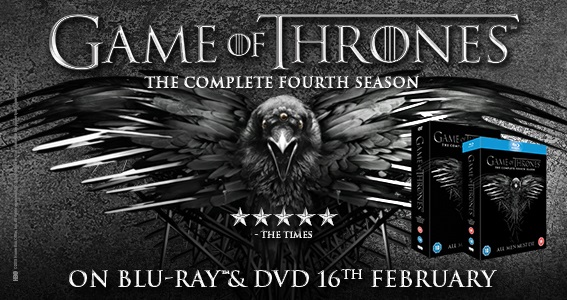 ---
Don't just take HBO's word for it though. Retailers have been queuing up to praise the series and what it's done for them in store. Take Sainsburys, a key retailer for the franchise. As the supermarket's Danny Gardner said: "Sainsburys has always been a big supporter of the Game Of Thrones franchise since the very first season and with our Season 4 Blu-ray exclusive edition (contains the Beautiful Death 40 page booklet), the expectations here are high for next week's launch." Ask hmv too. The retailer's Andy Anderson said: "I think it will buck the trend. Anything that's a returning franchise but grows is always welcome and as we've seen over the years, Game Of Thrones gets bigger with each release. The quality of the programme has not let up, it's like Breaking Bad in that respect. The word of mouth gets people into it. And HBO gets the events right and it gets the right in-store activity."
It's helped drive the burgeoning digital and vod sector too. If you want further proof of that, look no further than wuaki.tv. The online company's Simon Homent said: ""Game Of Thrones was a real game changer when it arrived on Wuaki.tv. Ever since that day we have seen continual growth in the TV category, and Game Of Thrones has hands-down been the biggest franchise of them all. We simply cannot wait for the new series to start."
Senior HBO executives have been in the UK this week to observe HBO's UK release of Game Of Thrones. While it's a global physical release date, the series' popularity in the UK is as big, if not bigger than other countries, making it a key territory for the TV giant. HBO's global home entertainment chief Sofia Chang told The Raygun that it was all about identifying different types of potential purchaser. "It's all about recognising three different consumers," she said. "The physical only, digital only, then the hybrid of digital. Game Of Thrones is a good example, people are buying digital right after the season, and then buying it again physically." Chang paid tribute to HBO's marketing in the UK "It's really important. A lot of the excitement is driven by the marketing team and it's great we have a fanbase that responds to it too." She further acknowledged Game Of Thrones' ability to buck the trend in terms of a franchise and sales – and said that while still enjoying growth in terms of physical sales, digital was adding a new dimension to the business. "We're not planning for the decline of physical as much as planning for the growth of digital," she concluded. We'll have more from Sofia Chang on our website shortly.
---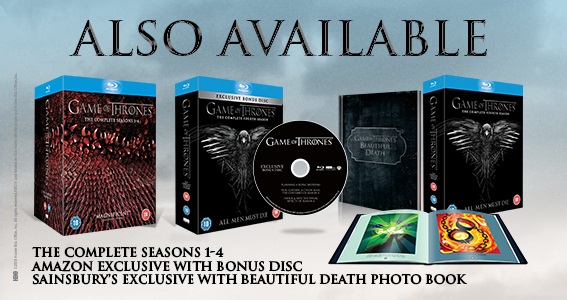 ---
Winter is coming, in the spring… February is seeing a burst of Game Of Thrones activity unlike any other, as HBO, Sky and more line up to promote more of the carefully timed activity. The flurry of above and below the line marketing kicked off on February 9, as Sky customers were given exclusive access to a special exhibition surrounding the phenomenon at London's O2 venue by the Thames. It was a fitting launch to 2015's Game Of Thrones activity, further conferring blockbuster status on the show through association with the high profile stadium.
As for the campaign itself, it goes across the board. "We've got a really strong marketing campaign that will run across most forms of media" says HBO's Grace Alexander. "TV will be leading the way, with video on demand advertising, press, online, outdoor and social media. We really want to get people fired up, excited and talking about the show ahead of its Monday release." HBO has proved its worth in putting together event-sized campaigns for previous releases, meaning it can ensure its above the line campaign covers off as many fans as possible.
Further breaking down the above the line elements, the TV will be across free TV and Sky channels. Press insertions will appear in National newspapers such as the Metro, Evening Standard, The Times (all three will appear across both tablet and print editions) and The Independent. Digital advertising will appear on the Daily Mail, Guardian and Amazon. And, in terms of outdoor, adverts will appear all across the London underground, a mixture of 16 sheet ads and also LCD screens that will have special Valentine's Day creative for Saturday only. There'll be further adverts on 4od, Videology, Youtube, Facebook and Twitter.
PR, word of mouth and other similar elements have been key in the phenomenal growth of Game Of Thrones, viewers sharing their thoughts helped The Red Wedding episode become one of the biggest single TV phenomena of the modern era. So HBO is keenly eyeing this area for the Monday February 16 release of the fourth season of Game Of Thrones, with a raft of PR and social media-based initiatives. Chief among these is the already-announced and discussed in these very pages All Men Must Dine activity at the Andaz hotel on the borders of east London and the City. Open for a handful of nights, with just a limited number of customers a night, it's being used to host journalists, but also as a competition prize for Game Of Thrones fans. The resultant noise has already been huge and that's ahead of the actual event itself. As HBO's Grace Alexander said: "The pop-up restaurant will be a real treat for the fans lucky enough to win a seat. The Wandering Chef have created an incredible menu of culinary delights and Grosvenor Events have designed bespoke cocktails for the event. There'll be actors serving food and drink, with entertainment between courses. It will certainly be a night to remember!"
---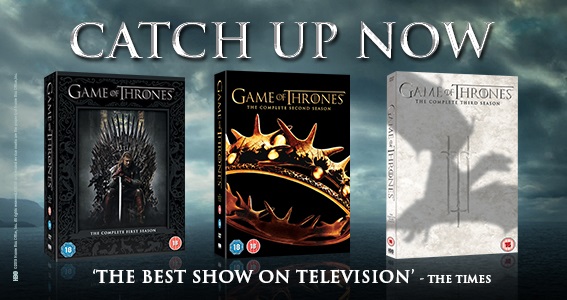 ---
But it's not just the All Men Must Dine initiative either. The week of release, half term too, meaning more footfall, will see a giant ice throne being built in Covent Garden, with all the resultant publicity it will create. As HBO's Grace Alexander explained: "Glacial Arts have hand-carved around 1.5 tonnes of ice into an exact replica of the throne, which will look brilliant in Covent Garden on the day of release. Fans will be encouraged to sit on it and take their picture with it and post them under the hashtag takethethrone." HBO has also enlisted the help of David J Peterson, the man behind the Dothraki language. "We've linked up with David for some interviews about the complex languages and what skill it took to create them. And to get us into the Valentine's Day spirit, he's also translated some chat up lines in Dothraki for us to use on our loved ones!"
And there's more on the PR front too, as HBO's Grace Alexander continued: "We sent journalists off to the Forge of Avalon to a one-day sword-making workshop, to create their very own sword. And we've even given the full 5 day course to a lucky competition winner." An even luckier group of journalists have been off to Croatia to see where the fourth season of Game Of Thrones was filmed. Previous initiatives have garnered plentiful coverage, suggesting that this too will receive a wealth of column inches.
Point of sale is another crucial element of the release, with a raft of materials adding a touch of in-store theatre to the proceedings. Tesco and ASDA stores will boast their own replica throne, providing plenty of opportunities for pictures and social media activity beyond what's going on in some of their key stores. HBO's Grace Alexander said: "With our biggest ever in-store presence, we're providing theatrical value, showing Game of Thrones is so much more than a TV show."
And now, all that's left to do is wait for the impending arrival, for, as we've noted, Winter Is Coming. As HBO's Grace Alexander concluded: "Pre-orders for Season 4 are outdoing those for Season 3, which bodes very well for the release as we wouldn't usually see an increase for a fourth season."
AT THE MOVIES
It's not just the stars of Game Of Thrones who are proving to be box office gold and flocking to movie projects – it's the behind the camera talent too. One of the biggest projects on the slate that boasts a former Game Of Thrones helmer is Warner's huge Wonder Woman adaptation, due to arrive in 2017. And, as previously announced, Michelle MacLaren, whose CV also includes Breaking Bad, will be leading the film…
Meanwhile, author and creator George RR Martin's short stories In The Lost Lands are now heading for the big screen, the first time his works have been adapted outside of Game Of Thrones. Milla Jovovich is set to star in the adaptation…
Game Of Thrones star Kit Harington must qualify as one of the busiest men in showbusiness these days. Not content with his starring role in the forthcoming fifth season of Game Of Thrones he's got a packed schedule for the rest of the year, and beyond… Latest he's signed up for is the forthcoming Xavier Dolan film called The death And Life Of John F Donovan, as a Hollywood star and the fallout from his correspondence with a pre-teen fan. Jessica Chastain co-stars. The star, who plays Jon Snow, was recently seen in Testament Of Youth and will also appear in Spooks: The Greater Good and Universal's Seventh Son.
TRAILERS OF THE WEEK
To subscribe to The Raygun newsletter, please email info@theraygun.co.uk
with subscribe in the subject matter
To unsubscribe, email info@theraygun.co.uk with unsubscribe in the subject
For editorial or advertising queries, contact tim@theraygun.co.uk