SHOP HOURS
Monday: CLOSED
Tuesday: 12 - 6
Wednesday: 12 - 6
Thursday: 12 - 6
Friday: 12 - 6
Saturday: 10 - 6
Sunday: 12 - 4

 

 

 

"Knitting has a profound connective power. The culture and people and rituals around it, the values, they all contribute to an immediate and profound trust in one another. It's home. You belong and are accepted, which rings true no matter where you are." Clara Parkes, Knitlandia

 

We knit for the love of gorgeous colors, for fun mitts, cute hats, and fabulous shawls, and for all those little reasons that knitting makes us calmer, kinder, people because it's easier to let things go when your needles are clicking away.  And, my goodness, we have already knit (or crocheted) our way into June. Warm weather has arrived.  It's time to pull out your lovely summer knitwear and come by Rebelle for some light weight cotton to make a breezy summer shawl or cardigan.  So, no matter why you knit, come by and see us. We have lots of exciting things going on this summer and we can't wait to tell you about them!

 

It's the Yarn Crawl Y'all!!! That's right! This August 7-12th Rebelle will be participating in the I-75 yarn crawl.  What does that mean? Well, let us tell you. The Crawl means carloads of fiber enthusiasts packing up their yarn passports (

you can purchase your passport here

) and embarking on an epic road trips full of fun times, great sales, and beautiful yarn.  Here at Rebelle were are planning a lot of great activities for you to come participate in including an Oink Pigments pop-up shop. Do not miss this!

 

Finally, that time of year is coming up:  Our yearly vacation. The shop will be closed from July 1-7th so make sure and stop by beforehand to pick up any last minute necessary purchasing to hold you over whether that be an extra tape measure (because where do those go?!), stitch markers, or enough yarn for a new hat.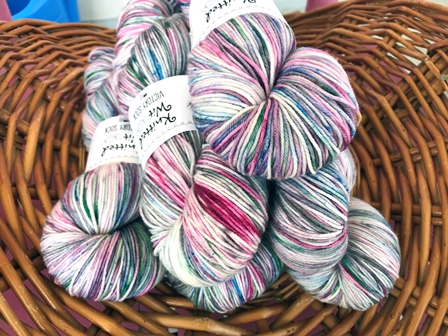 This month's Herstory Sock Club Yarn is dedicated to Nobel Prize winner Francoise Barre-Sinoussi. In 1983, Sinoussi co-discovered the human immunodeficiency virus (HIV) with her mentor Luc Montagnier. Not only did this discovery pave the way to providing effective treatment and management of the disease, but Sinoussi spent the whole of her career searching for the cure, and, to this day, is a passionate advocate for patients who suffer from HIV infection. We hope her colorway, Prendre le Couer (take heart), inspired by 1980s Laura Ashley fabric and dresses, will leave you feeling hopeful, motivated, and ready to knit.  "I am personally convinced that remission...is achievable. When? I don't know. But it is feasible," ~Francoise Barre-Sinoussi on the HIV
Next up, we have Rock and String Creation's self-striping sock yarn. Want to make a pair of completely matching self-striping socks? No problem, Erin's got you covered. If you haven't worked with these yarns yet you don't know what you are missing. Watching the shift between each rich, bright color as you knit is almost as fun as wearing the new socks or mitts you create. We know you are going to love it.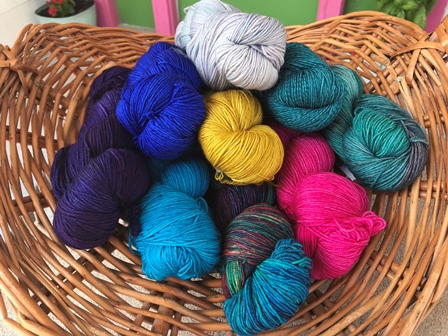 We are also excited to now be offering some new colorways in our always popular Malabrigo sock yarns including Fuchsia, Frank Ochre, Matisse Blue, Cian, Teal Feather, Kris, Flavia. And if you are looking for something heavier try the Rios in Aquamarine.  It's a feast for the eyes.  Last, but not least, if you are feeling fancy and in the mood for luxury then come by and check out the Silky Merino in Piedras and Arco Iris.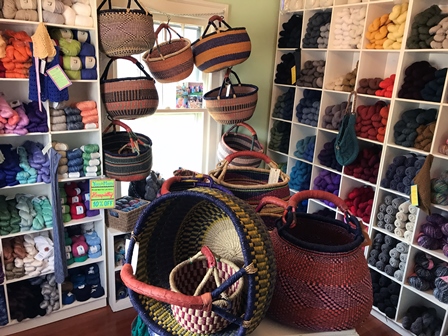 Now, that it's June we've reached picnic weather and if you are in the market for something to carry your lunch goodies and yarn, we have you covered. Come check out our Fair Trade baskets. In a rich variety of colors, these handmaid baskets are sturdy enough to hold all your needs while also being pretty enough to make you smile (OR WHAT? I dunno what it's pretty enough to do). And what else do you need in this warm weather? Why a beautiful Fair Trade fan to keep you cool. We are very excited about these products and we know you will be, too. (Can we include a link to your boomerang?) Do we have a picture of that boomerang?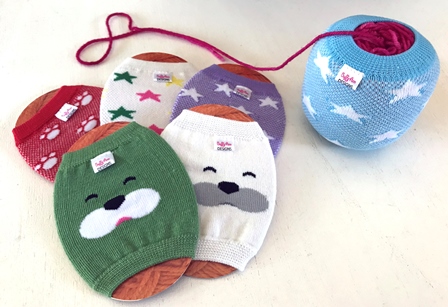 Now, prepare yourselves for the excitement of this new item: YARN BALL COZIES. That's right. Cute little socks to fit snuggly around your yarn and make tangles and knots a thing of the past. These cozies were a hit at this year's Kentucky Sheep and Fiber Fest and we know you are going to love them. We just got a new shipment.  Hurry, t
hey'll go fast!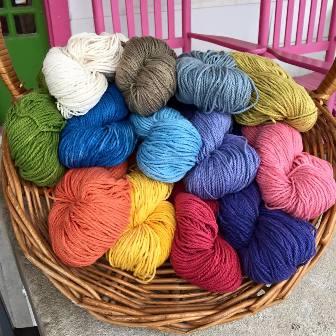 The yarn of the month for July is Cestari's Old Dominion Cotton. True to its name, the cotton in this yarn is from Virginia, and if you ask Mr. Francis Chester about it he will tell you a tale. Apparently, Virginia cotton is so remarkable because of all the peanuts they grow there and crop rotation! However they do it, Old Dominion Cotton is wonderfully soft and spun in such a way that makes it not quite as heavy as some other cotton yarns. Old Dominion cotton is great for all kinds of washclothes, baby blankets, Summer tops, hats or just about anything you might want to make with cotton. Here are some patterns that are particularly suited to Old Dominion Cotton:
Watermelon Baby Cardigan
, 
Chili Pepper Red Kitchen Towel
,
Anna's Summer Cardigan
(baby and kids),
Hanging Kitchen Towels
,
Vodka Lemonade
(cardigan),
Birkelue
(baby/child hat),
Little Sister
(crochet hat),
Stripey Baby Dungarees
,
Rosamund
(tee) and
Flynn Unicorn Sweater
. And did we mention it's 10% off this month?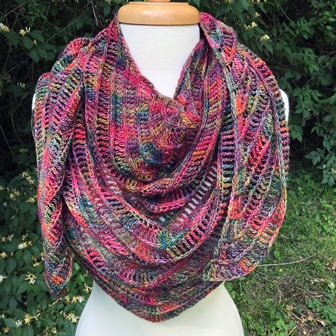 All June, our fabulous Raellyn will be leading you in crocheting the
Contour Shawl
by Joanne Scrace (pictured above.) This project uses 800 yards of fingering weight yarn and a size 7 crochet hook. We know you will love making and wearing this gorgeous, drapey shawl. Join Raellyn on Fridays, June 8, 15, 22, & 29 from 12-1:30 as well as Sunday, June 24 2-4pm. There is a
Facebook event
where you can see all of the information as well as post questions and pictures.