| | |
| --- | --- |
| What have I been up to... | |
Last month has been fruitful, exciting and very sexy! I got to participate in Wilhelmus Vlug's art video for Wasteland, the upcoming "Revolution" edition. The sexieness was brought in by Spring and Iocaste. Then I met up with Guldor (lightwizar supreme) and shot traditional Japanese rope bondage in a church and some serious rubber restraining using a Bizarre Design outfit. Also, I got to participate in Dutch alternative rock band El Fatso's new video clip for their new song "King Louie" and this month started with the RopeMarks workshop weekend intensive in Moscow Russia, that was one big experience, read more about it further down. My previous month ended with the Prague Shibari Festival and now I can share this with you.
| | |
| --- | --- |
| Shibari Festival, Prague, Czech Republic | |
While I'm writing this I am in a plane on my way back home. I just finished a short tour to Prague and the Prague shibari festival and to Moscow where the RopeMarks Ryu weekend intensive was happening, preluded by a masquerade ball themed Russian mass murderers (what's in a name :)). In this blog I will talk a bit about the Prague Shibari Festival.
For me there has always been a pull towards the Czech Republic and specifically Prague. I can not explain this feeling, the closest I can get is that Prague has a "magical" feel to it. Unfortunately there were always reasons to not go, either as a tourist or as RopeMarks, so when we got the invite to be present on the Prague Shibari Festival there was no doubt about my answer: Yes! Read the blog...
| | |
| --- | --- |
| RopeMarks Ryū weekend, Moscow, Russia | |

Moscow and the Moscow rope scene has a special place for me, I love the city, I love the people, there have not been many places where you are welcomed as warm as in Russia and the Russian rope scene. Coming back after Moscow Knot last April felt like coming home. It was great to see so many familiar faces in Club Predel where the RopeMarks Ryu workshop weekend was held. But, first the weekend was kicked of by going back in time to attend an eighteenth century party. Read the blog...
| | |
| --- | --- |
| El Fatso video clip | |

Something I like a lot is bringing what I do and love into the mainstream, in this particular case, alternative mainstream! Is that even a correct word combo? For their new song (hit!) "King Louie" they came up with a very cool story-line where some serious bondage is being used, and that's where I come in. The lead actress, good friend "Bloempje", endured some psychedelic experiences where bondage played a big part. Read the blog...
El Fatso ( Facebook, YouTube ) | Bloempje | RopeMarks
| | |
| --- | --- |
| Guldor photography | |

I met up with Guldor (photographic light wizard supreme) on an amazing location. The attic of an old church building. I brought with me a Spring (sexyness supreme), a whole-lot-a rope (kinbaku supreme) and a custom made outfit by Bizarre Design's Jeroen van der Kliss (kinkyness supreme).
With this much supremacy we created stunning images using the old beams of the attic and a design angel roaming the church building.
Spring | Guldor photography | Bizarre Design | RopeMarks
material will appear on
RopeMarks | Club RopeMarks | Club Rubber Restrained | Club Leather Restrained
| | |
| --- | --- |
| Wasteland "Revolution" video shoot | |

Photos are nice and with the right photographer downright amazing, but video will always have my heart. Especially with bondage, video gives you the opportunity to show how the full 3D "image" of the tie looks, including the sound effects of the bunny in the rope. This latter, for me, is an important ingredient because there are still many people that take rope-only suspension very lightly. These are not to be taken lightly and I consider these to be edge-play. So, having video where what I do is seen and heard adds to the overall experience of what my rope is like.
But, before I digress, or start ranting… We participated in the new video art installation of Wilhelmus Vlug for the upcoming Wasteland "revolution" edition and it is promising to be another visual spectacle!
When the result video is there you can see it on Wasteland (be there!) and afterwards I will post it on the RopeMarks website.
Spring | Iocaste | Wilhelmus Vlug | Wasteland | RopeMarks video's
| | |
| --- | --- |
| Workshops | |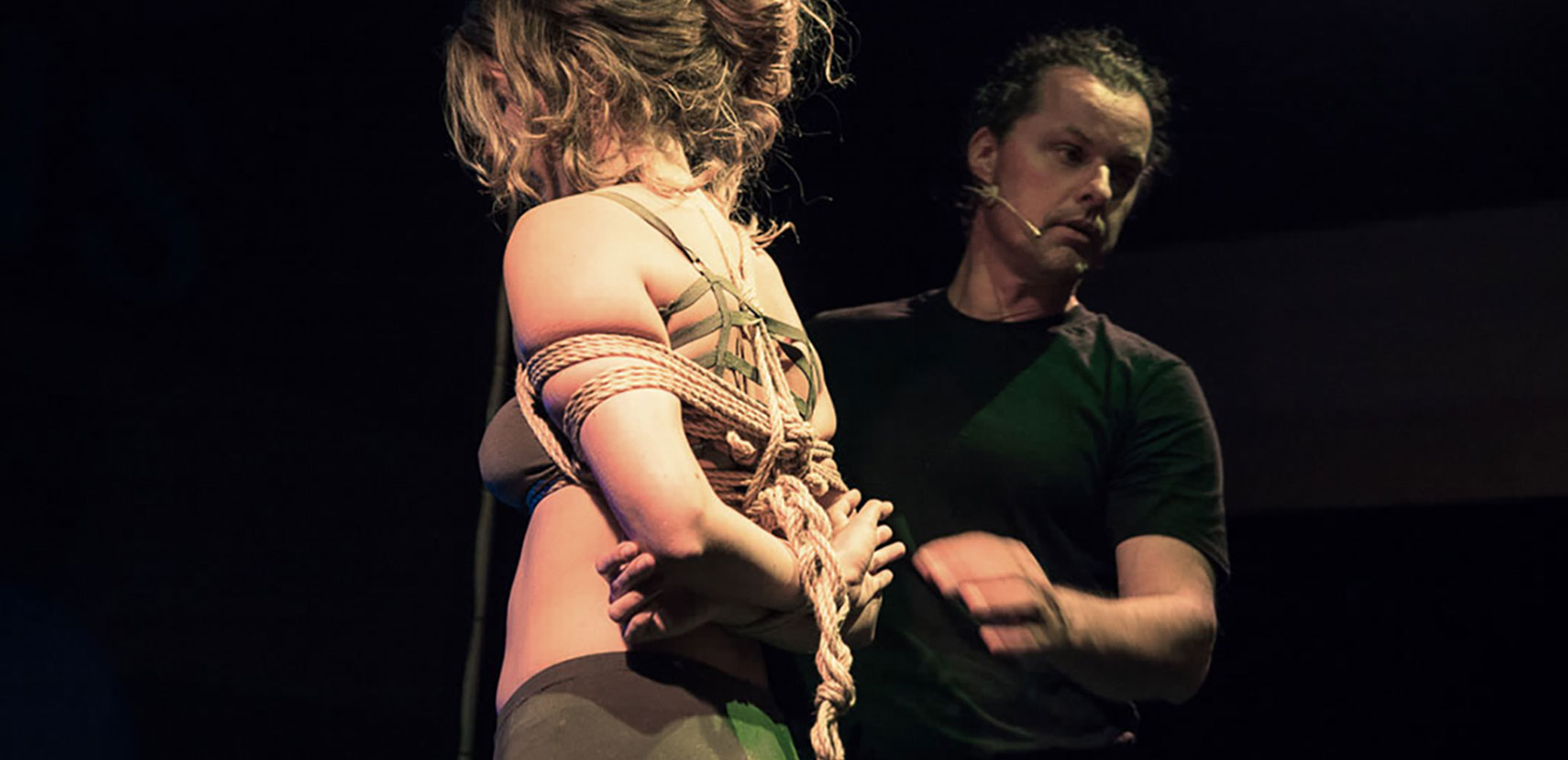 We've had a handful of private workshop, where 2 of these have been recurring couples very keen on improving their skills.
Workshops | Testimonials | Sign-up | Glossary
| | |
| --- | --- |
| Schedule | |
The best place to know where I am and what I'm up to is my online schedule.
http://www.RopeMarks.com/events
If you run into me, come and say hi and chat, remember to bring a drink :). Please don't be rude and interupt when I'm activly engaged in a conversation.
| | |
| --- | --- |
| Affiliate program | |

Do you want to earn some $$$ from RopeMarks?
RopeMarks is running three very profitable affiliate programs for
Club RopeMarks | Club Rubber Restrained | Club Leather Restrained
50% share

share for memberships

50% share

share for downloads

(indvidual videos or imagesets)

Full payout

No hidden costs

We cover all fees and other expenses
You can find the portal to all of the programs right here http://www.RopeMarks.com/webmasters, all you have to do is sign up, use the content and start earning some $$$. Easy enough right?
Thank you for reading all the way to the end.
Until next time,
Bob / RopeMarks