---
| | |
| --- | --- |
| | July 2019 |
Reduced stress. Increased productivity. Improved well-being.
Forte Organizers helps individuals and families stay organized at home, as well as teaching business people organization skills at work.
Lori's recent Dayton Daily News article shows us how to value our own well-being over our stuff.
It's vacation time! You have been looking forward to getting away from work all year. You can do a few things to get organized before you leave to make your vacation worry-free.
Make lists: Create two lists of the things you need to get done before you go, and another of what you need to do immediately upon your return.
Autoreply: Create an autoreply for both email and voicemail for while you are gone. Specify the dates you will be gone from work, and who to contact in your absence.
Notify: Notify your important clients and your

colleagues

at least one to two weeks before you leave, so nobody is surprised by your absence.

Contact: Decide how much contact you will have with work while on your vacation. Going totally off the grid? Will you check emails? Will you be available for calls or texts? Just remember the point of vacation is to get away! Set realistic limits and stick to them.
According to the Harvard Business Review, "

If you take 11 or more of your vacation days, you are more than 30% more likely to receive a raise. After reading that stat, we hope you just started planning your next vacation."
Zip Through Vacation Packing...
Ziploc bags are a great way to keep your suitcases organized this vacation season. Here are a few examples to get you started:
Buy 2 gallon Ziploc bags. Place inside each bag a complete outfit for each day of vacation, including underwear and socks. Remove as much as the air as possible before sealing. This way you don't have to dig through your suitcase. The outfits are already created for you. This is especially handy for children. It also helps cut down on wrinkles.

Create personal care baggies for each family member. Include sample size shampoos, conditioners, sunscreen, tooth paste, etc. Besides being convenient, it protects other things in your suitcase in case toiletry items leak.

Since baggies come in a variety of sizes, you can use them to organizing anything you don't want rattling around in the bottom of your suitcase; such as, jewelry, electronic cords or travel documents.

Place shoes inside of large baggies to protect your clothing from their dirty soles.

Use sandwich baggies to protect cell phones from getting wet or sandy at the beach. You can even use the touch screen through the plastic.

Create small snack packs for yourself and those traveling with you. They can be easily stowed in a purse or overnight bag.
Who knew plastic baggies could be such an inexpensive and practical organizing tool for vacation? Don't forget to take a few extra, just in case!
FREE! Reclaim Your Space
Prevent clutter to organize your home and yourself.
Wednesday. July 17, 6:30 pm-8:00 pm
Woodbourne Library, 6060 Far Hills Ave, Centerville, OH 45459
Call (937) 435-3700 for details.
Residents of Centerville and Washington Township with proper ID
Saturday, July 20, 10:00 am-1:00 pm
Public Works Garage, 8190 McEwen Rd.
Saturday, July 20, 10:00 am-1:00 pm
Fire Station 45, 8328 McEwen Rd.
Lose Your Stuff, Find Yourself...
Lori's book, "Lose Your Stuff, Find Yourself," teaches us how to travel light.
"If you start thinking like a vacationer, only keeping what you use and what adds value to your life in the present, you could travel light and be happier. By traveling light, you could pick up and go when the opportunities present themselves."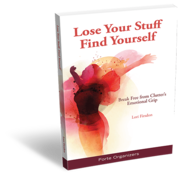 Pick up a copy of Lori's book by using this link:
Amazon.com
One More Thing...
"A vacation is about having nothing to do and all day to do it." ~Robert Orben
Enjoy your summer vacation,