IN THIS ISSUE:

---
Sponsors this week:
The Carpenter Shop
358 North Rockwell
OKC, Ok
405-942-2644
The Carpenter Shop is a full line cabinet and countertop shop that travels all over the state building dream kitchens for discerning customers
okcgunshow.com
okcgs.com
Claude Hall has always take care of the Tea Party and the Ron Paul activist community at his gun shows.
His next OKC dates are:
May 19th - 20th,
July 14 - 15th,
Oct 6 - 7th
Nov 17 - 18th
Dec 15 - 16

This guy is a Noble Oklahoma based company that has great prices on electronics of all types and inexpensive toner and ink for your printer.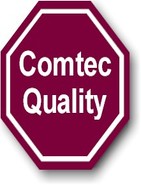 Comtec provides residential and commercial security systems in Oklahoma.
There is only one thing you really need to know about Comtec's quality and pricing, they do not require a contract for their services.
Customers are free to walk away if their service isn't top quality.
Rodent ResistantChicken Feeders!
$50 + Shipping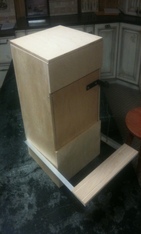 Advertise Your Business, Event, Or Service Here!
$25.00 per week, tens of thousands of Oklahoman
impressions every newsletter
Rep Shumate married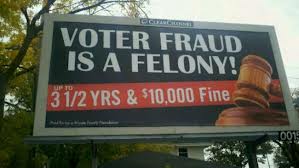 Vote Recount Monitors Needed
One of the most common questions I get is how Tea Party leaders manage to make a living and still find time to do all the political work. The answer is no different than the militia men faced in colonial times; sometimes you just have to lay down your tools and spend the day on politics because if you don't, eventually there will be no work to do.
That was the case last week when a Darrel Sorrels supporter walked into my shop on Monday with questions about the validity of the Oklahoma County Sheriff's election results. We had taken for granted that there was integrity in the voting system and that by golly freedom just got its butt kicked on November 6th. But the visitor had some intriguing information that raised some serious questions so we opened up an investigation into the race. We started gathering donation pledges toward a limited recount of ten or twelve precincts but one of our phone calls was to one of our wealthy supporters and it turned out that he was thinking the results were somehow skewed as well.
Along the way we had to brush up on election law, ethics commission procedures, and actually learn how the voting system works and what checks and balances are in place. By Thursday we had met with the Oklahoma County Election Board Secretary and went over the actual vote handling process, were appointed as the official agent for the candidate, had a recount petition signed by the candidate and a cashier check ready for a limited recount but it turned out that our efforts were about to be massively supplemented. By Friday we were working with a powerhouse of a team that included lawyers, donors, legislators, and activists that were slowly pinning down public officials to gain the answers we needed to pull off a countywide recount. By mid afternoon the trigger was pulled as the team met with Oklahoma County Election Board Doug Sanderson to file the recount petition under the leadership of one of Oklahoma's renowned attorneys.
The candidate had met with us earlier in the week at the election board and had gotten some push back from the election board secretary but that push back evaporated once a small group of Tea Party leaders took the candidate back into the back office for a second meeting with the official. From that point on we were treated well, given a tour of the facilities and shown exactly how the voting machines were programmed, what security procedures were in place, and how the ballots were stored after the election was over. The candidate saw firsthand the power of the Tea Party, few public officials want to be on the wrong side of one of our investigations, but having one of the best attorneys in the state leading the recount effort was even better. Now the officials have to fear a legal challenge along with a public relations nightmare if they manage to hand us a club to beat them with.
If you are a regular reader of the Sooner Tea Party newsletter it comes as no surprise that Oklahoma County is riddled with corruption at all levels including the Republican elected officials and even the Oklahoma County Republican Party itself is so corrupt that it refuses to censure the unprecedented Republican elected official's endorsement of a Democrat candidate over a model Republican candidate for sheriff. We weren't going to divulge much about why the recount was requested or go into the particulars but the story has already made the news and speculation is running rampant. Sometimes it is best to wait for the process to work, that was the case with the David Prater Grand Jury, we had to hold our tongue till the thing was over.
The right to vote confers little benefit if two things are missing; an educated public and integrity of the voting system. For the latter reason alone forcing a recount is a good thing to do and a nice side benefit will be that the corrupt officials have seen that not only are we watching, but that we have the clout to shine our blazing hot spotlight into the voting process itself.
What we need are a couple of volunteers to sit behind the election board officials as they count ballots to make sure the election officials call off the result of each ballot correctly. The process starts at room 223 in the Oklahoma County Courthouse at 9 am on Wednesday the 14th of November, then we move to the Oklahoma Election Board building at 4201 North Lincoln Boulevard,. The candidate is going to come up with four watchers and we have four watchers lined up but it would be nice to have two to four extra volunteers so that we can spread the work load out if this recount lasts more than one or two days. Only four watchers will be working at a time, the others can monitor the reported vote count precinct by precinct
You will have to be sworn in and they like to do that in a large group so you will need to be there on the first day for a bit then you can come back that afternoon or the next day if that works best for your schedule. You don't have to be at the court house that morning, just show up at the Oklahoma County Election Board around 9 am and call us so we can get you sworn in. (405-412-6233) Please call after 9:30 am or so as we will be in court first then enroute to the Election Board.
There will be an area where the public can observe the recount and the results will be posted in an adjacent public area so interested individuals can help monitor the process. We encourage as many people as possible to show up but please wait till after 10 am to allow the watchers and election officials to start the process.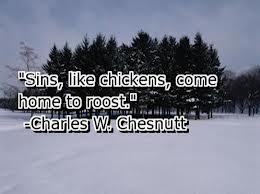 We did our part here in Oklahoma, Obama lost two to one and once again not a single county went for Obama. But as much as it pains me to say, this election was lost at the State Republican conventions and at the National Republican Convention, November 6th was just the accounting of bad decisions by the Republican Party.
Right to Work political training tells us that three percent of most populations actually control who gets elected. Obama won the popular vote by 3.2 million out of a voting population of over 200 million Americans. Around 114 million voters bothered to vote, 11 million fewer than voted in 2008. Where was everyone? Sitting at home either disgusted in the choices they had to choose from or resigned to the fact that their vote didn't matter.
The Republican Party however had the most to do with the loss after they trashed their relationship with Tea Party and Ron Paul activists. They forgot who it was that put the GOP over the top in 2010, the Tea Party, and they forgot that they needed everyone to win this election. By the time the State Conventions were occurring it was open warfare between the Ron Paul activists and entrenched GOP officials. But what was even worse was the National GOP Convention where even after the nomination was sewed up for Romney the GOP continued to hammer Tea Party and Ron Paul supporters with crazy rules changes that were nothing short of insane.
Most people don't like being disrespected so millions of the most motivated activists in the political realm just stayed home on November 6th. Others may well have voted for Obama as the lesser of evils or in their own effort to help hasten a collapse so that we can dig out way out again.
The Republican Party is sick and corrupted. The solution is for massive amounts of citizens to start attending the GOP meetings and begin forcing the RINOs out of the party and taking the party back to the values of Regan. A flood of new talent will sweep away the old guard responsible for this debacle and that starts with attending the February precinct meetings and throwing out the existing leadership from the bottom up.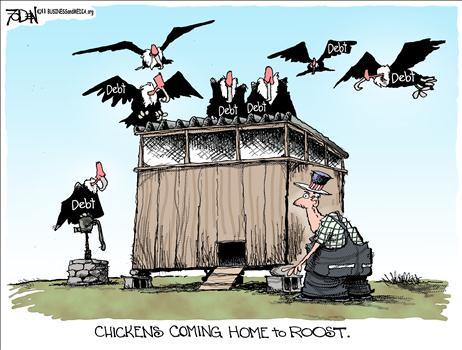 Walking Through A Broken Heart
By Ms PM
Think back to your first true love. At night alone, laying there and wondering if your world would ever seem normal again, you address those feelings inside yourself which screamed out in the dark; What in my makeup is so undeserving of this love that was so desperately wanted? You were the best you could possibly be, yet it wasn't nearly enough.
Of all the people that still surrounded you, you couldn't help but feel like a piece of your soul was missing. Learning how to walk through that type of hurt, and doing it successfully, has always been the gift you give to yourself. Seeking that knowledge without bitterness or blame makes you ready for that special person to some day walk into you life...
Many hearts were broken again on November 6th. Are you wondering why that dark cloud decided to descend on so many patriots? They worked so very hard because they believed the heart of America was bleeding. They knew this great nation needed their tender care. They gave their time, energy and love, only to be defeated. When she needed us most, many believe they let her down. That sad, lonely feeling has returned.
A truth can be dug out of this aching. History and human nature has shown us, if we are willing to be honest, it takes these horrible things to bring people to their knees. If that isn't enough then flat on their faces. This truth could be that citizens have to loose something they are not willing to live without before they grasp the concept that makes them willing to address the consequences of their actions. This may be a reality that some may never realize.
When people are numb to their innermost feelings they turn into an empty shell. It becomes easy for their justification as to why they are so deserving of others labor. Some may never fully understand the magnitude of what they have done. When the money runs out they turn into the loud, greedy little leaches they have practiced at becoming. They will demand more from the empty bucket and not have a clue as to why the well ran dry. They are the pitiful and lost souls of what could have been good for all, but instead chose the path of wanting more than what they were willing to work for. After all the practice, it became easy for them to turn to government and beg for your money. They sold their soul to the devil with a vote for entitlements.
The other side is left for those with insight, their quality of life will be affected in order for the others to have the time needed to grasp it for themselves. America will have lost her glow. She will be the one screaming out; What is it about me that they can't love? I was the best there ever was, and it wasn't enough. The things that entice those to a slothful existence, will destroy the greatest nation on earth.
Please be patient, honest and steadfast. Never give up defending this country. Always be on the side of liberty and freedom. And remember, sometimes the lesson to be learned belongs to someone else.
We all were given a preview before the election of what we are now in for. This missed lesson, to be sure, will make or break the heart of America.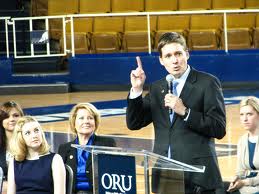 Lack of Leadership, Flawed Candidates,
GOP State Chairman Matt Pinnell
Has the Republican Party made gains at most levels of government in the state? Without doubt yes. Have we had our share of failures? Again yes. Is Oklahoma the reddest state in the Union? That is without question.
There has been a lot of hard work put in to building the Republican Party in the state of Oklahoma. This has culminated in this year's victories as indicated
here
. What Mr. Pinnell fails to mention is that a lot of that hard work was accomplished by grassroots organizations throughout the state long before there was ever a Tea Party.
So one must ask, how red is the reddest state in America? Well last Tuesdays election results saw that all of our federal elected representatives are now Republicans. You can read about that
here
. We also sent more Republicans to both houses of the state Legislature, but this article
Okla. GOP leaders add to numbers in Legislature, must govern with broader range of ideology
raises the question as to how many of them are true Republicans, and how many of them are RINO Republicans.
We also lost the opportunity to pick up more legislative seats due to poor candidate vetting. More than once during this election cycle was the chosen candidate of the Republican Party forced to withdraw from the race because of ethical problems. Proper recruitment and vetting of these candidates by the GOP Headquarters earlier in the race would have prevented this and given a better qualified candidate a chance to win.
At less than nine years of political experience, Mr. Pinnell just didn't have the leadership skills necessary to lead a state party in the right way. He lacked the political backbone to stand up to the elected officials in the state particularly when they break party rules.
We need a new rule that would deal with party discipline. The proposal would be that instead of censoring a fellow Republican for supporting in any manner an opponent of another party while the GOP has a candidate of their own in the same race, that Republican would forfeit the right to campaign support by the state party for the next election cycle. A second offense would bar that Republican permanently from support from the state party. If you're going to discipline someone, make it hurt.
Finally we come to the fourth change needed. This is not a rule change. It's a change in leadership. I'm talking about the removal of Matt Pinnell as the State Chairman of the GOP. The reasons are numerous, but where do I start. Part of his job description is to represent all of the Republicans in the state of Oklahoma. At a time when the Party is trying to reach out to minorities, apparently Mr. Pinnell doesn't think we need them. He also, apparently, doesn't care for Ron Paul supporters.
My, my, my said the spider to the fly. This
website
gives Oklahoma a "D." Our state ranks 38th and is not alone. Eighteen other states received barely passing grades as well. Not one state earned an "A". There were five states that earned a "B" and nineteen that got a "C." Eight states failed with a big fat "F."
The Oklahoma House has had live video of all floor sessions and archived video available for three years running. Why doesn't the Senate do this? Considering the budget included a million extra $$$$ for House and Senate, it would be advantageous for the folks to be able to check in and see what hot items are on their online shopping spree of the day.
These dismal grades are mainly from a lack of ethics, open records and disclosure laws. Oklahoma makes it tough to find out information without spending a lot of time researching. What are they hiding? Nothing, they say, but good luck finding it in the merry-go-round of .gov websites. If you expect an answer when you make a phone call, think again. The person with the answer has stepped out. You can leave a message for a call back, but you will be the one making the call, again.
Every citizen has the right to access records, just as nearly all laws that are written look like a piece of Swiss cheese with all the loopholes. There seems to be some type of roadblock which exempts certain departments from turning over the information. Their excuses are numerous while guarding their dirty little secrets.
States rarely check the accuracy of campaign finance records and disclosures. That is unless they get a complaint, and given the low grade Oklahoma has, it isn't a long shot to think this may be an issue with our state.

Mary Fallin, Don't You Dare
By Ms PM
This article
from The Tinsel World talks about our Governor re-hashing the handout from the feds for the Oklahoma Health Exchange.
The article begins with "A spokesman for Gov. Fallin says." Sorry Wayne Greene, World Senior Writer, shouldn't this language be "spokesperson" simply due to the fact that we are supposed to be all politically correct in our new America? Better watch it, Mary will not come out and play.
Wayne states that Fallin's administration "seems to be opening the door to the possibility that the state will establish a state-based health insurance exchange, an issue that had seemed to be resolved." Let's get to the truth of the matter. Governor Fallin has been on the fence with this issue from the beginning. Whichever way the wind blows the strongest is the side she will flop. "Resolved?" Anyone with one brain cell knows that this issue was never resolved, she waited for the election and now the big guns are on her side.
There is one point about these exchanges; the Supreme Court ruled that this part of the law is unconstitutional. It is clear that she, along with some others in Oklahoma think that the Constitution of the United States is something to be discarded. There is no doubt that Fallin will look like the string puppet she so desperately tries to hide. When the arm extends she gets a fistful of money to set up her socialist state. Governor Fallin has succumbed to the easier, softer way. The spineless twit has turned her back on the people and the Constitution. Rather than fight for the glory of which this nation stands for, she has instead taken a path that is guided by the fame and fortune that surely clouds and destroys any strong spirit. She is a pitiful excuse for a trusted servant.
The Tinsel Town Chamber of Commerce is hot on her trail to get her to accept the money. Business leaders want the same. If you all don't stop chasing her, she's going to trip and fall into her butt crack and we'll never be able to find her. Home will be where her head is.
These esteemed know it all experts argue that Oklahoma taxpayers would be required to pay for other states' poor along with their own if Gov. Fallin doesn't set the wheels in motion. It is very uncharitable that these bleeding hearts have the audacity to deny their fellow unfortunates care because it will cost them a little more money simply because they live in another state. Isn't this supposed to be about taking care and giving to people because they cannot or will not fulfill their responsibility? It is apparent that it is seemingly okay for someone else to take care of them by spending their wages as long as it doesn't cost the Oklahoma hypocrites more than what they deem fair. Governor Fallin's lack of brain stimulation makes it easy for her to justify the need for your money to spend as she sees fit. This is her sick way of taking care of Oklahomans. Spare us, goat woman.
Senator Tom Coburn, not Senator Tom "Cobum", Mr. Green, is one of the ones that got it right. You are the "bum" within our drive by media along with your other buddies that have helped hide the facts due to your refusal to report news and give people all of the information.
John Silva, CEO of Morton Comprehensive Health Services in Tulsa says that about 55 percent of their patients are uninsured. He goes on to say that the feds provide one quarter of the funding and that hasn't risen in about 15 years. What he doesn't say is the money belongs to the people, the federal government steals it and gives it away to those they choose. He believes that the additional Medicaid coverage would allow them to catch a financial breath. Really? Does anyone wonder about the folks that supply the money for his financial breath? What happens when the pig trough runs out at the federal level and the state has to pick up the tab? Does this mean that a great way to fund your financial breath would be to increase taxes on everyone, or at least the property owners, they seem to get the brunt of the tax hikes.
This next sentence from the article is a true example of left wing bias they so feverishly deny. "Fallin accepted a $54 million federal grant to establish an exchange that would comply with the Affordable Care Act, but later - under heavy pressure from tea party members of her own party - Fallin told federal officials not to send the funding."
1-The ACA is not affordable, it will bankrupt the nation. This is the something for nothing belief prevalent within the story's that come out of Tinsel Town.
2-Again the Tea Party is bashed. Any person associated with the Tea Party must be silenced or attacked until they cave or go away. Unlike the Tinsel Town gang and Contrary Mary, the Tea Party believes The Founders knew what they were doing to protect the people against the very issues we face today. They loved the Constitution and the Bill Of Rights. They fought against ingrates like you. Remember when Benjamin Franklin was asked; "What have we got, A Republic or a Monarchy?" His reply was, "A Republic,
if you can keep it
." Well, that's what we're doing, much to the gangs dismay. Your spin of never giving people acknowledgement for standing up for what they believe, unless they align with the gangs ideology is a perfect example of "The Spin of The Century." The article bashes Fallin by connecting her to Republicans that are members of that awful Tea Party hoping to demonize her enough so she caves to your socialist agenda.
3-Fallin is remote to Tea Party beliefs. She is like a female black widow spider, and will eat you after the torrid love affair when she gets what she wants. She aligned herself at one time when she thought it would further her prestige. She has turned her back on liberty because you hold the payoff she so desperately believes is the road for her twisted success. We didn't want her then and don't want her now. She can shut her big pie hole with you in it. Dirty politicians are the result of ignoring the Founders warnings. She fits the bill.
4-If Oklahoma had a new party called "TNS" (The Not Stupid) Party there would be a drastic reduction of Republicans. They do just as much damage to liberty. If you stomp on the rights of citizens, we will take you on. We believe there are those that relish the thought of America's destruction for the payoff of power and money. The stench of arrogance and greed is prevalent. When you melt the pot of corruption, slime is condensed and you all fit nicely.
The comments at the end of the article show a very clear path that some Americans want a "give me more" society. They want everyone to pay for their gain. When those who have little, want more of what someone has worked for you end up with a bucket of leaches sucking off of society. A better fit would be to feed them the infection they have caused on this nation.
In
this article
a Canadian Doctor gives his best description of why socialized medicine doesn't work. The article was written in 2007. Governor, you might want to read this before you carry on with your agenda, which, Oklahomans
still
do not want.
His nightmare began when he cut through the ER on his way to his medical school class. Beyond the over crowding of elderly on stretchers, the stench of sweat and urine and later finding out some had waited five days for admission, is when he immediately began to reconsider all he knew about the Canadian health care system.
The problems went beyond the situations he encountered in the ER. Most diagnostic tests and procedures meant long wait times. Government research notes that 1.5 million, or 12% of Ontario's province can't find family physicians. The article states that these problems are not unique to Canada, all government run health care systems are the same. The fact that these arrogant liberals think they are smarter than anyone walking on the planet is proof that they truly believe their B.S. This time it is their idea on the health care, therefore it has to work, even though every other country has tried it and failed the people miserably.
In a British controversy, a cancer patient's appointment was canceled 48 times. 20,000 people are in line for more than six months.
In France, during a 2003 heat wave when many doctors were on vacation and hospitals stretched beyond capacity, 15,000 elderly citizens died. All across Europe there is a shortage of state-of-the-art drugs. They aren't available.
Canadian newspapers seem to be filled with frustrated citizens and are turning to markets for their healthcare needs. This seems to be working as the Canadian government was ruled against in a citizen lawsuit, and now the door is open for private medicine.
Doctors are speaking up and opening their own private practices. Canadian governments are looking to the private sector to shrink waiting lists. British Columbia private clinics are performing about 80% of government funded diagnostic testing.
This privatizing trend is resonating in Europe. This article touches on the differences in life styles when compared to the United States. The average life expectancies were an indication of the effect of lifestyle habits when compared; America-75.3, Canada-77.3, French-76.6. Why do you think our government is hell bent on telling you what you should eat? Could one reason possibly be that the healthier you are the less they have to spend on you? Are you only dollar signs in their eyes? Why would the government want to spend money on a senior citizen? Wouldn't the money be better spent on a younger person that works and contributes money to government. Yeah, I know, stupid Tea Party black helicopter crap.
It is also noted that American medicine excels; Five year cancer rates show these figures.
Leukemia- America 50%, European rate-35%
Esophageal carcinoma-America 12%, Europe 6%
Prostate Cancer-America 81.2%, France-61.7%, England 44.3%
Many critics of the healthcare in the U.S. come to the same conclusion, it's just too expensive. One reason is the U.S. is much wealthier than other country's and it isn't an unreasonable conclusion because we spend much more on research and development. Thanks to our current President, the idiots that elected him and our beloved Governor, this will soon end.
"America is right to seek a model for delivering good health care at good prices, but we should be looking not to Canada."
Government run healthcare will make things much worse. The bureaucrats would cut costs and the unintended consequence of that will be less access to health care, as in Canada.
We can all hold hands and dance merrily around the flag pole. A special thanks to all of those who want something for nothing. Leaving you all with two questions to ponder....How dumb are you? and...If this system of socialized medicine is so grand...
why are all of the bureaucrats exempt?
On a lighter note:
Over five thousand years ago, Moses said to the children of Israel, pick up your shovels, mount your asses and camels and I will lead you to the Promised Land.
Nearly 75 years ago, (when welfare was introduced) Roosevelt said, Lay down your shovels, sit on your asses and light up a camel, this is the Promised Land.
Today, congress has stolen your shovel, taxed your asses, raised the price of camels and mortgaged the Promised Land.
I was so depressed last night thinking about the election, Health Care, the economy, the wars, lost jobs, savings, Social Security, retirement, etc...I called a suicide hotline. I had to press 1 for English. I was connected to a call center in Pakistan. I told them I was suicidal. They got excited and asked if I could drive a truck...Folks, we're in real trouble!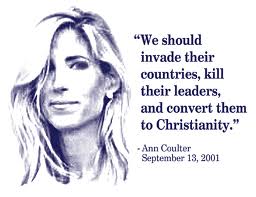 Wacky Right Wing Nut Jobs?
By Ms PM
This could be an interesting concept, totally over the top, and bold beyond where the Republican Party has never dared to go. Spock and Captain Kirk would think twice about a journey such as this.
What are the complaints from the left addressed at the Republican Party. Really, there are too many to list but one that is shouted from the rooftops is Republicans are the party of "no."
What if... Republicans could give the Democrats every thing they want, not compromise their platform and come out smelling like a rose? How is that possible?
First and foremost, it is clear from the American people that they are aligned with the party that will give them free stuff, or at least the definition of "free" meaning someone has to pay for it and they haven't grasped that concept yet.
If Republicans would always state what they stand for and communicate that stance to the American people, something in the lines of a broken record, before they agree to give their signatures on bills that they are totally against, and they would always say, we are against this, but, the American people and those that hold the majority want it so who are we to stand in the way. The Democratic party insists they know better so we Republicans will watch this saga unfold.
Republicans would make it very clear that what they are doing is no compromise whatsoever with what they believe, only that the country will have an outcome based on Democratic, not Republican decisions. Republicans no longer want to push their platform onto the American people. They want it to be one of attraction.
Republicans would admit upfront, that this is the new politics in the new America that they are going to participate in. No lies and no deceit, wow, what a concept. Republicans would take the stance that "we will help" destroy this country in less time than it will take President Obama to leave office. Democrats want to give the American people all the entitlements they think are necessary for a vote. If their way works and the majority of Americans are happy, joyous and free with the outcome, then Republicans will accept that they were wrong.
Instead of being the party of "no" they would become the party of "yes, yes, yes". Who would be there to pick up the pieces when it falls apart? There wouldn't be any money so the liberty minded folks would definitely get a smaller government. Who would be able to blame the catastrophic outcome on the Republicans? The Democrats? But we gave you everything you wanted. The people? We gave them everything they wanted. This strategy would place the accountability factor squarely where it belongs, the Democratic party and the people that elect them. How better for people to understand the consequences of their actions than to let them have enough rope to hang themselves.
Given the new politics would soon turn into a cluster, it may be a way through a long and painful death. America stands for freedom and liberty so how many want to go through years of agony and wondering just how their livelihood will be sustained?
Why settle for less than what a once great nation can provide? Allowing children growing up in these times to be a part of re-building their America may make them wonder why the schools and colleges propagate such an entitlement culture.
This approach could bring the connect that is lacking between the GOP and the people. Wouldn't that be a grand ole' party. At least, give people a reason to understand that hard work, guts and glory will some day make America thrive again.
Delay
is
the deadliest form of denial.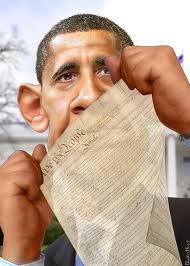 Nullification of the NDAA
We are about to show you how our elected leaders have failed to protect your rights at both the federal and the state level. We will then show you a video primer on how to get your local officials to protect you. It is our last resort. This is an action that needs to happen in order to protect ourselves from a tyrannical federal government about to go to war with its own citizens.
In December of 2011, the Senate and Congress of the United States passed the National Defense Authorization Act of 2012. It was signed by President Obama on December 31
st
, 2011. You can see the
Senate vote
here and the
House vote here
. To save you a little time, I'll tell you that every Congressman and Senator except Senator Coburn voted to allow you to be arrested and detained indefinitely without access to the courts or an attorney by voting for the National Defense Authorization Act.
We did have one legislator who at least
tried to get a joint resolution
passed last session. Apparently it didn't sit well with the liberal leadership bunch of RINO Republicans in the House of Representatives that we had. . The day after it was introduced, the Speaker had it shuffled off to the Rules Committee, which he controlled, and it saw no further action. Apparently the former speaker doesn't believe in protecting our rights, but that's not surprising.
Here is a good video on this issue: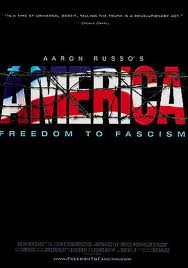 Our Kind of Republican Official
Action of Second Continental Congress, July 4, 1776
The unanimous Declaration of the thirteen united states of America
When in the course of human events, it becomes necessary for one people to dissolve the political bands which have connected them with another, and to assume among the powers of the earth, the separate and equal station to which the Laws of Nature and of Nature's God entitle them, a decent respect to the opinions of mankind requires that they should declare the causes which impel them to the separation.
Ladies and gentlemen we are in a form of liberal progressive tyranny. Our current leaders are systematically turning this great nation to an entitlement society, where the successful by measure of work ethic and not money alone, are disenfranchised. Big government spending has put American citizens into a hole that will take generations to pay off, if even possible at all, making this the greatest threat to our national security and sovereignty by far.
Ladies and gentlemen, all great empires have fallen due to faulty economic and foreign policies. We are borrowing forty three cents for every dollar we spend to sustain this progressive big government juggernaut. The federal government is spending two hundred thousand dollars a second. Join this with the federal reserve and its a disastrou combination. Another thing is corporate welfare we cannot in a free market society determine winners and losers.
Trying to spend our way out of debt is insanity. "The definition of insanity is doing the same thing over and over again and expecting different results"-Albert Einstein
To get back on track we have we have to remove this plague of liberalism. We must adopt sustainable economic, entitlement, energy , monetary, taxation, and foreign policies. We cannot pass this debt to our children and beyond. We must become conservative once more get our fiscal house in order. We must defend the supreme law of the land our united states the constitution and become liberty minded
"We cannot strengthen the weak by weakening the strong"-Benjamin Franklin
Thank you for your time,
God bless you fellow patriots, and god bless America
Jerry Essary Jr.
Beckham county Republican Chair
"In Deo Confidimous"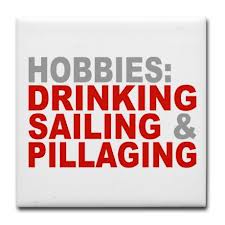 Last Thursday was the first House Caucus for the coming legislative session. They held the elections for the various offices using a very unfair system of voting as they did at the Bartlesville Caucus in late 2010 when Kris Steel turned on his conservative allies. The usual procedure is to have one vote with the top three winners gaining office so that all voting blocs have some representation. It is quick and easy but instead they spent almost three hours voting position by position, not allowing debate despite the House rules allowing debate, with Chairman Weldon Watson overruling objections. There was no doubt that the process was rigged to allow moderate and liberal House members to win.
TW Shannon won the Speaker slot by acclamation. Jeff Hickman was defeated in the Speaker Pro Temore race by Mike Jackson. Charles Orgeta, Lee Denney, and Randy McDaniel won the other slots.
The freshmen legislators were taken to lunch herded by Jason Nelson and Tom Newell. Newell seems to be the point man regulated to keeping the freshment in line but these freshmen will have an opportunity to hear what happened to the last group of freshment that trusted House leadership in 2010 so House leadership is going to have their hands full this time.
One troubling remark was attributed to TW Shannon during the caucus where he allegedly said that "We won't tolerate any Obstructionists." Who was the intended target is unclear but the comment had some eyebrows raised on the conservative side of the caucus.
One pretty good rumor that came out of the caucus ws that former Speaker Kris Steel was now working for George Kiaser. Kiaser spent a ton of money over in Shawnee the last few years so I suppose that was just partial payment for Steel's rigging the legislative session in favor of the State Chamber.
Next session is going to be very interesting. You can bet that we will be sharpening our machetes and that everyone will understand that for bad politicians the next election starts on opening day.
Here are all the House members in two
fifty member blocks of email addresses
. Use Bcc in your email address header and email fifty of them with one email yet they won't know who else got the email.
Rem
ember to strip the unsubscribe link before forwarding this newsletter to prevent someone from taking you off our list! Use our forward this email link at the top of the newsletter to prevent being accidently unsubscribed.
Money is always needed for printing costs, postage, sign materials, and robo call costs. We are tightfisted; we will spend your hard earned money wisely and frugally as we do our very best to clean up Oklahoma politicians so we can begin to clean up our country.
You can donate by sending a check to Sooner Tea party, 358 North Rockwell Ave, Oklahoma City, OK, 73127 or visit Soonerteaparty.org and use the Paypal donation button.