The Oklahoma-Guardian Newspaper
I don't use the word "deployment" loosely. The newspaper is a weapon; make no mistake about it, a water cannon that will be rolled into the worst legislator's districts, into their own hometowns, with thousands of copies delivered to voters so that bad politicians can no longer hide behind the darkness that results when the media refuses to do its job.
Even more frightening for the bad politicians, this newspaper will be self sustaining, supported by advertisers, and no longer will the conservative movement be limited by depending on voters to find the voting records of liberal/progressive politicians. Instead of battling apathy, the information will land on the doorsteps and front lawns of the voters, shining a spotlight that will have the RINO cockroaches scurrying for darkness.
And worse for the State Chamber of Commerce, the same editions will go online, just waiting there forever for a curious opponent or voter to turn up in a Google search. Political careers will be short and brutal for those wanting to rule rather than represent and as the information spreads, while good citizens in the districts are encouraged to stand up and run against the weakened politicians, the bad politicians find it harder and harder to raise local political donations. No longer will politicians be able to pander for votes in election years, setting up popular issues for a vote in order to polish their carefully crafted political reputations. We link the legislator's votes to the legislator's reputation; they will live and die politically by their votes and by their refusal to act.
The initial printing will go out South of Oklahoma City, spreading the word about several good candidates and exposing the voting record of several bad incumbents. Advertising rates will be competitive; the newspaper will be a regular newspaper with around 40% of the content being political and the rest general interest, local stories, and columns. It will be delivered to frequent voters and their neighbors. Yes, mainline newspaper circulation is dropping but community newspaper circulation is increasing as the information is targeted to a particular community.
If you want to be a part of this, either as a donor to help get the first print runs off the ground, as a volunteer staffer, as an advertiser, or if you want to subscribe to the newspaper, email us at
editor@Oklahoma-Guardian.com
. Our first issue should hit the front porches of homes in the next ten to fourteen days.
More on Fear and Unrest
By Ms PM
In a previous story I asked a lot of questions about the state of our Great Nation and wondered if people had thought about any of them. I decided to randomly ask people their views to hear their thoughts on the subject.
This one comes from Jo of Edmond:
"The sale of guns has been reaching record proportions in the last 3 years. That's because of a strong feeling of fear in America. The fear we are losing our country, we are watching before our eyes the decline of our freedoms and values our Constitution guarantees. We are watching the take over of what feels like a parallel universe, the inmates taking over the insane asylum, nothing seems real and normal in this United States of America. I fear our children will become use to this abnormal existence we now have and not know or remember how this wonderful country of ours can be, full of expectations, equality, and the freedoms to become as much, or as little, as we want to be.
The Tea party sprung from this fear and unrest, the need to finally in our comfortable lives, to do something, anything to save that that is slowly being sucked away from us, with an ever growing faster pace, that has finally got our attention.
We fear because we see ourselves as average, common citizens of this great land of ours and we are watching radicals demean us, ignore us, and nobody but a few stand up for us, and that makes the uncomfortable feelings of fear increase and we ask ourselves "what is going on" that we should feel like this in our supposedly free country. I think this is what the Germans, Russians, Jews, felt like on the brink of their lost countries. I hope our complacency of the past has not made it too late for us to save what we should have paid greater care to, this marvelously God inspired Constitution of ours."
These thoughts come from Tim in Oklahoma City:
"What is fear? False evidence appearing real. Unfortunately with this President fear is real. I'm Tim and I'm a legal immigrant from Canada with permanent resident status. I jumped through all the hoops and paid all fees involved in becoming a U.S, citizen. This was my lifetime dream to leave a socialist country and live in the greatest country on the planet.
This is no longer true. The country I thought I was coming to has changed for the worst. I have until April, 2015 to become a U.S. citizen. I am keeping my options open and as I see it, there are only two available for me. Death at the thought of moving back to Canada and if things continue on the same course in America...I will die.
This President, his crony's and his policies must be stopped. Most of his policies have been strong armed through, illegal or just plain idiotic unless you are a lunatic "lefty." He has enacted so much crap while still trying to get re-elected for four more years of the same. If he gets re-elected with no fear of having to run again, it is very frightening. The abuse, illegal activities, trashing what is left of the Constitution and the country will be nothing more than the continued forcing of his ideology down upon us all. Yes, my fear is real and I really hope that neither of my two options materializes."
I can't help but think there are a lot of folks out there laying in wait. They seem to be getting ready and it's almost like a Steven King novel. They don't know what is coming but the sick feeling they have, surely means it will be something they do not like or want. The pressure seems to be building like a volcano, not if, but when it decides to erupt. The number of Americans waking up from the fairy tail life they have had, one by one, family by family and neighborhood by neighborhood is on the rise. I can only ask again...What will you do? Will you take action and get involved at the local level? Are you really ready to lose something you are not willing to live without?
Tick-Tock!!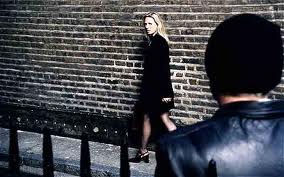 Soft on Crime bill HB3052 Passes Legislature
On a
71 to 18 vote
with 12 legislators missing or excused, the Speaker Steele Soft on Crime bill passed to the Governor's desk for signing into law. While the prison system and the criminal justice system are in need of reform, one has to wonder at
the alliance between Speaker Steele and the ACLU
. Were they just giving Steele political cover with their conditional support or were they genuinely disappointed in the final version of the bill?
It is noteworthy that Speaker Steele was earlier pushing for immediate release of many prisoners and this version seems to require they serve 85% of their original sentence before time off for good behavior credits kick in so perhaps Steele's social justice agenda was slightly blunted. The idea of post prison supervision is a good one though, I've known and worked convicts fresh out of prison through the halfway houses and few were equipped to handle life on their own.
Whatever the fallout will be from the Soft on Crime bill, we can thank the Senate for stripping much of the more objectionable language from HB 3052.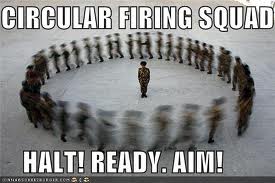 Gun Bills Cause Controversy
We have found fault before with OK2A's Tim Gillespie's timid approach to advocating gun legislation and his willingness to fall under the spell of legislators. Tim is basically a good man, a pastor, so he looks for the best in everyone but that can be a hindrance when you are dealing with the snakes at the Capitol. Another of Tim's flaws is his willingness to stop way short of what would be an acceptable compromise on a bill's language, allowing legislators to get away with submitting poor bills or standing by while they publically push a decent bill while knowing that the good parts will get stripped out in the Senate or in a Conference Committee where House versions and Senate versions of the same bill are reconciled.
So it was no surprise when Tim sent out an email crowing about recent success and it was no surprise that another gun group took exception to those asking activists to support the bills. The following text was taken from an OK2A newsletter with two paragraphs stripped our for brevity. Those two paragraphs didn't impact the controversial parts in any way.
Quote:
"Today (April 26) has been a banner day for OK2A and all Oklahoma gun owners. Several major 2A bills passed the House today, among them open carry.
With only 3 dissenting votes, SB1733 (licensed open carry) passed the House. SB1733 is much more than just open carry, though. It contains the elements of HB2522 that OK2A added to it, including private property open carry and relaxing the police notification requirement. This bill now faces one more vote by the Senate before being sent to the Governor. One interesting note, four representatives that voted against HB2522 decided to vote for SB1733: Cooksey (R), Nollan (R), Jeanie McDaniels (D), and Williams (D). The bill passed the House 85-3.
Another important bill, possibly second only to SB1760, is SB1785. SB1785 grants reciprocity to visitors from non-permitting states, such as Arizona. Constitutional carry states have not enjoyed reciprocity because they have no permit. This bill will recognize the driver's license from constitutional carry states as a permit. What makes this such an important bill is its implications for future legislation in Oklahoma. If our legislature recognizes the "constitutional rights" of people from out of state to carry why shouldn't they recognize our "constitutional right" to carry? SB1785 passed the House 82-4.
All in all, not a bad day. We appreciate everyone who called or emailed the legislators. Today's outcome is the result of much labor by many people and we should all be pleased."
End quote:
If the Oklahoma legislature has its way the Sooner State won't see

real

Open Carry reform any time soon.

That's right.

The State Legislature has reversed course and destroyed a perfectly good "no permission slip needed" Open Carry bill by pulling a bait-n-switch on the Senate floor. For over three weeks the strongest version of Open Carry waited for a promised Senate floor vote after passing committee. This straight forward bill was the version everyone expected to be brought up!

It would have removed the terrible original House version that required those who wish to open carry to meet the same background checks, training requirements, and fees that are currently forced upon concealed weapons permit holders. After months of bragging about how Oklahoma was going to finally do away with the unconstitutional Open Carry ban -- the Senate snuck through an obscure amendment offered by anti-gun Senator Greg Treat. They were hoping that you and I wouldn't notice what they actually passed had little to do with open carry at all!
But what's worse, while the Senate was putting on their show with "HB-2522", the House was working to send another completely separate hundred page monstrosity "SB-1733" back to the Senate. They did this after voting down an amendment by Representative Mike Reynolds that would also have stricken the permit requirement for open carry by a vote of 16-63.

You and I know weak-kneed politicians are eager to use any parliamentary trickery they can to avoid doing what they promised us. The actions of these anti-gun lawmakers have only confused the people they serve. With over four dozen separate gun-related bills introduced this year, let's make the final vote on these so-called "Open Carry" bills simple for the Senate to understand.
If SB-1733 becomes law in its current form, it means they think Oklahomans aren't good enough to exercise their Open Carry rights without a government permission slip. It means Oklahoma will rank with anti-gun hotbeds like New Jersey and Maryland in denying Open Carry rights.

Worse yet, if HB-2522 becomes law in its current form, Oklahoma will continue to rank with the likes of New York and California as one of only eight states that bans Open Carry entirely. The message to lawmakers is clear: SB-1733 and HB-2522 need to be killed now, and Open Carry needs to be made a part of a real Constitutional Carry bill without delay!
But unless you take action, this back door gun-control effort will become law. That is why I need your help. Call your State Senator at (405) 524-0126 or click here to find out who your State Senator is. Tell them you expect them to ditch HB-2522 and SB-1733 and restore the "no permission slip necessary" version of Open Carry now. Tell them that the sell-out on Open Carry is unacceptable.

Then when you are done, call anti-gun Representative Steve Martin -- the House sponsor who killed permitless open carry -- at (405) 557-7402 and ask him why he thinks so little of the Second Amendment rights of Oklahomans? Demand that he get off his high horse and pass your right to carry without any permission slip or other infringements on your Second Amendment rights -- today!

The games the Oklahoma Legislature is playing are unacceptable. For months now, they have been promising real Open Carry reform -- and now they are moments away from breaking this promise."
End quote:
The difference is that Mr. Brown, the Executive Vice President of NAGR, the
National Association for Gun Rights,
understands politics and politicians. While Tim with OK2A is all a-twitter, no doubt feeling a buzz running down his leg, with the politicians paying lip service to his issue, Mr. Brown understands that the legislature is up to the same old tricks.
NAGR, Campaign for Liberty, and Right to Work all train together at an annual conference in Florida and the training is the best in the political industry as Right to Work has been doing this for many, many, decades. They know how destructive it is for group leaders to trade the power of their groups for access to politicians, how demoralizing it is to watch groups acting out Charlie Brown's part in kicking the football while Lucy yanks the ball away at the last moment.
A look at the voting records for the Senate bill is instructive. The defining vote for the purpose of separating those that truly support the Constitutional right to bear arms is on 4/24 at 3:20 pm where Representative Reynolds ask that the word "in" be taken out of the sentence below:
6.

For lawful self-defense and self-protection or any other legitimate purpose in or on property that is owned, leased, rented, or otherwise legally controlled by the person

.
At that point, the House voted to table Reynolds's amendment, to kill it, as Reynolds's change would have allowed the open carry of a weapon
on
one's own property rather than
inside
the property (meaning inside a home). Sixteen legislators held the line that day, preferring to protect the Constitution's 2
nd
Amendment instead of going along quietly while people like Representative Steve Martin played political games.
Below are the names of those that cast an honorable vote that day along with their 2011 RINO scores. Remember, the lower the number the more the politician supports special interests and ignores the State GOP Party Platform:
Bennett 75 Faught 60 Moore 70 Scott 60
Blackwell 65 Hamilton 80 Renegar 65 Stiles 60
Casey 40 Hoskin 50 Reynolds 90 Walker 40
Christian 90 Key 95 Roberts, S.45 Wesselhoft 90
As for OK2A and Mr. Gillipsie, I've said almost from the beginning of my involvement in the Tea Party movement that leaders of grassroots groups must be held accountable for their actions as leaders of their groups. They owe it to their members to get the training needed to make good decisions and to develop the judgment needed to guide their group in the fight for liberty. And they should serve only one master, not several so that they can act in accordance with what is best for their group not for another group that they also represent. As an example are those leaders that fight for gun rights and for anti abortion issues, one has to take preference because you will have to thump someone that is on the wrong side of one issue and the right side of another.
For now both bills are in the hands of the politicians to reconcile the latest changes. As this is an election year something might actually get passed but you can bet it won't be as good of a bill as what would be possible if we had a really good gun group operating in Oklahoma.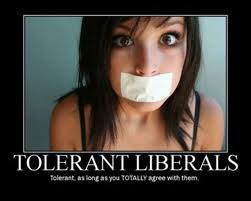 Educators Make Liberal Politicians
By R. H.
Mr. Spears is a retired Educator and Principal who went into politics after his career in education was over. He ingratiated himself with membership in all the right boards and all the right clubs in his home town of Bartlesville. This undoubtedly convinced his constituents that he was the guy to represent them in the House of Representatives. Unfortunately his voting record has deceived and in fact abused the trust of his constituents.
Representative Sears currently sits as Chair of the Appropriations and Budget Committee. As such it would be normal for him to have a hand in crafting the budget for the state. In 2011, he was a major player in the budget. He crafted 22 bills for consideration by the House. Most dealt with the budget. Of those 5 died in House committees, 1 died on the Senate floor and 16 became law. The 16 that became law are listed below.
HB 1079 Electric Usage Data Protection Act-Conservative
HB 1267 Teachers Retirement System Funding-Liberal
HB 2169 Obamacare Funding-Liberal
HB 2170 General Appropriations-Liberal
HB 2171 Transportation Bonds-Liberal
HB 2172 Establishing the Native American Liaison, Eliminates the Oklahoma Indian Affairs Commission-Liberal
HB-2173 Attorney General Medicaid Fraud Recovery Authorization-Conservative
HB 2174 Funding Supreme Court System- Neutral
HB 2176 Department of Public Safety Revolving Fund-Liberal
HB 2177 Voluntary Buy Out (Early Retirement)-Liberal
HB 2178 Physician Manpower Training Comm. Residency Revolving Fund-Liberal
HB 2180 Oklahoma School of Science and Mathematics Budget-Liberal
HB 2182 Oklahoma Center for the Advancement of Science and Technology-Liberal
HB 2183 Department of Human Services, Appropriations and Limitations, Liberal
HB 2184 Poor Persons-Closing state administered resource centers-liberal
Now I know that all of this was part of the budget process, but after reading the bills they were all slanting to the liberal side of things. I was truly surprised to find a bill funding Obama Care that slipped by us last year. It's been found now, and we know how people voted. Rest assured that if you've made my list, our readers will soon know too.
After being so involved in the budget process in 2011, I was shocked to see how little input the Chair has had on the budget process this year. In 2012 he has submitted 1 bill for consideration to the House. It is still sitting in a House committee.
So how did he vote on other bills that mattered to Oklahomans? We took a look at some key questions and here is what we found.
HB 1397 Transvestite Birth Certificate Bill, voted Yea 3 times-Liberal
HB 2130 Obamacare, voted Yea 3 times-Liberal
HR 1004 Open Rules under certain circumstances, refuses to sign-Liberal stance
HR 2171 Obama Highway Bill, voted Yea 6 times-Liberal
HB 1953 Governor's Quick Action Fund, Slush Fund, voted Yea 12 times-Liberal
HB 1593 Municipal Employees Collective Bargaining Act, voted Yea 3 times-Liberal
HJR 1002 Ad Valorum tax increase, voted Yea 1 time-Liberal
HB 1446 Illegal Immigration Bill, voted Nay 2 times, Yea 1 time-Liberal Stance
HB 2131 Soft on Crime, voted Yea 1 time, excused 1 time-Liberal
HB 1647 Concealed Carry for Military Personnel, voted Nay 2 times Yea 2 times-Liberal
HB 2169 Obama Care Funding, voted Yea 3 times-Liberal
SB 154 21st Century Quality Jobs Act, voted Yea 2 times-Liberal
I don't think he ever met a Liberal bill he didn't like. His voting record proves a point. I guess when you run unopposed for election year after year you can vote however you want and to hell with what your constituents want. Even OCPAC ranks him as one of the most liberal politicians in the House of Representatives. Every single Democrat is considered more conservative than he is. That doesn't say much for the man.
I visited
www.votesmart.org/candidate/66441/earl-sears
just to see if there was anything interesting. In typical Liberal fashion, he refused to answer any questions on where he stood on the issues that concern Oklahomans. I did find that he was part of the crowd that took money from the Native American tribes, who were trying to negotiate water issues with the state, and then turned around and wrote legislation diminishing the states commitment to the Native American tribes. A typical liberal move.
I also went to
www.followthemoney.org
and looked at his campaign finances. They proved to be interesting. You might want to take a look at them.
I did go to the Oklahoma Ethics Commission web site and looked at his Schedule E Monetary Expenditures for the Calendar year of 2010. What I found there was really interesting.
Date Expense Beneficiary Explanation Amount
Aug. 10, 2010 Donation Bartlesville Comm. Foundation Donation $20.00
Aug. 11, 2010 Donation Blue Stem Foundation Donation $100.00
Aug. 14, 2010 Donation Jesse Creek Shoot Donation $300.00
Aug. 17, 2010 Donation ARC Group Homes Donation $75.00
Aug. 20, 2010 Donation Ok Mozart Donation $350.00
Aug. 30, 2010 Donation Bartlesville Reg. United Way Donation $250.00
I could go on, but I won't. It's like this for the entire year. There were thirty five (35) additional entries like that throughout the year. Now I'm all for being charitable, but with my money. I'm sure these groups are all grateful for the contributions, but I can't help but feel that they would appreciate it more if it came from his pocket and not those of his campaign contributors. I also wonder if his campaign contributors are aware of how he's spending their money.
It doesn't appear that Mr. Sears has any competition again this year. It's not too late for his constituents to have him called upon the carpet in front of the State GOP Chairman for a dressing down about his voting record. I strongly urge that this be done. Failing to do so, Mr. Sears, resign your position. You are a disgrace to the Republican Party and the State of Oklahoma. RINO Republicans like you are a dime a dozen. They're called Democrats. Get out. We don't want you.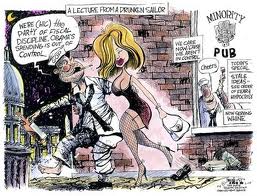 By R. H.
Representative Todd Russ is not a hard man to figure out. He is a well-educated man having obtained a B.S. in International Finance from Southwestern Oklahoma State University. He also attended Graduate School of Banking at the University of Colorado. His biography doesn't indicate if he obtained an advanced degree. He also attended the School of the Bible at Berean University. It is my belief that his trust in the leadership and religious background of Speaker Steele has led him down the path of liberalism. It is that trust in the Speaker that has caused Mr. Russ not to sign HB 1004.
Mr. Russ's conservatism shows in what few public statements he has made. One dealing with a bill lengthening happy hour at bars
can be read here
. I feel his views are impacted by his religious schooling. That doesn't mean they are wrong.
Representative Russ is a freshman, who ran un-opposed for his seat in the House. To my knowledge he is also un-opposed in the next election. That is not very good news for the conservative movement in Oklahoma. A look at his legislative record will explain why. In 2011 he submitted 11 bills for consideration to the House. Of those 6 dies in House committees, 2 died on the House floor, 1 died in Senate committees and 2 became law. The 2 that became law are listed below.
HB 1688 Voiding contracts between Minors and Unions-Conservative
HB 1692 Flood Plain Management-Liberal
A fifty percent conservative bill ratio is not good. That alone makes him a RINO Republican. We have enough of them already.
In 2012 he submitted 13 bills and 1 House Joint Resolution for consideration to the House. Of those 12 bills are still in House committees and 1 is in a Senate committee. The House Joint Resolution is in a House committee. At least it doesn't look like he'll do any damage to the conservative movement this year.
Where does he stand on issues that are important to all Oklahomans? How did he vote on the key issues for conservatives? Let's take a look.
HB 2130 Obamacare, voted Yea 4 times-liberal
HR 1004 Open Rules under certain circumstances, refuses to sign-liberal stance
HR 2171 Obama Highway Bill, voted yea 5 times-liberal
HB 1953 Governor's Quick Action Fund, slush fund, voted Yea 9 times, Nay 3 times, Excused 3 times- liberal
HB 1593 Municipal Employees Collective Bargaining Act, voted Yea 3 times-liberal
HJR 1002 Ad Valorem tax increase, voted Yea 1 time-liberal
HB 1446 Illegal Immigration Bill, voted Nay 2 times, Yea 1 time-liberal stance
HB 2131 Soft on Crime, voted Yea 2 times-liberal
HB 1647 Concealed Carry for Military Personnel, voted Yea 3 times Nay 2 times-liberal stance
SB 154 21st Century Quality Jobs Incentive Act, voted Yea 4 times-liberal
As you can see Mr. Russ has never met a liberal bill he didn't like. There are actually an even two dozen Democrats with higher conservative scores than Mr. Russ. Now what does that tell you about the man's politics?
I took the time to go to the Oklahoma State Ethics Commission web site to look at his campaign reports for the Calendar year of 2010. I didn't expect to find much since he ran unopposed but I did find something.
Date Item Expenditure To Beneficiary Amount
Apr. 19, 2010 Subscription Hobart Democrat-Chief Candidate $30.00
Nov. 4, 2010 Annual Subscription Hobart Democrat-Chief Candidate $30.00
Now the question is why is he paying the equivalent of two years' worth of subscriptions to his local paper in one year? The bigger question is why is he paying for his personal subscription to his local paper out of campaign funds? A look at his employment record would indicate that he has the financial means to pay for his own subscription himself. After all he does sit on the board of three different banks.
I also paid a visit to
Votesmart
to see what they might have. He had all the markings of liberal politicians. He refused to answer any of the questions on where he stood on the issues facing Oklahomans today. He just doesn't want to let people know where he stands on the issues.
In closing this is a man that needs to be replaced with a true conservative politician. Mr. Russ says all the right things to get elected, then turns around and votes as a liberal. That is the trademark of a true RINO Republican. Its politicians like him that gives the Republican Party a bad name. It's too late now to find a candidate to run against him this fall, but I remind the citizens of District 55 you have the right to have him called in front of the State GOP for a dressing down on his voting record. I would suggest you do so.
Rattled Legislators Review the
Revised Conservative Index
Last week's release of the 2011 RINO Index, a revision of the Oklahoma Constitution/OCPAC 2011 Conservative Index rattled a lot of legislators. Below is a chart of Representatives that we know looked up their individual score, defended their score to curious constituents who reported back to the Sooner Tea Party, or were reported by third parties to have spoken about their new score. Of all of them, none was more rattled that Speaker Kris Steele who took the new Index extremely seriously from the reports we have of him forwarding the email nearly two dozen times.
Anyone can decide to write about the legislator in this day of self publishing but very few can state that they are required reading for journalists, legislators, lobbyists, and state agency heads. Here at the Sooner Tea Party we have accomplished this with a mixture of inside information, accurate research, and the willingness to let the chips fall where they may. Yeah, we can be vicious at times when it is required but always for a good reason, defending liberty and stopping corruption. As a result our group has grown in influence and few if any groups could claim the power we have to educate, motivate, and modify the voting behaviors of the political class in Oklahoma.
Take a look at this list and reflect that this is just the ones that we know took the time to read the 2011 RINO Index. And reflect upon the unorthodox time that we release our newsletter, after ten P.M. on a Sunday night, a time guaranteed to cause low readership yet we have dozens of State Senators, State Representatives, journalists, lobbyists, and state agency heads staying up into the wee hours of the morning to read what we publish. Some wait up with a smile on their face, knowing that we are plowing the road for them to enact good legislation, others sit up with stomachs twisted in knots in anxiety and anticipation, waiting to find out if we have published anything negative about them in that issue.
And it is to those of the latter category that should worry. We know who you are. We are watching your every vote. And eventually, we will be coming for you. Now, have a good night…
| | | | | | | | | | | |
| --- | --- | --- | --- | --- | --- | --- | --- | --- | --- | --- |
| Name | District | Party | 2011 score | Looked | | Name | District | Party | 2011 score | Looked |
| Don Armes | 63 | R | 30 | yes | | Skye McNiel | 29 | R | 10 | yes |
| Gary Banz | 101 | R | 30 | | | Jerry McPeak | 13 | D | 65 | yes |
| John Bennett | 2 | R | 75 | yes | | Lewis Moore | 96 | R | 70 | yes |
| Lisa Billy | 42 | R | 30 | yes | | Danny Morgan | 32 | D | 50 | |
| Gus Blackwell | 61 | R | 65 | | | Richard Morrissette | 92 | D | 65 | |
| Mike Brown | 4 | D | 45 | yes | | Glen Mulready | 68 | R | 40 | |
| David Brumbaugh | 76 | R | 80 | yes | | Jason Murphey | 31 | R | 90 | |
| Ed Cannaday | 15 | D | 50 | | | Jason Nelson | 87 | R | 40 | yes |
| Dennis Casey | 35 | R | 40 | yes | | Tom Newell | 28 | R | 65 | yes |
| Mike Christian | 93 | R | 90 | yes | | Jadine Nollan | 66 | R | 20 | |
| Josh Cockroft | 27 | R | 70 | yes | | Chalres Ortega | 52 | R | 35 | |
| Donny Condit | 18 | D | 70 | yes | | Leslie Osborn | 47 | R | 40 | yes |
| Ann Coody | 64 | R | 30 | | | Pat Ownbey | 48 | R | 20 | |
| Marian Cooksey | 39 | R | 30 | yes | | Ron Peters | 70 | R | 30 | yes |
| Doug Cox | 5 | R | 30 | | | Pam Peterson | 67 | R | 30 | |
| David Dank | 85 | R | 35 | yes | | Anastasia Pittman | 99 | d | 45 | |
| Lee Denney | 33 | R | 20 | yes | | Eric Proctor | 77 | D | 70 | yes |
| David Derby | 74 | R | 90 | yes | | R. C. Pruett | 19 | D | 50 | yes |
| Dale Dewitt | 38 | R | 25 | | | Marty Quinn | 9 | r | 40 | yes |
| Joe Dorman | 65 | D | 65 | | | Brian Renegar | 17 | d | 65 | |
| John Enns | 41 | R | 35 | | | Mike Reynolds | 91 | R | 90 | yes |
| Rusty Farley | | | 40 | X | | Phil Richardson | 56 | R | 30 | yes |
| George Faught | 14 | R | 60 | yes | | Mike Ritze | 80 | R | 90 | |
| William Fourkiller | 86 | D | 60 | | | Paul Roan | 20 | D | 30 | |
| Larry Glen | 7 | D | 70 | yes | | Dustin Roberts | 21 | R | 30 | yes |
| Randy Grau | 81 | R | 50 | | | Sean Roberts | 36 | R | 45 | yes |
| Elsie Hall | 100 | R | 30 | yes | | Wade Rousselot | 12 | D | 70 | |
| Rebecca Hamilton | 89 | D | 80 | | | Todd Russ | 55 | R | 45 | |
| Tommy Hardin | 49 | R | 10 | yes | | Mike Sanders | 59 | R | 40 | yes |
| Jeffrey Hickman | 58 | R | 30 | yes | | Colby Schwartz | 43 | R | 50 | yes |
| Wes Hilliard | 22 | D | 75 | | | Senca Scott | 72 | D | 60 | |
| Corey Holland | 51 | R | 50 | yes | | Earl Sears | 11 | R | 20 | yes |
| Chuck Hoskins | 6 | D | 50 | yes | | T W Shannon | 62 | R | 40 | yes |
| Scott Inman | 94 | D | 70 | yes | | Mike Shelton | 97 | D | 55 | yes |
| Mike Jackson | 40 | R | 30 | yes | | Ben Sherrer | 8 | D | 35 | yes |
| Dennis Johnson | 50 | R | 40 | yes | | Jerry Shoemake | 16 | D | 50 | |
| Fred Jordon | 69 | R | 40 | yes | | Jabar Shumate | 73 | D | 60 | yes |
| Charley Joyner | 95 | R | 20 | | | Kris Steel | 26 | R | 20 | yes |
| Sally Kern | 84 | R | 90 | yes | | Aaron Stiles | 25 | R | 60 | |
| Charles Key | 90 | R | 95 | yes | | Dan Sullivan | | R | 30 | X |
| Dan Kirby | 75 | R | 55 | yes | | Randy Terrill | 53 | R | 95 | |
| Steve Kouplen | 24 | D | 65 | | | Todd Thomsen | 25 | R | 40 | yes |
| Guy Liebmann | 82 | R | 20 | yes | | Sue Tibbs | | R | 30 | X |
| James Lockhart | 3 | D | 65 | | | John Trebilcock | 98 | R | 65 | |
| Martin Scott | 46 | R | 40 | yes | | Steve Vaughn | 37 | R | 60 | |
| Martin Steve | 10 | R | 10 | yes | | Emily Virgin | 44 | D | 40 | yes |
| Al McAffrey | | D | 35 | X | | Purcy Walker | 60 | D | 40 | |
| Mark McCullough | 30 | R | 45 | yes | | Weldon Watson | 79 | R | 20 | yes |
| Jeanie McDaniel | 78 | D | 40 | | | Paul Wesselhoft | 54 | R | 90 | yes |
| Randy McDaniel | 83 | R | 50 | | | Cory Williams | 34 | D | 60 | |
| | | | 10 | | | Harold Wright | 57 | R | 30 | |