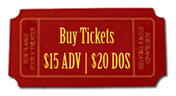 Tickets $15 in advance | $20 day of show | $5 Arts for All PDX
Looking for a place to connect in a real way? Come for the show, leave with a community. Experience the true stories of the people of Portland at Urban Tellers® on
October 5th
over at
The Old Church
. Join us for the launch of our
15th Season
!
As Henry David Thoreau tells us, "One should always be on the trail of one's own deepest nature," and that idea has emerged for this show: "Tuning In To My True Nature." You'll hear all new real, true stories about dancing, dreaming, daring, and defiance. Featuring storytellers Sharon Gavin, Kyle Cooper, Lynn Fitch, Steve Eggerts, and Leah Carey.
Jazz at 7 when the doors open with Stories at 8.
Hosted by Lynne Duddy and Lawrence Howard. Music by our incomparable house band,
Tonight's Special.
Portland Story Theater's 2018-2019 Season is generously supported by The McIvor Family Charitable Fund; Tonkon Torp; John Moe; Diane Ponti and Ward Greene; Ronni Lacroute; Polk Family Charitable Fund; Dana and Steve Dennis; members of the Portland Story Theater Board, Founding Circle, and Narrative Network, and many other individual supporters, as well as by the Oregon Community Foundation; The Collins Foundation; James F. and Marion L. Miller Foundation; Meyer Memorial Trust; The Kinsman Foundation; The Autzen Foundation;
NW Natural Gas; and
The Oregon Cultural Trust. Thank you! If you would like to support our work, please click here:
[

Make a Donation
]