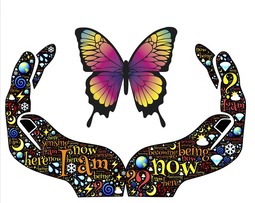 ==============

========================
TO EACH OF YOU PRECIOUS
SOULS BORN THIS MONTH!
==============

========================
"The closer you come to your authentic self,
the simpler everything becomes. Listen to your
intuition. It will tell you who you are."
==============

========================
Last week I was feeling sentimental, missing
my dad who transitioned in 2000. I listened
to songs by one of his
favorite crooners,
When "You're Nobody 'Til Somebody Loves You"
(released in 1964, #1 on the easy listening charts)

played
,

I wondered how many people took the
lyrics seriously. How many people felt they were
nothing and nobody because they didn't have a
For decades, I felt empty inside and incomplete
when I didn't have a boyfriend. I feared that
others would think I was WEIRD if I preferred
to be alone and take a break from dating.
I had linked my VALUE as a woman to having
a relationship. I'd also subconsciously linked
my value to my income, my home, my car, and
my physical appearance. (All of this verified by
dowsing.) Yikes!

You probably

consciously

believe you are NOT
defined by your Earthly things or relationships.
But your subconscious mind, influenced by the
outside world and fears of judgment by others,
may believe otherwise. Mine sure did!

You may be thinking, so what's the big deal if
my subconscious mind equates my value with my
car, job, income, health, home, or relationships?
When those things are linked to your value, then
are suddenly diminished or gone, your self-perceived
VALUE is less or completely gone. You feel worthless
and worth LESS. You have devalued yourself.
Your energy vibrates at the level of your emotions,
conscious and subconscious thoughts. It attracts
more people and situations based on the level of
the vibes. If you feel worthless, you'll attract more
PROOF that's exactly what you are. Your physical
and mental energy may feel low. You may feel a
deep sadness, not knowing why.

As a subscriber of this newsletter, you KNOW you
are Divinity. But if any or all of life is unsatisfactory
for you, you may have linked your value to a part
of your life that's not working. Time to disengage!

This month's first video is a quick clearing to
de-link your value from a part of your life that's
not working. You may feel a lightness after you
do the exercises with the video.
(It's less than
4 minutes to view, too!)