Cover Photo: UltiPhotos Action Photo of the Year 2017 - Anna Thompson (AMP #19) throws around Kate Kingery (BFG #5) in the USAU National Championship mixed semi-finals, 10/21/17. Photo by Billy Dzwonkowski.
Dear ,
World Championships for Club, Juniors, and Masters are just around the corner - contact us now at events@ultiphotos.com to reserve UltiPhotos team coverage for these once-in-a-lifetime events!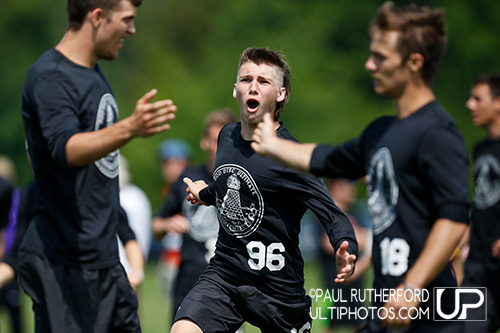 Thanks to all of our supporters in the ultimate community, we had another banner year in 2017! We've compiled the very best photos from our coverage last year, including WCBU, each USAU Championship event, the EuroStars Tour, NUTC, select AUDL team coverage, and over 80 local tournaments. Take some time today to flip through
this collection
of 300 phenomenal shots.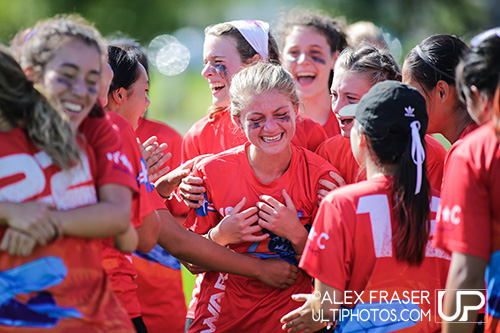 Last month, we announced the winners of our second annual
UltiPhotos Awards
for 2017 across our social media channels. These awards included Best Action and Atmosphere for each division, as well as overall awards for Best Action Photo (newsletter cover photo), Best Atmosphere Photo (above), Photographer of the Year - Paul Rutherford, and Rookie of the Year - Ken Forman. Congrats to all of our winners!
We really love this opportunity to showcase our photographers' talent and show our appreciation for the hard work they do all year. We're so grateful to the sponsors who support the Awards - a huge THANK YOU! to Discraft, Breakmark, Five Ultimate, Savage Ultimate, Friction Gloves, Kikko Socks, NUTC, VC, and Disc Store!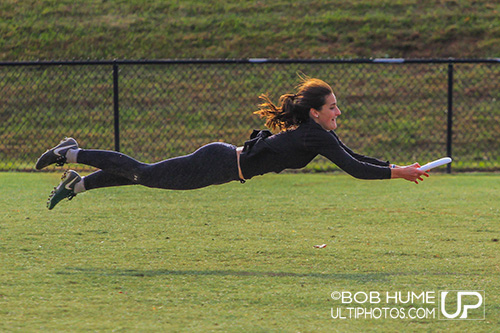 We ended the year strong with a full Fall schedule! Below is our other recent coverage from the last few months. Thanks so much to these tourneys for bringing UltiPhotos out! Want to see UltiPhotos at your tourney? Talk to your TD or reach out to events@ultiphotos.com to set it up!
We're providing official event photography for the below upcoming tourneys - see you there!
Queen City Tune Up: 2/3-2/4 in Charlotte, NC - Christina Schmidt
Nocturnal Decisions: 2/10-2/11 in Waldwick, NJ - Sandy Canetti
President's Day Invite: 2/17-2/19 in San Diego, CA - Greg Pettus - Monday coverage only
Stanford Invite: 3/3-3/4 in Fremont, CA - Rodney Chen
Goaltimate Nationals: 3/3-3/4 in Austin, TX - Conrad Stoll
Men's Centex: 3/10-3/11 in Austin, TX - Conrad Stoll - Sunday coverage only
Queen City Tune Up HS: 3/10-3/11 in Pineville, NC - Christina Schmidt
D3 Midwestern Invite: 3/16-3/18 in Fair Oaks, IN - Mark Olsen
Bringing an UltiPhotos photographer to your event is as much an amenity to the tournament as it is to the players. Increase your tourney's visibility and reputation with an elite photographer - g
et in touch at 
events@ultiphotos.com
!
As always, tell your TD if you'd like to see UltiPhotos at your next tournament! 
Sincerely,
The UltiPhotos Team