Wild Ride Awaits for Water Issues Under Trump
by Matt Weisser
Like his vow to build a border wall, Trump's promises around water issues will be difficult to fulfill. And the path to get there could be disruptive for water agencies and the environment.
Donald Trump made some big campaign promises about water during his election campaign. Now that he has been elected president, those promises could dramatically shake up how water is managed in the arid West.
In one of his few direct statements about water, Trump has said he wants to invest in treatment systems to prevent problems caused by aging distribution lines, citing as an example the drinking-water contamination in the Michigan city of Flint. To do this, he proposes to triple funding for a federal loan program, called the state revolving fund, from the current $2 billion to $6 billion.
This could be a boon to local water and wastewater utilities struggling to pay for decaying infrastructure.
Paradoxically, Trump has also vowed to slash Clean Water Act regulations. In particular, he is targeting rules adopted by the Obama administration to protect wetlands and marshes, the nation's natural water filters.
Like Trump's vow to build a wall on the Mexican border, these proposed changes would encounter a host of inconvenient realities associated with government. Working that out is certain to be disruptive, whatever the outcome.
"Certainly what we're hearing out of the Trump administration is encouraging to the water utility sector," said G. Tracy Mehan, executive director of government affairs at the American Water Works Association. "But I don't know how you triple the state revolving fund. There's just a lot of unknowns."
"It would be a tall order; it would require cutting a similar amount from other government programs. Mehan said it's "really unclear" how that will happen in a Congress that fights to protect every dollar spent on existing programs.
Trump also plans to convince private investors to spend $1 trillion on public infrastructure projects. He claims he can entice them to do this by giving them generous tax credits.
But Mark Lubell, director of the Center for Environmental Policy and Behavior at the University of California, Davis, said tax breaks are not enough to drive that kind of investment because there is no profit being offered.
"They're not going to invest in a flood management system, for example, where they get no revenue from somebody – even with the tax breaks," Lubell said. "That's where we need to convince the Trump officials that a more traditional infrastructure plan is consistent with their strategy."
The way to do that, he said, is to highlight the economic benefits that come with building environmental infrastructure. Projects like levee construction, floodplain restoration, modern water lines and sewage treatment facilities all support thousands of jobs; they foster domestic manufacturing and protect the nation from disasters and health crises that harm economic productivity.
"If you connect those issues to climate change or endangered species, I don't think that's going to fly in a new Trump administration," Lubell said. "But what would fly is an economic argument."
Trump, the first property developer to be elected president, has vowed to eliminate the so-called Clean Water Rule (also known as the "waters of the U.S. rule") adopted by the outgoing Obama administration. This regulation was crafted to clarify decades of uncertainty about which water bodies are subject to development restrictions under the Clean Water Act.
The rule resulted from a lengthy regulatory process triggered by court rulings. Its goal is to protect surface water expanses – marshes, wetlands, floodplains and small streams – that act as natural filters and conduits for drinking-water sources.
Lubell said eliminating the rule would not be simple; it would require a new rulemaking process that would likely take years. Simply suspending it would mean the regulations reverted to their prior state, which were a source of frustration because they were vague.
"He doesn't realize what it takes to change a regulation or rule," Lubell said. "You can't just go and magic-wand everything, which he apparently thinks is possible."
One water arena where Trump's team may have a lot of influence is dams. The new water infrastructure bill approved by Congress in December gives certain cabinet secretaries unprecedented powers to enlarge existing dams and build new ones.
The normal path to federal dam building involves a thorough environmental review by a federal agency such as the Bureau of Reclamation. Then the project is vetted by a congressional authorizing committee, such as the House Natural Resources Committee, which determines if the project is a wise investment of public dollars and a worthy environmental risk.
These practices were pushed through a generation ago by then-president Ronald Reagan to rein in pork-barrel spending.
A New Showerhead: High on the list of dumb ideas
A series of Bluetooth-connected showerheads will give a light display when it's time to cut the long shower short. 
The new Hydrao showerheads have built-in LED lights that change from green to blue to purple to red based on how much water has been used. 
Smart and Blue, the French company that created the showerheads, wants users to use the light as a visual cue to take shorter showers and reduce water and energy bills. 
The Hydrao will also work with Alexa, Amazon's voice-activated digital assistant. It's a fairly limited integration—as Alexa informs how much water and money have been saved (if the user does shorten those showers, that is).
In Australia, beaches in the Melbourne area are being shut down because of fecal bacteria in the water. Heavy rain storms in the region are the cause.
A massive chunk of an Antarctic ice shelf is poised to break away and fall into the ocean at any time. Once it does, it will create an iceberg about the size of the state of Delaware and when it separates, it is projected to be one of the 10 largest icebergs ever recorded.
The Louisiana Department of Health tested 90% of the homes and businesses in St. Joseph, LA. Almost 1/4 showed abnormally high levels of lead.
Texas just finished the two wettest years in history (previous high was 1940-41), but much of the state is still suffering under drought conditions.
The EPA reported that in the 2015 spill from an abandoned Colorado gold mine, nearly 540 tons of metals - mostly iron and aluminum - contaminated the Animas River. The spill turned rivers in three states a sickly yellow.
A recent study released by The Nature Conservancy shows that four out of five of the 4,000 largest cities in the world could improve water quality using nature-based solutions. One in six of those cities could recoup the costs of these source water protection activities through savings in annual water treatment costs alone.
Nature can provide value that extends far beyond savings in water treatment costs. Nature-based solutions designed to improve local water quality can have a positive impact on some of the greatest global environmental challenges we're facing. If the 4,000 largest cities invested in upstream land conservation with the main goal of protecting water sources, we could also reduce the risk of regional extinctions for 5,400 animal species, improve the health and well-being of more than 1 billion people, and store and capture more than 10 gigatonnes of CO2 each year. These benefits could never be realized by relying on gray infrastructure alone to improve our water security.--National Geographic.
After years of waiting, veterans who were exposed to contaminated drinking water while assigned to Camp Lejeune in North Carolina may now be able to receive a portion of government disability benefits totaling more than $2 billion. Payments from the Dept. of Veterans Affairs are scheduled to begin in March.
Minnesota just became the first state in the US to ban soaps containing the once ubiquitous germ-killer triclosan. The ban took effect Jan. 1, although it's been in the works since 2014. The federal goverment's ban on triclosan goes into effect in Sept. but 
major manufacturers have largely phased out the chemical already, with some products being marketed as triclosan-free. And it's an example of how changes can start at a local level.
The Arizona Department of Environmental Quality plans to test more than 1,000 schools for lead in drinking water-- an project state officials say has never been done before on this scope in Arizona.
One of the "harmful and unnecessary policies" that new president Trump vowed to eliminate is the Waters of the United States rule, issued by the Environmental Protection Agency. The aim of the rule was to protect not only the largest waterways but smaller tributaries as well.
Because of severe drought over southern Africa in 2016, the animals of Hwange national park in Zimbabwe faced desperate water shortages. Elephants are especially in danger.
PPCPs in Drinking Water
The presence of PPCPs (Pharmaceuticals and Personal Care Products) in water supplies have been studied by US governmental agencies and also by the World Health Organization, but a considerable amount of research has been conducted as well by the Associated Press. The AP did an extensive 5-month research project on PPCPs in 2008.
Here are the ten most common PPCPs in US drinking water, according to the AP. Note that results are in tinier amounts than those possible with most conventional testing. Results are reported in ppt (parts per trillion).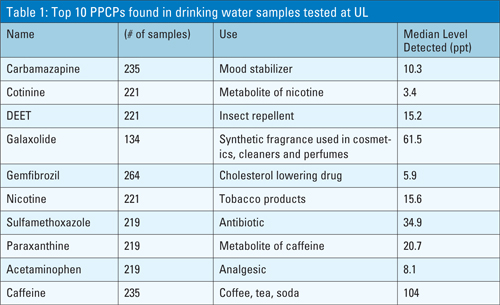 The UL report also went into some detail in its study of possible treatments. It identified the best treatment strategies as
Activated carbon
Biologically activated carbon
Ozone/advanced oxidation processes
Ultraviolet (UV) treatments
Nanofiltration
Reverse Osmosis
Here are more specific observations about treatments for PPCPs:
Over 90 percent of steroids can be removed from drinking water using activated sludge, activated carbon, biologically activated carbon, ozone/advanced oxidation processes, UV treatments and reverse osmosis.
Over 90 percent of antibiotics, antidepressants and antimicrobials can be removed using activated carbon, biologically activated carbon, nanofiltration and reverse osmosis.
Over 90 percent of anti-inflammatories can be removed using activated carbon, biologically activated carbon, ozone/ advanced oxidation processes, UV treatments, nanofiltration and reverse osmosis.
Over 90 percent of lipid regulators can be removed using activated carbon,
biologically activated carbon, ozone/advanced oxidation processes, nanofiltration and reverse osmosis.
Under 40 percent of listed PPCPs can be removed through the use of coagulation/flocculation and softening/metal oxides.
The Pure Water Gazette's observation: Of common point of use treatments available to homeowners, activated carbon and reverse osmosis rank in the 90 percent reduction area in all categories. The obvious conclusion is that a high quality carbon drinking water unit is excellent protection against PPCPs, and a reverse osmosis unit (reverse osmosis units normally contain at least two high quality activated carbon filters in addition to the reverse osmosis element) is even better. For whole house treatment, a good carbon filter can't be beaten.
Upflow Carbon Filters, for Excellent Whole House Water 
For City Water Users
Simple "in/out" upflow carbon filters offer an inexpensive way to remove chlorine or chloramine from city water. Among the simplest of water treatment devices, they require no electricity, no drain connection, no setup programming, no cartridges to change, and, for years, no upkeep.
Our version of the in/out upflow is the best product we can make, and we think it's the best anyone can make. Our in/outs feature the best parts available for simplicity of operation, long service life, effective performance. We use the superior Vortech mineral tank and the tough, reliable Clack In/Out Head. We provide a  clear-bowl media trap to assure that no filter media enters the home's service lines, plus a specially designed installation adapter to make startup of the filter easy. An optional bypass valve is sold separately.
We suggest that a sediment filter be installed in front of all upflow filters to protect against sediment intrusion. The sediment filter is not included because individual customer preferences differ.
The upflow style is used by some internet sellers for products promising "one million gallons" of service life. We make no such claims, but a four or five year service life before media change is to be expected if the filter is adequately sized. Our upflow units are straight carbon filters without mixed media or magic ingredients.  We believe that media with different purposes, like descaling agents or KDF, should be, if the customer wants them, offered in a separate tank. We don't like mixing media and we don't like split-level tanks.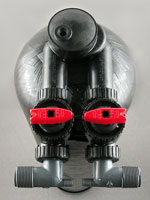 A Pure Water Products Upflow filter with the optional bypass (with red handles) installed. Upflow units need no drain connection, no electricity, and normally need no maintenance other than a media change after four or five years of service.
Here's a list of the standard residential sizes with the two most popular carbons. We also have regular carbon units (a bit cheaper than the coconut units priced below) and Jacobi Aquasorb Coconut Shell Catalytic carbon units (slightly cheaper than the Centaur units below).   As a rule of thumb, use coconut shell or standard carbon for chlorinated water and Centaur (or Aquasorb) for water treated with chloramines.
Coconut Shell Carbon Filters for Chlorine
Centaur Catalytic Carbon for Chloramines
Optional bypass for all sizes: Part #WH650: $37.
For sizing, here are some general suggestions:
Sizing Suggestions
| | | |
| --- | --- | --- |
| | | |
| | Small Office or Break Room | Small Office or Break Room |
| | | |
| | | |
| | | |
| | Home with more than 6 people. | |