Back to School time!
The busses are rolling in my part of the world. School is back in session! That means new things to study, like science...
This image was requested by Lindsey, Children's Librarian in the London Borough of Sutton, for their summer reading challenge "Storylab." With the Olympic fever, I'm only just now able to share it with all of you. (She received it a little early.) I hope you enjoy this fuzzy scientist!

THIS WEEK'S BLOG SUBJECTS... CLICK HERE to read about...
The World's Top Earning Authors
Rules for Wandering
Chip Kidd on Designing Books - TED
Ken Robinson says schools kill creativity

Coloring Page Tuesday - Olympic Bear!
TWITTER! Follow me on twitter too @dulemba.

Registration Is Still Open!
For our 2012 SCBWI Southern Breeze Illustrators' Day on Friday, August 31st at the Decatur library in Decatur, Georgia, USA. Click HERE to learn more.


Card Makers and Colorers!
It's Back To School time! Valerie used my Back to School Squirrel image for another fun card-making challenge at Digi Haven. More back-to-school images coming in the next few weeks! Click the image to visit my gallery, click her thumbnail and visit Valerie's blog to her card and leave her a comment.
Have you colored or created something using one of my Coloring Page Tuesday images? Post it to my gallery and maybe I'll share your creation next week!


CALL FOR ART!
I love sharing what you create with my Coloring Page Tuesday images each week in my newsletter - I bet you've come up with some great new creations for summer! If you share your work or your child's masterpieces on a blog (they don't have to be cards), you can post them IN MY GALLERY! Hope to see your work there!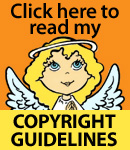 Did You Know...
I create my coloring pages for teachers, librarians, booksellers, and parents to enjoy with their children, but also to let the public know about MY BOOKS. I hope you'll take a moment to check them out and spread the word!
Click a cover to learn more about individual titles and download activities.
Note: All Coloring Page Tuesday images and activity pages are available for personal or non-commercial use. If you would like to purchase rights to an image for commercial use, please email me. If you have questions about usage, visit my Angel Policy page.