SHOP HOURS
Monday: CLOSED
Tuesday: 12 - 6
Wednesday: 12 - 6
Thursday: 12 - 6
Friday: 12 - 6
Saturday: 10 - 6
Sunday: 12 - 4

 

We will be closed Thursday, November 28

 

We will open at 10am on Friday, November 29

 

 

" It is a peculiarity of knitters that they chronically underestimate the amount of time it takes to knit something. Birthday on Saturday? No problem. Socks are small. Never mind that the average sock knit out of sock-weight yarn contains about 17,000 stitches. Never mind that you need two of them. (That's 34,000 stitches, for anybody keeping track.)

Socks are only physically small. By stitch count, they are immense."




It's November, Yarn Enthusiasts!!! That means NOW is the time to pick up any last minute holiday projects you want to take on. Don't be fooled though. Now is NOT the time to take on knitting four pairs of fingering weight socks before December 25th. We said it's November, not July. Think: Chunky Malabrigo Seed Stitch Cowls, fabulous stockings made out of Knit Collage, cozy Blue Skys alpaca mitts, and maybe a Woolly Wormhead hat made out Dos Tierras. Our point? This is the time for quick, fun projects that require less time, but offer a visual bang for your buck! We know what you need and we've got you covered. Hurry in. The suddenly cold weather is perfect for knitting or crocheting projects with a movie and hot chocolate. Make your November cozy.






From now until November 23rd we are hosting a trunk show from Emma's Yarn!  In addition to the 18 colors of Super Silk that we have in stock, we have 24 MORE colors for the trunk show!  Super Silk is 20% silk and 80% superwash merino. A fingering weight yarn with 400 yards per 100g, this yarn is great for socks and shawls. We also have two great shawl samples that use this yarn that you can check out while the trunk show is here. If you nees some more ideas, check out these patterns: 
Lazy Hiker
, 
Free Dive
,
Your Slip is Showing
and
Fabulosity
.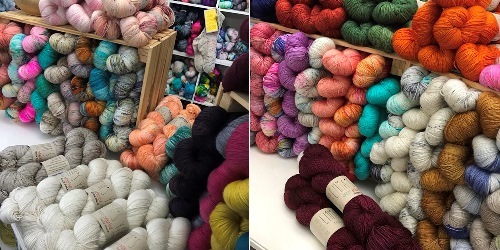 Also as part of the trunk show, we have 28 colors of Emma's Hella Hank! Hella Hank is a blend of 80% superwash merino, 10% nylon and 10% cashmere. It's called Hella Hank because each hank is a whopping 600 yards and 150 grams! A fingering weight yarn, it can be used for any number of shawls or socks. It's the perfect size hank if you are knitting some extra large socks. For shawls, c
h
eck out our sample of
Good People,
 or consider making a
Solsun
or
Water Street Shawl
. You might even want to pick some up for Andrea Mowry's new sweater pattern,
Mackworth
.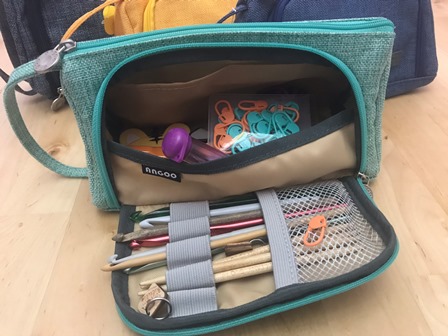 Raellyn uses this pouch to carry her crochet hooks and when we got a look at it we knew some of you could use one too! Originally designed as pencil cases, these little bags open from the top and from the side and are just the right size for crochet hooks, double pointed needles and all sorts of notions. With the side opening everything is easy to see, so there's less digging around for what you need and we love the zipper closures so nothing falls out!
We've restocked the Gleener bags. These bags are water resistant which makes them not only great for toting regular items that you want to protect, but also for toting wet things like bathing suits or cloth diapers. Beyond their practical uses, these bags are just adorable with colorful alpacas and yaks, they even feature the animal's "tail end" on the back of the bag!
We have a fresh restock of the popular Binkwaffle bags! These bags make great project bags and are reversible, so it's like getting two bags in one! They also make great gifts, who doesn't need another project bag?!
Do you need a simple project? Why not try one of our kits.
We have the 21 color mitts kit from Blue Sky Fibers with all the yarn you need to make one great pair of wool mittens. With 21 colors, they are sure to match almost anything.
Or how about a hat? We have some great fruit and vegetable hat kits. There are 10 styles to choose from, some are very simple with just knit and purl stitches and a few are more complex. The best part is that the hat topper has already been made for you, so just make the hat and you are set!
Don't forget to tell your loved ones what you really want for the Holidays this year - a gift Certificate to ReBelle! Gift certificates are available in any amount and can be purchased in person or on
our website
. We will even mail them for free!!! 
Solstice is a remarkable yarn that is both very soft and very lightweight. It's a luxurious blend of 60% alpaca, 25% merino and 15% yak. The lightness comes from the chainette construction, so though it is 219 yards per 50g skein, it is a worsted weight yarn. This yarn would make an excellent light and cozy sweater or great acessories. We used just one skein to make
Suzie Roger's Reading Mitts
. It would also be great for these patterns:
February Hat
,
Berry Preserves
(hat),
Phoenix Headband
or
Cumulus Blouse
.
Thursdays, November 7-December 12
For November's Knit Along/Crochet Along we are going to focus on stockings. Every year we plan to finish these by the holidays and every year we miss the deadline so this year we are going to work together and finish those holiday projects. We are focusing specifically on stockings, but feel free to join us with any holiday projects you want to finish. 
All ReBelle stitch alongs are free and open to the public. You are welcome to attend as many or as few of the KAL sessions as you like.
We have picked some of our favorite stocking patterns and pinned them to a board if you are looking for a bit of inspiration
here
. 
If you want to knit the pictured stocking, you can check it out
here
. 
 

Join Raellyn for a make and take holiday ornament class! 

 

We'll learn basic weaving skills while making a cute ornament perfect for gifting or decorating your tree for the holidays. This is a beginning class, so you need no previous experience to join us for a fun afternoon of weaving. 

 

Class price includes instruction and all your materials to make one ornament, but you are welcome to bring any scrap yarn or embellishments you would like to add to your project.

 

 

Tuesday, 12/3. 6-8pm

 

 
 

Cross Stitch Holiday Ornament

 

Counted cross stitch has made a pretty big comeback, come see why it is all the rage. We will be covering the basics while making adorable ornaments for gifts or for your tree. In this class you will learn to match your materials to your pattern, reading your pattern,  the basic stitches, and how to finish your work.  This is a beginning class so you need no previous experience to join us and the class price includes the kit with everything you need to get you started just bring yourself. This is a beginning class, but all levels are welcome.

 

 

 
 

Just a leaf or is it? In this class Susan will teach you to knit an adorable leaf that can be used as a gift embellishment and then a bookmark once your gifts have been opened. The leaves are knit on 3 dpn's, starting with an I-cord stem, then shaping is added to create the leaf shape at the top. You will also learn to add beads to your knitting (beads will be provided) and you will leave the class with a finished project.

 

One session, $20

Wednesday 12/11. 6-8pm

 

 




 
 

 

Come learn to knit an adorable set of mini mittens with Susan. Mini mittens make excellent gift embellishments or tree ornaments (or both!!!) You will need to know how to knit in the round for this class, but everything else will be covered. 

 

 

Saturday 12/14. 10am-12pm

 
 

Come learn to knit an adorable mini stocking with Susan. Mini stockings make excellent gift embellishments or tree ornaments (or both!!!) You will need to know how to knit in the round for this class, but everything else will be covered. 

 

One session, $20

Saturday 12/14. 1-3pm

 

 




 
 

 

Come learn to knit a tiny tree ornament/gift embellishment with Susan. This project is perfect for using that little bit of special yarn or a special button that you are having trouble parting with. The tree is knit in the round on two needles, a technique that you will learn in the class.