BACK OF THE NET: ALPHA PAPA SPECIAL
CASHBACK: HOW PARTRIDGE WILL SET THE TILLS RINGING
JURASSIC PARK: STUDIOCANAL'S BIGGEST EVER MEDIA PLANS
HOW MUCH IS A MONKEY? SIX FIGURE TV SPEND
HOTTER THAN THE SUN: REHEATING THE COMEDY BLOCKBUSTER
TEXTBOOK ABOVE THE LINE MARKETING
PEOPLE PEOPLE PLEASE PEOPLE: RETAIL SUPPORT
DAN! DAN! DAN! DAN! DAN! ATTENTION-GRABBING PR
KISS MY FACE: DVD AND BLU-RAY EXTRAS
SPICEWORLD: MORE FROM STUDIOCANAL
QUOTE OF THE WEEK
---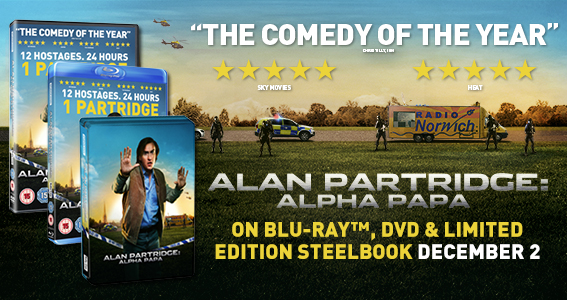 ---
I
f you can't read this newsletter or see the ads, please click
here
"I am Siege Face…"

With those four simple words uttered in the second trailer for his debut feature outing, Alpha Papa, Alan Partridge, the man who launched a thousand catchphrases, announced both his imminent arrival on the big screen and also allayed fans' fears about his transition to the feature film format. He had, to put it simply, done it again. One of the country's finest and best-loved comic creations was back. And he meant business. Now, after its hugely successful theatrical outing, ALAN PARTRIDGE: ALPHA PAPA is arriving on shelves, online and pretty much everywhere else in between on December 2 courtesy of Studiocanal. And to mark the occasion, we're celebrating with a special edition of the newsletter ahead of that all-important day, looking at the film, its release strategy, the success of Partridge over the years and into 2013 and how the company is planning to make the first movie featuring Steve Coogan and co's character into one of the key releases for Christmas and beyond.
Plans for an Alan Partridge film have been mooted for as long as the character has been around – his first appearance was in 1991, much of the past 10 years or more has seen talk of a movie floating around. It was only when the trailer, in which Partridge and his cohort Sidekick Simon discussed ideas for a title, landed online earlier in 2013 that it became a reality. It went on to take £6.2 million at UK cinemas during the summer, sticking around long after big budget US blockbusters had been and gone. Studiocanal's Kelly Morris said: "In terms of British comedy, it's a really great result. Our theatrical team were really pleased with it." In terms of publicity and awareness generated by the film, Partridge and Coogan were everywhere. "It was a ridiculous amount of coverage" said Morris "It was covered in every type of publication imaginable and everyone supported it. It won over all the critics too." The coverage took in interviews with (and features penned by) Steve Coogan as well as Partridge; one of the characters other creators, Armando Iannucci, was also interviewed, writers Neil and Pat Gibbons, credited with bringing Partridge back to life in a post-internet, digital radio world, also did their share. "Because of the premieres – one in Norwich and one in Leicester Square – it felt like a really big event too," said Morris. The film's strong and high profile theatrical performance, with four and five star reviews across the board, as well as its re-watchability have set the film up brilliantly for its home entertainment release on December 2.
So why December 2? And what are Studiocanal's ideas to bring the release to market? As Studiocanal's Kelly Morris said: "The release date was important for us. We're up against a lot of big film titles, but it was important for us to release as soon as possible and give ourselves a few weeks for sales before Christmas as the title is such a strong gifting proposition." Where ALPHA PAPA is likely to succeed, like The Inbetweeners Movie before it, is in picking up sales not just from feature film fans, but also eating in to the TV and stand-up comedy markets. "We're in a very good position," said Morris. "We're one of the strongest comedy film titles and it's going to be a quieter year than usual in terms of big stand-up titles. Moreover the British pedigree of the film will help it stand out from the US releases. ALPHA PAPA also benefits from Studiocanal's earliest pre-order date, offering customers the opportunity to pre-order on the Monday following the theatrical release. This was supported by a social media push linking theatrical to the home entertainment release to attract core fans."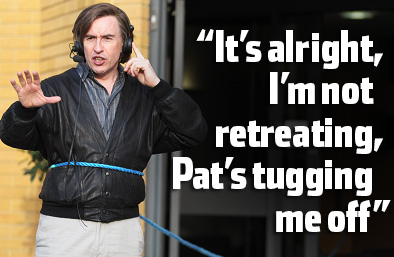 ---
Marketing the release is, of course, crucial and Studiocanal is putting together an event-sized media campaign for ALAN PARTRIDGE:ALPHA PAPA targeting fans and broadening out on the lead up to Christmas to cover off the gifting market. Kelly Morris said: "It's our biggest ever media plan. I don't think there's anything we're not doing." The beauty of the December 2 release date means that Studiocanal can maintain a presence on screens and in all other media it is using to market the release right through until Christmas. It's one long campaign, rather than two bursts. "The TV alone is a six figure campaign," said Studiocanal's Kelly Morris. The whole campaign officially kicks off the week before release and will run through until just before New Year. Studiocanal's Emilie Barra said: "Last year people started buying really late, we can run all through December as a constant presence and upweight for the key gifting weeks. The whole thing will have a distinctly seasonal feel, thanks, in no small part, to the character's surname. The tagline? "This Christmas, don't get a turkey. Buy a Partridge."
Television is, naturally, leading the way with what Studiocanal described as a "huge TV campaign with a variety of spots," said Kelly Morris.
Outdoor is another key element for the campaign, with six sheet posters appearing at National Rail stations around the country. This will further be supported by bigger concourse sites. Studiocanal's Will Attard said: "There will be huge coverage on the London Underground as well. The creative works really well, it's very strong as the character is so recognisable." There will be further support from press insertions in publications such as Empire, The Sun, the Metro, Shortlist and more. An ad has already appeared in free film magazine Film 3Sixty. Online is another key element. Studiocanal's Emilie Barra said: "There will be a large scale online campaign. Partridge has a very active fanbase and there's been some amazing interaction on the Facebook page. That fanbase seems to respond really well to images, keeping the fanbase engaged is a full time job. We're retargeting those we have data captured from the theatrical release, we're also targeting gifters as well and of course, we couldn't forget radio with Partridge being the king of radio and us having so many hilarious soundbites to use."
Studiocanal has thanked retailers for their "fantastic support and set-up". Expect to see a raft of support not just in terms of retailers backing the release, but also the sheer scale and number of different outlets who will be stocking ALPHA PAPA. You can expect to see FSDUs in the likes of Sainsbury's, as part of a shared, four-sided standee, as well as cardboard at other grocers such as Morrisons. Other retailers will have their own versions of the title to sell; HMV boasts the wonderfully-named Colossal Collector's Collection, including the Blu-ray and DVD versions of the film, the soundtrack and a mini version of the Partridge guest editor edition of Shortlist in a special digifold packaging. ASDA is also taking an exclusive double disc edition with even more bonus features. Stores will also be taking some of the merchandise from the fictional North Norfolk Digital (the mug has taken pride of place in our kitchen for some months). Studiocanal is working closely with UCA to target non-traditional retailers, bringing in potential incremental sales for the titles and giving it a far wider reach.
---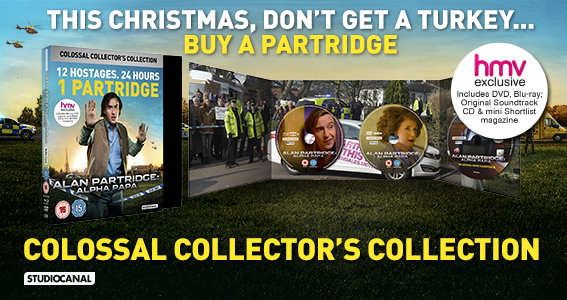 ---
Much like the character himself, Alan Partridge is also invading the digital space. iTunes had a Partridge room set up for the theatrical release and Studiocanal has continued that for the home entertainment and the EST release will include its first ever iTunes extras. As Studiocanal's Kelly Morris said: "iTunes, Sky, Virgin Media, blinkbox, BT… all the major players are behind it. They all love the film." What's more, as well as increased physical sales after Christmas, both in the traditional bricks and mortar and online space, the company is also expecting a digital boost post-December 25 too. "Our online campaign will stretch right through to the new year," added Morris. This is a key time for digital given the further tablet penetration estimated after Christmas.
The physical version includes a raft of extras, including a commentary from Coogan and writers Rob and Neil Gibbons, as well as deleted scenes and hilarious bloopers. But, as we've witnessed ourselves, merely describing them as "deleted scenes" does them a disservice. Whereas you can often see why most elements were excused from the final cut, the deleted scenes here are, in our humble opinions, good enough to have made the finished version – heck, they've got more laughs in them than many US comedies manage in an entire film. Both standard DVD and Blu-ray versions feature these extras, as many thought them too good to not put in the package. As Studiocanal's Kelly Morris said: "It shows just how involved Baby Cow are. They are dedicated to making sure that the extras are as good as they are. They really know what's important on a home entertainment release. The commentary is very good, it's very funny and the Making Of is of broadcast quality on its own." We'll have a look at 10 things we learned from the ALPHA PAPA extras on our website shortly.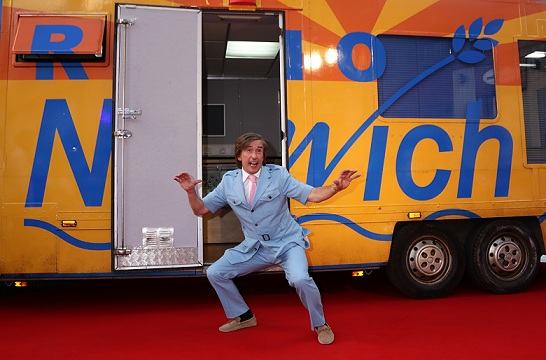 ---
PR was key to the theatrical bow for ALPHA PAPA and Partridge will most certainly return for this title too. Studiocanal is somewhat unsurprisingly coy about some of the PR coups it has secured for not just Coogan, but his various collaborators too - Rob and Neil Gibbons and Armando Iannucci among them. "There are at least 10 new features written as Alan that will be appearing across print and online," said Kelly Morris. "They're Christmas-themed, all based around what Alan does at this time of year. We also have new assets [for PR purposes], with exclusive clips.
And expect a major stunt around launch too. Again, Studiocanal is remaining somewhat tight-lipped about the plans. "There will be a big stunt before the release," said Kelly Morris. "That should gain considerable coverage. We can't say any more, but we think it will be brilliant."
And as if that wasn't enough, there's more. A raft of promotional partners are being lined up, many of whom will help ALAN PARTRIDGE: ALPHA PAPA reach even more non-traditional outlets. Partners include Roberts Radio, Tops Pizza, Burtons and, somewhat logically, Norfolk-based Congham Hall Hotel.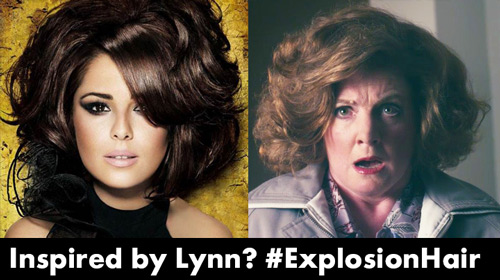 ---
As noted at the start, it's one of Studiocanal's biggest ever media plans, and one thing's for sure: the company is planning to have a lot of fun with the release. As the company's Kelly Morris concluded: "It's a really fun campaign, it's been a pleasure to work on it. People love the film and the character and that really helps."
If the campaign, as we've said, takes us in to the new year, what's next after Partridge for Studiocanal? It's shortly set to unveil its theatrical slate for 2014, but there's already one big title revving up and ready to race out of the grid. RUSH, starring Thor, aka Chris Hemsworth, as Brit racing driver James Hunt. The film charts his stormy rivalry with German driver Niki Lauda, played by Daniel Bruhl. Emilie Barra concluded: "It's our next significant release. It's taken more than £10 million at the UK box office and we have very high expectations for it. It's coming out on the same date as Tinker Tailor Soldier Spy did, we've had a proven success with that end of January release slot."
Studiocanal is also looking forward to release the New Coen Brothers film: INSIDE LLEWYN DAVIES, the star studded sci-fi action reboot of ROBOCOP, Nick Frost dancing the salsa in the hilarious CUBAN FURY and Liam Neeson on a hijacked plane in NON-STOP – to name but a few.
---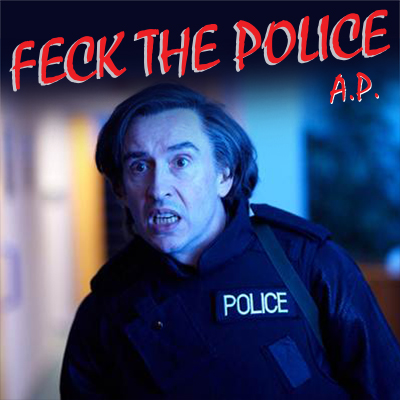 The big problem with the whole of this script was trying to square the circle of keeping the DNA of the series, so all the die-hard wouldn't jump on us and kill us… ["that's the spirit," laugh writers Rob and Neil Gibbons] … and satisfy a new audience that could watch it cold and still appreciate the character which is very difficult… But you guys, with a little help from yours truly, managed it."
Steve Coogan, Alan Partridge Alpha Papa commentary
Steve Coogan has enjoyed a hugely successful and busy 2013 at cinemas, all of which sets Alpha Papa up even better. His latest hit is Philomena, currently wowing audiences at cinemas and approaching the £5 million mark in terms of revenue. This comes on the back of not just Alpha Papa, but What Maisie Knew and Paul Raymond biopic The Look Of Love. Oh, and he also voiced a character in one of the summer's runaway hits, Despicable Me 2.
But what next for Coogan? Well, next out of the blocks will be Northern Soul, a film about… yup, you guessed it, the music genre that refuses to die, northern soul. There's also a second series of The Trip, with pal Rob Brydon and longtime directorial cohort Michael Winterbottom. The series, which features Coogan and Brydon playing themselves, albeit in vastly exaggerated forms, will see them touring around Italy…
But what next for Partridge? Is the character who refuses to die – 20 years and plus – going to return? Well fingers crossed, he could return. "There's definitely some possibility of Alann having another outing and what it is I don't know," Coogan told website Digital Spy while promoting Philomena… "He's like a vampire," he adds, currently in cold storage, but likely to be re-animated…
SITE OF THE WEEK
Check out Alpha Papa on Facebook here.
Some behind the scenes footage, more of this on the DVD and Blu-ray…
http://youtu.be/HcHa3aZCw0w
Hectic Danger Day, Colossal Velocity and more, the first teaser:
Alan reminds viewers not to use their mobile phones…
http://youtu.be/JG7T4YkFTtM
Alan at the premiere in Norwich…
And more from the premiere (includes Van Halen)…
"Alan, Alan Partridge… Excellent small talk"
And the final trailer for the film…
http://youtu.be/2ed2pifRpc0
To subscribe to The Raygun newsletter, please email

info@theraygun.co.uk
with subscribe in the subject matter
To unsubscribe, email

info@theraygun.co.uk

with unsubscribe in the subject
For editorial or advertising queries, contact

tim@theraygun.co.uk