1:12th Scale Biante Lowndes / Richards 2015
Bathurst Winner #888 VF Commdore
Pre-Order 

1:12th Scale Biante Craig Lowndes / Steven Richards 2015 Bathurst Winner
Red Bull Racing Holden VF Commodore #888
Sealed Resin Model - Massive 40cm Long
Item No. B12H15Q
Limited Edition: T.B.A
Release Date: 4th Quarter 2016
Price: $399.00 
Biante Model Cars are thrilled to announce a new partnership with Triple Eight Race Engineering to exclusively produce limited edition 1:12 Scale models of iconic cars raced by one of the most successful teams in Australian motorsport. The first model in this range is one that is sure to excite collectors, it's the Red Bull Racing Australia Holden VF Commodore driven by Craig Lowndes and Steven Richards to win the 2015 Supercheap Auto Bathurst 1000.

This 1:12 Scale replica of the 2015 Bathurst Winner is a really impressive size. It roughly measures over 40cm from front to rear, around 17 cm from mirror to mirror and around 12cm from wheel to roof. You can appreciate the large scale in the images of the 1:12 sitting next to one of the recently announced 1:18 Scale Holden VFII Commodore SS-V Redline models - See Below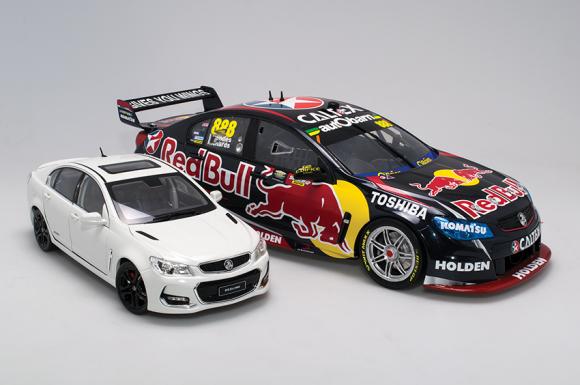 Other than the sheer beauty of the size of this model, there are numerous additional features worth noting. They include using injection moulded glass housings for added strength and accuracy, photo etched parts, detailed brakes, wheels and we have also included the hamburger camera on the roof along with GPS tracker on the boot. Despite the model being produced in sealed body resin (in order to maintain an affordable price point for collectors) there has been no expense spared in replicating the interior cockpit. The interior detail includes full decoration, faithfully replicated seat and painted interior characteristics along with fabric seat harness and window netting. The model has an impressive feel and weight to it and will make the perfect centre piece in any Triple Eight, Craig Lowndes or Bathurst Winner collection.

This model will be produced in an exclusive limited edition with the number to be set based on pre-orders received. It will be presented in deluxe packaging along with a commemorative flyer and numbered Certificate of Authenticity.

Currently scheduled to arrive towards the end of this year, this model is now available to pre-order 
!!! SO GET YOUR ORDERS IN NOW !!!
Kind Regards,
The Team @ Diecast1stop.com / Toys Toys Toys

Toys Toys Toys / Diecast Models in the Big Shed 
Carrara Markets - 6th Avenue in the Big Shed 
Corner of Gooding Drive & Manchester Road
Carrara QLD 4211 
Ph: (07) 3209 1361 
Ph: (07) 3299 6723
Mobile: 0411 623 212 - Greg
Mobile: 0432 154 946 - Grant 
GIVE US A CALL

Ph: (07) 3209 1361
Ph/Fax: (07) 3299 6723

Mobile: 0411 623 212
(Greg)
Mobile: 0432 154 946
(Grant)