This Week at the Richmond Memorial Library                                           September 14, 2020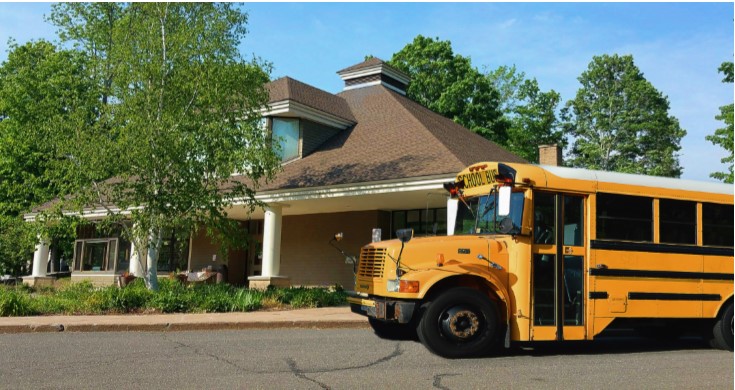 New Library2Go Curbside Pickup Hours
The Richmond Memorial Library will now be available for Library2Go Curbside Pickup on Mondays through Thursdays from 10 am to 6 pm, Fridays from 10 am to 4 pm, and Saturdays 10 am to 1 pm.

Do you have gently used sneakers hanging around that you hardly ever wear or new sneakers that never fit quite right? Do your kids have sneakers that they outgrew before they got much use out of them? Beginning Wednesday, September 9, the library will be teaming up with GotSneakers, a sneaker recycling company, to collect gently used and new(ish) sneakers as part of a new fundraising initiative. All donated sneakers (other types of footwear will not be accepted) will be redistributed throughout the GotSneakers network of small business partners throughout Haiti, Nicaragua, Bolivia, and the Ukraine. GotSneakers works with micro-entrepreneurs, helping them create, maintain, and grow small businesses in developing countries where economic opportunity and jobs are limited. In return, the Richmond Memorial Library will receive $1-$3 for every pair of sneakers that are accepted (torn sneakers or sneakers with holes will not be accepted, nor will baby/toddler sneakers). The library's GotSneakers fundraiser is a great way to recycle your old sneakers (provided they are in decent shape and would be safe for someone else to wear) while helping support the library. A box will be available outside the library during curbside hours (Monday through Friday 10am-4pm and Saturdays 10am-1pm beginning September 12). This fundraiser will be an ongoing program, so we will continue to remind you to check your closets and there is no rush to drop off your sneakers in any certain time frame.
Interlibrary Loan is Available Again
We are very happy to share that interlibrary loan services have returned! If you are looking for an item that another library owns but the Richmond Memorial Library does not, you can once again put that item on hold and have it sent to our library for pick up. When interlibrary loan items arrive through the library transit system, they will be quarantined for at least three days before being checked in, so this process will be slower than it was previously. It is still a great way to obtain library materials!


Library Material Quarantine
As a reminder, out of an abundance of precaution, all library materials are safely removed from our book drop and quarantined for at least 3 days before being checked in. When these items are checked in, they will be backdated and no fines will be charged. If you've peeked into our windows on the adult side of the library over the past few months, you've seen the growing number of tables we have had to place in front of the windows to quarantine materials. Space is one the challenges the library continues to face as we navigate the new reality of Covid-19.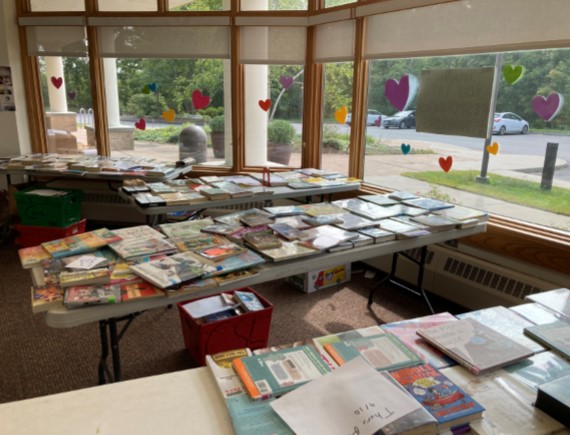 Fall Children's Programming
We enjoyed our "Simply Summer" Summer Reading Program so much that we are back with "Simply Seasonal" -- programming for children for the fall and early winter that combines storytime, Library2Go crafts, and cozy family fun! Stayed tuned for more information.
Parents

, need a night off from cooking dinner? Children ages 8 and up can join us this fall for a fun (and delicious) new Kids Make Dinner monthly cooking series held over Zoom. Katie, a Registered Dietitian from Food Explorers, returns with a 4 part series where, together yet safely apart, we make a healthy dinner for our families!

Our first program is Homemade Dough & Pizza and will be held on Wednesday, September 23, from 5:30-6:30 pm.

Some parental guidance in the kitchen may be necessary. To register, call the library at 860-

295-6210.
1,000 Books Before Kindergarten
As a new school year begins, we want to remind parents of children ages Birth-4 of our 1,000 Books Before Kindergarten program here at the Richmond Memorial Library! Send an email to Eileen Washburn, our Child/YA Librarian, at ewashburnrml@gmail.com if you are interested and we will make arrangements will you to get the materials to start recording books. You can also visit our webpage for more information:
http://richmondlibrary.info/1000-books-before-kindergarten/.
Are you following us on Facebook and Twitter? If not, we definitely recommend that you start doing so! We use these platforms to post the most up-to-date information about upcoming programs and make recommendations for library materials. We are always sharing pictures of new library materials that have recently come in and post pictures of our book and DVD shelves to show our patrons what is available and to provide a safer browsing experience.


Richmond Library is normally open Monday through Thursday from 10 AM to 8 PM, Fridays, 10 AM to 6 PM and 10 AM to 1 PM on Saturdays from May through September.  Please check with us to make sure we have re-opened before stopping by.

We have started to and will continue to host virtual programs for all age groups. Additional information will be found on our website and social media pages, including video tutorials on how to access the virtual formats these programs will be offered in.
Monday, September 14 from 7-8 pm, Votes for Women: In celebration of the 100th anniversary of women's suffrage in the United States, the Connecticut Women's Hall of Fame will join us on Monday, August 10, at 7 pm to share stories about the Connecticut women who fought on a local, state, and national level for women's suffrage. This is a virtual program over Zoom. Registration is required. Email richmondprograms@gmail.com. *PLEASE NOTE: THIS PROGRAM HAS BEEN RESCHEDULED FROM ITS ORGINAL DATE OF MONDAY, AUGUST 10.*

Wednesday, September 16 from 6-7 pm, Financial Wellness Wednesdays: Introduction to Financial Products and Taxation:

Learn about different financial products and how they are taxed along with the importance of having tax diversification implemented in your portfolio. Rebecca Miller from the Financial Awareness Foundation returns as our presenter this month.



Thursday, September 17 at 7 pm, College-Prep Series: SAT vs ACT: Starting to think about college entrance exams, but not sure whether to take the SAT or ACT? Join Priyanka Shingala (Let's Talk College, LLC) and learn about the differences between the two tests and the reasons to take one over the other. Priyanka will discuss how much weight each carries in a student's application; the breakdown of each exam; what's considered a good score; which one is best for the student; taking the optional essays; which universities don't require exam scores and more. This program works best when teens and parents attend together. Email richmondprograms@gmail.com to register.

Thursday, September 24 at 7 pm, Virtual Paint Night: Pam Halligan of Pam's Picassos will teach us how to paint a colorful fall scene on a 16'' x 20'' canvas in this program for adults. Supplies will be provided, but you must be able to pick them up a few days before the program and register by Thursday, September 17. Email richmondprograms@gmail.com to register and we will provide you the Zoom link and make arrangements for the pick up of supplies. There is a maximum of 12 participants for this program.

Monday, October 5 at 7 pm, Making a Career Pivot in Post-Pandemic Times: The current Covid-19 pandemic has probably gotten you to ask yourself: Am I in the right job or career? Should I pivot internally or externally to find something better? Is there more opportunity waiting for me? Is my career safe? Mark Danaher from Careers by Design, LLC will teach participants 8 strategies to build their resilience to adjust to a career change and to evolving market demands in a virtual program held on Zoom. By the end of the presentation, you will learn 8 ways to grow as a professional. Email richmondprograms@gmail.com to register.


***Accessibility at RML: The library does not have an elevator. If you need full accomodation, please contact Library Director Aubrey Muscaro at 860-295-6210 or amuscaro@richmondlibrary.info prior to the event (one week preferred) so we can find an alernate space. The meeting room is located on the second floor.

+++Denotes registration required. Please call the library at 860-295-6210 or email us at richmondprograms@gmail.com