This Week at the Richmond Memorial Library                    September 13, 2021
Library Returning to Regular Hours
We are excited to share that we returned to our regular hours last week!

Mondays: 10am-8pm
Tuesdays: 10am-8pm
Wednesdays: 10am-8pm
Thursdays: 10am-8pm
Fridays: 10am-6pm
Saturdays: 10am-1pm



Meeting Room Has Reopened
The library's meeting room has officially reopened! If your group is looking to book the room, please stop by and fill out our meeting room application form. Please note that masks continue to be required in the library (as they are in all town buildings right now).
September is Library Card Sign-Up Month
September is Library Card Sign-up Month and the Richmond Memorial Library is joining the American Library Association (ALA) and libraries all across the country in a nationwide campaign to raise awareness of the importance of having a library card. Throughout the month of September, anyone who signs up for a new library card will receive a heat activated color changing pencil (aka, a "mood pencil"). Stop by the library, visit our website, or check out our social media pages to find out about all the fun programs and activities we have going on this month (and every month!) at the library (either in person or virtually). 

When most people think about libraries, they usually think about books. But, did you know, that you can also use your library card to borrow or access all of the following things:
Museum passes that allow you to visit a variety of locations for free or at discounted rates
Sprout Early Learning Backpacks
Ebooks, downloadable audiobooks, and downloadable magazines
Movies and TV series on DVD and Blu-ray
Wonderbooks
Yard games
White noise machines
A telescope
Resume and job searching assistance through the online resource JobNow
Usage of the database CreativeBug, which includes thousands of arts and crafts video tutorials
Digital access to The New York Times
Online access to Consumer Reports (available through the CT State Library)
Full access to learning and research resources for all ages on researchIt CT
And so much more! (and even more coming soon!)
In addition to all of this, your library card can be used at any public library in the state of Connecticut.


So, what are you waiting for? If you don't already have a library card, isn't it time you signed up for one? And, if you're someone who loves the library, don't keep it to yourself! If you have friends in town who may not have a library card, be sure to tell them about all we offer and send them our way.
Join us outside of the library on Wednesday, September 22, at 3:30 pm as we welcome Bradley Mountain Farm for a Fairy Goatmother program! Join us in grooming, cuddling, and walking our visiting goat around library property. We'll take some great pictures and you'll get some one-on-one time with our visiting goat. Suggested for ages 3 and above with a parent/caregiver. Registration and farm waiver required.
Wireless Printing Now Available:
Print with Princh

The Richmond Memorial Library is now able to offer wireless printing as an option for devices like laptops, cell phones, and tablets! 



In order to print from a laptop:



1. Open a browser and go to print.princh.com.
2. Enter the printer ID (104132) and upload your documents.
3. Adjust your print settings (# of copies, b&w or color).
4. Pay using one of the available options (mastercard, visa, paypal, or pay at the desk).



In order to print from a cell phone or tablet:



1. Install the Princh app for iOS or Android.
2. Open your document and either share it with the Princh app or click Print with Princh.
3. Select the printer by scanning the QR code (available at the library) or typing in the printer ID (104132) and adjust your settings (# of copies, b&w or color).
4. Pay using one of the available options (mastercard, visa, paypal, or pay at the desk).

Another feature of Princh (our wireless printing service) is that you can send something to print at the library from your computer or device at home, following the same steps! In order to protect your privacy and to make sure only the documents that people actually want printed print, your documents will only actually print when a staff member is notified and is able to release the print job on the staff end. 

This project is made possible by the Institute of Museum and Library Services under the provisions of the American Rescue Plan Act (ARPA), administered by the Connecticut State Library. The first year of service has been paid for from an ARPA Grant.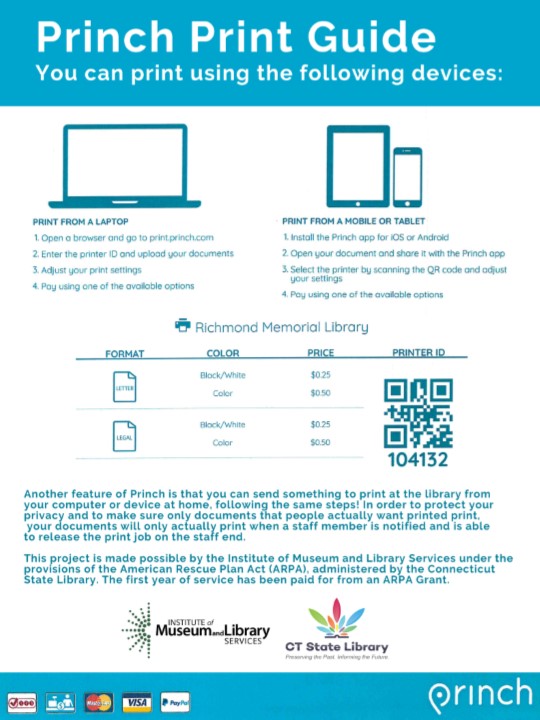 Finance Committee Members Needed
Our library board is looking for association members to serve on its finance committee. The finance committee usually meets once per quarter, but may meet more frequently if needed. Anyone interested should contact Library Director Aubrey Muscaro at amuscaro@richmondlibrary.info.



Now Accepting Puzzle Donations
The library is now accepting new and gently used puzzle donations for an upcoming puzzle sale (with the proceeds directly benefitting the library). We do ask that only puzzles with all of their pieces be donated. If you have something you would like to donate, please either bring the item(s) inside the library or leave on the curbside table.
Now Accepting Book Donations
We are now accepting gently read books for our fall book sale (date to be determined, but most likely in October). Anything donated (books, music CDs, DVDs) must be in good, saleable condition. We are not accepting magazines, textbooks, condensed books, or VHS tapes. Please bring donations into the library during regular hours and do not leave them outside of the building. All proceeds of our book sale will directly benefit the library. 

Our Yard Games Are Still Available
While the summer may be fading away, cooler fall days and evenings are still perfect for playing some of our outdoor yard games! As of this afternoon, most of them are actually available for check out, including: Bocce, Bottle Bash, Cornhole, Croquet, Giant Connect 4, Giant Jenga, Kan Jam, Ladder Toss, Ring Toss, Spike Battle Ball, and Yardzee. If you're interested in one of these games, place a hold in Encore or call the library.

Since September is the start of school AND Library Card Sign-Up Month, our StoryWalk® this month celebrates the simple joys kids can find when they have the right spirit! Clap along with beautiful oil-on-canvas illustrations as you capture the beat of our street! Award-winning illustrator Frank Morrison and Connie Schofield-Morrison have created a rollicking read that will get any kid in the mood to boogie with, I Got the Rhythm!