=============
Future EFT Workshops
<><><><>
**
EFT for Abundance
Saturday May 16
2:00-4:00 PM - $25
<><><><>
Animal EFT
Sunday May 17
12- 2 PM - $25
<><><><>
EFT for Physical & Emotional Healing
Sunday May 24
12-2 PM - $25
<><><><>
Lose Weight, Gain Confidence with EFT!
Sunday May 31
to reserve your seat 48 hours in advance!
=============
* * *
Thank you for subscribing to my newsletter!
* * *
May you be blessed with perfect health, wealth, joy, peace and love! --Colleen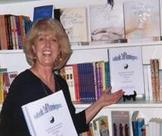 Please forward this newsletter to family and friends who could use the news!
Thanks to YOU, my Loyal Worldwide Subscribers for inviting my EFT secrets into your inboxes!
<><><><><><><><><><><>
*
Announcing a NEW Phoenix area EFT workshop...
LOSE WEIGHT, GAIN CONFIDENCE WITH EFT. (click link for more info).
Due to popular request (or possibly the start of swimsuit seaon), this new workshop will begin on Sunday, May 31st, 2009, noon to 2 PM for only $25. I will share the SECRETS to tapping away the fears that cause emotional eating and unbearable cravings.
Please call Lightworkers Gifts and Wellness Center 623-334-3393 to reserve your place today
!
*
<><><><><><><><><><><>
*
Are you preparing for a vacation this summer? Have you prepared your pet for your absence?
*
Statistics indicate that many animals experience separation anxiety when their human caregivers leave for work daily, shut them out of the bedroom to sleep at night or go on vacation, even for a weekend.
*
Recently I watched a recent Scientific American Frontiers TV show, Pet Tech, about new technology being developed for our beloved animals who have separation anxiety. Birds, horses and dogs especially have issues with being apart from their owners, which may result in aggression, over-eating, depression or self-mutilation.
*
One segment showed that after their MIT human handlers left for the day, their trained parrots used their beaks to turn on music and a computer screen. As soon as the music and videos began, the parrots became re-energized, then sang and whistled along with the computerized display of their handlers, seemingly in bird bliss to be with their humans again.
*
One of the researchers on the TV show said that leaving a parrot caged up and alone all day is like leaving a 4 year old child trapped and alone in a baby's crib all day. Imagine the anger and pain that child would feel...and that equates to a parrot's emotions. Amazing, huh?!
*
Consider what kind of pet you have, and their nature in the wild. Birds, horses and dogs lived in flocks, herds and packs long before they were domesticated. Their instincts tell them that if they're alone, they're vulnerable to predators and not safe. Outside noises, such as loud trucks, honking horns, planes or construction may terrify them.
*
If YOUR PET suffers from separation anxiety, you may want to try some surrogate Animal EFT to help them relax!
*
My e-book (click
HERE
for the table of contents) offers surrogate muscle-testing techniques,
an animal communication method, plus lots of basic Animal EFT information in section
V
, including how to:
Apply Surrogate EFT to animals
Release animal's allergies to e-toxins
Tap away common fears of animals
*
Here are some surrogate EFT Setup Statements you can use specifically for a pet's separation anxiety:
"Even though I, Snoopy, am terrified when my mommy or daddy leave our home, I release this fear that they will never return and that I am unsafe alone."
*
"Even though my instincts tell me that I, Snoopy, must find my mommy or daddy or I will die, I release these fears now. I accept that mommy or daddy must leave our home sometimes, and that they always return."
*
"Even though I, Snoopy, was abandoned by my previous owners and am terrified of my mommy and daddy leaving me too, I release this fear now. I accept that I am in my forever home, safe and loved, now and always."
*
THANK YOU FOR WORKING WITH YOUR PETS!
<><><><><><><><><>
*
*
If you'd like a private session with me to identify and tap away any animal or human issues, please click
here
for private session details.
*
<><><><><><><><><><><><><><><><><><>
HAY HOUSE PUBLISHER
SPRING CLEANING 70% OFF!
<><><><><><><><><><><><><><><><><><>
Louise Hay's online bookstore and self-growth tool site has slashed prices, from 24% to 70% off popular items.
*
Stock up now on books or self-growth tools like card decks for future gifts, your upcoming vacation, lengthy commutes or relaxation time.
*
You will find 12 WEB PAGES of sales items from Suzy Orman, Wayne Dyer, Byron Katie, Loretta LaRoche, Dr. Christiane Northrup, Sylvia Browne, Sonya Choquette, Doreen Virtue, Marianne Williamson, Louise Hay and many more authors, teachers and motivational speakers!
*
This offer will end SOON and is good for affiliate sales only so please click through my site first to take advantage of these great deals. Click HERE then on the Hay House icon at the top of the page. Thank you!
*
*
<><><><><><><><><><><><><><><><><><>
**
If someone forwarded this newsletter to you, I hope you enjoyed it!
Click
here
to get your own subscription and a free two-volume e-book on how to release panic, stress and fear via EFT. You can easily unsubscribe at any time.
<><><><><><><><><><><><><><><><><><>
*
Recently I helped a European client to release

years

of food and substance allergies and sensitivities
. He now eats and drinks anything he wants with little or no reaction. He'd gone to numerous sources for help but found little relief. My surrogate muscle-testing pointed to the emotional core issues and we tapped them all away. Email me for more information, to request a free consultation (new clients) or to schedule a session:
Colleen@EmoRescue.com
*
<><><><><><><><><><><><><><><><><><>
Please support independent small business! Go to
www.LightworkersGifts.comfor a huge selection of books, CDs, intuitive readers and other services you can access without living in Phoenix, AZ!
*
Wish you could have inspirational DVDs mailed to your home that the whole family can enjoy at a low price? Spiritual Cinema delivers movies that enlighten, inspire, teach and motivate their viewers and offers a FREE trial for new members!
*
Are you ready to open a holistic healing practice
but not sure where to begin or the best way to do it? Check out this
fabulous package
of incredible information for new and experienced business owners, from successful practitioners like yours truly!
Yes, I own it. Yes, I recommend it--I learned many fresh, fascinating holistic business tips!
**