"The Festy Presents" Tour Dates With Dori Freeman
New Album Shanti's Shadow Embraced By Rolling Stone, NPR Music, Bluegrass Situation, Relix and More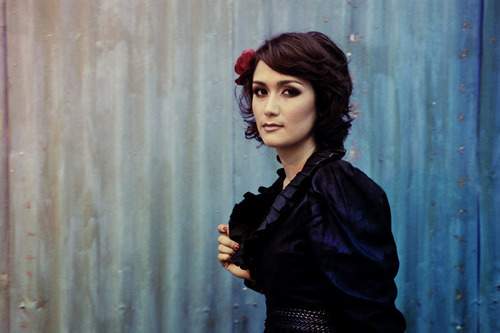 Acclaimed Americana songwriter and instrumentalist
Phoebe Hunt
and her virtuosic band 
The Gatherers
will perform several shows as part of The Festy Presents Tour this Fall. The tour will also feature Dori Freeman, 
an Appalachian songwriter whose 2016 self-titled debut was named one of the year's best albums by The New York Times. The Festy Presents Tour will culminate with a performance by both artists at
The 8th annual Festy Experience
in Arrington, Virginia on October 6. 
The four day Festy Experience festival will be held October 5-8 at the Blue Ridge Bowl at Infinity Downs Farm, a 387-acre property at the the foothills of the Blue Ridge Mountains. The lineup comprises a carefully curated blend of national and local roots music acts, including The Infamous Stringdusters, Ani DiFranco, Drive-By Truckers, Elephant Revival, Sam Bush Band, Beats Antique, The Jerry Douglas Band, Joan Osborne, The Travelin' McCourys, Sierra Hull, Della Mae, Cabinet and more. Find tickets, more information and updates at
TheFesty.com
.
Hunt is currently on tour in support of 
Shanti's Shadow, 
released June 2 on Popped Corn Records.The album is the
 culmination of a five year journey that has taken her from her Austin roots through Music Row, Brooklyn and even to India to study with seventh-generation master violinist Kala Ramnath.  
Rolling Stone Country
recently named 
Hunt one of their Top 10 "New Country Artists You Need To Know." Shanti's Shadow's "
title hints at the otherworldly music within," they write, "
with Hunt merging her Appalachian-style fiddle chops with Texas twang, Indian ragas, gypsy jazz, unfamiliar time signatures and the free-spirited fun of a jam band leader. The resulting record breathes new life into a genre that's sometimes so respectful of the past, it fails to push toward the future." The album has been praised by NPR Music, World Cafe, Bluegrass Situation, Relix, Folk Alley and Austin Chronicle.  
Dori Freeman's music has also been embraced by NPR Music and Rolling Stone. "The purity of Freeman's voice and the directness of her songwriting reflect not only her Appalachian hometown — Galax, Va. — but also a determined classicism, a rejection of the ways modern country punches itself up for radio and arenas," writes Jon Pareles of The New York Times.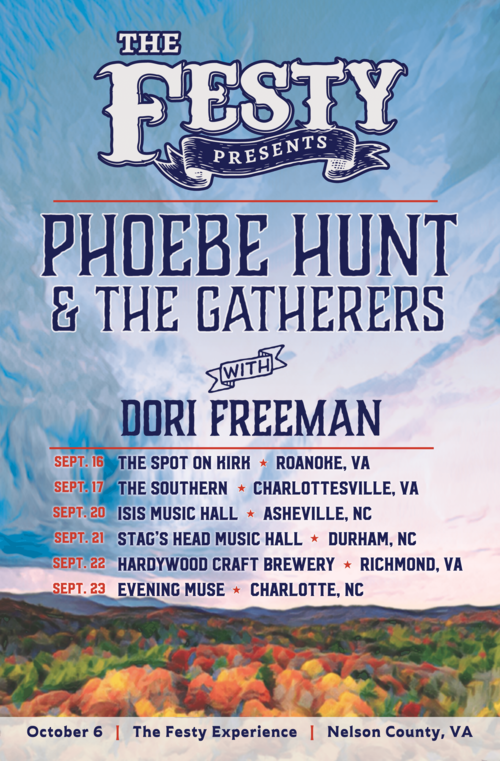 The Festy Presents: Phoebe Hunt & The Gatherers and Dori Freeman Tour Dates: 
September 16 - The Spot on Kirk - Roanoke, VA
September 17 - The Southern, Charlottesville, VA
September 20 - Isis Music Hall - Asheville, NC
September 21 - Stag's Head Music Hall - Durham, NC
September 22 - Hardwood Craft Brewery - Richmond, VA
September 23 - Evening Muse - Charlotte, NC
October 6 - The Festy Experience - Charlottesville, VA
Phoebe Hunt & The Gatherers Tour Dates:  
August 4 - eTown, Boulder Colorado (w/ John Moreland)
August 10 - Pale Fire Brewing Co., Harrisonburg, VA (w/ Dori Freeman)
August 11 - Muddy Creek Music Hall, Winston Salem, NC (w/ Dori Freeman)
August 12 - BANO, Kingsport, TN 

(w/ Dori Freeman)

August 13 - The Basement, Nashville, TN

(w/ Dori Freeman)
August 16 - Sundown Music Series, Hadden Heights, NJ  
August 18 - Rocky Mountain Folks Festival, Lyons, CO 
August 24 - CHIRP, Ridgefield, CT  
August 25, 26 - Summer Hoot, Olivebridge, NY
September 7 - The Old Church Concert Hall, Portland, OR
September 8, 10 - Sisters Folk Festival, Sisters, OR
September 12-14 - AmericanaFest, Nashville, TN
October 6 - The Festy Experience, Arrington, VA
For more information, please contact:
Missing Piece Group
45 Academy Street
Ste# 307
Newark, NJ