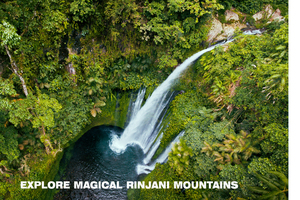 Secret beaches, amazing surf, plenty of cheap & diverse eateries and merry social gatherings under the moonlight... This is the South Lombok we know. While the pandemic rolls out globally, Lombok has already reenergized itself and shown many new facets of its beauty & magic. Digital nomads and green entrepreneurs are moving to this new "El Dorado", millenials artists and young architects are seeking new inspiration among this unspoilt corner of nature.
We will never lack imagination as the less known side of this beautiful island unravels: follow magical walks into lush forests and rice fields, visit local producers of coffee, chocolate & strawberries. The enchanting beauty of national park Rinjani mountains and its rice fields terraces reminds you of "Ubud of Bali". As a prominent Sasak breadbasket, Tetebatu village is a must visit, surrounded by tobacco and rice fields, fruit orchards and cow pastures that fade into remnant monkey forests gushing with waterfalls.
WATCH Lombok Rinjani national park
The untamed South Lombok has always done things differently. Once again nothing has slowed down the flow of yoga lovers, surfer artists, free divers and lifestyle seekers and they continue to create further: authentic Chinese food is now served at tropical feel Jiang Nan restaurant, solar driven luxury villas are being built with clean and affordable solution available in Lombok, through Smart Energy Tech, experts in green building energy systems.
The Mandalika Project, a government-mandated project, looking to create a new and sustainable alternative destination to Bali, has inspired some exciting new technologies for eco-sustainability. Dubbed as "Mandalika Eco-Water", the already running desalination plant by EBD Bauer can provide clean water to satisfy the needs of the hotels and hospitality facilities. Under a long term master-plan, the Mandalika will enjoy even more green energy solutions in tourist areas such as solar farms.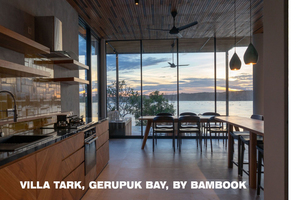 As Tom Merrett, founder of Reef Property Lombok, explains: "Lombok was made for social distancing". "Lombok is still a place where you can find a long white sand beach all to yourself, and you certainly will not be entering a crowded office here."
READ Lombok's future remains bright as more people look to enjoy its unrivalled island lifestyle
There is a flurry of inspiring projects too, from larger villas with tropical sustainable architecture to some bohemian hideaway like Somewhere Lombok at Gili Nusa Estate (see article Opportunity below). Bambook latest design, villa TARK in Gerupuk, is close to completion, with views over every surf break in the bay. To top it off, the beachfront 5-star Pullman Hotel & Resort, is also set to open by August 2021 next to Seger picturesque beach.
WATCH Pullman Construction Update
Lombok forever young indeed! Contact Nagaindo, we will be happy to share more insights and investment opportunities with you.
Jean-Marc Reynier
Nagaindo Founder & Passionate Lombok Citizen
MyLinkedIn