---
| | |
| --- | --- |
| | March 2020 |
Reduced stress. Increased productivity. Improved well-being.
Forte Organizers helps individuals and families stay organized at home, as well as teaching business people organization skills at work.
Lori's beloved dog, Heidi, crossed the rainbow bridge last month. She was a faithful companion who taught her family many lessons along the way. Here is the perfect throwback article to celebrate Heidi and the wisdom only a dog can provide.
With how busy and stressed out we get at work, sometimes it is difficult to get motivated to organize our desks. Clutter and disorganization can overstimulate the senses, which makes it hard to focus on your tasks at hand.
Clutter in the workplace causes stress, slows you down, stifles creativity and is distracting. Just look how different this office below feels after it has been organized. It's now a much more peaceful environment to work in.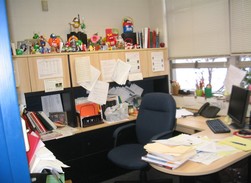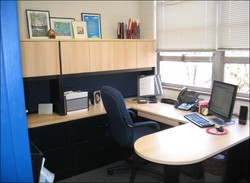 The next time your productivity and motivation needs a boost, maybe a little bit of organizing is all you need. Lori turned this office around, and could do the same for you in your workplace. Just give us a call and set up your very own office makeover.
Are you having difficulty finding time to get organized around the house?
Studies show that the average American adult spends 3 hours and 10 minutes on their cell phones every day. What if instead of playing your favorite game, texting your friend or watching the latest YouTube video, you turned your phone off for an hour and organize instead?
You will be amazed at what you can get accomplished in an hour. Plus, the sense of satisfaction that comes with decluttering will feel great. Challenge yourself to turn off your cell phone for an hour and tune into organizing.
FREE! Attack the Stack
Organize your Paperwork and Find it Fast
Thursday, March 5, 6:00 pm- 7:30 pm
Cedarville Library,
20 S Miller St, Cedarville, OH 45314
Call the library for more information at (937)

352-4006
FREE!

Reflections on Collections
Managing Your Sentimental Stuff
Monday, April 13, 6:30 pm-8:00 pm
Woodbourne Library,
6060 Far Hills Ave, Centerville, OH 45459
Call the library for more information a
t (937) 435-3700 or click here to REGISTER.
Residents of Centerville and Washington Township with proper ID
Saturday, April 4, 10:00 am-1:00 pm
Public Works Garage, 8190 McEwen Rd.
Saturday, April 4, 10:00 am-1:00 pm
Fire Station 45, 8320 McEwen Rd.
Lose Your Stuff, Find Yourself...
In her book, "Lose Your Stuff, Find Yourself," Lori shows us that it just takes a wee bit of effort to begin the organizing process.
"Few of us have time to organize our entire home while letting everything else in our lives go to the wayside. Instead of saying, 'Someday I'll do that," see if you can do something today towards your goal to get organized
.
Organizing is a process not an event. Start the process by choosing any space in your home that bothers you the most. Then break it down into small tasks you can accomplish in 15 minutes or less."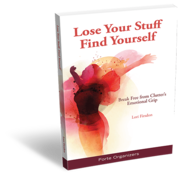 Pick up a copy of Lori's book by using this link:
Amazon.com
One More Thing...
"May joy and peace surround you, contentment latch your door, and happiness be with you now and bless you evermore!" ~ Irish Blessing