#MovementOfThePeople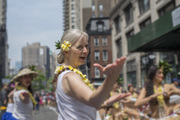 "You don't stop dancing because you grow old,
Gregory S. Jones)


Team 2019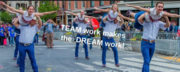 Non Profit Board of Directors:
Valerie Feit (Chair)
Michelle DeBlasi
Jerry Goldman
Nicola Creary
Shireen Dickson
Kevin Farley
Mahayana Landowne
David Leventhal
Greg Miller
Philip Ribolow
Erik Bryan Slavin
Steering Commitee:
Greg Miller, Executive Director
Darya Mars, Project Manager
Julian Sanjivan, Parade Production
Adele Godfrey, Parade Production
Janelle Issis, Parade Programming
Alan Wright, Grandstand
Gabriel Kutnik, Grandstand
Hal Lamster, Grandstand
Carlye Eckert, Education
Jamila Holman, Festival Production
DJ McDonald, Curatorial
Mark Schmidt, Curatorial
Henya Emmer, Team Coordination
Jessii Parham, Team Coordination
Rebecca Myles, Media
Audrey Ross, Media
Doug Kolessar, Finance
Natalya Grigoriev, Finance (CPA)
Brian Austin, Creative
Jason Parrish, Creative
Chauncey Dandridge, Social Media
Jo Pinlac, Social Media
Honorary Committee:
(Power Team & Grand Marshals)
Bill T. Jones
Baayork Lee
Louis Mofsie
DJ Dara
Camille A. Brown
Mickela Mallozzi
Rafael Espinal
Doc Martin
Maurice Hines
Frankie Bones
Mestre Joao Grande
Rosie Mendez
Garth Fagan
Kwikstep
Rokafella
Carmen de Lavallade
Robert Battle
Mary Verdi-Fletcher
Rekha Malhotra
Savion Glover
Jawolle Willa Jo Zollar
Hex Hector
Jacqulyn Buglisi
Baba Chuck Davis
Louie Vega
Ashley Tuttle
Elisa Monte
Bill Shannon
Trevor Hochman
Peter Zehren
Samir Bitar
Mel Alvarez
Jonathan Peters
Charles Reinhart
"Billy Elliot" (Joseph Harrington)
Kat Wildish
Amy Marshall
Jellybean Benitez
Elizabeth Zimmer
Ellenore Scott
Don Campbell "Campbellock"
Morocco (Carolina Varga Dinicu)
Luis Salgado
Luigi
Kool Herc
Danny Tenaglia
Djoniba Mouflet
Advisory Board:
Jeanne Fleming
David Katz
Teddie Kern
Anil Kumar
Joseph McElroy
Tasha Blank
Sponsorship Team:
Greg Miller
Lauren Williams
DJ McDonald
John Dalton
Nikki Creary
Phil Ribolow
Parade Production:
Julian Sanjivan, (Co-Lead)
Adele Godfrey (Co-Lead)
Rhina Valentin (Emcee)
Jerry Goldman (Emcee)
David Sanders
Katelyn McLeod  
Hal Lamster
Alan Wright
Gabriel Kutnik
Daniel Kahn
Phil Ribolow
Festival Production:
Jamila Holman (Chair)
DJ McDonald (Curatorial Chair)
Mark Schmidt
Emcee Donnie D'Amato (Main)
Emcee Jedeye Jaxx (Family)
Francisco Tavernes
Educational Outreach
Carlye Eckert (Chair)
Valerie Feit
Caryn Cooper
Shireen Dickson
Jamee Schliefer
Finance:
Doug Kowlessar (Chair)
Darya Mars
Natalya Grigoriev
Elizabeth Zaklama


Legal:
Victoria Behr
Carmen Casado
Jerry Goldman
David Leventhal
Paul Llewellyn
Kaye Scholer LLP
Marketing:
Greg Miller
Alan Wright
Brian Austin
Jason Parrish
Hal Lamster
Media & Promotions Team:
Rebecca Myles
Audrey Ross
Nhadyr Reyes Cardenas
Chauncey Dandridge
Josef Pinlac
Michelle Deblassi
Kevin Farley
Shiela Jamison
Special thanks:

·New York City Mayor Bill de Blasio
·NYS Governor Andrew Cuomo
·Manhattan Borough President Gale Brewer
·City Council Member Carolina Rivera
·NYC Cultural Affairs Commissioner
Tom Finkelpearl, Assistant Commissioner Kathleen Hughes and Program Officer Alana Dapena Fraiz
·Community Boards 2 and 3

·NYC & Co Foundation
·NYPD Lt Christopher Cheng and Sgt Patrick McGuire, 9th Precinct Det. Jaime Herandez
·NYC Department for the Aging
·New York State Council on the Arts
·Lower Manhattan Cultural Council
·NYC Parks & Recreation Director Claudia Pepe, District Supervisor Terese Flores, Deputy Director Venus Melo (Citywide)
·NYC Dept of Sanitation Superintendent Joseph Signoril
·NYC Dept of Transportation Event Coordinators Michael Callery, Ivory Henderson-Robb and G.I.S. / Events Coordinator Shuan Bruney
our 2019 Sponsors and Partners: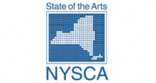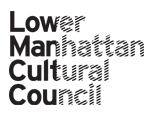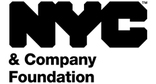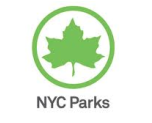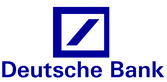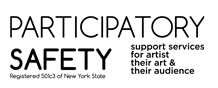 Want to Sponsor 2019? Contact Executive Director greg@danceparade.org for our 2019 Sponsorship Guide!

Happy February Everyone,
It may be cold outside but we have been moving with warmth in our hearts.  Inspired by Dance Parade's 2019 Theme "MOVEMENT OF THE PEOPLE," a core team of two dozen Movers and Shakers are brewing up a feast of all things dance for our 13th Season!
In a country that is suffering from wall drama and xenaphobia, we've taken action to highlight the treasures that our immigrant artists bring to the streets of Manhattan. Come Saturday May 18th, Dance Parade will begin with a Native Amerian Indian ceremony to honor the first nation dancers that were here long before any ship arrived on these shores.  Then, cutting the ribbon to unleash over 10,000 dancers down Broadway will be
Grand Marshals: Bill T. Jones, Baayork Lee, Louis Mofsie and DJ Dara!
To support the parade, we're hosting LIFT OFF March 2nd, a very special evening to kick off our 13th planning season, complete wtih DJs and artists from the parade. Come get a taste of Dance Parade magic.
Wish you some swing in your step!
| | | |
| --- | --- | --- |
| Greg Miller | | |
Dance Parade 2019 REGISTRATION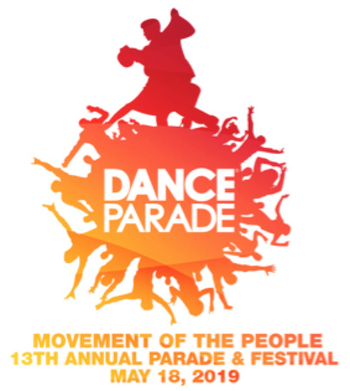 A Movement of the People is poignant recognition of the vital role dance serves for health and culture. In our 13th year, we continue to advocate for a stronger dance community by including everyone: All cultures, foreign and domestic, All ages, young to the eldery, All rhythms and styles, ballet to breakdance.
In these times when our immigrant communities are vulnerable and in need our support, our non-profit organization places artists in schools and community centers. Then we celebrate diversity by coming together May 18th in the city's largest dance event to showcase over 80 unique styles of dance.
The ribbon is cut at 1pm on Broadway and 21st street, unleashing 10,000 dancers down through Union Square, University Place and across East 8th Street to our Grand Stand in Astor Plaza. Culminating at Avenue A, DanceFest runs from 3 to 7pm and caps the day off with 5 performance stages, dance teaser lessons and a dance party.  Support this magnificent day of dance by
joining the team,,
donating,
sponsoring a float
or
dancing in the parade!

Dance Parade is a 501(c)3 non-profit supported by a passionate team of dance lovers. In this issue we put the team spotlight on Janelle Issis




I am currently the Dance Parade

Programing Lead and have enjoyed working with everyone thus far!







 

 
 

 

Our Production team is looking forward to presenting Dance Parade at the New York State Dance Education Association (NYSDEA) at Hunter College this weekend!

 

Our Community Engagement Programs:


 

Ageless Action: 

Serving older Americans through the joy and movement of dance.  





Community Kinect:

Using dance artistry to instill a lifelong enthusiasm for physical fitness.

 

Cultural Residencies:

Multi-week residencies focusing on culturally specific dance forms.

 




 

 




We dance for CULTURAL EQUITY.
We represent all dances, including yours. Our 80+ unique dance styles are the world's largest display of cultural diversity. We keep historical dances alive, like Armenian Folk dancing and Bolivian Caporales, and showcase new dance forms like Litefeet, Waacking and Brazillian Zouk. We unite cultures and generations, introducing teenagers to tango, clubbers to square-dancing, and seniors to hip-hop.
We dance to EDUCATE AND EMPOWER.
We send certified teaching artists to schools and community centers. Participants discover they can communicate vital feelings and ideas by dancing, and gain insight into other cultures. We support emerging dance groups by reaching broad audiences and document their artistry, which they use for fundraising and promotion.
We dance for EMOTIONAL & PHYSICAL HEALTH.
Dance ​expresses identity – yours, mine, and ours together. Dancing rejuvenates our bodies and minds, motivates us, and we share joy. Dancers master new skills, personal and interpersonal, developing self-esteem and community pride. We put creativity in motion, with performances, classes, costumes, parade floats, and our Dance Police (NYDP) — who playfully ticket "bystanders" for not dancing.
We dance for FREEDOM AND PEACE.
Our root is social justice. Our rhythm is unity. In the 1800's, ballroom dancing was deemed devil's work. In the 1920's, New York City enacted the Cabaret Law to stem interracial dancing in Harlem Jazz Clubs. Nazi Germany banned "anarchistic" Swing Dancing in the 1930's. Even recently, in 2006, a New York State Supreme Court ruled that, unlike other forms of art, social dance was not a constitutionally protected form of expression. We stand for all dancers, including you.
Our Mission is to promote dance as an expressive and unifying art form by showcasing all forms of dance, educating the general public about the opportunities to experience dance, and celebrating diversity of dance in New York City by sponsoring a yearly city-wide dance parade and dance festival.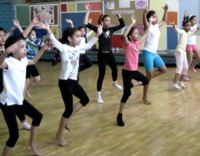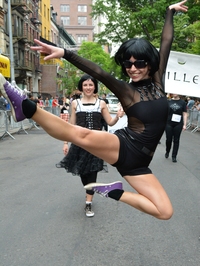 Photo credits: Peter Cai (left), Shireen Dickson (middle), Richard Renda (right)

Dance

Parade really needs your support and any help you can give us is appreciated. At

Dance

Parade, we are grateful for every tax deductible donation no matter how small.   
Here's how to donate:
   · Make check payable to "

Dance

Parade" and mail to:
     789 Westminster Road, Brooklyn, NY 11230
 

Sport an official 13th Annual "Movement of the People" Dance Parade shirt in the parade or around your neighborhood -- This one of a kind momento comes in light blue and can be shipped directly to your home one month before the parade. Order one for you or you're whole team today while supplies last!




$25 + Shipping with 100% of proceeds to support Dance Parade, DanceFest and our Community Engagement programs.


 

 




 

 
Check out the Sizzlin 2019 PROMO VIDEO by Renegade Pix:
Dance Parade New York is a 501(c)3 Non-Profit Organization