---
| | |
| --- | --- |
| | January 2018 |
Reduced stress. Increased productivity. Improved well-being.
Forte Organizers helps individuals and families stay organized at home, as well as teaching business people organization skills at work.
Learn how to find out the truth behind someone's organizing needs in Lori's latest Dayton Daily News article.
Lose Your Stuff, Find Yourself...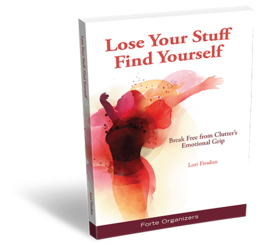 You've been asking for years. At every seminar, people come up to me and ask for a book they could use and share. And it's finally here!
is an inspirational guide, helping you begin the journey of organization,
so you can better manage your life.
Start 2018 with a plan for an organized, stress-free year!
What Do I Have To Work On Right Now?...
Staying focused at work can be difficult. There are usually many distractions and interruptions pulling your attention away from the task you're supposed to be working on.
Prioritizing these tasks can be helpful. Grab a piece of paper. As quickly as you can, list several tasks you need to work on. From that list, pull the top three that are the most urgent. Now, list those in priority order by asking the question, "What do I need to work on right now?" It's a simple question, but one that will keep you in present time when the workplace around you pulls your attention away.
Organized In No Time Flat...
If you must keep those boxes that your electronic Christmas gifts came in, break them down so that they can be stored flat. No more towering stacks of empty boxes cluttering your storage spaces.
FREE!

Mindful Home Organzing: Take the First Step
Saturday, Jan. 20, 10;30 am-12:00 pm
Washington-Centerville Library, 111 W. Spring Valley Pike, Centerville, OH 45458
Cal (937) 433-8091 for details.
FREE! Attack the Stack: Organizing Your Paperwork
Tuesday, Jan. 23, 6:30-8;00 pm
Springboro Library,
125 Park Ln, Springboro, OH 45066
Call (937) 748-3200 for details.
FREE!

Organized and Productive:

Tackle your To-Do List, Email and More
Saturday, Jan. 27, 10;30 am-12:00 pm
Beavercreek Library,

3618 Dayton Xenia Rd, Dayton, OH 45432
Call (937) 352-4001 for details.
Community Events...
Book Swap Day!
First Saturday of Every Month
Kettering-Moraine Library's Community Room,
3496 Far Hills Avenue,
Kettering, Ohio 45429
For more information, call (937) 463-2665.
Are your personal paperback and magazine piles growing rapidly? Have you finished the one you have? Do you love sharing your gently used paperbacks & magazines? Join the Kettering-Moraine Library on the first Saturday of each month for "Swap Day"! You can "swap" your gently used paperbacks & magazines with those your neighbors have brought in.
The number one reason for failed New Year's Resolutions is the lack of a clear goal. Come up with one clear, concise organizing goal for the New Year and share it with us. 'Just Hit Reply.' We would love to hear about your resolutions this year!
One More Thing...
"The new year stands before us, like a chapter in a book, waiting to be written. We can help write that story by setting goals." ~ Melody Beattie
Wishing you all a very Happy New Year,