Welcome to CMCA(UK)
Hello and welcome to the Summer edition of the CMCA(UK) newsletter. As ever we've been keeping busy in the second quarter of 2016 with V-Guard our under vehicle inspection system, which is now in production and core service activities overseas. To stay up to date with all CMCA(UK) related news go to www.cmcauk.co.uk. You can also find us on Twitter, LinkedIn and Google+.
CMCA(UK) Secure Smooth Transition to ISO9001:2015 Following Structure Realignment…
In September 2015 the International Standards Organisation (ISO) released the updated version of ISO9001. The change to the standard is significant, reflecting the evolution of business all around the world, addressing Leadership, Risk, Opportunity and truly making Quality everyone's business. Evolving to follow the same ISO Directive Annexe SL framework as other standards, it now allows for an integral approach to Management Systems.
Meanwhile in September 2015, CMCA(UK) also made a fairly radical change of its own. Following a detailed strategic and organisational review and a period of significant growth, the decision was taken to redefine the company's operating structure to better support the growing business portfolio and improve efficiencies. Based on an inputs/outputs approach and with a newly established Board of Directors at the helm, the new operating structure not only meets the company's aspirations but also aligns to the new requirements of ISO9001.
There could not have been a better time to evolve and improve.
In the last 12 months, CMCA(UK) staff have worked hard to ensure business processes underpin the internal restructure and strengthen customer support, whilst continuing to maintain standards and deliver the company's defined quality objectives. CMCA(UK) is therefore delighted to announce that after a detailed assessment/recertification visit by AFNOR, the company has not only retained its ISO9001 status but has also been recommended for transition to the ISO9001:2015 standard.
A big thankyou to our new Board for taking us on this journey and very big thankyou to all staff, without your involvement and acceptance it would not have been possible to achieve this significant milestone.
European Court of Justice Ruling on SVHCs in Articles presents fresh challenges…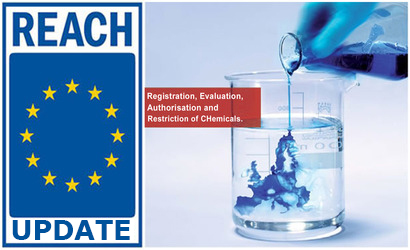 At the tail end of 2015 the European Court of Justice made a landmark ruling regarding the making of REACH Article 33 Declarations for the presence of Substances of Very High Concern contained within 'articles'.
Prior to this ruling, manufacturers and suppliers of complex articles only had to declare the presence SVHCs of >0.1%wt/wt of the entire complex article. However, this position had been a matter of controversy and discussion for several years with a number of EU Member States taking a dissenting viewpoint that declarations should be made for every individual article of the complex assembly instead. The ruling has now found in favour of this viewpoint and as such the 0.1 % threshold for notifying Substances of Very High Concern in articles applies to "each of the articles incorporated as a component of a complex product" rather than to the entire article.
CMCA(UK) is now working with customers to evaluate their complete BoMs for the presence of SVHCs in the individual articles, both 'bought in' and 'designed in' components and piece parts. In some respects the ruling has simplified the process as there is no longer the need to calculate the individual weights of substances contained within all the individual articles compared to the weight of the complex assembly. However, the challenge is still to ascertain whether these articles contain SVHCs, including all the adhesives, paints, coatings etc that form part of the manufacturing process. The solutions that CMCA(UK) is developing will enable customers to store this information and where necessary make Article 33 Declarations that state where the SVHC is present, eg for an electronics item its Circuit Reference.
If you require further information on how CMCA(UK) could help support your REACH obligations contact CMCA(UK) Business Development Manager
Antony Elliott
.
CMCA(UK) Celebrate Apprenticeship Success
After launching the CMCA(UK) Apprenticeship Scheme in September 2014, apprentice Oliver Jethwa has proved to be a most effective addition to the CMCA(UK) team. Whilst going through the apprenticeship process with us, Oliver has proved his ability by completing the modules for his apprenticeship with time to spare whilst also achieving his HNC. Due to Oliver's efforts and drive to succeed we are thrilled to announce that Oliver has now accepted the full time position of Project Engineer with us. Initially Oliver will be working within the structure of the Rolls-Royce team assisting in the development of REACH and new projects currently in the pipeline. In addition to Oliver we also welcome a Trainee Project Engineer, William Bradley. William recently met with us to discuss an alternative role, but having impressed us with his approach, and mathematical background, we have offered William the opportunity to join us as a Trainee Project Engineer. William will also initially be joining the Rolls-Royce team.
Introducing Our Newest Recruits
Following our success with recently qualified apprentice Oliver and the technical apprentice approach, we are delighted to announce that we have appointed two new administration apprentices who will be trained to to understand and develop CMCA(UK) processes and grow with the business. Bethanie and Thomas will initially be working in Codification and Procurement but expand to other areas of the business. Watch this space for the latest CMCA(UK) Apprentice updates.
May we take this opportunity to thank you for your time and for reading our newsletter, Please don't hesitate to contact us regarding any of our services or to see how we can help you. Contact our Business Development Manager Antony Elliott on;
+44 (0)1905 458 307 or
Antony.Elliott@cmcauk.co.uk
.
CMCA(UK) will once again be exhibiting at Millbrook Proving Ground on 7th &-8th September for Defence Vehicle Dynamics (DVD) 2016. The event that brings together industry and defence in the land equipment sector to develop ideas and generate greater understanding of technologies, capabilities and requirements. CMCA(UK) will be demonstrating the fresh to market advanced under vehicle inspection system V-Guard on stand C4-304, where we will also be on hand with UKNCB to answer any queries relating to the Codification process. If you'd like to make an appointment to discuss V-Guard, Codification or any of our services please contact Antony Elliott.

CMCA(UK) is pleased to report that there is a continued high level of interest in V-Guard, our advanced under vehicle inspection system. With an increasing number of enquiries being received from the commercial, security and defence sectors. We have also been investigating new opportunities in Latin America, where V-Guard is receiving a very warm response for use in a wide range of applications.

Following recent articles in a number publications, Andy Johnson, the V-Guard Project Manager was interviewed by UK Forces TV at the DPRTE event in Cardiff for The Military Tech Show.

We are currently planning a number of equipment demonstrations in the UK, Europe, North Africa and beyond and would be happy to discuss any requirements you may have.

We have identified the need for additional staff to join our ever growing team. CMCA(UK) is a dynamic, innovative and pro-active company looking for a Senior Business Development Manager within our Marketing team and a part time Accounts Admin Assistant with the Accounts Department. For further information regarding all career opportunities at CMCA(UK) please visit our website.

We are pleased to announce that following the recent Project Support growth Sam McCann has accepted the position of Project Support Manager, supporting the developing Project Engineering team. Please join us in congratulating Sam in her new role as Rolls-Royce Project Support Manager.

Operations and Commercial Buyers

As a result of the company restructure, we have identified new opportunities for both an Operations and Commercial Buyer. Darren Rogers has accepted the role of Operations Buyer and Julie Haywood has moved into the role of Commercial Buyer.