=============
**
<><><><>
Animal EFT
Sunday June 14
12- 2 PM - $25
<><><><>
EFT for Physical & Emotional Healing
Sunday June 21
12-2 PM - $25
<><><><>
Lose Weight, Gain Confidence with EFT!
Sunday June 28
12-2 PM - $25
<><><><>
to reserve your seat 48 hours in advance!
=============
**
Contact Colleen for a free consultation or to book a session for an hour of surrogate muscle testing, tapping, laughing, fear blasting and SWEET RELIEF!
<><><><>
<><><><>
DISCLAIMER: EFT is gentle acupressure and has produced remarkable results in relieving emotional and physical distress.
USE EFT AT YOUR OWN RISK ON YOURSELF AND OTHERS, INCLUDING ANIMALS.
If you apply this newsletter's techniques to yourself or others, you are agreeing to take full responsibility for any side effects and/or outcomes.
* * *
Thank you for subscribing to my newsletter!
* * *
May you be blessed with perfect health, wealth, joy, peace and love! --Colleen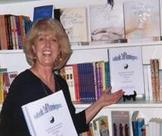 Please forward this newsletter to family and friends who could use the news!
Need help identifying the Core Issues to tap on?
"Heal Your Body A-Z" by Louise Hay lists almost every physical condition known to science and the emotional issues that may be causing them.
*
Products page has info to help YOU heal your life with the power of EFT and Louise Hay's teachings.
*
Want to jump start your 2009 Summer weight loss program by flushing out the fears that keep the fat where it's at? Maybe you have some hidden food allergies that are sabotaging your slenderizing? Try a private session with Colleen. Her surrogate muscle testing will identify your hidden blocks to success!
*
Click
HERE
for Private Session information
.
Have you used EFT on yourself, pets or family but have not received the results you wanted?
Colleen tells ALL her secrets to EFT success in her E-book!
Click
here
to view the table of contents.
Mega thanks to YOU, my Worldwide Subscribers for inviting my EFT Secrets and Tips into your inbox!
**
<><><><><><><><><><><><><><><><><><>
Here's the link to my latest article on
EFT for Allergy Relief published
on Gary Craig's site this week!
<><><><><><><><><><><><><><><><><><>
Have you seen the TV show called Kitchen Nightmares? Renown chef Gordon Ramsey coaches failing restaurant businesses for a week to help the owners get back on their feet financially. I like to watch the show for the business tips and the antics of Chef who has serious anger issues. Chef Gordon is in dire need of EFT!
*
Chef always samples 3 entrees first to determine the food quality. Sometimes the food looks so appalling that Chef prays before his meal for God to please keep him alive and well after he eats the food.
*
If you've ever had friends or family who worked in the food industry and related their own kitchen nightmares, you probably pray before your meals too! Most of us trust the safety and purity of our food, wherever we buy it.
*
We rarely know the cleanliness of the kitchens or warehouses from which the food came, if it was genetically modified or if our bodies can tolerate what's in the food.
*
We can pray we don't get food poisoning, like Chef does, but will prayers also remedy any food allergies, sensitivities or intolerances that we or our precious loved ones have? If not, how can we keep ourselves safe?
*
EFT: Emotional Freedom Techniques TO THE RESCUE!
*
My self-applied muscle testing began indicating that my body had allergies or sensitivities to much of my food, chemicals in it or the food packaging. At first I suspected my cooking skills, but thankfully that was not the case. My body considered many of these substances as harmful energy toxins.
*
I began tapping on myself after every meal. My body responded by dropping 3 pounds in 4 days! And I didn't feel sluggish or bloated after eating, either. Was the tapping helping my body digest food better, clearing the energy toxins in the food or allowing me to absorb vitamins at a higher rate? Who knows, but I love the results and have continued doing this for months!
*
Propelled by this success, I spent months researching and creating this NEW e-book and 30 minute audio package, named EFT to Clear Energy Toxins. (Click the link to check out the fabulous info to help you, your family and animal friends!)
*
Since Gary Craig published my article, truth-seekers around the world have invested in their health via this package. They're applying the information to themselves and their children and reporting HUGE clearings in allergies, food intolerances and substance sensitivities.
*
This package teaches you how to identify the CORE ISSUES causing your body's unwanted reactions to substances it considers harmful, then apply simple EFT or a full round to clear the reaction.
*
The audio will guide you through two tapping sessions to clear your allergies or sensitivities quickly and completely. The e-book contains tapping scripts and charts and everything you need to get started back on your path to health...all for only $22 USD! Click here to get it today!
*
This webpage reveals some of my research about the dramatic increase in worldwide allergies.
*
HELP YOUR FAMILY, YOUR PETS, YOURSELF! Arm yourself with knowledge and take action today with this information-packed kit EFT to Clear Energy Toxins!
<><><><><><><><><><><><><><><><><><>
People around the globe have ordered my Muscle-Testing and EFT Secrets in ONE E-BOOK to help themselves, pets and their loved ones! You can NOW get the E-book and 3 bonus e-books through PayPal, then

download them right away

! Check out the Table of Contents and get details by clicking HERE.
<><><><><><><><><><><><><><><><><><><><>
Email me for more information, to request a free consultation (new clients) or to schedule a session:
Colleen@EmoRescue.com
For the TOP TEN REASONS that people choose Colleen's EFT Coaching, click
HERE
!
*
Keep on tapping away your blocks to joy, peace, love, prosperity and success!
*
<><><><><><><><><><><><><><><><><><>
Please support independent small business! Go to
www.LightworkersGifts.comfor a huge selection of books, CDs, intuitive readers and other services you can access without living in Phoenix, AZ!
*
Wish you could have inspirational DVDs mailed to your home that the whole family can enjoy at a low price? Spiritual Cinema delivers movies that enlighten, inspire, teach and motivate their viewers and offers a FREE trial for new members!
*
Are you ready to open a holistic healing practice
but not sure where to begin or the best way to do it? Check out this
fabulous package
of incredible information for new and experienced business owners, from successful practitioners like yours truly!
Yes, I own it. Yes, I recommend it--I learned many fresh, fascinating holistic business tips!
**
If someone forwarded this newsletter to you, I hope you enjoyed it!
Click
here
to get your own subscription and a free two-volume e-book on how to release panic, stress and fear via EFT. You can easily unsubscribe at any time.
*