CRIME UNIT TARGETS PIRATES…
TRAGIC DEATH HELPS SOPRANOS SALES SOAR
FRIGHTFEST UNVEILS 2013 LINE UP
IT'S LOOKING ALL WHITE FOR ANCHOR BAY
VILLAGE OPENS FOR BUSINESS
LOVEFILM BOLDLY GOES WHERE NO STREAMING HAS GONE BEFORE
---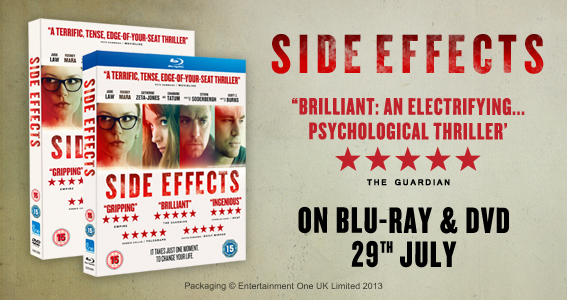 ---
I
f you can't read this newsletter or see the ads, please click
here
It Was A Good Week For…
Acorn (again), as The Fall starts strongly…
I
t Was A Bad Week For…
Illegal downloaders, as a new crime force is set up…
A new crime-busting unit is being set up to target online piracy and other counterfeiting and bootlegging as part of a new government-led initiative. The unit, which will be run by the City of London police and tackle all forms of intellectual property crime, was announced by the square mile's police commissioner Adrian Leppard and the government minister with responsibility for intellectual property, Lord Younger. The Intellectual Property Office is pledging £2.5 million funding over two years, and it is expected to be up and running by September. The City of London force is already at the frontline in the fight against fraud, making it the logical destination for the new unit. Lord Younger said: "Intellectual property crime has long been a problem in the world of physical goods, but with the growing use of the internet, online intellectual property crime is now an increasing threat to our creative industries. These industries are worth more than £36 billion a year and employ more than 1.5 million people. Government and our law enforcement agencies must do all they can to protect our creative industries and the integrity of consumer goods. By working with the City of London Police, who have recognised expertise in tackling economic crime, we are showing how committed this government is to supporting business and delivering economic growth." Leppard added: "Intellectual property crime is costing the UK economy hundreds of millions of pounds each year, with organised crime gangs causing significant damage to industries that produce legitimate, high quality, physical goods and online and digital content in an increasingly competitive climate. The establishment of a new online intellectual property crime unit is evidence of the government and City of London Police's commitment to confront this threat. Together we are creating an operationally independent police unit that will co-ordinate the national and international response from law enforcement and public and private sector partners so we can effectively target those who continue to illegally profiteer on the back of others endeavours. In doing so, we will also be safeguarding jobs and protecting people's personal and computer safety by ensuring they are not exposed to counterfeit goods and unauthorised copyrighted content."
The creation of the new unit has been welcomed by the industry. BVA director general Lavinia Carey said: "The BVA is very happy about this announcement as we've been lobbying hard for law enforcement agencies to take seriously the link between IP theft and organised crime. You will recall that when the BVA set up the Industry Trust, we began our consumer campaign with messages about video piracy's association with criminal activities. SOCA has had a workstream dealing with IP crime and cyber crime but they're not so close to enforcement of course. And it was our work, through the Alliance, that lay behind the setting up of the IP Crime Group at the IPO, which is why they are funding this new unit. Thanks to FACT's close working relationship with the CoLP they have been developing a number of initiatives and more will be announced about the fruits of their cooperation in the coming weeks." FACT's Eddy Leviten said: "The creation of a dedicated team of officers is a very welcome step forward and puts the UK at the forefront of the fight against IP crime. FACT already works closely with the City of London Police and their experience will be invaluable."
---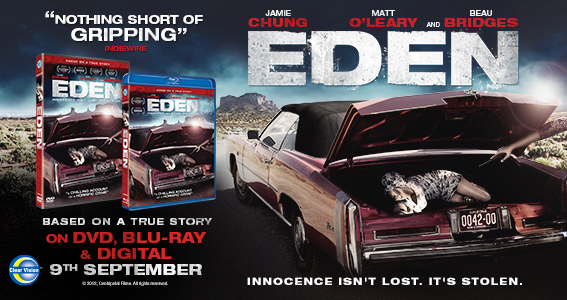 ---
As reported here previously, the City of London force has already been hard at work in battling against online piracy, and this week was celebrating another victory after forcing the closure of the 180,000-strong Usenet site NZBsRus. The site indexed Torrents of films that could be illegally downloaded. FACT, working with City of London officers, has been targeted this kind of site in recent months, using cease and desist letters as their opening salvo, with threats of the consequences if they didn't close the site down. This time FACT officers delivered the letter without the aid of police and were, ironically, praised by the offending individuals. One said "FACT came to the door of a past administrator of the site last week, handing over a cease and desist letter. The FACT investigators were actually very nice in the way they handled things, as children were present. We also believe that police were not involved due to children being at the property. After debating how we should proceed we decided that due to FACT now intruding on site staff as well as getting closer to us that it was now time to comply. The investigation to follow would be unfair to site staff plus we also have family and they are our priority. To protect everyone involved with the site it's with regret we say goodbye."
Let's have a look at some recent good news, Acorn Media is enjoying something of a record year, after its recent success with one of the year's most talked about homegrown series, Broadchurch, the label is currently enjoying another hit with another of 2013's landmark programmes, The Fall. Acorn is currently sitting pretty at the top of the TV charts with the Gillian Anderson-starring crime drama, after ousting the all-conquering Game Of Thrones from its, er, throne. Speaking from a bar in San Francisco where Metallica used to hang out, md Paul Holland said: "Having helped the industry make a killing with 'Broadchurch' we've gone all serial about it and are thrilled that 'The Fall' continues our trend for supporting great TV on DVD."
---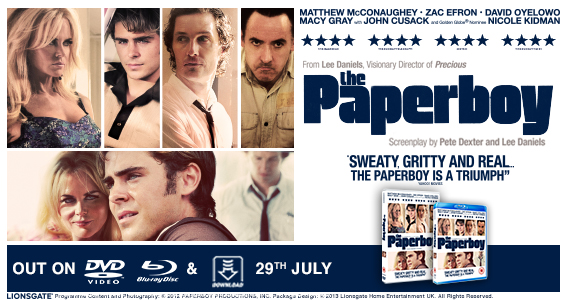 ---
Acorn is now fast becoming the label of choice for this new tougher strand of UK crime programming. We've looked in depth at this renaissance in British telly drama, with less costume and more drama, on our website, including eOne's The Village, Delta's forthcoming Run and Acorn's selection. As Acorn's Gareth Brown said: "Acorn has always sought out the best available TV to release on DVD and worked hard, once the rights have been acquired, to maximize the potential of these productions. Working closely with the writers, directors, producers and stars where possible helps us to give these titles greater presence in the marketplace. I believe that over the years Acorn has developed a reputation for being a go-to company for this kind of work. Certainly successful relationships such as those for Broadchurch and The Fall I trust confirm that." Next from the label are Line Of Duty and Young Montalbano. For more, see our website…
Also performing well, although in far more tragic circumstances, is The Sopranos. Sales of the seminal US series, the one that launched a million box sets and effectively changed not just television but arguably our industry too, have soared since the untimely death of the man behind the series' pivotal character Tony Soprano, James Gandolfini. The sumptuous complete box set from HBO has rocketed up to number six in the TV charts, with sales rising by a mammoth 429 per cent week on week, and almost 200 per cent higher than the corresponding week in 2012. It sold some 1,767 units, an impressive amount when you consider the high ticket price. As the Evening Standard noted in covering the box set last week, "remember him this way". It's a tragic death and we'd rather not be reporting on a sales surge in such sad circumstances, but at least he's being affectionately for his part on creating one of modern television's most memorable characters. HBO's Sophie Knight reiterated HBO's reaction to the shocking news: "We are deeply saddened by the loss of James Gandolfini, a special man and a great talent who will be truly missed."
---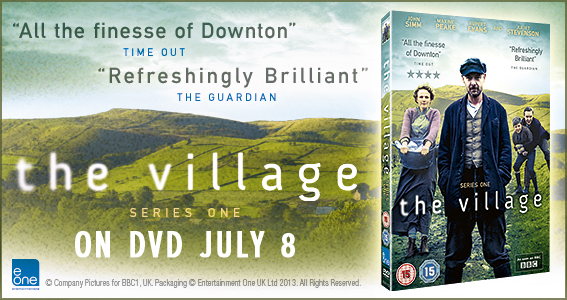 ---
To the BFI Southbank, for the launch of the organisation's hugely ambitious blockbuster project which will spans six months from August this year to January 2014. It takes in hundreds of films, thousands of screenings at scores of different venues around the country. It celebrates that peculiarly British creation which in turn gave birth to some of the characters who have become cinematic stalwarts, Dracula, Frankenstein and Jekyll And Hyde. As well as a four-month season at the Southbank (the longest ever), it will include a weekend's worth of activity at the British museum and much more around the country. And DVD publishing is a key strand of the activity, with new releases including more ghost stories (a hugely popular seller over the past year or two) in the Michael Powell narrated Classic Ghost Stories, a Halloween themed Children's Film Foundation release, classic archive TV programmes such as the 1970 Play For Today film Robin Redbreast and the surviving episodes of 1972's Dead Of Night, the newly-restored silent classic version of Phantom Of The Opera, a digitally remastered Gaslight and more classic TV in the shape of the 1979 BBC take on Schalcken The Painter and the 1977 series Supernatural. The BFI's Sam Dunn said: "We're thrilled with the calibre of Gothic releases that we have lined up for September-November. Titles such as Gaslight, Schalcken the Painter and the Supernatural series, are much sought-after and long unseen. And within hours of our announcement we've seen the forums start to buzz with enthusiastic posts by people who literally can't believe that these extraordinary TV dramas and cinematic classics are finally seeing their DVD and Blu-ray premiere releases."
While at the Gothic launch, as well as rubbing shoulders with the likes of Reece Shearsmith (who appeared in a panel discussion at the event and discussed, at length, the forthcoming A Field In England, incidentally), we also bumped into some representatives from the FrightFest organisation. They were gearing up for the announcement of the line-up for this year's Film4 FrightFest event, due to take place at the Empire over the August bank holiday weekend. It's an impressive looking slate indeed (you can see it here in full ), the biggest ever with more than 50 films, and, with features from five continents, its widest in scope too. Among the highlights, or those we're looking forward to at any rate, are the remake of We Are What We Are, VHS documentary Rewind This!, horror comedy from Bobcat Goldthwaite in Willow Creek, sequel V/H/S 2, the wonderfully-named Dementamania and Bring Me The Head Of The Machine Gun Woman. Anchor Bay is among the well represented UK distributors, with the company's Thom Leaman noting that the four-day event offers the perfect launch pad for films. He told The Raygun: "I actually think with I Spit On Your Grave 2, No One Lives and The Dyatlov Pass Incident all playing Anchor Bay actually has our strongest FrightFest offering ever - all completely different variants of horror, and neatly illustrating the breadth of the genre that the festival offers. It's always a pleasure to be involved with FrightFest and this year looks like it could be one of the best yet."
One FrightFest offering we can heartily recommend is You're Next from Lionsgate, which we saw previewed this week. It's great fun and is picking up recognition from the horror cognoscenti… The film opens later in the summer before arriving on DVD…
---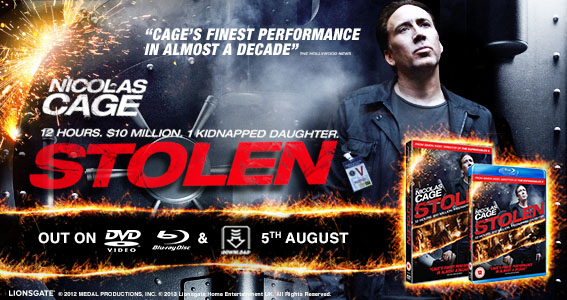 ---
Sticking with Anchor Bay, the company is currently seeing strong viewing figures for Sunday night series The White Queen, which is setting things up nicely for the company's August 19 release. As the company's Thom Leaman said: "The White Queen off to a very healthy start indeed - 6.8 million viewers caught the first episode on the BBC which is up there with the likes of Downton so that's a really encouraging indicator. Fan response similarly has been overtly positive and we've got a really engaged following across our social platforms. The past couple of weeks you've not been able to move for The White Queen press - including numerous TV breaks from author Philippa Gregory as well as stars Max Irons and Rebecca Ferguson. We're continuing to work closely with the BBC and publishers Simon & Schuster to ensure the best possible multi-platform event set up for our home entertainment launch."
And staying with TV and recent Sunday night series The Village is making its way to DVD on July 8. The series won over an audience despite its grim tales of life in a village when times were hard… "We're pleased to be releasing the Village on DVD - and since our success with Life On Mars it's great to have John Simm back on our books again. The Village is an epic, beautifully crafted drama, packed with outstanding performances from its superb cast. We're releasing the DVD July 8, supporting with press ads in The Guardian Guide and Radio Times alongside a nationwide PR campaign. With a second series returning next year, The Village shows great potential on DVD."
Still with eOne and the company has, as previously reported here, got an exceedingly busy few months. Its slate includes, among other things, Side Effects, one of this year's surprise hits and a strong box office performer. Readying for its July bow, the company's Tim Westbey said: "Following its success at the box office and stellar reviews, Side Effects is well positioned to deliver a strong home ent result. The campaign encompasses TV, press and online media, a creative PR campaign that will explore the themes of this psychological thriller and good in-store set-up including pos."
---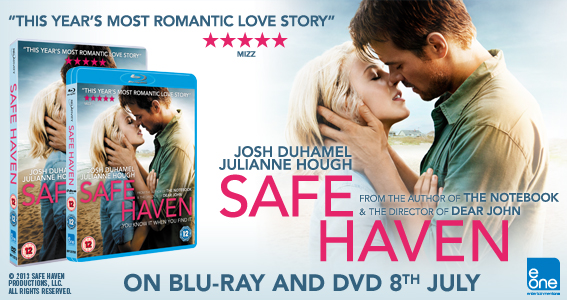 ---
Due from eOne later in the year is the excellent Liberace doc Behind The Candelabra, but until it arrives in stores, fans of high camp can fill their time by watching The World Of Liberace, a documentary looking at the real-life behind the scenes life of the flamboyant piano player. It's part of a set of documentaries and films from noted journalist and director Tony Palmer, the Liberace one (one of the best documentaries we've seen all year) has just been released, while the others, including the Beatles film from Palmer's hugely ambitious All You Need Is Love series, Leonard Cohen – Bird On A Wire and Frank Zappa's trippy epic 200 Motels are out on July 29. Boulevard's Head, Gavin Barnard said: "It's fantastic to be working with Tony Palmer to release some of his most influential and ground breaking music documentaries. Tony Palmer really finds out what these high profile artists are actually like behind the scenes and gets footage that's compelling to watch."


Returning to the BFI and one of the best things we've seen this week is The London Trilogy, due in July. It compiles three collaborations between popsters Saint Etienne and director Paul Kelly, including Finisterre, What Have You Dome Today, Mervyn Day? and This Is Tomorrow, as well as additional shorts. The BFI's Phil Roberts said: "We've worked with Saint Etienne to raise awareness of the DVD amongst their online fanbase. The band will be attending a launch event and screening at Rough Trade East on Friday 12 June and supporting the release with PR activity. We will be targeting music fans with print adverts in Mojo and Uncut, alongside Facebook ads. We'll also be promoting with editorial and competitions on London-based websites such as Londonist and Time Out."
We've already teased you with news of independent label Second Sight's ambitious plans for a Blu-ray release for legendary, epic tale Heaven's Gate, this week has seen the label unveil the rest of its impressive slate of restorations to the end of 2013. The line up will include seminal world cinema hit Betty Blue, in a deluxe two disc Blu-ray set, with both director's cut and original theatrical versions. The release will include numerous interviews lined up for a new documentary including Beatrice Dalle, Jean-Jacques Beineix and Gabriel Yared. There's a new transfer of Gregory's Girl overseen by director Bill Forsyth who, Second Sight's Chris Holden said, will also be contributing to the bonus features along with others. There's also Blu-ray releases for a trio of other classic and cult titles, taking in horror anthology Creepshow, Streets Of Fire and Thunderbolt And Lightfoot. Meanwhile, the Heaven's Gate package keeps getting better: cinematographer Vilmos Zsigmond has already been interviewed for the release and next month the label has an interview lined up with Jeff Bridges. Second Sight's Chris Holden said: "We're working on some of our most exciting releases to date for Q4. From one of the true classics of French cinema which has never had the release it deserves to one of the most fondly regarded British comedies, another that has only had a bare bones release to date and not in widescreen. With participation from the likes of Beatrice Dalle, Jeff Bridges, Bill Forsyth, Walter Hill and many others we are putting all our efforts into bringing definitive editions of these real gems to the market for Christmas."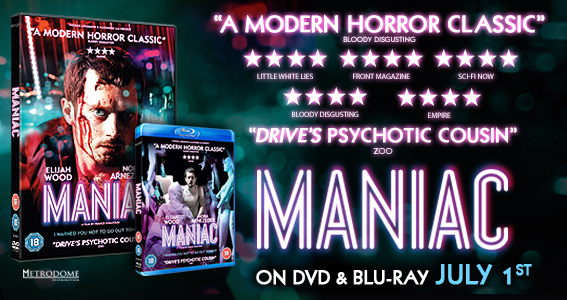 As ever, more news from the world of streaming and digital services and LOVEFiLM has made another announcement this week, after inking a deal with CBS. Eagle-eyed viewers will have noticed the first fruits of its deal with the US television giant's Studios International arm appearing on the company's Instant streaming service this week. It takes in programming such as The Good Wife, Blue Bloods, Nurse Jackie, Dexter and Californication. It also takes in both the original Star Trek TV series and the later Voyager spin-off. LOVEFiLM chief marketing officer Simon Morris said: "We're thrilled to announce this latest deal with CBS Studios Int., and bring another great selection of hit US TV shows to our members. The quality, quantity and diversity of what we can offer our members is absolutely fantastic which is why we're quickly becoming the first choice subscription service for TV fans."
Also from LOVEFiLM, the company has this week announced a new streaming app for Sony Bravia TVs, Blu-ray players and home cinema systems. It includes new functions and easier to use elements.
Netflix news now and its exclusive comedy drama series set in a women's prison, Orange Is The New Black, has yet to air (it's due on the service in the UK and other territories in July), but it has already announced that it has commissioned a second series of the series, which comes from the creator of Weeds, Jenji Kohan. Netflix's Cindy Holland said: "Jenji and her team have produced a phenomenal series and we're eager to get a second season to our viewers."
And we'll end with seeming confirmation that it's the end of an era, but the beginning of a new one, or even a return to former glories, as the story about HMV's move seems to have been confirmed this week, with the Daily Telegraph running a major story announcing that the retailer will, as reported here on The Raygun and elsewhere recently, be returning to its spiritual home at 363 Oxford Street, with the current flagship location at 150 Oxford Street set to become a Sports Direct store. And, perhaps in contrast to much of the recent HMV press coverage, the press has concentrated on its positive elements – 363 was Nipper's first home – rather than anything else…
---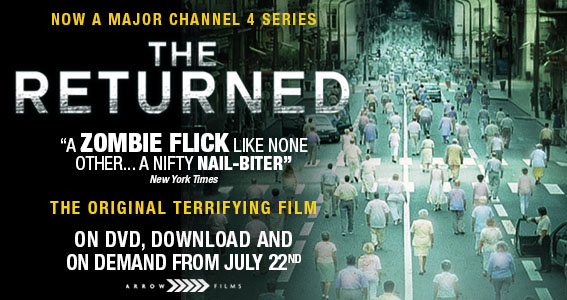 ---
RELEASE OF THE WEEK
One of the biggest surprise hits of recent years was the weepie Dear John, starring Channing Tatum, which punched above its weight thanks to some strong marketing. Now the same is set to happen to Safe Haven, which has all the same credentials and is due from eOne in July. The title will come with a marketing campaign which is targeted firmly at women, and playing up the key romantic elements of the film. Its strong TV campaign includes a sponsorship of E! News. The company's Ellie Davies said: "We'll be launching Safe Haven with a widespread marketing campaign and third party promotions which really capture the romance of the film."
QUOTE OF THE WEEK
"We view piracy as a proxy of consumer demand. Generally speaking, we view piracy as a proxy of consumer demand. Accordingly, enforcement related efforts are balanced with looking at ways to adjust or develop business models to take advantage of that demand by offering fans what they are looking for when they are looking for it. I think our top priority would be to remove the financial incentives from those who would profit by building businesses based on the unauthorized exploitation of our intellectual property. A close second would be educating consumers about the importance of IP protection and the availability of legitimate alternatives to piracy."
Warner's anti-piracy chief David Kaplan
Man Of Steel retained the number one slot with a haul of £21.3 million at UK cinemas, while most industry pundits said that World War Z's £4.5 million from its opening weekend was a strong result. Other new entries included Snitch, with £268,229 and Before Midnight, with almost £250,000.
Reboot news of the week concerns The Terminator, or, as a new take on the famed franchise will be known, merely Terminator. Paramount has this week put a market down, scheduling the film for a release on June 26 2015. Schwarzenegger will be returning and it is definitely a reboot, while it is planned to be the first in a trilogy. Anything else – and there's plenty of it – is merely speculation.
Back in he UK now and interesting to sees that our old chum Jonathan Sothcott has been busy again. The producer, not content with readying Vendetta for release, as well as working on Top Dog for Universal due next year, has inked a deal with publisher Caffeine Nights. It will see novelisations of films such as Vendetta, as well as film editions of books that Sothcott's Richwater Films are producing, such as Top Dog. It will also give Richwater first look at film rights for material published by Caffeine Nights.
TWEET OF THE WEEK
Big trailer from these shores, due, as reported here previously, from Anchor Bay…
It's this week's daft comedy…
Hearing some good feedback on this one…
Strong cast for this thriller…
Arnie. And Sly. Together.