Volume  11           Issue  4        April  2017
Get Your Free Tree Today! 
The City of Laurel will continue its commitment to a greener, healthier community and Mayor Craig A. Moe is pleased to do this by hosting the "Energy-Saving Trees" initiative.
Through this program, City of Laurel residents are eligible to receive one free tree to plant around their home that will help reduce their home's energy needs, reduce their carbon footprint, improve air quality and effectively catch stormwater runoff..
This program is made possible by the Arbor Day Foundation, Baltimore Gas & Electric and the City of Laurel Department of Parks and Recreation. Residents can choose from one of the following 2' to 4' tall trees: 
White Dogwood

Bald Cypress

Eastern Redbud

Northern Red Oak

Red Maple

Shadblow Serviceberry
Click here to log on and request a tree and arrange for pick up at the Parks and Recreation Maintenance Complex located at 7705 Old Sandy Spring Road.  For more information about this or other Parks and Recreation programs, please Call 301-725-7800.
Golden Shovel Starts in May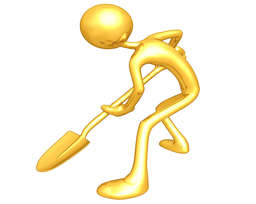 The weather is getting warm and flowers are blooming, which means that I am pleased to once again announce the City of Laurel's Golden Shovel Award Program for the 2017 season from May through September!
The program recognizes residents in the City of Laurel for their beautification efforts. Hopefully it will inspire others to keep their properties clean, neat and beautiful which is great for property values.
The Office of the Mayor will accept nominations for the Golden Shovel Award Committee's review via telephone, letter or email for residential properties to be considered for this prestigious award.
I  plan on presenting the awards to each one of the winners and has said, "With so many yards and gardens in the City that deserve special public recognition for the beautification they provide our neighborhoods, is one award per month enough?"
Judging will take place during the third week of the month, with award presentations the following week.  All nominations must include the address of the property and a description of the project and if possible, the name and phone number of the property owner.
To submit a Golden Shovel Award nomination, please call 301-725-5300, extension 2125, email
laurelmayor@laurel.md.us
or send a nomination letter to Mayor Craig A. Moe, 8103 Sandy Spring Road, Laurel, MD  20707. 
Mayor's Summer Job's Program
I am very pleased to announce the Mayor's Summer Job's Program for the ninth year.  If you or your kids are interested, the application and requirements are up on the City's website at 
https://www.cityoflaurel.org/baps/mayors-summer-job-program
 the application process will run until May 5, 2017.  So fill out your application today.
Twelve students, ages 14-16, who live within the city limits of Laurel, will earn summer positions in the Office of the Mayor, Office of the City Council, City Administrator's Office, Laurel Police Department, Office of the Fire Marshal and Permit Services, Public Works, Parks and Recreation, Information Technology,  Communications and Budget and Personal Services.
The hourly rate of pay will be $9.25 and in no case will any student work more than 20 hours a week.
The award winning Mayor's Summer Job Program is an extremely popular employment opportunity for high school-aged teens. The first day of work begins June 26, 2017, and will run for eight weeks, ending on August 18, 2017.   If you have any questions, please contact Michael Greene, Deputy Director, Department of Budget and Personnel Services, at 301-725-5300 ext. 2212.
Slow Down To Get Around Program - Kick Off
We have posted a video on our website to encourage drivers to be careful when trying to pass a trash or recycling truck in the City of Laurel.  This new progam the the City has adopted is called "SLOW DOWN TO GET AROUND-NO EXCUSES" is a public service announcement was produced by the Fairfax County Solid Waste Management Program as part of a safety campaign to protect sanitation workers.
Did  you know that Trash and recycling jobs are the fifth most dangerous in the country?
In January 2017, the City of Laurel Department of Public Works lost one of our employees Marcus Colbert who was killed in the line of duty to the Laurel community after a SUB driver struck the truck he was standing behind, doing his job.
I encourage you all to take the time to review and share the video with every driver in your house or at your business and remember "SLOW DOWN TO GET AROUND-NO EXCUSES".
Laurel Police In The Community -"Casting with Cops" 
I was happy to see many turn out for the Laurel Polilce Department's first "Casting with Cops".  the many families that showed all had a very good time and fun!  Thanks to the members of the Laurel Police Department to interact with members with the community.  Even members fo the Laurel CIty Counicl were on had to talk with the kids and members of their families.  Looking forward to the next "Casting with Cops".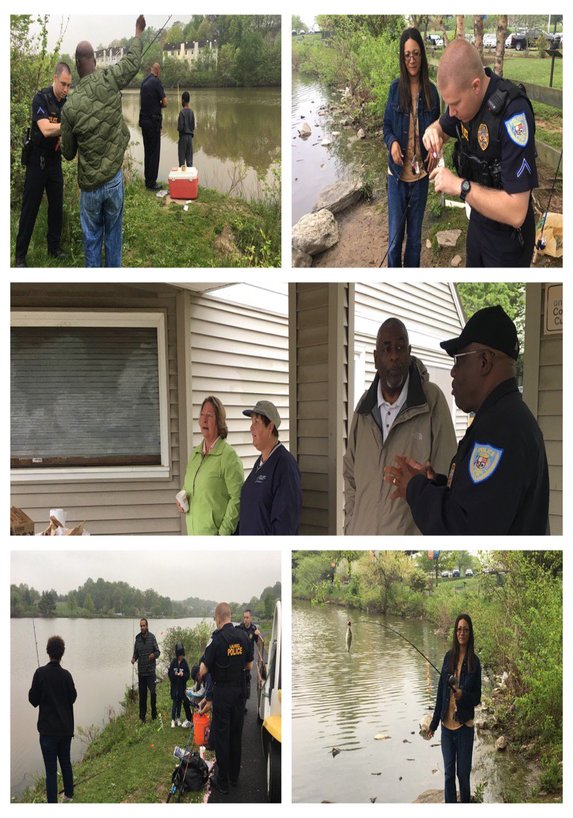 The Public Works Challenge - Recycling
The challenge for May is focusing on refuse reduction – the neighborhood that shows the largest reduction in refuse will be the winning neighborhood.  The winner will be announced during the first week of the June.  Residents from the winning neighborhood have 30 days to claim their $10 residential special pickup voucher.  The voucher must be used within 30 days.  Please see the
Recycling Competition
webpage for more information.
The April challenge is a repeat of March – the neighborhood that has the most recycling – the winner will be announced by next Friday.  On the 3rd Friday of every month, Public Works will announce a new neighborhood challenge! 
For automatic reminders and updates about this competition, download our 
Recycle Coach
application to your phone! 
Laurel's Hard Working City Councilmembers
The City Council is the legislative body of the City of Laurel, and as elected representatives of the citizens, consider and enact resolutions, regulations, and ordinances for the protection of rights and privileges, peace and good government, and safety and health of all citizens.  City Councilmembers shall be persons of known integrity, experience and sound judgment, not less than twenty-one (21) years of age, citizens of the United States, shall be registered to vote in City elections and residents of the City for the one year immediately preceding the date of the election.
The government of the City of Laurel is vested in  five (5) elected City Council members.  To find out more about your representative, click on your representative's name to go to their biography page.
Lakefest 2017 - See You At The Lake!
City & Committee Meetings

(

Agenda, Minutes,Video)
LVRS Member Barry Johnson Passes Away
From Laurel Volunteer Rescue Squad website: By Fire/EMS Chief Michael Haggerty
It is with my deepest sympathy and sadness to announce the passing of Life Member Barry Johnson.  Barry passed away peacefully in his sleep last evening around 10pm last night in the presence of his immediate family, his wife Cynthia, and his daughter Jessica, and son.
Late last night, Barry's body was taken to John's Hopkin's in Baltimore to have his tumors and affected organs donated to the John Hopkin's Pancreatic Research. (Even post mortum, the man wanted to save lives). One of Barry's requests was to be escorted to John's Hopkins via Ambulance 49. Life Member Scott Globerman retrieved the ambulance from quarters near midnight last night and escorted the motorcade to Baltimore with Jess on board.
The family is preparing memorial service details at this time. LVRS will work with the family to accomplish the memorial.  We will keep people posted via the website and the old timer's group on FD. The family is asking for no calls, and extended privacy while they settle all of the items that need to be completed.
I was saddened to read the news of Berry's passing, he was very dedicated to the Laurel Volunteer Rescue Squad and the Laurel community, he will be missed.  My condolences the family and LVRS.  -  Craig
Click here to go the Laurel Volunteer Rescue Squad website.
Congressman Brown Holds Town Hall Meeting
Congressman Anthony Brown came to the Laurel Library to discusses issues & concerns from the City of Laurel residents that live in his 4th congressional district. It was a very good showing from the community and the Congressman and his staff did a great job on updates and issues 
 facing Congress.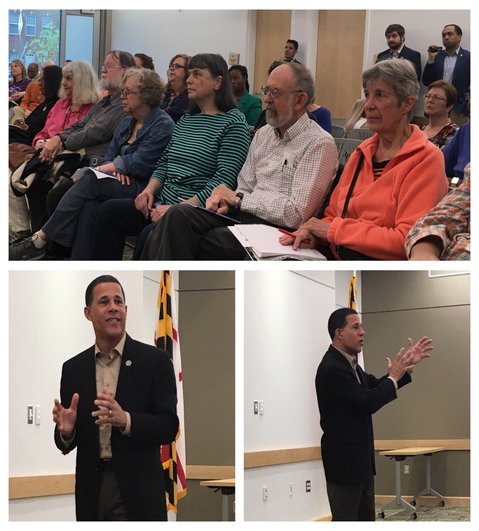 Sign Up Now for Swimming Lessons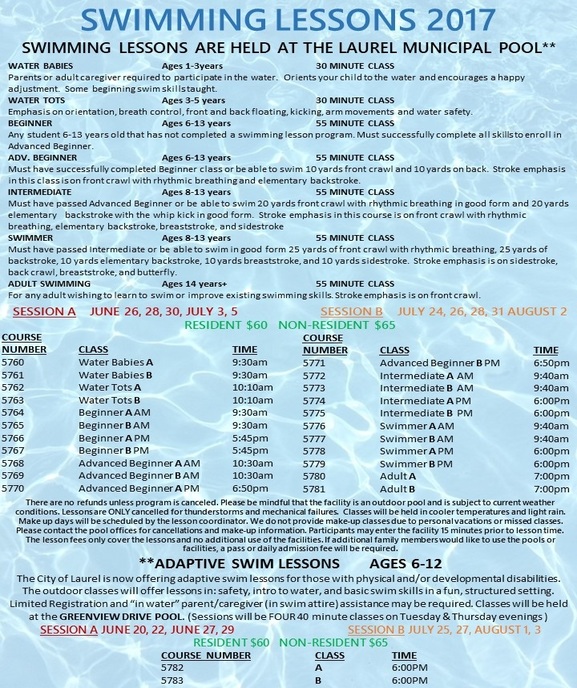 You can use our Online Registration
Before you can begin using online registration, please drop in at any of the City's Community Centers - Laurel Armory Anderson-Murphy Community Center, 422 Montgomery Street or the Robert J. DiPietro Community Center, 7901 Cypress Street - and complete a new Family Data Sheet to update your information in their system. Once your information is in the system it will allow you to register and pay for some of the classes online and get information about upcoming events, changes, cancellation, and delays.Some classes and programs are not available for online registration. 
If you require assistance with online registration, please call 301-725-7800, Monday-Friday between the hours of 9:30 a.m. and 4:30 p.m.
Laurel Municipal Center
Phone (City): 301-725-5300 x 2124
Phone (Home): 301-498-3743
Personal Email:
City Email:
 All materials are the opinion of the writer
  By Authority of Katherine A. DiPietro, Treasurer