SENNA SPEEDS OFF THE GRID
INBETWEENERS DATE CONFIRMED
ARROW GETS THE HEINEKEN IN…
BVA SHOWS MINISTER THE WAY…
SAVAGING THE GIFTING MARKET
CENTIPEDE BOOTS UP FOR RELEASE
RELEASE OF THE WEEK – RR3D CLOSER TO THE EDGE
---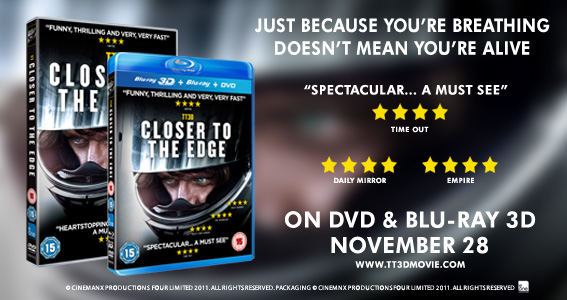 ---
It Was A Good Week For…

The Tarantino titles have started well for Miramax and Lionsgate, and Senna still roars along…
It Was A Bad Week For…

Online film operators in the UK, under fire for lack of choice, according to a report out this week…
In last week's newsletter we were talking about how well Universal's Senna was performing and we weren't wrong… The title ended up shifting some 135,000 units in its first week of release, making it the fastest selling non-music documentary ever. That plaudit will sit alongside the accolades and records the documentary has already picked up this year; it is already the UK's highest grossing documentary. It also bodes well for eOne's forthcoming racing documentary, TT3D (see below).
It's been a busy week for Universal, as the studio made a momentous announcement this week, with the news that it is offering films to rent via Facebook in the UK. The first title available through Universal's Social Cinema app is Johnny English, a timely initiative given the spy spoof's sequel Johnny English Reborn is currently one of the biggest box office earners in the UK. It's the first time that Universal's Social Cinema is available outside of the US, with Australia getting the Rowan Atkinson starrer at the same time. Facebook users who visit the official Johnny English page will be able to rent and watch the original over a two day window, for 30 Favebook credits. They;ll also be able to comment on and share elements with other fans, as well as offering pals a discount so they too can rent the film. The Social Cinema app is already up and running in the US, with titles such as The Big Lebowski and Scarface already available.
There's been a flurry of announcements this week, as a number of the summer's later blockbuster theatrical releases have all had their release dates officially announced and pre-sales started online. The likes of The Smurfs and Conan The Barbarian have all confirmed their dates (December 5 and 12 respectively – those first two weeks in December are looking particularly busy), but the biggest announcement of the week was that of the imminent arrival of The Inbetweeners Movie. Arguably the film phenomenon of the summer, certainly one of its bigger hits, will be released by 4DVD on December 12. The enormous box office has seen the film overtake The King's Speech to be the second biggest theatrical title of the year, bested only by Harry Potter And The Deathly Hallows Part II (due 10 days ahead of the Inbetweeners Movie). Head of 4DVD David Root said: "The Inbetweeners has been a phenomenal success to date, with the large fan base showing a real commitment to each DVD release. The theatrical release of The Inbetweeners has already given a real boost to the whole Inbetweeners back catalogue and we expect the huge popularity of the film will reflect positively in some great sales figures for the DVD and Triple Play releases. With all the special features we're including in the releases – from additional scenes, to behind-the-scenes interviews and bloopers – we're really giving fans of the film something extra to enjoy this Christmas." It's all started off well too, with pre-orders well above forecasts. 4DVD's Jessica Scott said: ""The news of the DVD and Triple play release has been greeted with massive excitement and pre-orders are already rolling it in vast numbers across retail, exceeding even our very ambitious expectations."
---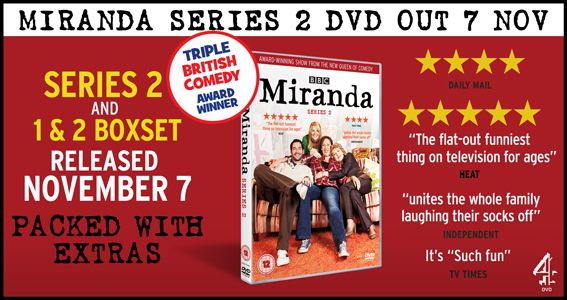 ---
Before that 4DVD has got a fair few other titles to work on, including its clutch of stand-up titles and more comedy goodies. One of its debutants, appearing on DVD for the first time, is Sarah Millican Chatterbox Live, out on November 21. 4DVD's Jessica Scott said: "We could not be more excited about releasing Sarah Millican's debut Stand-Up DVD Chatterbox Live. Sarah's star is on the ascent, with sell out national tours, an amazing stint at the Edinburgh Festival, 2011 Comedy Award nominations, high-profile appearances and now she has her very own chat show commissioned for early 2012 too… Sarah is already a force to be reckoned with in the comedy world and this is an incredibly strong stand-up DVD – as The Telegraph said: 'She makes it look so easy you wonder why many other comics bother getting out of bed.' And with a massive media campaign, plus Sarah's involvement with appearances on many shows, including Graham Norton, we have very high hopes for this DVD."
One of last year's big success stories for 4DVD was Miranda and the second season of the sitcom starring the eponymous heroine, comic Miranda Hart, is due on November 7. Jessica Scott, again, said: "The wait is finally over. 4DVD is really excited about the forthcoming release of Miranda Series 2 on DVD. The pre-orders are excellent and the Series 1 DVD is still selling consistently, even a year after release. We have an strong marketing campaign planned, with a mix of TV, press and outdoor and all this is being helped by a really committed effort by Miranda herself, who's doing lots with us – including an upcoming appearance on Jonathan Ross, among other high-profile appearances and pieces."
More dates now, and Arrow has confirmed that the second series of Scandinoir cop drama The Killing will be arriving on DVD and Blu-ray before Christmas. The first series of the programme was a bona fide phenomenon on 2011 and it has gone on to be a big seller for the independent. The second season will begin its run on BBC4 – the station has become as synonymous with this genre as Arrow has – in November, ahead of Arrow's release (the exact date has still to be set). Expect a welter of publicity throughout its transmission in the run up to Arrow's release. The company has recently added to its roster of Scandinavian programming, as well as furthering its recent busy activity by acquiring another film, The Heineken Kidnapping, a tough Euro thriller based on a true story and marking the first time Rutger Hauer has made a film in his native country for years… It is set to be one the Netherlands' biggest theatrical releases ever, although some of the real characters involved have called on the film to be banned (see here). For more on Arrow, see the feature that's just going up on our website…
---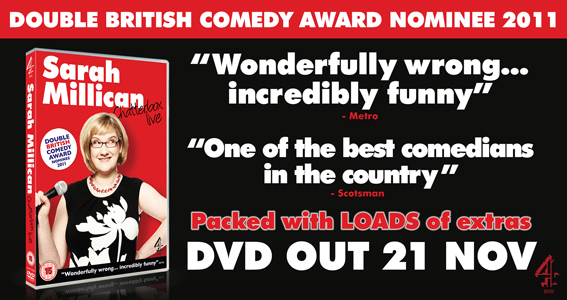 ---
Also on our website: the new HMV ad, the new BFI Flipside trailer (see elsewhere on this newsletter), a feature looking back on the first ever release of Henry Portrait Of A Serial Killer ahead of its first ever Blu-ray and loads more… Go to www.theraygun.co.uk for more
Also having a busy week this week was the BVA. The organisation invited culture minister Ed Vaizey MP and Lord Chris Smith, chair of the Film Policy Review panel, to see the latest technological developments in our sector. Held at Decipher in Chiswick, BVA director general Lavinia Carey, BVA chairman and Paramount md Charlie McAuley showed off the array of different devices and services that consumers can use to watch video programming, paying particular attention to the digital sector. Vaizey said: "It was fascinating to see how quickly technology is moving and how, by this time next year, consumers will be having a completely different viewing experience. It also re-enforced to me the need to get super-fast broadband established and how important it will be for everyone to have it." Carey added: "We are in a process of convergence within the audiovisual industry, as more and more exciting ways of viewing video entertainment on digital platforms blurs the traditional definitions of content and how it's being delivered to the screen. It was a tremendous opportunity to show how our members are working with new service providers and consumer technologies so that the significance of issues such as licensing content, interoperability and the challenge of online copyright protection could be discussed face to face with Mr. Vaizey and Lord Smith and they could see for themselves the extent to which industry is dealing with these hot topics to constantly improve the viewers' choice and ease of access."
Also from the BVA, and The Blu-ray partners generic marketing campaign for Q4 is currently being finalised, with the members putting the finishing touches to its activity planned for December under the auspices of the BVA and its marketing consultant Simon Heller. The campaign will include radio activity via Heart FM, with an on-air reach of 3.5 million listeners and online elements that will reach Heart's 12 million or so unique users. Meanwhile, the Blu-ray Partners Facebook site, http://www.facebook.com/filmathome, continues to grow too. Simon Heller said: ""The best form of marketing is personal recommendation and film@home offers people the opportunity to share their positive experiences of Blu-ray. The site is becoming increasingly well used and in fact our posts were viewed nearly 100,000 times last month."
Also from the BVA, the organisation is forming a new marketing and communications group. The move comes as the UltraViolet format is readied for a launch in the UK (it went live in the US last week), and on 8th November 8 the BVA will host a UV introduction for non-DECE members to encourage more companies to join the UK launch. The BVA and its members will develop an updated industry glossary to standardise terminology, and generic UV packaging guidelines, as well as working with the DECE itself to streamline consumer marketing plans. It is set for its first meeting next month. Lavinia Carey said: "The consumer is faced with a wide and increasing array of choices to view video entertainment, so the BVA is keen to work with all interested parties to ensure that the consumer messaging is clear and simple and communicates precisely what the options are to suit people's individual tastes and budgets."
Equally busy this week was retailer HMV. The company has launched its new technology friendly TV ad, which is aimed at letting the pUblic know about its expanded range of personal technology items, taking in headphones, tablets, boomboxes and the likes. It begins airing tonight across terrestrial and digital channels, including ITV, Channel 4 and Five. It has promised that the campaign, which also takes in radio, national newspaper and magazine, online, in-store, window displays and mobile and social media, will not come at the expense of its advertising for DVD, Blu-ray and other formats.
The HMV TV spots see its iconic Nipper logo being updated to a new CGI-friendly, three dimensional form, and that same new breed of Nipper is also seen on the newly relaunched HMV gift vouchers. Now available in denominations of £5, £10 and £20, it follows an earlier redesign of its electronic gift cards. Those will now be available in other stores as well as HMV, takuing in the likes of WHSmith, Clintons, Boots, Debenhams, Tesco, Morrisons, the Co-op, Homebase, Esso garages and even websites such as Funky Pigeon. HMV corporate sales manager Sam Playford said: "HMV gift vouchers give access to an unparalleled selection of music, film and games and loads of other cool stuff as well as the growing range of personal technology products, such as iPads and Beats headphones, that HMV now stocks. They've long proved popular with third party companies, particularly employees who appreciate their motivational and incentivising qualities. However, we felt they were due a bit of a design makeover, and I have to say that I am delighted with the outcome, which reflects the HMV brand in an engaging and contemporary way. It's also wonderful news that our electronic gift cards, which have already proved a big hit with our own customers, will shortly become much more widely available on the high street and online thanks to other retailers deciding to stock them."
To London's Courthouse Kempinski hotel for a special screening of Paramount's forthcoming Paranormal Activity 3. The Raygun was there as a guest of purehmv, which was hosting the event for its rewards club members. The scheme, of course, rewards its members for buying product from HMV and collecting points, which can then converted into money can't buy experiences and offers. The screening follows one recently for Universal's Scarface. The lavish screening room was packed full of purehmv members who were quite literally screaming in fear during the screening of the film, which opened yesterday at cinemas.
And lastly from HMV, the retailer's Sheffield Meadowhall store has beaten off competition from the likes of Apple, Game and others to win the best specialist retailer award at the shopping centre. It was popped to the post in the overall awards by House Of Fraser, which had benefited from a £10 million refit.
---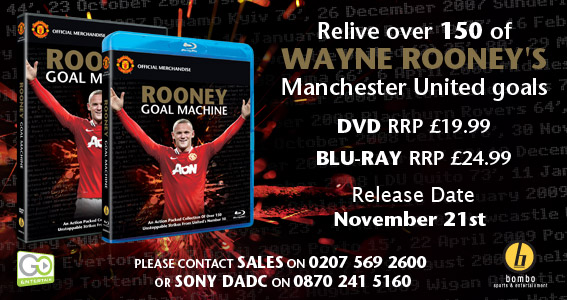 ---
You may have noticed the current series of Strictly Come Dancing is on BBC, with all the surrounding hoopla about the programme. One of its stars is former footballer Robbie Savage, also a radio and TV presenter, and he is set to enjoy one the biggest sports DVDs of the year with Revolver's November 21 release of Robbie Savage: Football Howlers. Revolver's Tim Westbey said: "A pillar of the BBC's football coverage on TV and radio, and with over 485,000 Twitter followers, Robbie is now wooing millions of new fans each week in Strictly Come Dancing. The marketing campaign will comprise of TV advertising aimed at both football fans and the gift market, extensive national broadcast and press interviews, and comprehensive social media coverage – marking it out to be one of the special interest titles to watch out for this Q4."
While we're on Revolver, have a look at the latest edition of its Take Down online magazine, previewing, among other things, its forthcoming theatrical biggie Sket. See it here

.
Next week sees Jurassic Park arriving on Blu-ray for the very first time, as part of Universal's Ultimate Trilogy box set, after its recent theatrical re-release. So expect to see plenty of press coverage this weekend, not least in the form of a double page spread in The Sun featuring a press trip to Montana. More from this will appear in the Daily Telegraph on Tuesday and online. Palaeontologist Jack Horner, the inspiration for Sam Neill's character in the series, and an advisor on the films. Horner will also be in publications such as the FT Weekend, The Times' Young Times page and Sci-di Now. Expect too to see Ariana Richards and Joseph Mazzello, characters in the films, in the likes of the Daily Mail, Sunday Mirror's Celebs On Sunday magazine and more. It has already benefited from a whopping four page feature in Empire and eight pages in DVD & Blu-ray Review.
We've long been raving about the BFI's Flipside label, the imprint that delves into the darker recesses of British cinema history. As noted on The Raygun recently, it is in the process of putting out dual format editions of all its releases, a move hastened by the summer's Sony DADC fire. So it seemed as good a time as any to make a cracking trailer showing off the best the label has to offer. It's part of a raft of activity, that includes work with MyMovies that sees the online company distributing trailers for the Flipside and its latest release, Little Malcolm, through sites such as the Independent and Total Film. There's also a competition to win the entire range, see here www.bfi.org.uk/theflipside for more. And to see the trailer, visit our website…
And we'll end nearly as we started, with more release date announcements, and Bounty Films and its UK distributor Eureka has this week announced a release date for the controversial sequel, The Human Centipede 2. The film will be released on November 21 and is being supported with what Bounty and Eureka promise will be a full PR and press campaign.
---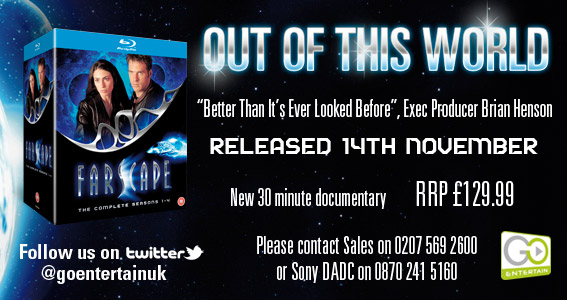 ---
As well as the aforementioned Paranormal Activity, we've been off to a few London Film Festival screenings this week. Highlights included Artificial Eye's We Need To Talk About Kevin – it really is everything it's cracked up to be – silent film homage The Artist, which again lived up to the blaze of hype, and one of two Clooney films on offer, The Ides Of March… We'll be having a full report on festival highlights at the end of the LFF…
"This is an intensive campaign to bring our message to the entertainment community, its workers, vendors and others," Nugent said. "It will be grass-roots organizing in the old-fashioned way as well as online. We're approaching this as a political campaign, a kind of get-out-the-vote campaign, to make our voices heard in Washington. The message that Creative America is imparting to members of the entertainment community and all who value American creativity and innovation is that content theft is not a victimless crime. And with Creative America, you do not have to stand by and be a victim. You can make your voice heard. You can fight back." Mike Nugent, chief of new anti-piracy organisation Creative America www.creativeamerica.org
With Senna performing so well (see above), it's good to see another racing documentary following in its slipstream. eOne's forthcoming TT3D: Closer To The Edge follows motorbikes rather than cars, and is set around the Isle Of Man's annual time trials event. It too has performed well at cinemas. As eOne's Jeff Suter said: "TT3D gained exceptional box office success, amassing an impressive £1.25 million throughout the course of its theatrical release and becoming the eighth highest grossing documentary in the UK of all time. Now on DVD and Blu-ray 3D, the adventure will still keep viewers on the edge of their seat and there is an enormous amount of desire for this product as it appeals to a really wide audience." He added: "The campaign for TT3D: Closer to the Edge is already under way with social media (Facebook and Twitter) helping to drive early awareness. The online campaign has kicked off too and will be followed by TV, press and online closer to the release date."
Universal's Johnny English continues to dominate, with its tota box office now moving well past the £9.6 million mark. New entries included The Three Musketeers, with £1.46 million, just ahead of Real Steel, which had receipts totalling more than £1.3 million. Footloose and Dolphin Tale took £460,271 and £429,140 respectively.
This week's big screen game to film adaptation news surrounds Assassin's Creed/ Sony is said to be in the final negotiations with game publisher Ubisoft to develop a franchise based on the series. The game has already sold more than 30 million copies worldwide, with a fourth instalment due out in stores in November. Sony is also developing some of its PlayStation franchises for release.
And this week's anime to film news surrounds Akira. Warner has this week confirmed that it has given the greenlight to a live action take on Akira, the film that effectively launched the Manga label. It will be directed by Jaume Collet-Serra, the Spaniard behind Unknown. It will have a budget of around $90 million. It has been rumoured for some time.
In the run-up to Halloween, Universal has relaunched its Home Of Horror website. It's offering a year's worth of horror DVDs as prizes in a competition, and is also flagging up its extensive catalogue, which goes from early horror masterworks to more recent, gorier outings. There's also new release fare, such as next week's The Caller on there too… See it here
We've been looking at what other people have been saying about #lff as well as putting our comments up too… Follow us on www.twitter.com/theraygun
Impossibly long trailer for new Mark Wahlberg actioner…
New George Clooney which, like The Ides Of March, aired at the London Film Festival this week…
As reported on last week's newsletter, Momentum's next biggie…
Second trailer for the new Sherlock Holmes…
o subscribe

to
The Raygun newsletter, please email
info@theraygun.co.uk
To unsubscribe, email
info@theraygun.co.uk
with unsubscribe in the subject