…"GOVERNMENT MUST REMEMBER IMPORTANCE OF IP"
BUSY WEEK IN LEICESTER SQUARE…
BLINKBOX TAKES TO TV FOR MAJOR CAMPAIGN
HMV UNVEILS NEW TELLY SPOTS…
…AND BREAKS IN-STORE RECORD
LEMON HEADS TO OXFORD STREET
ARROW STILL MAKING A KILLING
CLASH OF THE TITANS IN WEST LONDON
SITE OF THE WEEK
TWEET OF THE WEEK
TRAILERS OF THE WEEK
---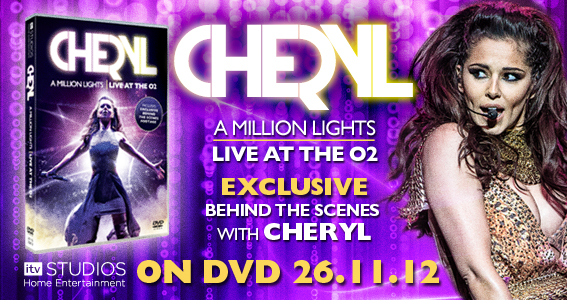 ---
If you can't read this newsletter or see the ads, please click
here
It Was A Good Week For…
blinkbox and HMV, unveiling new TV campaigns…
It Was A Bad Week For…
Google, the industry's current bete noire, given a kicking at the BVA AGM, for the second year running…
We'll start with a trip to the swish venue of the Mayfair hotel, for the BVA's annual general meeting. As well as Lavinia Carey's customary filmed review of the year in video terms, chairman Charlie McAuley, Paramount md, also outlined his thoughts on the past 12 months and the future of our business. And chairman of culture select committee John Whittingdale outlined his thoughts on the home entertainment and film industries, which gave a clue to political thinking. It was positive to note his support for our business and the fact that the government should recognise intellectual property and stop being in thrall to the likes of Google (last year's AGM also saw a guest speaker bashing the online giant). Whittingdale said: "Our audiovisual industry is second to none, with some of the greatest TV shows and films being produced in the UK, such as Downton Abbey, Harry Potter, James Bond and Doctor Who to name but a few. However, in order for it to continue to thrive, the Government must recognise the importance of intellectual property to the future creation of best-selling work and the negative impact that diluted copyright law will have on the industry as a whole. The All Party Parliamentary Group, which I also chair, has recently recommended that the Government adapts the way it develops policy around IP and I look forward to taking these recommendations forward." He is something of a Doctor Who fan – BVA director general Lavinia Carey presented him with some gifts from BBC Worldwide, including Daleks and a London 2012 Olympic Games release. The irony wasn't lost on him – Whittingdale had had some harsh words for the BBC over the public service arm's Newsnight programme and, he told the 150-plus guests at the AGM, he'd had to cancel his trip to the European MTV awards because of it…
Meanwhile, at the AGM, the BVA's Lavinia Carey looked at another year of change for the organisation and the industry as a whole. Commenting on the review, Carey said: " The BVA has continued to encourage the media and politicians to recognise that physical and digital content are not in competition with each other but rather co-exist, delivering video entertainment to viewers in ways that suit their lifestyles both at home and on the move. As video entertainment is the primary method that audiences pay to watch films in the UK, it is essential that we can provide consumers with new and accessible services to meet their needs. The industry as a whole must therefore continue to engage with Parliamentarians and opinion formers to ensure that the sector is not undermined by detrimental legislation or the effects of copyright theft." In his opening remarks, Charlie McAuley talked about the different eras in our industry's history, the first dominated by VHS rental, the second saw the growth of retail, aka sell through, the next by the move to a disc-based business. He said: "It is important to acknowledge that the physical business is now at a mature stage in the product lifecycle; however it remains the way that 80% of our consumers choose to pay for content. Yes, it is evident that we have a new generation where ownership of physical product is not seen as important, where they are consuming video content in new ways, but we need to manage the transition carefully, and take account of the growing competition from many ad-funded and free catch-up services which have greatly improved in the last 12 months. To that end we are working closely with our retail partners, replicators and supply chain partners as we focus on creating a sustainable business for the future, upon which film and television producers depend so heavily for finance of new content. I am confident that the collaborative measures being implemented will enable us to manage the physical to digital migration with a considered and coherent approach."
---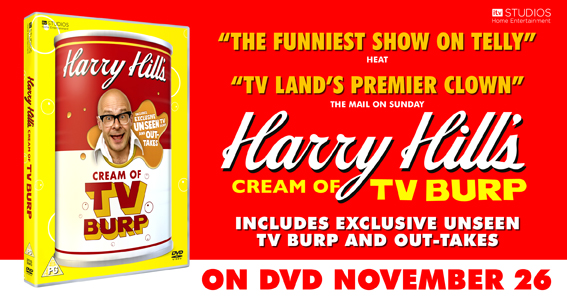 ---
It's been a busy week for the industry as a whole, with a whole raft of events that assorted retailers and trade representatives such as ourselves at The Raygun were invited too. Tuesday was eOne's premiere for Nativity 2 – Danger In The Manger (our junior correspondents loved this), where we also noted scores of people queuing for Wednesday night's The Twilight Saga – Breaking Dawn Part 2 event, while Thursday saw another trip to Leicester Square, this time for the premiere of the forthcoming DreamWorks animated tale Rise Of The Guardians, released via Paramount. And that was another goodie too. Given our previous week's shenanigans, including the launch for the Harry Potter Book Of Spells game and the lavish premiere for Momentum's Gambit, it's been a busy week or two… Keep 'em coming, we say, it almost feels like the good old days…
Those who were at home on Thursday night, rather than out gallivanting at premieres, may have noticed the first salvo in a new above the line campaign from blinkbox. The Tesco-owned operator has put together a major marketing push for its services, giving it a helping hand on the ongoing fight for the hearts and minds of UK consumers (there are, according to The Content Map and other sources, around 20 or so different operators in this field). It made its debut during I'm A Celebrity… Get Me Out Of Here! And features a boxer who is rejuvenated by watching films via blinkbox between rounds. The first one featured The Amazing Spider-Man, available for two weeks BEFORE its DVD release at blinkbox; other treatments feature True Blood, Kung Fu Panda and Magic Mike. It pushes the message that consumers can get all the latest releases – without a subscription, with the tagline "blinkbox to the rescue". It's a veritable marketing blitz too, with support from radio, outdoor, digital and print – we've already seen the campaign on London underground trains as well as on the front page of the Evening Standard. blinkbox sales and marketing director Kate Simon said: "We want to bring clarity to a confusing and cluttered marketplace by showing that blinkbox offers exactly what consumers want – the latest films and TV without subscription. We've used humour to build awareness of blinkbox and position ourselves as a customer-centric brand coming to the rescue of disgruntled movie and TV lovers who have been left on the ropes by subscription services."
UPDATE: And as we went to press, blinkbox had already shared some of the results of its opening volley, with registrations up 280 per cent and 200 per cent rise in new purchasers. Traffic to the site was up 200 per cent too, with a 400 per cent rise in visits from mobile and tablets too, there was also a tenfold spike in Twitter visits. Kate Simon said: "It's early days but the results are encouraging. It's particularly interesting that mobile and tablet visits are up significantly, pointing to the importance of the second screen while advertising in and around engaging live formats like I'm A Celebrity…Get Me Out Of Here!" Not only is the video on demand sector being keenly fought over, but the battle is encroaching into other territories too – witness that two week window on The Amazing Spider-Man too, which follows similar initiatives on other titles. One thing's for sure, with that added impetus, everyone is going to be keeping an eye on what it's doing to traditional, physical sales…
---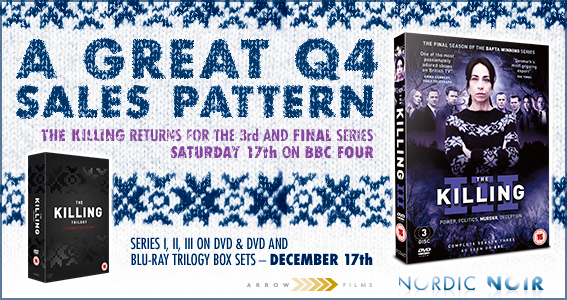 ---
Meanwhile, HMV has also unveiled its Christmas marketing spots, which have brought its iconic Nipper character to life, via the form of animation. There are a total of 11 spots under the Nipper And Gramophone's Christmas Tales banner, which moves away from the more traditional price and product focused spots. HMV head of brand Mark Robinson said: "Nipper and Gramophone have been at the heart of the HMV brand from the beginning. They are known and loved throughout the world, and we felt that the time was right for them to take centre-stage." Jason Lowings, from branding agency venturethree, which worked on the ads, said: "hmv is home to the world's best entertainment, so we wanted their Christmas campaign to be entertaining. Their unique logo was a great starting point, but we had to do more than make Nipper and Gramophone move - we had to create two lovable characters with their own special personalities."
We'll have some clips of these and the BVA news review up on our website early next week. Keep checking back, we're updating daily (or where our current patchy broadband service allows).
Back to HMV and the retailer enjoyed a record turnout for the PA held in its Glasgow Buchanan Street store by Kevin Bridges, launching his The Story Continues DVD (via Universal). Almost 1,000 fans are said to have turned up to have seen the comic in person, with sales of just under 900. It beat the previous record held by John Bishop in his home town of Liverpool. The Buchanan Street store manager Natalie Faccenda said: "We've been fortunate to stage some pretty amazing PAs in recent years, but I have never known anything quite like this, and certainly not for a comedy artist. You'd have thought we had Justin Bieber in the store given the size of the crowd and the excitement amongst the fans. It was a great atmosphere all day, especially when we gave Kevin an early birthday cake (for his birthday on Tuesday) and the crowd joined in with a chorus of Happy Birthday."
Stand-up stars have been everywhere over the past week, hawking their DVDs and Blu-rays to an unsuspecting public, appearing on all manner of chat shows and magazine programmes, both in the daytime (This Morning and Loose Women among them) and in the colour supplements. For a look at their press appearances in newspapers and magazines, see our weekly round-up of press activity and coverage on our website…
---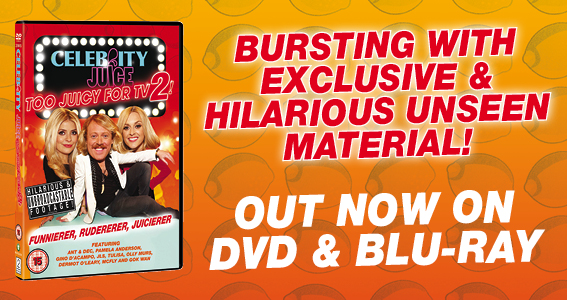 ---
Back to comedy now, and keep an eye out for more in-store shenanigans with the ever-unpredictable Keith Lemon, who, along with co-stars Holly Willoughby and Fearne Cotton, will be in HMV's flagship Oxford Street store to promote the release of the sophomore outing from the Celebrity Juice gang, Too Juicy For TV 2 from BBC Worldwide. Last year's first release was one of the unexpected hits of the Q4 period, this year's title, out on Monday November 19, is being supported by 20 second spots on ITV2 (the home of Celebrity Juice), E4, Sky1, Comedy Central and 40D, with 10 second spots running throughout December. Further support comes from press, national rail and London underground outdoor and digital escalator panels. BBC Worldwide is further pushing the Bang Tidy Box Set, featuring both releases and an extra disc with more than 45 minutes of additional footage. BBC Worldwide's Katie Walters said: "We are very excited about the signing we have with Keith, Holly and Fearne at HMV Oxford Street on Thursday November 22, this will also be filmed as part of Keith's Lemon La Vida Loca series so we expect a great turnout."
Sticking with BBC Worldwide, keep an eye out for sci-fi website Den Of Geek,
http://www.denofgeek.com/
, which is going to be taken over by the organisation to mark the release of Red Dwarf X, the new series charting the comedy adventures of the familiar cast. As the BBC's Chris Howarth said: "The release is full of exclusive extras and, as part of take over, fans can unlock teaser clips of the extras via a special Red Dwarf X game. We are also supporting the launch, targeting a broader fan base, with a national press advertising campaign. Throughout the year we have focused on social networks and built a strong following on Facebook and Twitter. This has given us a direct communication with the fans, the ability to excite and engage them about the upcoming release, capitalise on the success of the TX and drive pre-orders.
---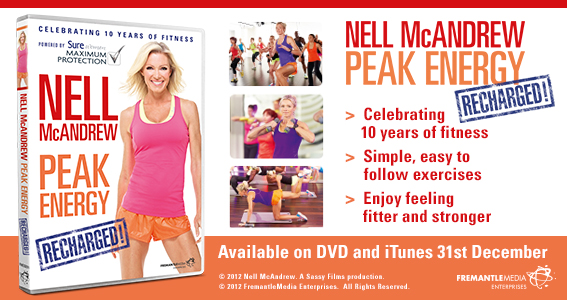 ---
TV of a different kind now, and, in case you hadn't seen the multitude of features in the quality press (and expect more on Saturday too), The Killing (the original version, not the US take) is returning to our screens on BBC4 for its final series. Needless to say, Arrow, which was the first to spot the potential for Nordic Noir and has launched an imprint with that same name, is ramping up for activity ahead of its December launch. The company has gone from a standing start to being one of the leading TV labels in a matter of months, thanks in no small part to its Nordic Noir releases, and it will be releasing the third series on December 17, as well as a sumptuous box set, complete with a jumper patterned design. The company's Jon Sadler said: " The beginning (of the end) is nigh. The most eagerly awaited moment in the Nordic Noir calendar is upon us with the first two episodes of The Killing (Forbrydelsen) Series III due to air this Saturday. Sarah Lund will return for the third and, sadly, final series, in the usual slot at 9pm on BBC FOUR, with double episodes over a five week period. We are echoing last year's strategy by releasing Series 3 on December 17th and while last year we also released the series 1 and 2 box set, this year we have the much richer offering of the complete trilogy set, which we are packaging in a nicely spot-glossed pack in both DVD and Blu-ray formats. The Killing has sold well over 200,000 sets to date and we feel than many people will now buy into the franchise knowing that it is finished and complete. So, what I am effectively saying is – expect a dramatic sales uplift."
Sticking with Arrow, and the independent held a prestigious event last week to mark the theatrical bow for its Ray Harryhausen: Special Effects Titan, at the Gate cinema in Notting Hill, attended by the great man himself (for people such as us, and Arrow's Jon Sadler, his seminal work on the likes of Jason And The Argonauts and The Golden Voyage Of Sinbad is half the reason we're in this business itself) and other legends such as John Landis and Nick Park. Commenting on the event, Sadler said: "It was a rare and very genuine honour to be able to host the premiere of Ray Harryhausen: Special Effects Titan and have Ray himself attend, along with other fantasy film legends, John Landis, Nick Park, Caroline Monroe (from The Golden Voyage of Sinbad) and Honor Blackman. The film and the rather lively Q&A went down so well with the packed auditorium at the Gate and we now look forward to collating all the extra material for the deluxe package DVD and Blu-ray release in 2013."
---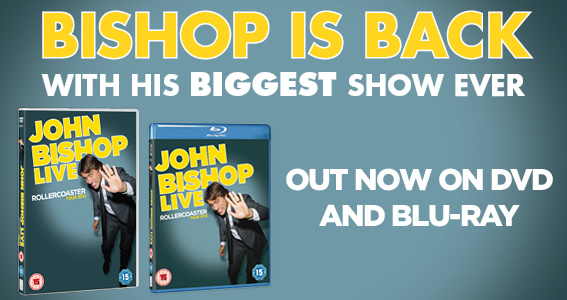 Deal news now, and an interesting press release arrives from Metrodome, which has inked a prestigious deal to release the 2012 Formula One Season Review. The title, due as the independent stated "over the Christmas season", will contain action from every race throughout the season, as well as never seen before footage. Metrodome's Rebecca Johnson said: "It's been a really exciting season for Formula One and we're thrilled to be working on this year's official F1 Review DVD. Working with stunning footage and expert commentary rounding up the year's racing highs and lows, we're looking forward to continuing this successful franchise over the Christmas period."
More deals now, and equally impressive is another independent, Dogwoof, signing a deal with Ken Loach and his Sixteen Films and Fly Film, which will see the documentary specialist releasing Loach's next film, The Spirit Of '45. Piecing together archive material from after the war, alongside new interviews, it looks at the immediate post-war period and the mood of optimism that swept the country. The film will arrive at cinemas and on DVD and online formats early in 2013, we can't wait. Commenting on the deal, Dogwoof's Oli Harbottle said: "To be able to add Ken Loach to the list of directors we have worked with at Dogwoof is a huge honour – Ken is globally renowned as one of Britain's foremost filmmakers, and The Spirit of '45 is a thoroughly engaging and relevant piece of filmmaking in the current political and economic climate."
And we'll end almost where we started, for while the BVA, and John Whittingdale, were praising the input of our creative services industry and the contribution it makes to our country, it's interesting to see one studio, Warner, continuing to invest in creative talent in the UK. We didn't have room last week to mention its acquisition of post-production house De Lane Lea, which it is adding to its Leavesden facility, the giant studio in Hertfordshire. Warner UK supremo Josh Berger said: "Just five months on from the opening of Warner Bros. Studios Leavesden, this latest acquisition is further evidence of our commitment to the UK film industry and the world-leading Greater London media cluster. Through its many years of operating, De Lane Lea has earned a power-house reputation for servicing tent-pole movies for us and other studios and, as we look to invest in the facility in the coming months and years, this standing can only grow even further."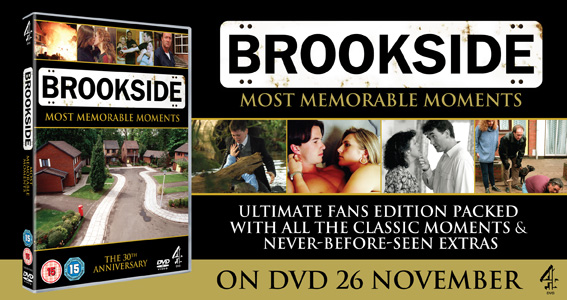 "This is an important innovation that fulfils consumer demand for high-definition releases that otherwise would not be available in physical formats. We're excited to have the opportunity to further expand the Warner Archive Collection into the Blu-ray marketplace with an impressive slate of releases."
Warner's president of digital distribution in the US, Thomas Gewecke, talking about its manufacture on demand service Warner Archive, expanding and moving in to Blu-ray. It produces limited quantities for collectors, forthcoming titles include Fearless and The Hudsucker Proxy.
Skyfall continues its reign at the UK box office, as of November 12 it was at £72 million, with Madagascar 3 just shy of £20 million. Highest new entry was Argo, with just shy of £1.3 million in its opening weekend, ahead of Here Comes The Boom with £443,052. The Sapphires was the other new entry with £337,641.
Used to be we were writing about Tom Hardy every week, but news of the star's forthcoming projects has died off recently. However, word now reaches us of a forthcoming project for the sought after actor. Seems as if he is now attached to star in a film version of Splinter Cell, the Ubisoft video game devised by Tom Clancy. He's first set to appear in the eagerly-awaited Mad Max: Road Fury…
Legendary writer Aaron Sorkin, the man behind The West Wing and tech-savvy films such as The Social Network, has revealed more of his plans for his Steve Jobs biopic… And, he said, it will be made up of just three extended scenes, each one set just before a major Apple product launch. It sounds unique, but, given Sorkin's track record, we wouldn't bet against him.
After wowing genre fans with their debut outing Iron Sky, Finns Tero Kaukomaa and Timo Vuorensola have hooked up with veteran producers Arnold Rifkin and Ross Richie to announce a new project, Jeremiah Harm. Doffing its cap to 80s and 90s action films, it is a tale of an intergalactic bounty hunter tracking down some bad guys and the woman they kidnapped. Funding will come, like Iron Sky, from crowd-sourcing, with fans also encouraged to design and submit their own aliens – the quartet are hoping to receive 1 million different ideas. Head
here
to see more of the comic book-influenced outing…
Follow us on
www.twitter.com/theraygun
for some scurrilous gossip, some stuff on what we've been watching and industry news and titbits too…
Test your Hitchcock knowledge in this smart quiz to tie in with Universal's Masterpiece Collection set…
http://on.fb.me/QEoahQ
A supernatural love story, it says here…
Coming exclusively to Netflix…
More Oz-related fun and games, currently provoking massive debate online…
This is great, but which one's Les?
Forthcoming in the UK from Eureka's ever-worthy Masters Of Cinema imprint…