NEWS & ADVENTURES

of a Philosophical Folk Songstress
~
February 2013
Dear Ones,
VALENTINE SONGOLOGUES - THIS SATURDAY!
I send out newsletters once a month, but this February, I'm making an exception and sending out this special reminder newsletter about
THE VALENTINE SONGOLOGUES
, because you see, I've been pouring my heart & soul into this show, and I want to make sure it's a good one! That's THIS WEEKEND, Saturday, Feb 16th at 8pm. Details below, and here:
EMPOWERMENT THROUGH SONGWRITING
This is also a reminder that there is only a week left to sign-up for my "Empowerment Through Songwriting for Teen Girls" class, so if you know any teen girls in the Santa Cruz area, please send them my way. This was just included in the cover-story for the Good Times here in Santa Cruz: "
Girl Power
". Woohoo! Details are below and here:
http://www.facebook.com/events/592071694152828/
KPIG RADIO VIDEO
If you missed my radio spots this last Sunday, we've got a goofy little video from our KPIG appearance for you to enjoy:
http://youtu.be/z4QN13rtHj4
HAPPY VALENTINES DAY!
And, last but not least, Happy Valentines Day!!! May yours be filled with love & celebration of all kinds...
with love & passion & a big big heart,
~ Amanda
p.s. If you'd like to spend Valentines Day with me and thousands of other people around the planet, check out
One Billion Rising
~ happeing in a city near you (5:30pm at the Clock Tower here in Santa Cruz)
U P C O M I N G E V E N T S :
---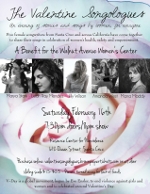 Saturday February 16th @ 8pm
The Valentine Songologues

~ an evening of stories & songs by women, for everyone

A Benefit Concert for the Walnut Avenue Women's Center
@ The Resource Center for Nonviolence | 612 Ocean Street Santa Cruz, CA
The Valentine Songologues were inspired by the V-Day movement, which was begun by Eve Ensler, creator of the Vagina Monologues. V-Day is a global movement to end violence against girls and women and is celebrated in February around Valentine's Day. This year, five female songwriters from Santa Cruz and across California come together to share their songs in celebration of women's health, safety and empowerment. Proceeds from the evening will go to the Walnut Avenue Women's Center, a community and family resource center in Santa Cruz.
$5-$25 sliding scale, no one turned away for lack of funds
Performing artists: Mana Maddy, Lily Wilson, Marya Stark, Leah Ray Mendez and Amanda West | Learn more: www.vday.org| www.wawc.org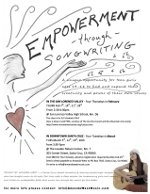 Empowerment Through Songwriting for Girls
A unique opportunity for teen girls ages 13-18 to find and expand the creativity and power of their own voices


This class for teen girls offers a safe and supportive environment in which to explore tools and inspirations behind songwriting techniques and self-expression. Through individual and group experience we will use vocal and writing exercises to tap into the creative flow and powerful voice within each of us. Topics may include body image, self-esteem, vocal awareness, dreams, and boundaries, and will be tailored to meet students individual interests. An interest in music and writing is recommended, but no prior experience is necessary. Please bring a notebook.
* Downtown Santa Cruz in MARCH *
TUES March 5th, 12th, 19th, 26th (continuous)
from 3:30-5pm
@ The Louden Nelson Center, Rm. 7
301 Center Street, Santa Cruz, CA 95060

Cost $80 (for four classes), advance registration required by Mon Feb 25th
Send a check payable to: Amanda West, PO Box 7345, Santa Cruz, CA 95061
Or write to info@amandawestmusic.com
** for more upcoming shows & events please visit: **
~ * ~ * ~ * ~ * ~
p.s. If you are receiving this email it means you are on my general list where I love to share all upcoming show information and general thoughts. If you ONLY want to receive updates about shows in you area, please let me know.
Philosophical Folk Songstress
PO Box 7345 | Santa Cruz CA 95061