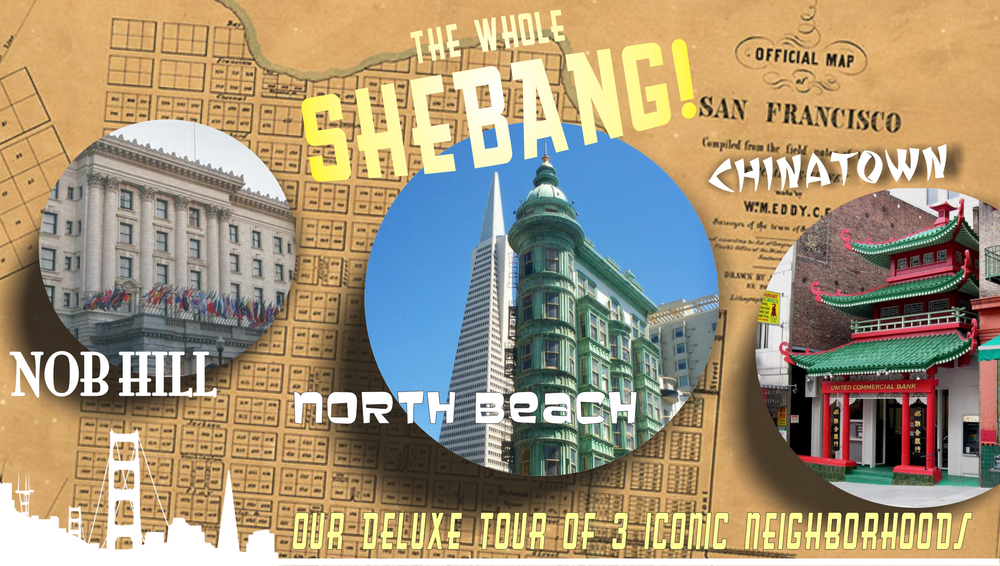 Back To School
September in SF – Fewer tourists, shorter lines for the cable cars, room on the sidewalks downtown to move freely, warm Indian Summer days, and the kids go back to school.
To celebrate we offer up The Whole Shebang Tour.  This tour covers 4 neighborhoods,  lots of amazing stories and almost 170 years of history. Our guides are passionate about San Francisco and want to share that passion with you.  In particular we love nothing more than pointing out something to a local they have seen many times and give them a fresh perspective.
Learning doesn't have to be boring.  Stories, Jokes, games, when shared by our fun and witty guides who moonlight as performers, comedians, actors, and teachers make it fun.
We are proud to present The Whole Shebang as our Tour of the Month for September. Join us all month long with our original flagship tour, featuring the usual trademark fun and frivolity from FOOT! fun walking tours. Tickets will be discounted all month long, so tag along, won't you?
Since it's back-to-school time, proceeds from our Tour of the Month will go to The San Francisco Education Fund

, a local non-profit that

"increases the availability and impact of resources for students and teachers throughout San Francisco public schools."

 To learn more about The San Francisco Education Fund, or to donate directly to them, click here.
Two-for-One-derful Tour Discounts
For our loyal newsletter readers, we offer two-for-one discounts on some of our selected wonderful tours.
Check out our 
Facebook page
 for DISCOUNTED TICKETS. We appreciate your loyalty and want you to enjoy out more of our fun- and fact-filled
tours at half price
. 
Also, please like us. (We like
you
.)
Or, to get last-minute tour discounts and even specialer specials, follow us on Twitter: @FOOTtours.
Click here to sign up for our monthly newsletter.