---
Environmental Impact Exhibit
opens August 1 – September 30, 2014)
Erie Art Museum, Main Gallery

Environmental Impact includes over 75 powerful works by painters, photographers and sculptors. Curator: David Wagner, PhD.
The Crafts Alliance at Chautauqua Institution
August 8-10, 2014

These intimate Craft Shows feature the work of award winning artists from across the United States
---
GRAPE ARBOR FOODIE CLUB REVIEW
---
Southern Comfort Food Comes to Erie
PINEAPPLE EDDIE SOUTHERN BISTRO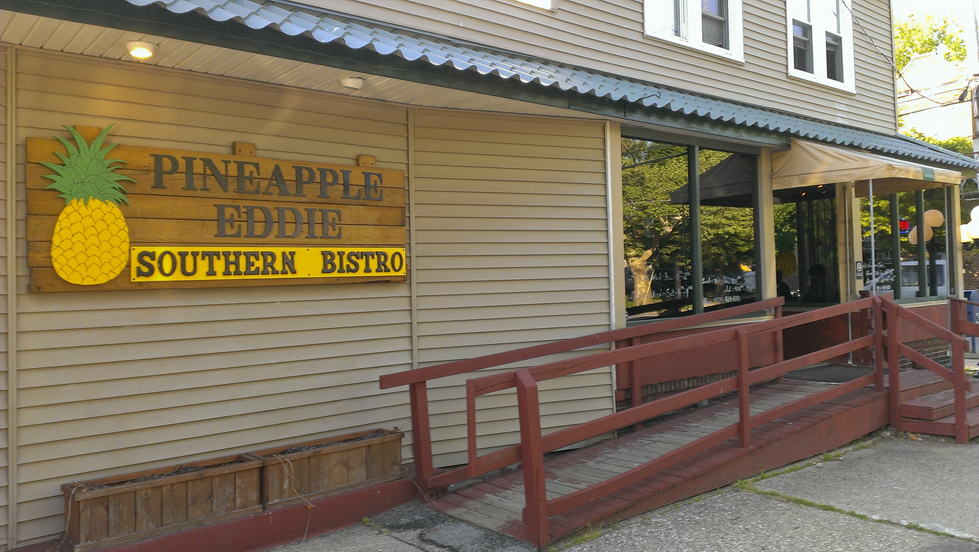 It's interesting how I can hear about a restaurant. Sometimes I will see a review in the newspaper, or a mention in a magazine article, but in this case I saw an ad in the program of the Erie Playhouse. The ad said a mix of Caribbean and Southern comfort food, and I hadn't seen anything like that in Erie before. I had enjoyed other Southern restaurants when traveling, and was curious to see how this would compare.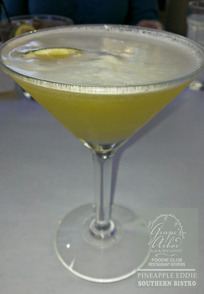 The restaurant is located in a primarily residential area, with street parking. The interior is inviting, with seating both in the front and back. A large screen TV was tuned to the cooking channel.
The drinks menu has some interesting inventions, and we tried the Pineapple Eddie's Martini. It was very tasty, with a good pineapple flavor, and not at all strong. Other drinks ordered were well prepared and modest on the alcohol.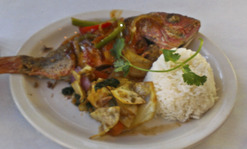 The menu has standards (shrimp and grits, chicken and waffle, and catfish) served with two sides, and daily specials. The two times that we visited the specials included Seafood Gumbo and Snapper with chili lime sauce. Entrees are served with cornbread (yum).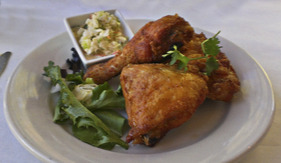 In both visits, the specials really were special—Gumbo had just the right amount of spice and lots of different seafood—mussels, prawns, scallops.
The Snapper was a whole fish (first time I've seen that in Erie) with a wonderful sweet and spicy sauce. It seemed that the chef poured his heart and creativity into the specials.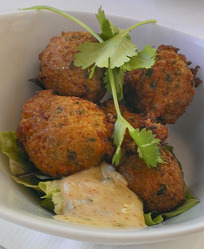 Standard fare from the menu—crabcakes and fried chicken were good.
But the desserts…well, I would go there just for the desserts. The glass case in the front of the restaurant showcases the wonderful selection of cakes and pies. It was hard to choose — and nothing we chose disappointed.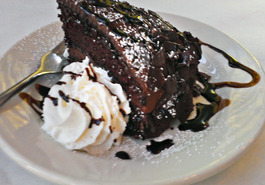 Servings are beautifully presented and so generous that we couldn't finish our chocolate cake or key lime essence. Me not finish chocolate? Unheard of!
The atmosphere is relaxed, but a step above standard family restaurants, and with a changing menu, it's well worth the drive to the west side of Erie.
GRAPE ARBOR BED AND BREAKFAST
51 E. Main Street
North East, Pennsylvania (PA) 16428
Telephone: 814-725-0048
TOLL FREE: 1-866-725-0048
Email: grapearborbandb@aol.com
Website: www.grapearborbandb.com
We Welcome You to Follow us on Twitter (@grapearborbandb)
"Like" us on Facebook
And join our circle on Google+


Visit Grape Arbor Bed and Breakfast's profile on Pinterest.