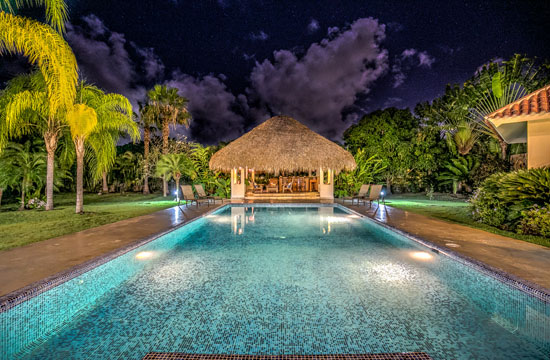 Luxury Villa Las Brisas at Sea Horse Ranch offers exclusivity in a setting that is among the Caribbean's best. This five bedroom villa is impeccably maintained, and attentively decorated with guests comfort in mind. A Jacuzzi in a covered breezeway allows for indulging in relaxation, while enjoying the atmosphere and tropical surroundings. Three bedrooms are situated on the top floor, and two large suites are located on the ground floor. A large, eat-in kitchen provides a wonderful gathering space, along with a private pool, outdoor gazebo and spacious lawn.
Distinctive amenities at Sea Horse Ranch include our first-class Equestrian Center, Tennis Club, seaside pools and gourmet restaurant, The Beach Club. Our perfect mix of Caribbean elegance and island charm welcomes everyone to feel at home.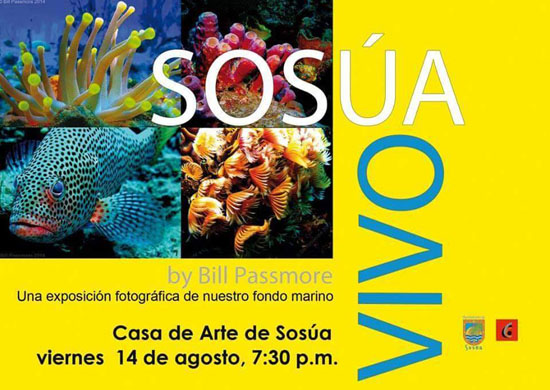 An art exhibition of underwater photographs taken in Sosua Bay, entitled "Sosua Live", by Bill Passmore, is currently on exhibit at Casa de Arte in Sosua.
Bill Passmore is a certified PADI instructor and underwater photographer with more than 1,400 dives. He is Canadian-born and a long-time resident of Sosúa. Passmore defines the ocean floor off the coast of Sosúa as a collage full of colors and life.
The exhibit opened at Casa de Arte in Sosua on August 14, and will be on display until October 31, 2015. The hours for viewing are Monday – Friday, 9am-Noon and 1pm-6pm, Saturday 9am-Noon. Admission is free.
The exhibit features more than 35 photographs, celebrating the magic of the sea. Artist Bill Passmore is active in ocean conservation and local efforts to preserve the coral reef. "I love Sosua, and the Dominican Republic, this is the most welcoming place I have visited" expressed Passmore, and continued, "We have many sources of beauty in the ocean, which we must take care to preserve so that future generations can enjoy."
Casa de Arte is located on Pedro Clisante #1 across from the playground, Sosúa, Dominican Republic, Telephone (809) 571-2442.
---
Cabarete, Dominican Republic - the Silicon Valley of the Caribbean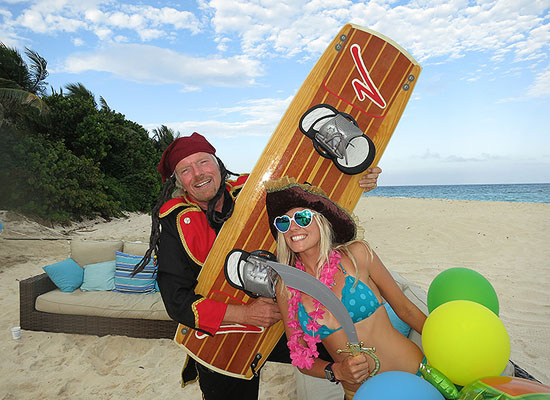 Cabarete, Dominican Republic has long been a favorite of foreigners looking for an escape from the rat race of modern day living. With its tropical sunny climate, perfect mix of wind and waves, and friendly, laid-back beach town vibe, it isn't hard to understand why. After spending an afternoon or two playing in this fun ocean town, one starts to think "I could live like this….", and that's how it begins.
With the internet age providing total connectivity, many people enjoy a borderless office, meaning they have the flexibility to work from anywhere in the world. Add the popular sport kiteboarding to the mix, entrepreneurs that fancy the extreme sport and lifestyle, direct flights from major cities like New York, and you have a burgeoning trend of tech and business development deals being made in the sand.
In recent years, kiteboarding has garnered a loyal following amongst entrepreneurs. It's not hard to see why many have taken to this amazing sport. Sir Richard Branson, founder of the Virgin Group, is an avid kite surfing enthusiast that loves Cabarete. The billionaire businessman spends time kiting here and is rumored to have purchased property.
He isn't alone in his discovery of this world-class spot. Mai Tai, the tech event pairing investors and entrepreneurs, is held every year in Cabarete (along with other hot locales such as The Hamptons, and Maui). Founders Bill Tai and Susi Mai run the organization, MaiTai Global, which brings entrepreneurs and kiteboarding professionals from all over the world together for four days of kiteboarding, panel discussions and brainstorming.
Cabarete has also been claimed by Internet entrepreneur and investor Fabrice Grinda. He was featured in a New York Times article about a new project he is establishing in the area, and has coined Cabarete "the Silicon Valley of the Caribbean". As he searched for a destination that could serve as a respite from New York and a great location to live, he chose Cabarete after an exhaustive search that included top destinations such as Miami, the Bahamas, Anguilla, the BVI, Costa Rica, Cancun, Tulum, Belize, Bonaire, Playa Grande and Punta Cana.
To see Grinda's list of "Why I chose Cabarete" continue reading here....