SHOP HOURS
Monday: CLOSED
Tuesday: 12 - 6
Wednesday: 12 - 6
Thursday: 12 - 6
Friday: 12 - 6
Saturday: 10 - 6
Sunday: 12 - 4

 

The beginning of the year is a time we think about doing something for ourselves. Some people start a new sweater and others are inspired to learn a new skill. Our yarn of the month, Lana D'oro is an excellent yarn for sweaters, warm, soft and durable all together. Feeling unsure about tackling that sweater? Susan has a Sweater Workshop starting on February 20th that will take you step-by-step through the process. Thinking about learning a new skill? We have classes on steeking, brioche, and fair isle coming up. Can't stop dreaming of Spring? Maybe consider the Soldotna sweater with Dorothy in March, it's short sleeved and perfect for transitional weather. And if you can't find a class that's right for you, we have teachers that offer private lessons in a full range of fiber arts, give us a call and we can set up a private lesson in exactly what you need. Make 2020 a year of I CAN!!

You may be familiar with Cumulus, the fantasically soft, 94% cotton/6% nylon blend with a generous 251 yards per 100g. Well, it now comes in gradient skeins!! We have four colors of these gradients and they are all gorgeous! Cumulus knits up nicely on US size 7-9 needles and is perfect for baby blankets, shawls, hats, or lightweight sweaters. Some patterns that would be great for the new gradient colors are the
Zeynep Wrap
, the
Xavi Duster Vest
, the
Shift Cowl
, this
Chevron Baby Blanket
or
Tex Around the Rosy
.
There's a new Yarn of the Month club this year- Emma's Yarns Crazy Beautiful Color Club. Every month we will be getting a new colorway of their gorgeous Super Silky (80% Superwash Merino/20% Silk, 400 yards/100g) which has already become a shop favorite in the short time we have been carrying it. This month we also have 20g mini skeins in the Practically Perfect Sock and Simply Spectacular DK.
Malabrigo has a new yarn!! Caprino is a DK weight, 20% cashmere 80% superfine merino blend with 164 yards per 50g skein. A couple projects that come to mind for this yarn are
Nightshift
and
Soldotna Crop
. (and if you don't remember from the intro, Dorothy is teaching a class for the Soldotna Crop starting in March which will walk you through the challenging sections of the pattern and she will even teach you how to lengthen it and add sleeves!)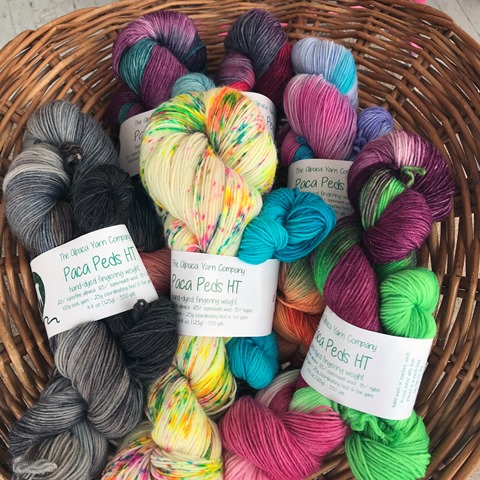 We have a whole slew of new colors in the Alpaca Yarn Company's Paca Peds. We brought this yarn back last Fall and it's been pretty popular. It's a fingering weight blend of 65% superwash wool, 20% alpaca and 15% nylon. Each 400yard/100g skein comes with a coordinating 100yard/25g mini skein.  It's perfect for cozy socks (you can use the mini skein for the heels and toes) or shawls that need a small contrasting section. Here are some patterns that use this yarn really well:
Frosted Fields Socks
,
A Breath of Fresh Air
(Shawl), and
Magpie Tendency
(shirt).
But wait, there's more. We couldn't resist these mini skein packs. These packs come with ten 25g/100yard skeins of the Paca Peds yarn dyed in terrifically coordinating colors. There's so much you could do with these, but here are some patterns for inspiration:
Lamina Wrap
,
Lost in Time
(crochet shawl) or
Perfect Blend
(shawl).
You know a yarn is great when the shop owners have a combined 3 sweaters knit out of it. The yarn of the month for February is one of those yarns. You may have seen Sarah sporting her
Grettir
or Robyn in the
Rosemont Cardigan
 or the
Effortless Cardigan
. Lana D'Oro is 50% wool and 50% alpaca with 219 yards per 100g skein. The alpaca makes this yarn extra soft and warm while the wool gives it more loft and bounce. It's a really great sweater yarn, but is also nice for hats, mittens and blankets. Here are some sweater patterns that are fitting for Lana D'Oro:
February Lady
,
Harvest
,
Lady Marple
,
North Shore
,
Levenwick
,
Hiro
, and
Daelyn Pullover
. Oh, and it's 15% off all month long, making this already well-priced yarn one heck of a deal!
For February we will be crocheting the Warm Winter Cowl by Corina Gray of Stitch11. Simple stitches like single crochet and puff stitch combine to give this cowl a modern chic design. You'll love how quick this beautiful design works up!
This light yet cozy cowl uses about 280 yards of worsted weight yarn, we used the Malabrigo Washted, and a US I-9 hook. The pattern is available on
Ravelry
. 
All ReBelle Crochet-alongs are free and open to the public. You are welcome to attend as many or as few of the CAL sessions as you like.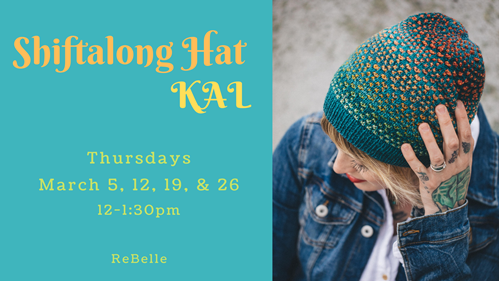 For the month of March we will be knitting the Shiftalong hat by Andrea Mowry. The Shiftalong is a playful mosaic knit hat using a similar technique to the Shift or Nightshift Cowl (it is also a great way to use up your scraps from either of these projects.) Mosaic knitting is a colorwork technique that uses slipped stitches to make color and textural patterns so you only work one color at a time, much like a stripe making this a very accessible technique for almost every level of knitter. For this hat, there are several yarn options we like including Feederbrook Entropy DK, Malabrigo Arroyos, Zabberball Crazy, and Knitted Wit Fingering.
All ReBelle knit alongs are free and open to the public. You are welcome to attend as many or as few of the KAL sessions as you like. Come join the fun!!
The pattern can be found on
Ravelry
or you can buy it in the shop.
Featured Upcoming Classes
 

 

This is an excellent first fair isle project and because of its size, also an excellent way to try your first steek. You will learn how to work multiple colors at once, how to read a colorwork chart, how to choose colors to use together, and the why and how of the steeking process. The steek will be done in the second class using the crochet method, but the stitched method will also be taught for those uncomfortable with a crochet hook. 

 

Thursday 2/13 & 2/27. 6-8:30pm

 



 

Curious about brioche knitting? Come join Kerstin and learn the basics of brioche while making Andrea Mowry's Briochealicious Hat and a headband. You will need basic knitting skills (knit, purl, yarn over, and knitting in the round) and you will leave with knowledge of a fun new technique, a hat, and a headband. 

 

Thursday 2/19, 2/26, & 3/4. 1:30-4pm

 



 
 

 

This class will be a workshop -- you pick the pattern and yarn you want (with our help if you need it) and bring it to class. While we knit, we'll learn from each other's patterns by discussing techniques found in your individual patterns.

 

Thursdays 2/20, 3/5, 3/19, 4/16 & 4/30. 6-8:30pm

 



 

The Soldatna Crop has been a knitters' favorite since its release last April, there are over 3000 people on Ravelry alone who have knitted this amazing sweater. Dorothy will walk you through the design, everything from fit to fair isle to finishing. More information on the pattern and yarn requirements can be found here.

  

 

Saturdays, 3/7, 3/21, 4/4, & 4/18. 1:30-4pm

 



 
 

 

The Uppsala slippers are just the thing to keep your feet warm this spring and they are also an excellent introduction to fair isle knitting. They will teach you an alternate heel style and a cool two color bind off that you will definitely want to incorporate into future projects. Knit with worsted weight yarn on US size 5 needles, these work up fairly quickly- knit a pair for yourself or get  a head start on holiday gifts. For this class you will need to be comfortable with basic knitting techniques- knitting, purling, increasing, decreasing, and knitting in the round. 

 

Wednesdays 3/4, 3/18, & 3/25.

 



 

The gnomes are taking over and we couldn't be more thrilled, these adorable little guys are bound to make you smile the entire time you are knitting them. A great way to practice shaping techniques and working on dpns while using up those precious yarn odds and ends that you have been holding onto. We bet you can't make just one!!

 

Thursdays, March 12 & 26. 6-8:30pm