On Tuesday of this week (Aug. 26), Israel officially stopped adding fluoride to its water supplies. The decision has "been lauded by various rights groups, but criticized by many in the medical and dental communities as a serious mistake," as the Times of Israel put it.
The tasteless, colorless chemical is put into water for the purpose of reducing cavities, but critics say that it amounts to mass medication, and forces people to consume the substance whether they want to or not.
By law, fluoride had been added to public drinking water supplies of large Israeli towns since the 1970s, and until this week about 70 percent of the country was fluoridated. (For comparison, 67 percent of Americans receive fluoridated tap water.)
Health Minister Yael German announced last year that she planned to end the practice, but faced a wave of backlash. Undeterred, she said earlier this monththat she had nevertheless decided to end the process effective Aug. 26, and to not even allow optional fluoridation in communities that support it.
While water fluoridation is not practiced in most of Europe or most countries worldwide, it has become widespread in the United States, Canada, Ireland, New Zealand and Australia, and a few others. It remains contentious where it is practiced, especially outside of the United States; however, fluoridation was recently voted against in Portland, Ore. and Wichita, Kan., and controversy has flared up in major cities like Milwaukee and Cincinnati.
One major open question is what constitutes a safe dose of fluoride. Supporters say the small amount put into water is safe, but opponents of the process point out that once the chemical is put into water, its dose cannot be easily controlled or monitored since people drink widely varying amounts of water and have different body weights and ability to process the mineral.
At high levels, fluoride can cause pitted teeth, bone defects and thyroid problems; a study in the medical journal The Lancet earlier this year labeled fluoride a developmental neurotoxin, due to a link between high levels of exposure and reduced IQ in children, mostly in China. At lows levels, it is thought to help prevent cavities.
German "acknowledged that the naturally occurring element is beneficial in preventing dental decay," the Times of Israel reported, "but strongly defended her position in a letter to a medical group, writing that 'doctors have told me that fluoridation may harm pregnant women, people with thyroid problems and the elderly.'"
Source: Newsweek.
Pure Water Gazette Fair Use Statement
s
People are swimming in a plastic sea
by John Cordina
No part of the Mediterranean Sea is immune to plastic pollution, and area to the east of Malta hosts a particularly high concentration of such debris, a research expedition has discovered.
The research expedition, Tara Méditerranée, is the tenth expedition being organised by French non-profit organisation Tara Expeditions, which was established in 2003 by fashion designer agnès b and her son Étienne Bourgois. The expeditions are carried out through the non-profit's schooner – the Tara.
The seven-month expedition, which began in May and which is being carried out under the patronage of the EU's Environment Commissioner Janez Potočnik, aims to carry out a scientific study concerning plastic pollution, as well as promote awareness of environmental challenges in the Mediterranean region.
The Tara arrived in Malta on Thursday and set sail once more yesterday, a visit which helped fulfil the expedition's educational aims though an exhibition called "Our Ocean Planet" in St George's Square, Valletta, the screening of the documentary Planet Ocean and press briefings.
In comments to The Malta Independent, the expedition's scientific director Gabriel Gorsky – the head of the Oceanology Observatory of Villefranche-sur-Mer, which is part of the Paris-based Pierre-et-Marie Curie University – explained that as the Tara sails around the Mediterranean, the scientists on board are quantifying the plastic fragments they come across, measuring their size and weight and identifying the types of plastic found at sea.
Dr Gorsky added that the team is also analysing the organic pollutants which adhere to these plastic fragments, as well as the microorganisms which colonise them.
Plastic in your plate
The development and spread of plastics may have transformed society, but it has also had a significant effect on the world's seas, accounting for the vast majority of marine debris.
The most obvious effect is the accumulation of waste along the coast, but the effect of plastic waste is far more wide-ranging than the creation of an unsightly nuisance.
Most plastics do not readily biodegrade: their slow degradation is typically the result of exposure to sunlight. But this process, which breaks down plastic waste into smaller and smaller fragments over the years, may only make the matter worse.
The breaking down of plastic material can lead to the leaching of toxic chemicals which have been used in its manufacture.
Threats to marine life include the potential of poisoning, but also the risk being harmed or killed through entanglement in plastic waste or through the accidental ingestion of debris, which can lead to starvation due to a blocked digestive tract.
That marine creatures such as turtles end up swallowing plastic is well known, but another reality is the consumption of small particles by filter-feeding creatures such as barnacles and various tiny organisms, a process which can lead to plastics making their way up the food chain.
Research on what happens to plastic debris and its effect on marine ecosystems – including their possible future impact on the oceans and on humans alike – is still lacking, and the Tara Méditerranée expedition is striving to help fill this gap.
The probable entry of plastic fragments – and all the pollutants and microorganisms they may be carrying – into the food chain is also a subject that has been virtually unexplored, and according to Dr Gorsky, the risk of such plastic waste contaminating seafood is all too real.
"We are looking at how the plastic may cause bioaccumulation in your plate," he explained.
The risk of bioaccumulation of mercury in seafood is already well known: pregnant women, in particular, are often advised to limit their consumption of certain fish such as tuna. Whether plastic contamination may present a similar threat in the future remains to be seen.
Plastic everywhere
Asked to state what the findings of the expedition have been so far, Dr Gorsky explained that what is being collected at present will need to be analysed once the expedition is over in an appropriate laboratory. But one particular fact is already clear.
"There is not one parcel of the Mediterranean Sea that is devoid of plastic or plastic fragments… they are everywhere," he maintained.
Dr Gorsky added that Malta is not only not an exception to the rule, but revealed that the ship has encountered very high concentrations of plastic waste to the east of the country, although their extent will only be properly quantified once tests are carried out.
"However, there is a general problem, not just related to Malta," he emphasised.
The Mediterranean may only account for 0.8% of the ocean surface, but it hosts close to 8% of global marine biodiversity. Around 450 million people live along its coast, and almost 30% of the world's maritime traffic is concentrated in the Mediterranean; factors which contribute to the increasing presence of plastics and other pollutants.
Tara Expeditions argues that it is urgent to find concrete solutions to the problem, noting that many of the solutions – including water treatment, waste management, biodegradable plastics, promoting sustainable tourism and creating Marine Protected Areas – have been proposed decades ago by the Barcelona Convention for Protection against Pollution in the Mediterranean Sea, the UN Convention on Biological Diversity and the EU itself.
"People must be aware that they are swimming in a 'plastic sea', and that this plastic hosts harmful pollutants and organisms," Dr Gorsky maintained.
"Everyone must contribute to decrease the amount of plastic waste."
Pure Water Gazette Fair Use Statement
Water News of the Week
LilyFest 2014: Sept. 20 in San Angelo
Waterlily cultivators and enthusiasts will converge on San Angelo, Texas on Sep. 20 for LilyFest 2014, a celebration of the floating flora held at the city's acclaimed International Waterlily Collection. The aqueous garden, made up of seven raised pools at Civic League Park, features dozens of waterlily species, including a diverse collection of rarities and hybrids. LilyFest events include competitions for the World Waterlily and Lotus Association, educational presentations, and vendors.
Drought leaves up to 2.81 million hungry in Central America. A severe drought has ravaged crops in Central America and as many as 2.81 million people are struggling to feed themselves, the United Nations World Food Programme said on Friday. The drought, which is also affecting South America, has been particularly hard on southern Guatemala, northern Honduras and western El Salvador.
St. John Parish water system's reporting of chlorine data comes under scrutiny. Every report that St. John The Baptist Parish sent to health officials this year indicated the water system had enough chlorine to control a deadly brain-eating amoeba. But on Aug. 12, officials not only discovered the amoeba — they found no chlorine at all. Plus a related article, To kill brain-eating amoeba in St. John Parish's water system, chlorine 'burn' underway. A chlorine "burn" to flush water lines contaminated by a potentially deadly brain-eating amoeba began Thursday about 7 a.m. in St. John the Baptist Parish and will continue for 60 days.
Swinomish tribe worries rising sea levels threaten tradition, culture. With 95 percent of the Swinomish Indian Tribal Community's reservation borders on the water, the tribe is concerned about the rise in sea level and storm surges expected as the planet warms.
Desperately dry California tries to curb private drilling for water.For a century, California farmers believed that the law put control of groundwater in the hands of landowners, who could drill as many wells as deeply as they wanted, and court challenges were few. That just changed.
Napa Public Works employees inspect a buckled section of pavement that ruptured a water main in a residential neighborhood after a magnitude 6.0 earthquake struck in the early morning of August 24, 2014, in Napa, California.
Efforts to restore water after the Napa earthquake.
Hundreds of residents in Napa and Vallejo remained without running tap water Monday after water mains busted during Sunday's earthquake.
Workers were scrambling to repair about 90 pipeline breaks - up from 60 that had been reported by Sunday evening - that left about 600 properties without water, officials said.
Eight breaks were repaired Sunday night, city officials said. There was no estimate as to when water service would be fully restored, but officials said it could take three or four days. Read more.
There's a big leak in America's water tower. The northern arm of the Rocky Mountains is sometimes called "the crown of the continent," and its jewels are glaciers and snowfields that irrigate large parts of North America but the region is getting warmer, even faster than the rest of the world.
Pennsylvania releases details of cases of drinking well contamination from drilling. Six years into a natural gas boom, Pennsylvania has for the first time released details of 243 cases in which companies prospecting for oil or gas were found by state regulators to have contaminated private drinking water wells.
UK sludge treatment site turns waste into 'black gold.' The Davyhulme facility that handles the sewage of 1.2 million people in Manchester today can export surplus power to the U.K. grid. It uses waste formerly dumped in the Irish Sea, generating renewable power on a scale no utility has done to date using that method.
Groups fight to end water cutoffs. As Detroit resumed water shutoffs, the controversy over water as a basic human right grew stronger. More than a dozen activists and civil rights attorneys continued their fight against the city's water shutoffs Thursday, calling on Mayor Mike Duggan to end the practice.The American Civil Liberties Union of Michigan and NAACP Legal Defense fund are serving as expert consultants in the ongoing litigation.
Turkey is charged with using water as a weapon of war. The Turkish government recently cut off the flow of the Euphrates River, threatening primarily Syria but also Iraq with a major water crisis. The water level in Lake Assad has dropped by about six meters, leaving millions of Syrians without drinking water. The water cutoff to lake Assad threatens two million people in and around Aleppo, Syria's second largest city. The Euphrates originates in Turkey and also provides a critical water source for Iraq.
Pastor Paul Meador was seriously injured on the Canyon Plunge water slide at the Zoom Flume in East Durham, NY. The posts have indicated that Meador slid down a water slide into little or no water in the landing pool to stop him, he then collided with a concrete wall and sustained significant injuries to his legs and feet. Full story.
Blessed is the water: the Kee Boon Mein Kaa Labor Day Pow Wow Weekend with Women's Water Walk.
DOWAGIAC, MI - It's become tradition in recent years for members of the Pokagon Band of the Potawatomi to start off their Kee Boon Mein Kaa Labor Day pow wow weekend with a Women's Water Walk.
The walk pays tribute to the importance of protecting the water.
Walker Joy Duff said it was elder "Grandma" Josephine Mandamin's vision that inspired Pokagon women to hold their own water walk to recognize the importance of water to all life.
"She attended a sundance ceremony where men and women made small sacrifices of a little piece of their skin for the people," she said. "The Creator asked her to do something to honor water." Full article from the Herald Palladium.
Corporate farms get blame as key water-pollution culprit. While people in Toledo may think of Lake Erie water quality as a sewage or factory issue, it is increasingly an agricultural land-use issue. A Ohio task force has been studying the phosphorus problem, which has been trending upward since 1995, when the first major bloom of toxic microcystis algae was detected in western Lake Erie since the 1970s. "Civilized people," Teddy Roosevelt said, "should be able to dispose of sewage in a better way than by putting it into drinking water."
America's most dangerous job
You probably already know what the most dangerous profession in America is, but for those who don't, I'll tell you. It's being an underwater welder. Read this to find out what the most dangerous and safest jobs are.
Colorado researchers probe Parkinson's disease causes, treatments. Evidence is growing that farmers and others who live or work around pesticides are at greater risk for neurogenerative disorders such as Parkinson's disease. A new examination of the incidence of Parkinson's disease in Colorado shows a strong correlation between levels of a common pesticide, atrazine, in groundwater and the number of Parkinson's cases here.
Dubbed terrorists, Mayans fight back against Guatemalan mining projects. Community leaders in the Mayan Mam village of Agel say that the Marlin mine has contaminated the water sources that they use to wash and irrigate their crops and that the subterranean explosions have caused houses to collapse – charges that the mine's owners deny.
World is on brink of unprecedented wave of extinction, says UGA's Farmer. The world is headed toward one of the greatest die-offs of animals and plants in the planet's history, a University of Georgia professor said in the first lecture in a series about the impacts humans are having on the world.
Study shows potentially unhealthy levels of arsenic in water wells across area
Editor's Note: The article below, from our local newspaper, is one of many that have gained national attention recently because of local resistance to fracking. A local vote on fracking is upcoming. The piece below adds a dimension to the fracking controversy, suggesting that arsenic and heavy metals get into well water because of the severe vibration caused by hydraulic fracturing. I've added an interesting reader's comment to this article from the Denton Record-Chronicle website, since it address the vibration issue not only as regards fracking but in regard to water contamination on and near military bases as well. -- Hardly Waite.
University of Texas at Arlington researchers have unveiled a study that found potentially unhealthy levels of arsenic in water wells scattered throughout North Texas.
The study, conducted last year, involved 100 water wells across the Barnett Shale, 10 of them in Denton County. An 11-member team of UTA scientists found that 30 percent of wells within 1.8 miles of active natural gas drilling showed an increase in heavy metals, including arsenic.
"To find that high of arsenic concentrations was alarming," said Dr. Zacariah Hildenbrand, a UTA biochemist. "This is indirect evidence that drilling does affect the water."
Researchers compared their results with previous water tests conducted in the same area before the Barnett Shale gas boom exploded across the region 10 years ago. They believe the vibration from drilling or hydraulic fracturing operations shakes the pipes in nearby wells, causing arsenic-contaminated rust to fall into fresh water. The scientists referred to those vibrations as "pressure waves from drilling activity."
Alex Mills, the head of an oil and gas industry trade association, said he doubts the study's findings.
"If they're talking about drills shaking it free, that's a little farfetched," said Mills, president of Texas Alliance of Energy Producers in Wichita Falls.
Mills, who has 30 years in the oil and gas industry, said natural gas wells are drilled so deep that vibrations could never make it to much shallower water wells. Even if homes are located within 500 or 600 feet of the drilling site, they wouldn't feel the vibration of the hydraulic fracturing because of the gas well's depth, he said.
"I've never heard or even came close to hearing that hydraulic fracturing is so vicious, so earth-shattering to shake lose rust from water wells," he said.
Researchers acknowledged that other factors might have caused the water well contamination, including "hydrogeo chemical changes from lowering of the water table or industrial accidents such as faulty gas well casings."
According to the UTA study, which was published in Environmental Science & Technology journal, "The maximum concentration of arsenic detected in a sample from an active [gas well] extraction area was almost 18 times higher than both the maximum concentration among the nonactive/reference area samples and historical levels from this region."
Currently, the Environmental Protection Agency's maximum contaminant limit for arsenic is 10 parts per billion. Anything over that is considered unsafe. The UTA team found that 29 out of 90 water wells exceeded the EPA standard. Methanol and ethanol, two chemicals used in hydraulic fracturing, were also detected in 29 percent of water samples, according to the study.
Epidemiologists say arsenic, a heavy metal, can threaten people's health and lead to death.
"Gastrointestinal effects, reno-cardio effects, neurological effects — we could talk for hours about the harmful effects of arsenic," said Juan Rodriquez, chief epidemiologist at Denton County Health Department.
The federal Centers for Disease Control and Prevention warns that ingesting low levels of arsenic can cause nausea and vomiting, decrease in red and white blood cells, abnormal heart rhythm, damage to blood vessels and a sensation of "pins and needles" in the feet.
Arsenic is also a known human carcinogen, according to the Department of Health and Human Services and the EPA.
In 2011, the Texas Railroad Commission reported that 93,000 gas wells have been drilled in Texas since the hydraulic fracturing booms began. More than 15,300 of them are located in the Barnett Shale, which covers Denton, Johnson, Montague, Tarrant and Wise counties. The Wall Street Journal reported in 2013 that more than 15 million Americans live within a mile of an oil or gas well.
The UT-Arlington researchers plan more studies to understand the effects of natural gas drilling on water quality.
"It was our very first crack at groundwater in the area," said Hildenbrand, a research associate at UTA.
Now they're gathering a larger sample of 500 private water wells, 130 of them in Denton County.
"It's a polarizing issue," Hidenbrand said. "Nobody really understands what's going on."
Waiting and worrying
Jeffrey and Tracey Schmitt's water well has been tested as part of the next UTA study. They have been waiting weeks for the test results and worrying about the fate of their well water.
When they built their home in Amyx Ranch, a residential community a few miles outside of Ponder, they never imagined the possibility that their water could be contaminated.
"I don't know what we'll do if it comes back positive," said Tracey Schmitt, who purchased the five acres with her husband.
They built the home as an investment and plan to sell it after their children finish high school. But now all of that could change. If high levels of arsenic are found in their well water, the property might become impossible to sell.
"I'd hate to have to cook with bottled water," she said.
The Schmitts said they've had problems with their water well since drilling it nearly 10 years ago. They reached water at 450 feet, but it tasted bad and discharged a layer of fine sand. They couldn't afford to drill deeper to reach the next water table, so they bought bottled water to drink and used well water for cooking and showering.
"My husband thought it was because of fracking," Tracey Schmitt said.
Across the highway from Amyx Ranch, roads lead to Devon Energy Corporation gas well sites. Company signs line the roadway between Denton and Ponder. Devon operates more than 40 wells located in Ponder. The company is one of the biggest operators for extracting gas in the region.
Company spokesman Chip Minty declined to comment on the UTA study because he had not read it.
At Amyx Ranch, the Schmitts are awaiting results of their well test, which researchers say could be a few more weeks.
"I'm so praying the test doesn't come back positive because we don't want to retire here," Tracey Schmitt said.
Comment on the article above by reader Lis Amel:
We lived 5 years near a military base reserve that bombs continuously throughout the year. When the temperature was just right during the bombing, our community of neighbors had their windows and driveway's crack. We were fortunate that our windows never cracked but our costly driveway did. All 32 neighbors had wells and we all had issues with our wells, where one day the well was fine and after heavy overnight bombing practice the well had particles. County water was brought out to 2 cul-de-sacs in an attempt to help those who needed water, because neighbors said their wells suddenly stopped working. Our well was only 30 feet from one neighbor and 40 from a second one. Water taps were installed for each home so we could connect when the well stopped working. Our well had heavy metals detected twice in the first year, but then would settle down and none was detected. We had 3 filter systems installed on our lines just to make sure we were not taking heavy metal showers. The underground bombing for military practice was a suspect as to why the wells suddenly had issues. Every neighbor we had wanted out of there. Now we are in Oklahoma where when the first earthquake hit last fall, we had to ask if they were doing underground bombing in the area, which they do not. We are so tired of living where the ground shakes, that we are now declining to move back to our home state of Texas for retirement. Regardless of how many benefits there are to Veterans there, the water issues, earth shaking and possible sinkholes, have us looking elsewhere.
Source: Denton Record-Chronicle.
Pure Water Gazette Fair Use Statement
Iron Stains from Irrigation Wells: A Water Treatment Challenge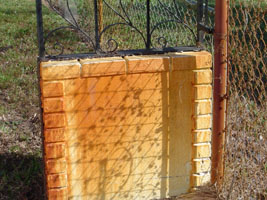 One of the big problems of water treatment is how to deal with iron in water used for irrigation.
When well water with iron is used for watering landscaping, it leaves stains on buildings, sidewalks, and driveways. Although homeowners often try to cure the problem with conventional iron filters, this approach is seldom satisfactory. The problem is that iron filters have a limited capacity between regeneration sessions. If used for water inside the home, an iron filter only has to process a few hundred gallons of water per day at a moderate flow rate. The filter has time to backwash and renew itself at night. With irrigation applications, however, the filter might be required to process thousands of gallons per day at a high flow rate. Iron filters used for significant irrigation jobs work only when they are sized very large, and usually multiple filters are required so that one can be regenerated while others are in service.
Alternative Treatment
To keep iron from staining buildings and walks, an alternative to filtering is sequestration of the iron. In this process, iron is not removed from the water but simply chemically bound so that it does not cause staining.
Treatment is done by injecting the concentrated chemical into the water line, either with an electric chemical pump or with a passive siphoning system powered by the flow of water itself. Both systems work well.
This Stenner Peristaltic Pump can be used to feed a sequestering solution (poly-phosphate) into the stream of irrigation water.
Once the system is in place, upkeep involves only occasionally adding the sequestering agent to the solution tank.
Sequestration can be accomplished using either standard electric feed pumps of the type used to feed chlorine or specially designed feeders that use the force of the irrigation water itself flowing through the pipe to power the injection process. The non-electric systems are more accurate if flow rates vary and they are easier to set up because they adjust automatically to changing flow rates.
The "Unrust" brand chemical injection system shown above is made specifically for wells used for landscape irrigation. Needing no electricity, the Unrust system feeds a stain-prevention solution into the irrigation water as it flows through the pipe toward sprinklers.
Places to Visit on Our Websites in the meantime.