Greetings Pastor2Youth.com Member/Subscriber,

There is always new information to share about what is happening at Pastor2Youth.com. It is a joy to be able to share with all of you the exciting things happening and the new resources available to all users. I pray that you will find this information useful and will be blessed by the features and resources at Pastor2Youth.com that are intended to help you in your ministry to youth. Please allow me to share with you some news and announcements about the highlights, help, and resources at your disposal.
---
LIVE Curriculum Contest!
Do you need a way to centralize and formalize the teaching plan for all of your small groups? Without a structure and good communication, groups would be headed all over the place and in different directions. When someone graduates, what are you confident they've learned?
If you aren't sure - then you should seriously consider using LIVE – 4 years of discipleship and web-based community for volunteer leaders. Now, I realize the $499 price is shocking until you investigate it and see how it works. The stuff is slick – an all-in-one solution for both teaching and for small groups in your church.
Youth leaders will experience a bountiful abundance of benefits. Because you'll have your long-range plans locked down, you can devote more time to equipping your volunteers and building excitement in students about upcoming topics through creative promotions. And of course, you'll save yourself countless hours of planning.
But wait! There's more! You know what your small groups will be discussing six months from now, so parents will gain more confidence in your ministry, and along the way, you'll provide them with resources to spark conversation and dialogue in the home. And if you're serious about getting families involved in our youth ministries, how can you go wrong with that?
So, check it out!!! However, to sweeten the deal, here is what I am doing at Pastor2youth.com: I'm giving one of these away on August 10th, 2010! All you have to do is tell me why you (or another youth worker you know) needs LIVE, and I'll pick the best story and give it to them. Why should we give LIVE to you?! Just shoot me an email at uthpastor@pastor2youth.com with "LIVE contest" in the subject line no later than August 9th, 2010 to enter. I will reply to every entry so that you know I have received your stor. God Bless, good luck and may the best story win!
---
Flash Forward: Don't Forget About the Fall
by Doug Fields and Matt McGill
Summer is a great time of the year… and a busy time for youth workers!
School is out and youth ministry often goes into overdrive. Our painful experience has been that youth ministry leaders can get so caught up in "the NOW" that they fail to prepare for the fall. In today's post, we will highlight some of the benefits of planning and in tomorrow's post, we'll provide a few ideas to jumpstart your planning process.
Planning allows you to be strategic. When you spend time to think ahead, you get to ask and answer the question, "What is most important?" Last minute planning often results into default actions that appear to simply "fill up the calendar" and lack strategy. When you determine your priorities ahead of time, you can focus on them more intentionally and have the time to carefully discern where God might be leading your ministry.
Planning leads to healthy ministry. Just because there motion and activity doesn't necessarily mean your ministry is effective and healthy. We believe that many youth ministries could cut out half of what they are doing and would actually be healthier. Taking time to plan allows you to evaluate the health of your ministry.
Planning gives you a chance to gather feedback from others. Once you have a planning draft you can gather feedback from the wisdom of others. It can be a good leadership move to allow people to chime in during the early phases of planning while everything is still a "work in progress". More eyes on your planning (the right eyes) usually equates to more wisdom. When ministry is last minute, people can only judge after the fact... which makes it easy to be critical, and difficult for you!
Planning allows you to pick the best ideas. You probably have a lot of good ideas for the ministry that you're passionate about, but not all your ideas will be great. When you plan ahead, you get to choose the best ideas and leave the other ones for another time.

Planning gives you Plan B options. Changes will inevitably arrive—that's life—right? A van rental will get accidentally canceled, adult volunteers will get sick, your pastor will ask you to take on another responsibility, etc… When the unexpected happens, it's always helpful to have a solid Plan B.
Planning sets you up for better communication. The earlier you know what's happening in your ministry, the sooner you can start talking about it. Sure, most teenagers don't plan months in advance, but many of their parents do (especially planning for vacations and holidays). When parents know what's happening in the future, they can plan around your ministry activities. Informed parents are happier parents!
Good planning is essential for healthy ministry. It's tough to accomplish, but you can do it! Okay, let's plan to plan--when can you carve out time to think about the fall? Set a specific time and enter it prayerfully.
Article Source: YouthMinistry.com
---
Jr. High LIVE Curriculum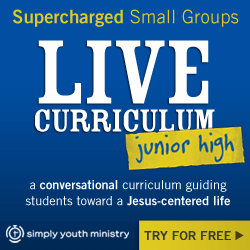 ---
Lost Password? ID? Need Help?
Has it been a long time since you have been to Pastor2Youth.com? Have you forgotten or Lost your Username? Are you having troubles with your password? Don't let that keep you away. If you have forgotten or are having any problems logging in to your account at Pastor2Youth.com, just send an e-mail to Help@Pastor2Youth.com with your need and I would be more than happy to help you out.
Another reminder as well: You can personalize your password to make it easy to remember for the future. Once you log in, click on the "My Account" link in the left-hand column. Inside there, you will find a link titled "Change Your Info". If you click there, you can personalize as much of your account information as you would like, including the option at the bottom to change your password. Enter the new password twice and push save - then you don't have to worry about trying to keep track of, or remembering, that crazy automated password you received when you first registered at Pastor2Youth.com.
If I can help you out with any of this information, please don't hesitate to let me know.
---
Thanks again for all you do to further the kingdom in your ministry! Please be sure to stop by often for all of the recent updates at Pastor2Youth.com, and don't forget to continue sharing your resources so that others may be blessed by you!!! Don't ever hesitate to contact me either. Keep an eye out for more E-Updates to come helping you make the most out of your online experience as you search for Youth Ministry material to help you.
Back to top