Pre-Black Friday Blowout Sale!
OK, not really. But we did want to let you know about our new "Free Bradley Manning" organizer kit for a subsidized price of only $50. We want to make it as easy as possible for folks to get involved in the campaign to free accused Wikileaks whistle-blower Bradley Manning.
"Free Bradley Manning" Organizer Kit
T-shirt, style and size of your choice
Whistle with lanyard
20 buttons
100 stickers
300 info cards
30 "Stand with Brad" petition copies to get you started.
Order "Bradley Manning" kit, or individual items, here.
Courage to Resist gear for the holidays
Also, Courage to Resist hoodies, shirts, and caps make great (and unique) gifts for the holidays. We have some greats books and DVDs as well.
All of our stuff is sweat-shop free, made in the USA, and union printed. And every order includes free shipping!
Order Courage to Resist gear here.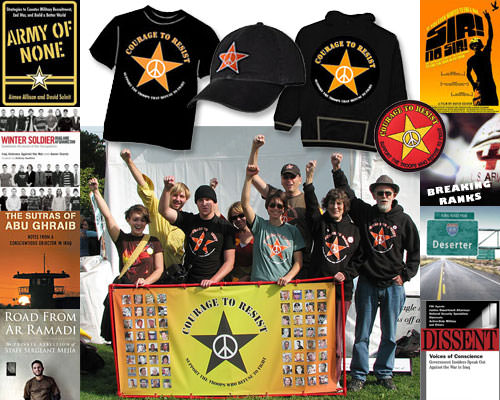 ---
Please click here to forward this to a friend who might
also be interested in supporting GI resisters.