IN THIS ISSUE
 
Cats in the news:
   What kids can learn from the cat
   Lion cub rescued
   Cat returns to owner many miles away
   Pets displaced by the Washington mudslide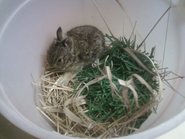 This is the baby bunny I rescued right out of the jaws of one of my cats in the yard last week! I brought everyone inside, then waited till midnight and put him back outside where the rabbits hang out on our property. I hope his mama found him.
LION CUB RESCUED

Awww, two hunters in Washington encountered an orphaned mountain lion cub while looking for deer, and with no mother around, the baby appeared weak. So they rescued him, took him home and nursed him back to health. Once recovered, they turned him over to wildlife authorities who then placed him with a wildlife zoo in Carlsbad, New Mexico.
Full story:
LATEST VIDEO ON SITE:
HOW TO HELP ANIMALS
The best way to help  animals is to check with a local shelter and ask them what they need. Donating to large national groups can be useful, but you may never know what your money was used for.
If you would like to help the animals displaced by the Washington mudslide, visit
PetFlow.com
, or call them and ask how to contribute food or other items: 1-
888-316-7297
You can also contact the shelter in the area directly by calling: 1-
425-257-6000
Kids can learn a lot from the family cat, according to this video by Jackson Galaxy:
If you are not familiar with this guy, he has a show on television, on the Animal Planet, called My Cat From Hell.
His very practical tips include:
1. Supervise children!
2. Teach empathy and compassion by teaching respect.
3. Teach kids about pets' body language.
4. Modify your environment.
All these tips will help ensure everyone is happy, safe and well.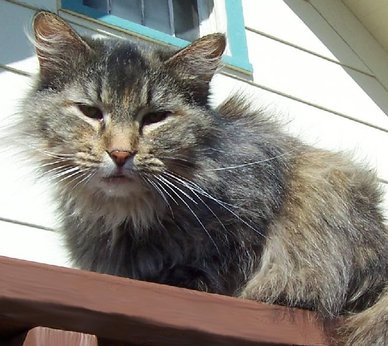 This is Holly. She just turned 25! We celebrated her birthday throughout the month of March because we have no idea when her actual birthday is. We rescued her in March, 2004, when she was 15. Her virtual birthday party is over now, but you can see what was on the agenda at the blog:
loveablecat.blogspot.com
. The post is still there, so you can still enjoy all the activities. And if you get a moment, leave Holly a comment! She had quite a few, but mom (me) made some changes on the site and they all disappeared. Maybe we can get some more....
CAT RETURNS TO OWNER...6 MILES AWAY

Mayhem the cat found his way to his owner's new home when he had never even been there! Three weeks after moving to a busy street in town, his owner felt he'd be better off on a farm, but he wanted his mom! And found her!
PETS DISPLACED BY MUDSLIDE IN WASHINGTON
As you probably already have heard, an enormous and deadly mudslide occurred in Washington, north of Seattle, on March 22, displacing and even killing many people and their animals. Authorities say they probably will never know just how many animals perished, but the death toll for humans rose to 30 yesterday, with 22 still missing.
Full story:
OTHER WEB SITES BY ME YOU MIGHT ENJOY