Good Morning CSA Members,
  Today, Wednesday June 15th is a CSA pick up.  Your share will be available for pick up from 4-7pm at your chosen pick-up location. 
Whew!  Thank goodness for rain.  You can set your watch to our 3pm storms.  The ability to see the clouds roll in and cool everything and everyone off is such a relief during these early days of high temperatures.  The sprouts of the seeds into turnips, carrots, and lettuces always makes the arrival of the next meal so much more pleasant.  
It is always so difficult to impart the sense of responsibility of growing food for your community during the early weeks of the season, but as each week passes the depth of what it is that we are doing becomes more apparent within the eyes of the interns.  Though days are spent with each other, every Wednesday brings the reason that we grow all of this food.  The bounty is just beginning so be patient as the supply only increases as the hours pass.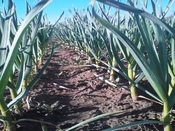 Carrots
Turnips
Spinach
Salad Mix
Sugar Snap Peas
Fruit share: Strawberries
Egg Share: Pick-up every week
Flower Share: Next Week
Bread Share: Next Week
Coffee Share: Next Week
Coming next week: carrots, broccolini,head lettuce, peas and more.....
    As contagious as a smile the rainbows begin their appearance.  Though brief, it always brings joy to all who can witness it.  You begin to wonder where the next one will appear or if it will be a double rainbow and how you can properly explain the complexities of light refraction to a three year old.  In the end, you just pause and perhaps that is the point of the pot of gold at its conclusion.  To be still and wonder at it all.  
    We were definately wondering how the two baby Berkshire pigs got to be mingling with two wild turkeys this afternoon.  It is a welcome relief at times to watch the other species on this planet at play.  The turkeys with their ostrich gallop and the piglets with their curious noses fumbling along the path.  The Mama pig (Wilma)  allowed pigs to be pigs and turkeys to be turkeys and concentrated on the task at hand which was absorbing as much sunlight as possible upon her face.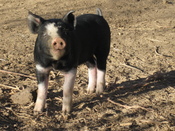 Whatever the situation of the moment may be here it always allows for understanding and appreciation.          Understanding that sometimes chickens need to be called Coconut by a 7year old mind and appreciating that tadpoles really do enjoy a dash of lettuce to snack on while they attempt to transform into a whole other form.  It all weaves within the day and allows for a rich tapestry to dream upon.
Enjoy! 
Turnip "Potato" Salad
What says summer more than potato salad? Try this new spin and use our great turnips instead of potatoes! Grab some heritage pork brats from our farm store for the perfect summer picnic!
Snap Peas and Carrots Side Dish Nothing goes better together than peas and carrots (add Forrest Gump voice here) - except maybe lemon, dill, and mint!

Strawberry Ricotta Spinach Salad A great way to use your spinach and head lettuce, as well as your strawberries from your fruit share! Nothing says "summer" like strawberries in a salad!
Directions
Boil two pots of water.

Wash and peel turnips. Chop into medium size chunks.

Place turnip pieces into one pot of boiling water for 20 minutes.

In the other pot of water, hardboil 2 eggs for 12-15 minutes.

Remove eggs from water, place in cool water or ice bath.

Strain turnips and rinse with cool water to stop them from overcooking.

Place turnips on paper towels to drain excess fluid and allow cooling.

Coarsely chop hardboiled eggs.

Mince dill pickle.

Combine mayo, mustard, pickle juice, chopped eggs and minced pickle in a large bowl. Stir until a smooth sauce is formed.

Add cooled turnips to the sauce and mix until even coated.

Cover in plastic wrap and chill until ready to serve.
Denver Union Station Farmer's Market 
Though the Boulder bubble is oh so pleasant, we do make it to Denver quite often with multiple restaurant deliveries and now a Saturday Farmer's Market at Union Station.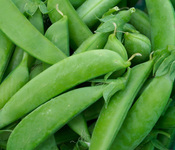 Our hats are off to all of the dedicated people who put together such a feat.  We can only imagine that many ideas and opinions were voiced as to how to make the market work and we can gladly say that those voices did the right thing because the market is a success.  
   The market is run by the Boulder Farmer's Market and is a grower only enterprise.  Which means that you personally have to produce what you sell or cook what you sell.  As a result there is a degree of integrity that is sometimes not as apparent in other markets.  If you do have the chance to make it down to Union Station on a Saturday morning please stop by the stand to say hi and witness the baby steps of a major market in the making!
CSA pick-up-  Wednesday, June 1st - Oct. 12th, 4-7pm.
Farm Store Open- Wednesday-Friday from 11am-6pm;               Saturday-Sunday 10am-4pm.
Boulder Farmers Markets- Wednesday evenings from 4-8pm; Saturday 8am-2pm. April-Nov.
Denver Union Station Farmers Market- Saturdays June 4th-Nov 1; 9am-2pm.
Volunteer Day- Every Thursday from 9am-noon. We will finish planting tomatoes in the field tomorrow!
Additional Share Opportunities
    As we go through the season we always attempt to showcase other producers who are growing or supplying the local community with an incredible product.  One of these artisans is Babette's Bakery.  The bakery is owned by Steve and Catherine who have a storefront located in the Source Marketplace in Denver.  We are enormous fans of theirs and bring a smattering of their products to CSA every Wednesday at the Farm Store.  We were wondering if there would be enough interest for a bread share with Babette's within the CSA.  It would be for a loaf of Pain Natural each week.  The bread would be gluten laden.  Let us know if that is something that interests you and we can tally up to see if it would be beneficial to all.  
           In addition we were wondering if there would be any interest in a cheese and wine share which would be dealer's choice from our friends Will and Coral at Cured.  A pound of cheese and bottle of wine each week to go with those veggies might make dinner that much more enjoyable.  Let us know if these options are sounding good to you at this week's pick-up.
I never had been to the East coast until I went to the West.
Tom Waits
Strawberry Ricotta Spinach Salad
2 cups spinach

1/4 cup strawberries (stems removed and sliced)

1/4 cup blueberries

1/4 cup pecans

1 tomato

1/4 cup ricotta cheese (crumbled)
Lemon Vinaigrette Salad Dressing
1/2 cup balsamic vinegar

1 lemon (zested and juiced)

1/2 tsp black pepper

1/2 cup Enzo Meyer Lemon Olive Oil
Directions
Begin by whisking the balsamic vinegar, lemon juice, zest, and black pepper together.

Next, add the olive oil while whisking well to combine.

Add the spinach to a large bowl, then add the strawberries, blueberries and pecans.

Top with the crumbled ricotta cheese.

Serve with 1/4 cup of the salad dressing and reserve the rest.
Snap Peas and Carrots Side Dish
½ tsp lemon zest

¼ cup fresh lemon juice

½ cup extra-virgin olive oil

1 tbsp minced fresh mint

1 tsp minced fresh dill

Kosher salt and freshly ground black pepper

2 bunches small young carrots (about 2 lbs)

8 oz fresh sugar snap peas, trimmed and strings removed
Directions
In a large bowl, whisk together lemon zest, juice, oil, mint, dill, ½ teaspoon salt, and ⅛ teaspoon pepper. Set aside.

Trim both ends of carrots and then peel them. In a large pot fitted with a steamer insert, bring an inch of water to a boil over high heat. Have ready a large bowl of ice water. Lay the carrots in the basket of the steamer, cover tightly, and steam until crisp-tender, 4 to 5 minutes. Cool the carrots in the ice water for a few minutes; then lift them out and add to the dressing.

Steam the peas in the same pot until barely tender, about 3 minutes. Cool them in the ice water for a few minutes, drain, and add to the carrots. Stir to coat the vegetables in the dressing. Taste and add more salt, if needed.

Let the vegetables sit for at least 30 minutes and up to 1 hour, tossing occasionally. With a slotted spoon, transfer the vegetables to a serving platter. Serve chilled or at room temperature.



Cure Organic Farm

7416 Valmont Rd.
Boulder, CO 80301
cureorganicfarm@yahoo.com
www.cureorganicfarm.com