Many have been asking about the status of gun regulation in Maryland, so below I've written a summary of new firearms laws that we approved during my eight years in office.
There are simply too many guns in circulation, so we'll have to continue being vigilant & nimble policymakers in coming months. That being said, I'm proudly running for re-election as a Moms Demand Action "Gun Sense" candidate and am glad to live in a state where we've been able to make steady progress on gun safety laws.
Thank you for having my back on this & allowing Maryland to be ahead of other states as we continue pushing for further gun safety reforms. Stay tuned!
Thanks for being engaged!

P.S.

Free Lawn Signs & Stickers

- The Democratic Primary is coming up quick on July 19th. If you live in District 20 & can help get my name out with a lawn sign or bumper sticker, I'd appreciate it (we deliver): https://tinyurl.com/2022moonsign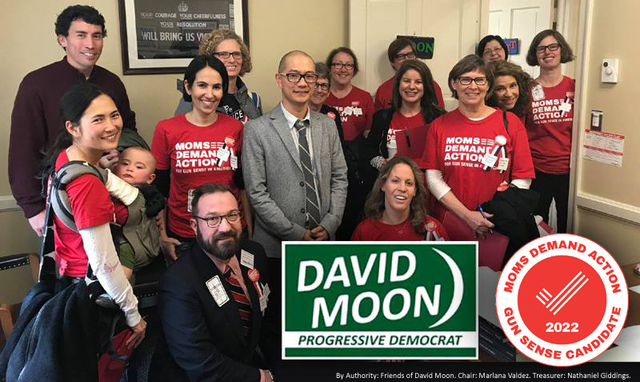 ---
UPDATE ON MARYLAND GUN LAWS
As
we grapple with continued gun violence & a proliferation of firearms, I'm aware of the significant challenges ahead. But thankfully, we have a solid foundation of support for gun safety to build on.
As Vice Chair of the House Judiciary Committee (where I've spent all of my eight years in office), I've been proud to help advance gun safety legislation as a priority in Maryland. In 2018, I sponsored successful legislation to close loopholes in our assault weapons ban, and I've cosponsored & voted "YES" on numerous successful gun safety laws over the years:
Ban untreaceable "ghost guns" without serial numbers (HB 425 2022)




Ban bump stocks & devices that mimic assault weapons (HB 888 2018)
Remove guns from residents at risk of suicide or violence (HB 1302 2018)
Stop domestic abusers from accessing firearms (HB 294 2017 & HB 1646 2018)
Fund evidence-based strategies to reduce gun violence (HB 432 2018)
Trace source of guns used in crimes in Maryland (SB 622 2019 & SB 861 2022)
Made it harder to appeal denial of handgun permit (HB 819 2018)
MAKE A PLAN TO VOTE
July 19 Democratic Primary
You have a few options to vote in Maryland's Primary Elections this summer. Some of them require planning:
VOTE AT AN EARLY VOTE CENTER IN YOUR COUNTY: You can vote at any early vote center in the county where you are registered to vote. Early voting is open Thursday 7/7/22 to Thursday 7/14/22 (7am-8pm).
VOTE AT YOUR NEIGHBORHOOD POLL: Local polls will be open 7am-8pm on Tuesday, July 19th.
---
I voluntarily reject corporate donations & rely on the grassroots

: