The value of double-reading head CTs of pediatric trauma patients
Double-reading of screening mammograms has been repeatedly shown to increase interpretation accuracy. CT exams of pediatric head trauma should also receive extra scrutiny and be double-read, particularly when abuse of a patient is suspected, according to radiologists at the Indiana University School of Medicine in Indianapolis. A study they conducted of nearly 200 children under the age of five years identified a high incidence of major discrepancy errors in the primary reports.

Creating a culture of sanitation in workstation environments
Safety is essential in radiology departments. Quality assurance programs are rigorous and vigilance ongoing. They should be. Excessive radiation exposure is hazardous to patients and to staff. And so are bacterial infections. Yet are quality assurance efforts in radiology departments to prevent microbial transfer as vigorous? An article published in the Canadian Association of Radiologists Journal describes the experiences of the medical imaging department at Ottawa Hospital implementing an awareness quality assurance project.

Radiology workstation cleanliness: A conversation with Dr. Richard Duszak, Jr.
Richard Duszak, Jr. MD, holds the distinction of being the first radiologist to author a peer-review journal-published article expressing concern about sanitation and the diagnostic radiology workstation workspace. In a pilot study, he determined that more bacteria existed at the workstation than on toilet seats in an adjacent restroom. Applied Radiology interviewed Dr. Duszak, who has championed awareness of the need to disinfect electronic devices used in radiology departments and imaging centers.

Chest CT still overused in early stage breast cancer
Is it appropriate to order a computed tomography (CT) exam for a newly diagnosed early stage breast cancer patient to rule out pulmonary metastases, especially if the proven likelihood of this is less than 3%? The answer is "no", according to experts of major professional societies that develop evidence-based guidelines. Physicians at Washington University School of Medicine in St. Louis conducted a retrospective 14 year investigation. Their findings, published in the Journal of the National Comprehensive Cancer Network (JNCCN), add to published evidence showing that for asymptomatic early stage breast cancer patients, this is an unnecessary procedure.

ACR publishes new manual on contrast media
The American College of Radiology (ACR) has published a new manual for using contrast media in imaging. The ACR Manual on Contrast Media v.10.3, which includes a new chapter on contrast-enhanced ultrasound, may be downloaded free of charge from the ACR website.

GE Healthcare and EMF announce point-of-care ultrasound competition
GE Healthcare and the Emergency Medical Foundation (EMF) of Dallas, TX, have announced a challenge and worldwide call for proposals to identify and support research that addresses clinical questions relating to shock and to apply ultrasound innovations to patient care.The GE/EMF POC Challenge, which offers $500,000 in research grants to four recipients, exclusively focuses on the practice of medicine at the point of care.

ACR updates LIRADS for CT and MRI liver imaging
The American College of Radiology (ACR) has published an updated version of its Liver Imaging Reporting and Data System (LI-RADS). LI-RADS applies to patients with cirrhosis or those at risk for liver cancer.

Diagnostic imaging and Legionnaires' Disease
Legionnaire's Disease (LD), a severe and potentially deadly form of pneumonia, tends to occur sporadically when a person inhales airborne microscopic sources of contaminated water or drinks from a water source contaminated with LD bacteria. A community-based epidemic occurred in Quebec City involving 181 individuals. Radiologists at Université Laval in Quebec retrospectively reviewed x-ray and computed tomography (CT) images of 159 patients, victims of an epidemic in Quebec and described the radiographic features they saw.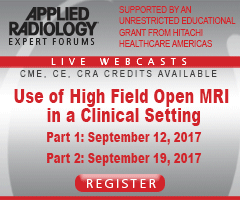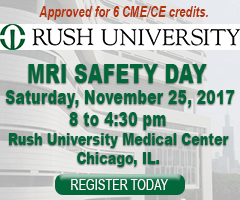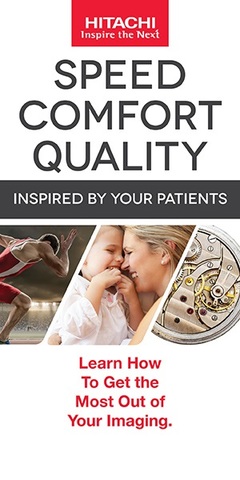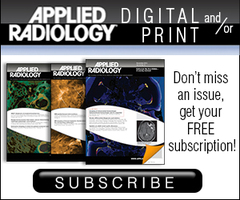 Featured Pediatric Case
Atretic cephalocele imaging features