---
| | |
| --- | --- |
| | February 2020 |
Reduced stress. Increased productivity. Improved well-being.
Forte Organizers helps individuals and families stay organized at home, as well as teaching business people organization skills at work.
Lori's latest article in the Dayton Daily News shows us how important it is to be prepared for the unexpected. You'll love how her practical advice will help you see things a little more clearly.
Has your email inbox gotten out of control? Is it so cluttered that you have difficult finding the emails you really need?
You might want to try Unroll.Me as a way to manage your email. It is a FREE service that will "

show you a list of all of your subscription emails, so you can instantly unsubscribe from what you don't want." They will then combine your favorite email subscriptions into one daily email called 'The Rollup."
You can check them out by clicking this link: Unroll.Me
As you are organizing, it can be difficult to move dressers or other heavy pieces of furniture. Think of the dust and stuff that gets trapped behind them.
Using Furniture Sliders is a great way to move furniture across hardwood, laminate or carpet without damaging the floor or your back. They come in all shapes and sizes, and are reasonably priced.
There is also a convenient video on this Amazon page to show you how they work.
FREE!

Storage Spaces, Etc.
Organizing your 'Catch-All' Spaces
Thursday, February 13, 6:30 pm-8:00 pm
Franklin Library,
44 E 4th St, Franklin, OH 45005
Call the library for more information a
t

(937) 746-2665
FREE! Attack the Stack
Organize your Paperwork and Find it Fast
Thursday, March 5, 6:00 pm- 7:30 pm
Cedarville Library,
20 S Miller St, Cedarville, OH 45314
Call the library for more information at (937)

352-4006
Starkey Hearing Foundation
Every year thousands of hearing aids are donated to the Starkey Hearing Foundation's recycling program. Through these donations, they are able to give the gift of sound to people all over the world.
For more information about where you can donate your unused hearing aids, go to:
Lose Your Stuff, Find Yourself...
In her book "Lose Your Stuff, Find Yourself," Lori reminds us that our love should be for the special people and memories in our lives, not their possessions.
"Memories are something you keep with you at all times.

Take

a minute to close your eyes and put your hand over your heart. Now think about a loved one.
Story after story comes to mind even though you aren't holding any of their belongings.

You

can remember them, without storing mass quantities of their possessions.

Your

love for them is always with you, not hidden in a box somewhere.
Again, with your hand over your heart and your eyes closed, think about a special day such as your wedding day or a special vacation. The love and excitement is there, yet you aren't holding any mementoes.

You

don't need your wedding dress or state shaped magnets to remember special days, especially if an abundance of these items is keeping you from loving yourself."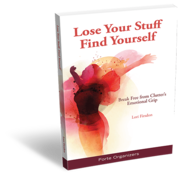 Pick up a copy of Lori's book by using this link:
Amazon.com
One More Thing...
"The most important things in life aren't things." ~ Anthony J. D'Angelo