SHOP HOURS
Monday: CLOSED
Tuesday: 12 - 6
Wednesday: 12 - 6
Thursday: 12 - 7
Friday: 12 - 6
Saturday: 10 - 6
Sunday: 12 - 4

 

ReBelle will be closed December 24th & 25th and January 1st

 

 

 

 

I am writing this month's newsletter bundled up in my favorite handknit sweater. Seems like we were just enjoying 60 degree days, oh wait, we were!! While not a fan of cold weather, I love pulling out all of my handknits that have sat, neglected, for the past several months. In the last week I have worn my

Hermione's Everyday socks

,

FLOTUS shawl

,

Thendara

,

Sockhead Hat

,

Fine and Dandy Socks

,

Effortless Cardigan

and my

Bigger on the Inside

wrap- and I am only getting started.

 

This is one of the most exciting times of the year at the shop, lots of people knitting, crocheting, and making for themselves and their loved ones. We love seeing all of your projects, keep them coming!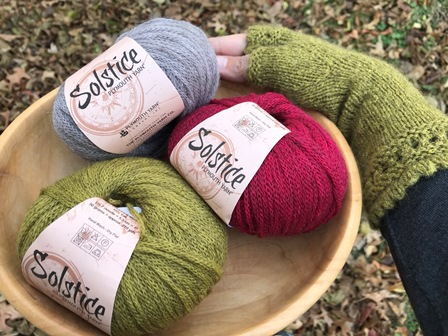 We couldn't resist adding a few colors of Plymouth Solstice. This exquisite yarn is a blend of 60% baby alpaca, 25% extra fine merino, and 15% yak. If you think that sounds wonderfully soft, you are correct! This 50g, 219yd ball has a chainette construction, giving the yarn a loftiness so that it knits up as a worsted weight. We made a pair of 
Susie Roger's Reading Mitts
 from just one ball!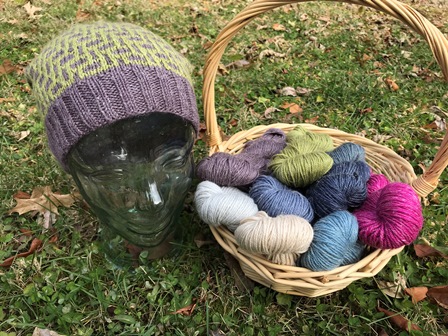 Another yarn that caught our eye is Plymouth Equinox. This heathery yarn is a blend of 65% extra fine merino, 20% linen and 15% mulberry silk. It comes in a 50g, 137 yard skein and knits up great on a US size 5-6.  
We used 2 skeins to knit up the 
Tincture hat
 pictured above and we liked it so much that we already have a coordinating
Seneca Siren
on the needles! We have seven solid colors and one (black/grey) variegate.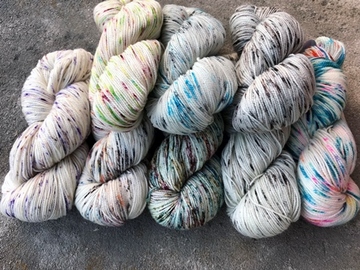 We needed more speckles, so we added some Plymouth Happy Feet Splash! Sock weight blend of 90% Superwash Merino and 10% Nylon, Happy Feet has 384 yards per 100g skein. Some of these great speckles might just make it easier for you to
Find Your Fade!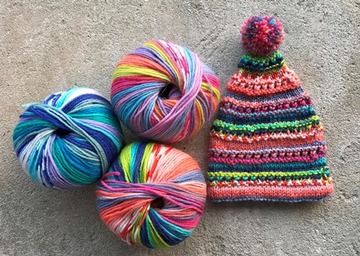 Knit Col is a lovely self striping yarn by Adriafil. It can turn any mindless knit into stunning colorwork. It's 100% superwash wool with 137 yards per 50g ball. Robyn designed this Pajaki hat pattern (above) for newborn-child and it's free in the shop!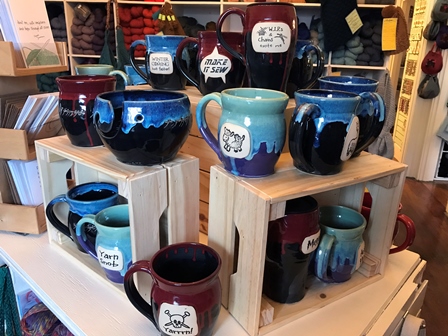 We just received a new shipment of new mugs by Pawley Studios in the shop.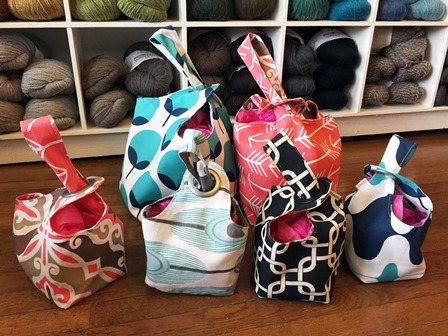 And a new shipment of Binkwaffle bags with tons of new patterns! We love these because they open up nice and wide so you can see what's inside and they are 100% reversible!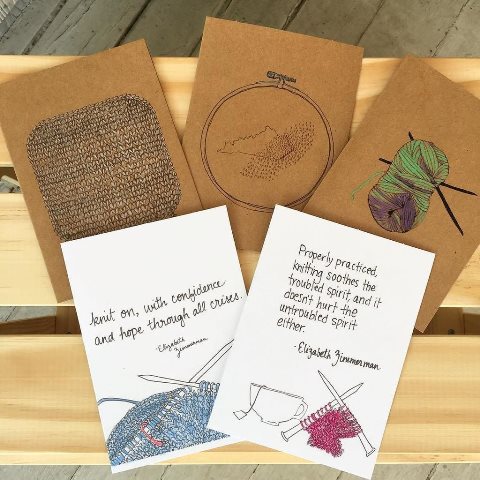 We are really excited to have more locally-made knitting cards from Danniqrafts in the shop. We abslutely love these cards and obviously you do to. They are available individually or in packs of five and would make a great gift for the knitters in your life.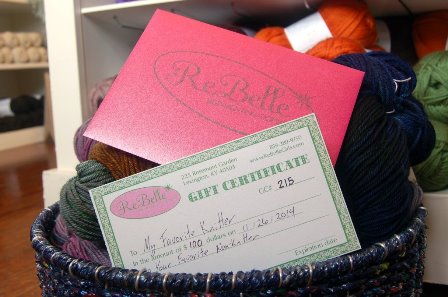 Don't forget to let your loved ones know that what you really want for Christmas is a gift certificate to ReBelle!! Gift certificates are available in the shop or can be purchased
online
 and mailed directly to you. Nothing could be easier!!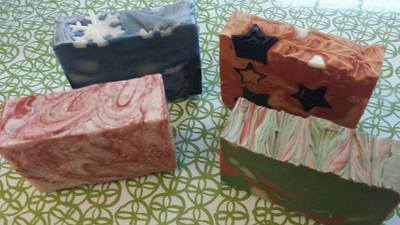 We finally have more handmade soap! Perfect for gifting if you can resist keeping it for yourself, we have: Peppermint with sea salt, Lavender Snowflake, Orange Clove, and Rosemary Lemon.
And a last minute addition, we just got more Silk Traveler and Rockshelter sock from Yarn Rehab, check our Facebook or Instagram for pictures!
The yarn of the month for December is Madeline Tosh ASAP.  It's a real crowd pleaser with the super soft feel and warmth that comes with merino. This yarn is delightful to knit with and is excellent for those last minute gifts. Like the
Slippery Slope
hat feaured below. This soft squishy hat was knit in one evening with a single skein of ASAP.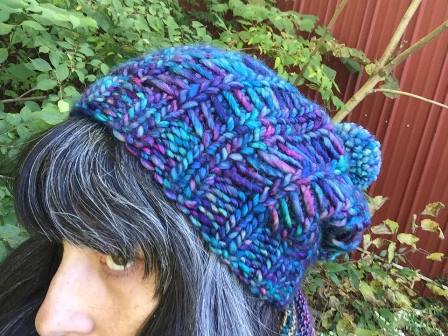 Featured Upcoming Classes
 

 

Beginning Wheel Spinning ($40)

 

Come learn to spin yarn on a spinning wheel. You will learn about the types of fibers and fiber preparation methods used for spinning, basic wheel maintenance, and the fundamentals of spinning a basic yarn. You will need to bring a spinning wheel and 2-4 oz of prepared wool fiber. We have two shop wheels available for rental if you do not have your own.




Sundays, January 7 & 21. 2-4pm