The Detroit Non-Profit Housing Corporation is there to help you save your home.
Detroit MI 48202
Monday – Friday 9am – 7pm Saturdays by Appointment.
Office (313) 972-1111
Fax (313) 972-1125
Downloadable Smart Phone Applications from the City of Detroit
DDOT Bus App
DPD Connect
iTunes store
Improve Detroit
Motor-City Votes
Park Detroit
Text My Bus
Office of Inspector General
Cush found Not Guilty 2014-DA-006
Attorney Discipline Board Dismisses All Charges against
Attorney George Cushingberry Jr.
Interest Free Home Loans from The City of Detroit
The Detroit 0% Home Repair Loans Program offers 0% interest loans from $5,000 to $25,000 to help Detroit homeowners invest in and repair their homes For More Information please go to this website
Did African Americans Invent the Game of Hockey in North America?
Thanks you for coming
see u in 2016.
Concerns about your Lights? Contact Information at the
Public Lighting Authority of Detroit
If you have a complaint or concern regarding your lights, please contact Dana Harvey at the address below. He will try to answer all of your questions regarding the lights in Detroit.
Frequent Contacts
Open Government Data Sharing with
Detroit Citywide Property Link Website
Bid for a Home in Detroit
City Council business online
District Tidbits
Listen to Vocalist Milton Rembert live at Detroit's Locker Room Lounge(click here) Available for hire
Heat and Water Assistance at
Northwest Activities Center
Wayne Metropolitan
Community Action Agency
Providing help to low and moderate income individuals and families
in Wayne County since 1971
Listen to
Pastor George Cushingberry Jr.
Every Saturday from 2-3pm EDT
With the Prospector Reveals
on Historic Soul Radio Station
1440 AM WMKM Detroit MI
sponsored by
The Northwest Unity Baptist Church, Pastor Oscar King
Penny Love Fitness is all about investing TIME...ENERGY...EXCITEMENT, the all around ZEAL that comes with exercise YOU actually ENJOY.


Northwest Activity Center
18100 Meyers Rd
Detroit, MI 48235
Lower Level, Studio A
Mon. 6PM
Thur. 6PM and 7PM
Sat.

10:00AM
Retired Employee Association
Every Monday at 11am
Nandi Knowledge Café
To receive notices of meetings, updates on the appeal of the plan of adjustment and events information please provide us with your email address and phone numbers via email at:
detroit2700plus@gmail.com
or call DAREA President William Davis at
Councilmember Cushingberry strips to his birthday suit to promote Belle Isle: (
click here to read
)
Take the time to view the calendar of events in Historic Idlewild MI.
Sponsored by the Idlewild African American Chamber of Commerce.
Please visit this website
Where:
Northwest Activities Center
18100 Meyers Detroit MI 48235
Informational Meeting Citizens for Sensible Cannabis Reform
Monday November 16th at 7pm
Northwest Activities Center
Dear Citizen:
If you object to the rules and provisions of the proposed ordinance for Medical Marijuana

If you object to the process and speed that this legislation is being promoted by supporters and, pushed through the City Council, irregardless of testimony to the support of these businesses

If you want to restore hours and use of drive through services at places of business.

If you object to the zoning restrictions limitations and requirements.
If any of these conditions apply to you and; If you are a Marijuana business owner, customer, or supporter, you are strongly encouraged to attend this meeting to discuss and implement the following s
teps to correct this ordinance:
Developing proposed language that reflect the will of the people instead of a few that will give the people a true choice of what they want vs what someone else needs.
Allowing the citizens to sign a ballot referendum to decide the proper zoning, hours of operation, and special use such as a drive through
Experts in the field of Cannabis Reform will be there to do a presentation and, answer questions. With 5000 signatures on a ballot referendum, the implementation of this ordinance and the vote by the full body of the City Council will be suspended until the next general election until a vote by the citizens of Detroit decides Yay or Nay.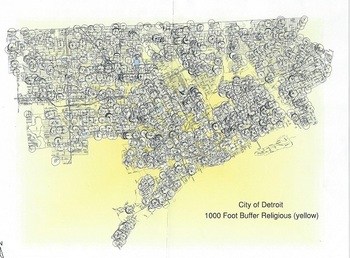 Case Study: Marijuana and the Religious Freedom Restoration Act
The Year 2000 decision of the US Ninth Circuit Court denying the rights of Rastafarian Benny Tovez Guerrero to use Marijuana as a sacrament is based on Mr. Guerrero importing Marijuana into Guam. Previously the Supreme Court of Guam sided with Mr. Guerrero saying that he was entitled the protection from prosecution from the Religious Freedom Restoration Act.
He would have been successful if and only if he was charged with simple possession.
Given the recent changes over time in attitudes regarding the use, possession and sale of the plant, a defendant using the Religious Freedom Restoration Act may be successful in keeping their place of business open with a license to operate from the City of Detroit. If you are not granted a waiver for zoning regulations, then your legal counsel may use the RFRA defense that may prevail in a court of law.
Application for a Religious Institution
with the State Of Michigan.
If you feel that your property or business is improperly zoned and your religious institution uses Cannabis as a sacrement, please download an Application for Zoning Change from our Website:
(
Application for Zoning Change
)
If you have any additional questions, complaints, or need further clarification, please feel free to contact the Office of Councilmember Pro Tem George Cushingberry Jr. at (313)224-4535
DETROIT POLICE DEPARTMENT INTERNSHIPS
WINTER
Applications being accepted now thru Nov. 16, 2015
Internship is unpaid, part time hours
(min. 12 hours per week, mandatory Wed. 9-12 am)
May be completed for college credit

Duration: Jan. 18, 2016 – April 6, 2016

DESCRIPTION:
Detroit Police Dept. is offering an internship opportunity for college students who may be interested in a career in law enforcement. Interns will experience firsthand the duties of police officers in the neighborhoods, on patrol, in special units, and more. The Detroit Police internship takes place in a fast-paced high-volume environment where students will learn about the scope and operations of a large active metropolitan police department, make valuable connections, shadow officers, and work on specific tasks/projects that will provide challenging learning opportunities.
Interns experience the full process required to become a police officer, including oral board interview, police academy, working in precincts, and retirement ceremony. Program consists of a 4-day mini Police Academy and assignment to a precinct as well as to a special unit.
MINIMUM QUALIFICATIONS:
Grade point average of 2.3 or above (4.0 scale)
Currently enrolled in an accredited college or university academic associate, undergraduate or graduate program, or a recent graduate (within 3 months of application) in the field of Criminal Justice, Law Enforcement or related field.
Age 18 or older
No felony convictions
Citizen of the United States
Interest in pursuing a career as a police officer
To apply, request an application package by emailing
Flippos@detroitmi.gov

Deadline for applications: Nov. 16, 2015
(Applications for fulltime summer internship will be accepted after Feb. 2, 2016.)
Field Report on the 10/22/2015 incident at Livernois and Outer Drive by protesters:
Come Back to Safe Detroit Water.
Stop the State of Michigan's
on the Citizens of Flint Michigan
Ask your elected officials for a Federal Investigation of the Flint Water Crisis NOW! - links on the side of this newsletter.
Saving Davis Aerospace High School
Saving the Children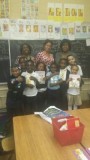 Kudos to Rachel Orange our District 2 Public Relations Educational Liaison for utilizing her resources to personally help gain a partnership with Bagley Elementary School and the Wayne State Athletic Department. The Athletic Department provided school shoes to the entire first through fourth grade classes.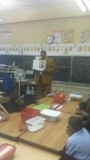 Councilmember Pro Tem Cushingberry reading to the Children
Magic Johnson's plan to Revamp the Old Michigan State Fairgrounds is Moving Forward! (WCHB 1200 News)
Chad Selweski joined Detroit Speaks with Cliff Russell today to discuss the latest plans for the Michigan State Fair Grounds from his recent article:
The distressed, dormant site of the former State Fairgrounds at the north edge of Detroit will spring back to life in early 2016 as construction begins on a mix of retail stores, apartments and senior housing.
To read the entire article
(click here)
Old MI State Fairgrounds
on Woodward?
Councilmember Pro Tem Cushingberry Supports State Fair Development
Councilman Cushingberry strongly supports the efforts to re-vitalize the Old State Fair Property, just as good or even better than Riverfront Park. We feel that t
he team of Redico, Beatty, Ferguson and Magic LLC will get the job done right.
This team has fully committed to hire Detroit residents for job opportunities on the new development, using the size of downtown Royal Oak Michigan is completely irrelevant to the project.
A live news video from the Michigan Chronicle can be viewed by (
clicking here
).
Brand New Lights on Avenue of Fashion brightens the night on Livernois in District 2
Citizens will no longer have to walk in the dark when they travel on Livernois between Pembroke and 7 mile. A big shout out and thank you to the Public Lighting Authority for making things better.The job required the PLAD to replace wiring that was over 50 years old.
Come to the 1917 Bistro and all of the shop owners on the Avenue Of Fashion.
Job opportunities with the 2016 Marijuana Legalization Effort
P
aying $1 per valid collected signature until 325,000 signatures are gathered.
90,000 More Signatures Needed by Dec 4 to Qualify for the Nov 2016 Ballot!!!!!
This is the only true proposal that will fund road repairs, schools and, local public pensions without raising taxes.
The group MI Legalize (
www.milegalize.com
) is spearheading an effort to place the issue of legalization on the ballot in November 2016.
Circulators are collecting signatures and getting paid $1 per signature to place the issue on the ballot for the people to decide.
This effort if adopted by the people will allow municipalities to regulate this industry with 20% of the profits going to the city or township the provisioning center is located in. The remaining 80% of profit will be split between Transportation needs and the School Aid Fund. Finally,

the current Michigan Medical Marijuana Act will remain intact.
Fire Department Coverage for District 2
There are 3 fully equipped Detroit Fire Department stations covering District 2.
Engine 40 / Ladder 18 / Squad 5
Councilmember Pro Tem Cushingberry joins with the citizens of District 2 to thank the Detroit Fire Department for their support.
Help support the cause of keeping
United Sound Systems
as a historical landmark and force the Michigan Department of Transportation to make rational road decisions that will benefit EVERYONE instead of a FEW people.
Contact Information:
United Sound Systems
5840 Second Ave
Detroit, MI 48202
(313) 833-1833
Gov. Rick Snyder signs into Law Industrial Hemp Development and Growth
in Michigan.
Gov. Snyder signed two bills into law authorizing hemp development in the State of Michigan (click here) by signing Public Acts
PA547
and
PA548
View the products made from Marijuana in Michigan. We strongly encourage you to go to the Eastern Market on Saturday and purchase some hemp seed from Shed #3
Community Leaders Meet to Regulate Medical Marijuana
Article and Research by Richard C. Clement - Aide to Councilman Pro Tem George Cushingberry Jr.
"600 Million Dollars a year in taxable revenue from Marijuana" - Harry Smith CNBC
Activity in our community on regulating Medical Marijuana facilities in Detroit
Click Here
to read the entire article.
Treating Autism with Medical Marijuana in Michigan?
NO says the Administrator of the Department of Licensing and Regulation Agency (LARA)
A department manager overruled a State of Michigan panel of Medical Doctor's findings by Votes 4-2 to allow Marijuana to be used to treat Austism in Children.
This is win for Attorney General Bill Schuette who fought the effort by withholding information that proved the effectiveness of Marijuana against Autism.
"For some bizarre reason, there is not a state in the US that recognizes Autism as a qualifying condition to use cannabis medically, except in the case of California where doctors can prescribe cannabis to anyone they feel will benefit medicinally. "
Epilepsy and Medical Marijuana
The Epilepsy Foundation has recognized medical marijuana as a treatment for epilepsy, calling for better access to the drug and more research into its possibilities.
"
The Epilepsy Foundation supports the rights
of patients and families living with seizures and epilepsy to access physician directed care, including medical marijuana," said Philip Gattone, CEO and president of the Epilepsy Foundation, and foundation chairman Warren Lammert in a joint statement on Thursday.
The foundation also urged the Drug Enforcement Administration to end restrictions that limit clinical trials and research into medical marijuana as a treatment for epilepsy.
Under the federal Controlled Substances Act, marijuana is currently classified as Schedule I, along with heroin and LSD. Schedule I drugs, according to the government system, have high potential for abuse and no accepted medical use. The classification also stands in the way of federal funding for research into possible benefits of the drug.
Councilmember Cushingberry has Declared a No Elrick Zone
"Don't be Confused, by watching Fox News"
Councilmemember Pro Tem Cushingberry is calling for a Federal Investigation on the Flint Water Crisis
Rehab Financing Partnership
with
Detroit Land Bank
and JP Morgan Chase
The Detroit Land Bank Authority has partnered with JP Morgan Chase to provide potential auction winner the opportunity to invest in the auction and utilize loans or grants to rehab the auction properties.
If you are interested in viewing and, purchasing a property before closing, there is a $25 non-refundable fee per appointment with the Detroit Land Bank. Three hour appointments are available 9-12pm, 11am-2pm, 1-4pm on Mondays, Wednesdays, Fridays as well as 11am-2pm and 1pm-4pm on Saturdays (depending on staff availability). Only one appointment per purchaser allowed per day. No walk-in appointments are available. Appointments are scheduled on a first come first serve basis upon receipt of a signed waiver and fee.
How to schedule an appointment:
• Come to the Detroit Land Bank Authority office at
65 Cadillac Square, Suite 3200
,
Detroit
,
MI
48226
and ask to set up an Auction House Access appointment.
• Bring a certified check or money order made out to the Detroit Land Bank Authority for $25 and government issued identification (such as a driver's license) to the office.
• Complete and sign waiver provided by DLBA staff. All individuals accessing the property must sign a waiver. Anyone not present at the office that will be going inside the property must complete a waiver at the beginning of the appointment at the property.
• Bring copy of signed/completed waiver to scheduled appointment. A copy of the waiver will be provided to you to bring to your scheduled appointment.
Neighborhood Revitalization Strategy Area Plan (NRSA)
.
(
Click Here)
to find out if your neighborhood is in one of Neighborhood Revitalization Strategy Areas. This plan is from the Detroit Department of Housing and Revitalization. Take the time to review the draft of the plan to revitalize the City of Detroit by. Public Comment on this and other issues is two minutes long when you come to any public meeting held by the Council.
Write your lyrics to this Music Track
with the Spirit of Detroit
This music track is written by Detroit and District 2 native Edward "T-Money" Green. You are welcome to compose your own lyrics to this song about the pride we have in our city. To participate please do the following:
2. Listen to the track and write your own lyrics
3. Record your lyrics with the song track and,
Results have been positive so far and we thank you for your participation.
Harriet Tubman Center News
Through Community Organizing,

the Harriet Tubman Center connects individuals, institutions and organizations to increase participatory democracy and
​create greater equity throughout all of Michigan.
Detroit Fire Department is Hiring
18 to 30 year olds preferred
Detroit Police Department is Hiring
EQUAL OPPORTUNITY EMPLOYER
The City of
Detroit
is an Equal Opportunity Employer. No applicant for employment shall be discriminated against on the basis of race, religion, color, sex, age, national origin, disability or other criteria prohibited by city, state or federal law.
POLICE OFFICER: $29,347 starting salary
Student Police Officers will attend training through the
Detroit
Police
Department
Police
Academy
.
Additional Pay: Shift Differential (afternoon, )
Off Duty Court Appearances
Uniform Cleaning Allowance
Annual Uniform Allowance
Full Benefits Package:
Health Benefits
Paid holidays
Vacation days
Pension Plan
Optional Deferred Compensation Plan (pre-tax retirement savings plan)
How to apply: Walk-ins accepted at
DETROIT DEPARTMENT OF PUBLIC HEALTH AND SAFETY
1301 THIRD STREET