My articles and cat tips have been appearing in a newspaper in Thailand, thanks to Paul DeCeglie, an American writer who lives in Pattaya, Thailand. Here is a recent one:
If you have received this newsletter from a friend and would like to have your own subscription, just head over to
TheProblemCat
and use the signup form at the top of the page. 
As always, be sure to check in with your local shelter(s) to see what they need.
Shelter Feed Links

 
Visit these sites to donate food to shelter cats. Please notice that when you get to the kibblekat page, there are 3 links at the top so you can choose which one (or all) of them to click - dogs, cats, or litter. So all you really need to do is visit one page and all 3 donation buttons are there!
A young Marlon Brando: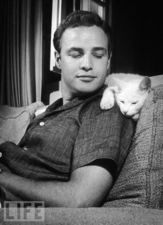 Did you know he was a cat lover?
Merry Christmas, Happy Hanukkah, and Happy Holidays if I haven't mentioned yours.
Here is a fun site for a winter day:  
http://www.pusher.com.au/clients/pusher-christmas-2011
Just type in an address and look through the window at the snow falling on the house there. It could be your own, or that of a friend or relative. I just looked at a friend's home in Phoenix, Arizona. It was pretty funny to see snow falling
on her house, since the area is known for its severe heat much of the year.
Holiday Gifts For You!
My holiday gifts for you this year are the same as last year. Sorry about that. I'm having major, serious problems with my computer and internet connection. At this point, I feel lucky I even found this link! So, in case you didn't get these last year, or you're new here, please download these gifts.
http://bit.ly/1z7NRHE
Sites to visit:
Visit this blog by my friend, Darlene Arden, an author and certified pet behaviorist:
http://nblo.gs/129BNf
It's called perPETuallyspeaking.com.
You can read some helpful gifting tips for pets, and there is a lighthearted
video for you to enjoy.
Speaking of videos, be sure to visit my website, too, for the latest Simon's Cat video. They are so clever, I'm sure you will enjoy this one!
Any questions, please send to felinehelpline @ live.com.
Have a very Merry Christmas, a wonderful Festival of Lights, and then a Happy New Year!