The "Lion Cut"
Do you shave your cat down during hot weather? A popular cut is called the Lion Cut. Here are 15 examples:
And here is my cat, Rufus, with his: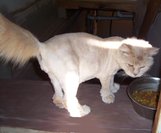 This was taken in 2009. Rufus passed "over the Rainbow Bridge" in 2013 at age 20.
Here are the only shelter feed links I have right now:
Just visit daily and click for free to donate kibbles to kitties in shelters.
Pet Food News
With so many recalls of just about every brand of petfood out there,
it's very confusing and frustrating trying to find something we can safely feed our cats! Thanks to my friend, Kathleen, here is a site that has some
important cat food info:
catinfo.org
Internet Cat Celebrities
If you've been keeping track of any cat videos or stories on the Internet, you've probably met Grumpy Cat, Maru, Tara the Hero Cat, and of course, Li'l Bub. Here is an inspirational video of how he's doing:

(Thanks to Amy for sending in this link!)
Adopt a Shelter Cat Month....not over yet.
June is almost over but it's still Adopt-A-Shelter-Cat Month. With kitten season upon us, there are more cats in need than ever. But don't forget, it doesn't have to be June to provide a loving home to a cat or kitten in need.
If you can't adopt a cat, check with a local shelter to find out how you can help.
Helping Shelter Cats
Always remember to check with your local shelter
to see what they need. Your donation will go directly
to the animals, in sharp contrast to some of the large
national groups, whose donation income goes toward
large administrative salaries and other expenses, not
necessarily for animals.