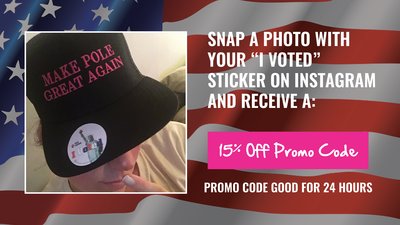 HOW TO GET YOUR DISCOUNT:
1. POST A PHOTO ON IG - TAG

@BODYANDPOLE

AND

#BODYANDPOLL

WITH YOUR "I VOTED" STICKER
2. RECEIVE YOUR PROMO CODE (GOOD FOR 24 HOURS) FOR
15% OFF ANY CLASS OR CLASS PACKAGE AS OUR THANK YOU!
BLACK FRIDAY IS NOVEMBER 23RD
CYBER MONDAY IS NOVEMBER 26TH
We know these are the deals you've been waiting for. Check out our website now for sneak peek of our Black Friday & Cyber Monday deals.
TWO HOUR COMMUNITY
PAJAMA JAM

 FUNDRAISER
RAISING FUNDS FOR NATIONAL WOMEN'S LAW CENTER
SATURDAY, DECEMBER 1ST
6:45 - 8:45 PM
Rock your most comfy jammies, while jamming out on your favorite apparatus, all while raising money for Giving Tuesday. All donations will be matched by Body & Pole! Learn more about the National Women's Law Center
here
. 
This content heavy class will keep you dancing from start to finish. Come learn fun and fierce flows designed to exaggerate and emphasize your platform heel! (Heels are not required, however, any bare-footed students are responsible for their own foot safety.) Students must be at least a confident level 1 pole student to attend.
CHECK IT OUT UNDER THE B&P PLUS TAB
We are really excited to offer these limited-run classes throughout the end of 2018 with a fusion of drops, tumbles, dynamics, and holiday-inspired specialty classes for festive fun! Enjoy new classes like Swinging into Fall (Swinging Pole), Fall Fluidity: Dance Trapeze, Harvest Moon Hair Flips, and much more! Check it out under the "B&P PLUS" tab.
DONNA
Our work-study of the month for October was Donna! Hard working, and a creative force, Donna is highly involved in our community (she just choreographed in our Halloween Show!), and a bright presence on the work-study team. To show our appreciation, Donna 
will receive a free private lesson with the instructor of her choice! Thank you for everything.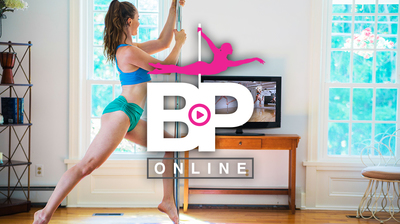 - PRACTICE ANYWHERE IN THE WORLD
- ONLY $19.99 A MONTH
- POLE & FLEXIBILITY TRAINING FOR ALL LEVELS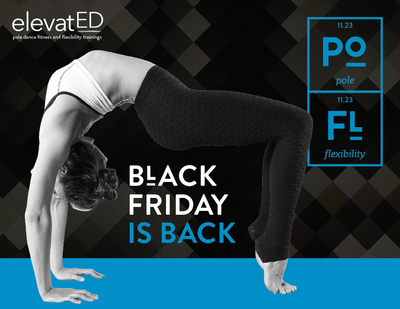 BLACK FRIDAY IS BACK! FOR A SNEAK PEEK, PLEASE VISIT US ONLINE:
CLICK HERE
Additional info: Email wendy@elevateducation.com for details, discounts, and payment plans.
AN IMMERSIVE URBAN CIRCUS
Take a ride with us on an MTA-inspired production at Body & Pole! Featuring acts from elite aerialists, pole dance artists, handbalancers, contortionists, and live musicians; together we will share the deeply human experience of navigating New York City's subway system and the characters that we interact with on our daily journeys. 
IS A WRAP!!!
We had an amazing ride for this year's multi-level immersive Halloween show. Take a look at our incredible photos and videos, you may recognize many of your teachers, friends, and fellow students!
JEN KOVACS - MEXICO
Jen Kovacs is joining Sweet Retreats DR in January for an aerial retreat in Puerto Escondido, Mexico. Early bird s
ign up

HERE

.

JESSI COLON - USA
Jessi leads an ElevatED Pole 1 training at Sweet Water Dance & Yoga this month. She also heads to Great Barrington with her trio, Adira Amram and The Experience to perform on the 16th. @jessijamzzz @elevateducation
Summer will be presenting her "Audition Toolkit" workshop at this years 2018 New York City Regional American Youth Circus Organization Festival. @winterbrocade
We are honored to help you learn, create, and transform.
Our biggest deals all year long are almost here! Black Friday deals begin at Midnight 11/23, and Cyber Monday offers begin at Midnight 11/26.