BLOCKBUSTER ON THE EXCLUSIVE TRAIL
METRODOME BUSY WITH SIGNINGS
IRON SKY PULLS IN MILLIONS
GUNSLINGER'S ON THE OFFENSIVE
50/50 RAISES CHARITY CASH
WRESTLEMANIA BOOST FOR HOUSE
ANCHOR BAY'S BANG FOR ITS BUCKS
QUOTE OF THE WEEK
AT THE MOVIES
SITE OF THE WEEK
TWEET OF THE WEEK
TRAILERS OF THE WEEK
---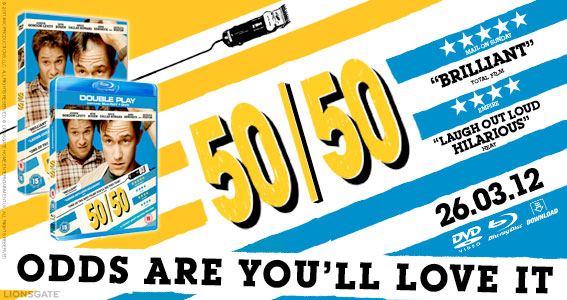 ---
If you can't read this newsletter or see the ads, please click
here
It Was A Good Week For…

All those BAFTA winners…
It Was A Bad Week For… File-sharing sites (again), this week spooked by the crackdown on ilegal music site
2011 was, as we oft noted on The Raygun, an annus mirabilis for Momentum, thanks in no small part to the likes of The King's Speech. The challenge for this year was, of course, to try and get near to that outstanding performance and, we're pleased to report, 2012 is shaping up nicely for the company. It's already achieved home entertainment success with titles such as Troll Hunter and this week it was celebrating after the hugely impressive theatrical opening for ghost story The Woman In Black. The film beat off competition from The Muppets – no mean feat as half term kicked off – to take top slot in the box office charts with £3.15 million in its opening frame. It's gone on to further success too, taking some £1 million on Valentine's Day alone, showing its mettle as a spooky date movie. As noted here previously, the film will be available to buy towards the end of Q2. Momentum's Kristin Ryan said: " It's been a fantastic start for The Woman in Black. The film has really connected with UK audiences clearly in the mood for a quality old-fashioned ghost story.The word of mouth has been phenomenal and we expect it to run and run."
And while many punters were out seeing The Woman In Black at cinemas the rest of us were sat at home watching the BAFTAs (unless you were lucky enough to be there, of course). We won't bore you by repeating the results –come on, you should have seen those by now, they're here if you haven't – but while there's no release date yet formally announced for the big winner, EV's The Artist, two of the other key winners, Studiocanal's duo of outstanding British film Tinker Tailor Soldier Spy and outstanding debut Tyrannosaur, were already on the shelves by the time the awards were announced. Tinker Tailor Soldier Spy has already earned its stripes by becoming the company's biggest ever week one release and sales were up again this week, achieving a 25 per cent lift. And Tyrannosaur, released last week, had not dropped off nearly as sharply in its second week as might have been expected. Speaking of the former, Studiocanal's Mikey Ellis said: "Hopefully we should see it grow further by the weekend."
Rental giant Blockbuster has been busy again this week, unveiling a raft of new exclusives. The rentailer has been busy inking deals and is leading the fight against both streaming and rental by post operators such as LOVEFiLM and the recently launched Netflix. Today (October 17) sees eOne's The Ides Of March landing in stores as an exclusive title, complete with a three week window. It joins Three Musketeers and recent titles such as Abduction and Warrior in stores and online. Blockbuster is also busy pushing its current membership offering which allows new customers two weeks' free rentals. The company's head of marketing Bryn Owen said: "This is a fantastic opportunity for people who love movies to get hold of the most recent releases from some of the biggest studios and distributors. No-one else can match us on these movies – Blockbuster is the only place to rent them from for weeks. The success of the Exclusives range has only strengthened our case to add more titles, like Ides of March and Three Musketeers, and we will continue doing so to ensure our members have the best movie rental experience possible."
---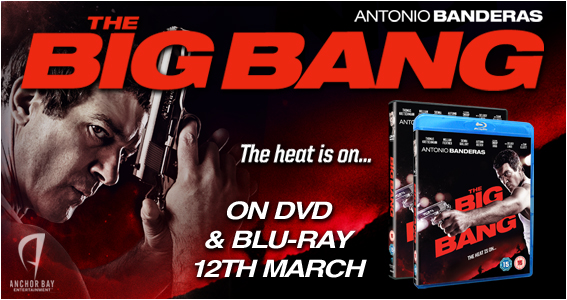 ---
Dateline: Berlin. Many of the industry's key acquisition executives have been in the German capital this week seeing scores of films and, if the deal is right, signing them for UK release. As ever, we've had a fair few releases announcing deals. Our man in Berlin said that it was a busy and competitive market, with, as ever, companies chasing the same films and sparking minor bidding wars. First to land on our desks was a release from Revolver unveiling its 2012 theatrical (and DVD) slate. Among the titles scheduled for release are Lebanese religious comedy drama Where Do We Go Now, due in June; the directorial debut from rapper Plan B, aka Ben Drew, iLL Manors (May), which has already garnered plenty of press coverage; the next offering from BAFTA winner Adam Deacon, Payback Season (March); the return of Danny Dyer in Deviation (April); the latest acclaimed Takashi Miike outing Hara Kiri: Death Of A Samurai (May); another documentary from Werner Herzog, Into The Abyss anda film about horse whisperer Buck Brannaman, Buck (April). It's also revealed some of its DTV slate too, which takes in Samuel L Jackson actioner The Samaritan (May); Snoop Dogg and Wiz Khalifa in stoner comedy High School, due in the summer. Revolver ceo Justin Marciano said: "Our upcoming theatrical slate alone gives cinema goers a sense of the diversity of the work Revolver is committed to bringing to UK and international audiences. We're proud to be a London-based distributor, with international offices, and to have that passion for the spectrum of life in the capital is reflected in some of our new releases. At Revolver we want to focus on great films that will surprise, challenge and provoke discussion as well as generate a few laughs, rather than on carving out any particular niche for the sake of it. We're not afraid to mix it up, with a blend of sci-fi comedy and music documentary among our latest crop."
Metrodome too had a busy market, inking a number of deals for assorted titles. Its pick-ups included The Sorcerer And The White Snake, a Jet Li starrer based on a Chinese legend; Spanish box office hit Sleep Tight, from (REC) helmer James Balaguero; Frozen Silence, from the same team as The Secret In Their Eyes; Day Of The Siege; Remains, from the creator of 30 Days Of Night and Norwegian action comedy Jackpot, based on a tale by Jo Nesbo. It also announced the acquisition of homemade thriller Piggy, starring Paul Anderson and Martin Compston. They join a slate that includes Lovely Molly, Oscar nominated In Darkness and A Royal Affair, which premiered at the Berlin Film Festival.

---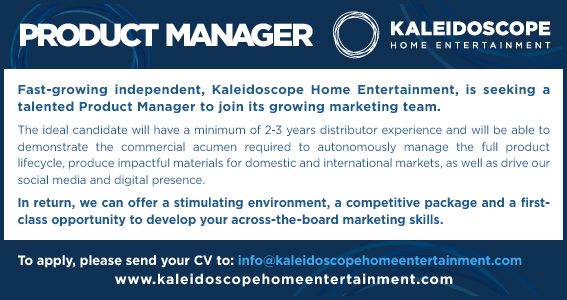 ---
One company that is always busy at any market is eOne, and this year was no exception. Its acquisitions took in different territories in its burgeoning global empire as well as for the UK. Films signed for these shores included Mark Wahlberg and Denzel Washington starrer 2 Guns; Pierce Brosnan and Emma Thompson film Love Punch; Jennifer Aniston film Miss You Already; this week's Steven Soderbergh film Side Effects, featuring the kind of all-star cast that only he can pull together, with marquee names such as Rooney Mara, Channing Tatum, Catherine Zeta-Jones, horror remake We Are What We Are and Albert Nobbs. The company said the market was "very successful". More to come as further deals are tied up…
And while we're on Berlin, the film festival saw the official unveiling of Iron Sky, the Nazis colonising the moon and returning to earth years later flick that we've been tracking for some time. The full trailer went online last week – we had the link on last week's newsletter and it outdid more illustrious counterparts to become the most clicked through trailer on last week's edition. But it wasn't just readers of The Raygun playing the trailer – it's notched up some 5.7 million views in little more than a weeek, becoming a bona fide Internet phenomenon. Director Timo Vuorensola said: "Iron Sky is for sure an audience film; we've been ending every screening here in Berlin with huge ovations, and the theaters are packed. We came to Berlin with a Nazi comedy, ruled the headlines, made people fight for their tickets and angered some critics along the way. Veni, Vidi, Vici." The film's been sold around the world, with Revolver releasing it in the UK, the theatrical release has been pencilled in for April. Revolver's Justin Marciano said: ""All of us at Revolver are delighted to see Iron Sky become the biggest buzz movie of this years Berlin Film Festival. Having acquired the rights back in 2009, we are thrilled that it has delivered beyond our highest expectations. With over 5,600,000 trailer views and media coverage everywhere from BBC News, The Guardian, Metro, The Week, Radio Times and Sky - we're confident that this is going to be absolutely huge."
Also from Revolver, the company has this week unveiled the next project from its arm Gunslinger. Offender is from the writer of Shank and Anuvahood and stars Joe Cole (Skins) as a man who deliberately gets sent to jail so he can get revenge on the gang who attacked his pregnant girlfriend. The film is being produced with the support of charity Carney's Community, which aims to keep youngsters out of trouble through filmmaking, and a portion of profits will go to the organisation.
---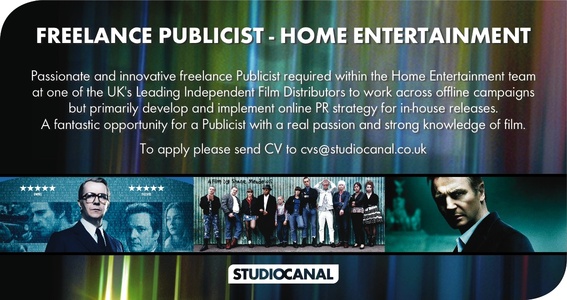 ---
More from eOne too. This week saw the big Christmas Day TV attraction The Gruffalo's Child released by the company and, to mark the occasion, the company organised a special charity event for half term week. The event, raising cash for the Rainbow Trust, saw families turning up with Gruffalo-inspired cakes, with winners being selected by TV chef Gizzi Erskine and Gruffalo illustrator Axel Schleffer. There was also a cake-making masterclass, and Schleffer created artwork in front of the crowd. eOne's Holly Gough said: "With this week being half-term, we were thrilled to give the little ones a chance to get engage with the immensely popular Gruffalo character, by getting creative at a special bake-a-thon to celebrate the DVD release of The Gruffalo's Child. The event was a great success and it was wonderful to see the target audience truly captive during the screening of the magical film."
Meanwhile, another major launch event is due to take place on Saturday March 3 to mark the release of Ripping Yarns The Complete Series on DVD. As a homage to the episode Tomkinson's School Days, the Network DVD will be aiming to set a world record for the largest group 400 metre hop and the 400 metre relay hop too. Watching the attempt to get into the Guinness World Records will be former Monty Python stars and Ripping Yarns creators Michael Palin and Terry Jones. The event will also hand out prizes for nominated charities. Jones and Palin will further support Network's release by signing copies of the DVD at HMV's Oxford Street store on the Monday of release. Network's Luciano Chelotti said: "We are hoping that the public will embrace the one-legged hop on March 3 at Hampstead Heath Athletics Track by signing up to participate at www.facebook.com.networkdvd. It's a fun stunt we have devised with blessing of Michael Palin and Terry Jones, who will be presenting cheques to the charities of the winners' choice for each record attempt. We have already had some excellent editorial support from a number of websites including chortle and holymoly.com. Our marketing and PR push has already led to a significant increase in traffic on our social networking platforms with a surge of 1000 new 'likes' on our facebook page in less than a week."
---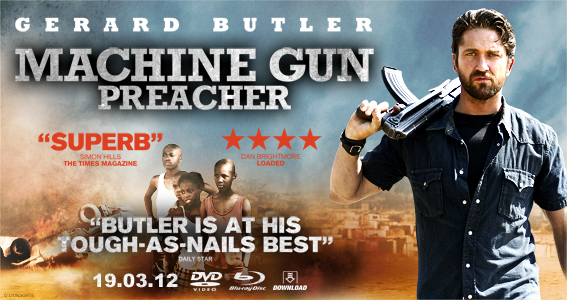 ---
Also raising cash for charity will be Lionsgate's forthcoming release of the excellent comedy drama 50/50. The film follows a twenty something who gets cancer and the company is teaming up with both the Teenage Cancer Trust and Macmillan Cancer support. The latter will see case studies and interviews appearing in magazines and newspapers and, in the case of the former, Lionsgate has come up with a great wheeze. Lionsgate's Kaz Mills said: "50/50 is an hilariously touching comedy which we're very excited to bring to the home entertainment market. It truly is a fantastic film which will allow us to create an original campaign to showcase this unique gem. The PR campaign includes partnership with the Teenage Cancer Trust, who will be leading an in-store head shaving fundraiser in HMV. This will be promoted across social media channels and will set the target of participants raising £50 each in order to be eligible for a free top notch buzz cut from Electric Hair. Everyone's welcome to join in. A partnership with Macmillan Cancer Support will also see case studies and interviews being placed across media. But let's not forget this is a comedy. And as such an array of features concentrating on extreme pulling techniques, the brilliant Seth Rogen, and on-screen bromances will also be popping up all over the place. Further, channelling the spirit of the film, there will be macaroons and 'herb' grinders all round. This will be supported by targeted comedy advertising online and in press."
As we noted in last week's newsletter, the annual grapple fest that is Wrestlemania is on the horizon and Momentum is aiming to capitalise on the event with the early April release of actioner House Of The Rising Sun. The film stars WWE superstar and is being released the day after the big event. As Momentum's Adam Eldrett said: "We are releasing House Of The Rising Sun the day after Wrestlemania, this obviously gives us a great chance to ensure our PR, TV and online advertising is all over relevant programming and websites at a time when awareness of the WWE universe is at an all time high. We have seen Stone Cold Steve Austin and John Cena make their mark on the industry in recent months and will be hoping to emulate some of the success, Bautista is as much of a drawer to the fans, I think the sales of Wrong Side Of Town (his debut) give us a great barometer of what we can achieve here. With the Wrestlemania revenge tour coming to the UK a couple of weeks after release we have a great opportunity to sustain sales and communicate with the core fans directly."
---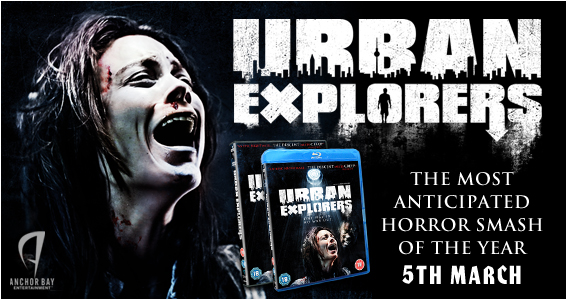 ---
We've already mentioned Snoop Dogg this week and the rapper is set to appear in The Big Bang, due from Anchor Bay on March 12. He appears alongside star Antonio Banderas in this all action tale. As the company's Thom Leaman said: "The Big Bang sees action legend Antonio Banderas – Desperado himself – doing what he does best as he punches, kicks and shoots his way through this noirish action thriller. It's not all about Banderas though, as he's joined by a brilliant ensemble cast including the likes of Snoop Dogg and Sam Elliot. It's a great broad home entertainment proposition, and packing a suitable punch with an above the line campaign targeting male action fans with prime-time TV spots hitting the likes of Film4, E4, Dave, Five, Sky Sports and more."
Last week we discussed Film3Sixty, the new film magazine being put together by the Target group and so it was with great interest that we this week had a nose through the latest batch of ABC figures. If Film3Sixty gets an ABC it will automatically become the highest circulation film magazine. But what's the biggest as it stands? Not Empire or Total Film, as you might think: it's Odeon Magazine, a free title given out at cinemas and published by Future Plus, which boasts a near 180,000 circulation. Biggest paid-for title is still Empire, selling 167,056 copies monthly, a 3.2 year on year drop. Total Film has a 70,000 plus circulation.
From the business pages of the broadsheets: eOne is no longer for sale, but Metrodome is believed to have put its television sales Target Entertainment on the market.
And we'll end with some good news: congratulations to our old pal Mary Daily, freshly promoted to the role of worldwide marketing supremo for Fox's home entertainment arm. She said: "Whether consumers are accessing their entertainment through Blu-ray, DVD, via digital downloads, streaming or the cloud, we'll be pursuing the delivery of engaging products, backed by disruptive campaigns that connect our projects to them.''
---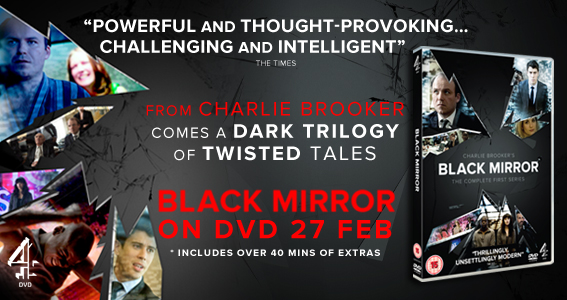 ---
QUOTE OF THE WEEK
"I am thrilled to see one million DVDs go out of the stores, but I'm running out of places to store them Seriously, I am delighted with the success for all concerned: Universal Pictures, BBC One, RTÉ and my own production company, BocPix. We've worked very hard over the last 10 years to get this far, so it is such a joy to see this widow from Dublin take on the world."
Mrs Brown's Boys creator and star Brendan O'Carroll on passing the magic 1 million mark with sales of the first series in the UK and Ireland.
AT THE MOVIES
Given the ubiquity of Muppets everywhere, plus the arrival of half term you'd have been forgiven for thinking the number one slot at cinemas was something of a shoo-in, but, as we've noted elsewhere, Momentum's The Woman In Black took top slot at UK cinemas. That earned £3.15 million, against the £2.65 million of The Muppets. The top four were all new entries, with the 3D outing for Star Wars: The Phantom Menace taking £1.53 million and The Vow £1.1 million.
So, it's been the week of the sequel, with two major announcements taking place. And, as sure as night follows day, this week saw the news that Transformers 4 is on the way. It will again have Michael Bay at the helm. Also unveiled this week is the news that the sequel to The Adventures Of Tintin will be coming. Peter Jackson will begin work on the tale after he's completed the small matter of The Hobbit. Which of Herge's stories will it be based on? Producer Steven Spielberg isn't saying…
The tragic death of singer and sometime actress Whitney Houston will not, it emerged this week, halt plans for a planned sequel to one of her feature film outings, Waiting To Exhale. Fox is planning the follow-up, which, like its predecessor, will be based on a book by Terry McMillan, this one entitled Getting To Happy. The sequel is being helmed again by Forest Whitaker and Houston was set to be involved. Producers are now rethinking their plans, but will press on despite Houston's sad death.
You might be forgiven for thinking that all that Steve Coogan does these days is appear on current affairs programmes railing against the excesses of the press, but he is, after all, an actor. So we were pleased to see that he's this week announced a new project with director Michael Winterbottom, who he's worked with on films such as 24 Hour Party People and Cock And Bull Tale. Coogan will star as adult impressario (and owner of much of Soho) Paul Raymond in King Of Soho. Anna Friel will co-star, the film is being produced by Film4 and Studiocanal, among others.
SITE OF THE WEEK
Probably the most talked about trailer of the week, certainly the best film title…
Nicolas Winding Refn-produced remake of his own foreign language outing…
Best genre trailer of the week…
Lots of good buzz on the latest from Whit Stilman…
We mentioned this last week and now hear someone's picked it up for UK release…
Independent Peccadillo is enjoying something of a purple patch right now… And here's more:
To subscribe to The Raygun newsletter, please email
info@theraygun.co.uk
To unsubscribe, email
info@theraygun.co.uk
with unsubscribe in the subject