Between Us

JANUARY 2020 EDITION




 

 




 

Entre nous

ÉDITION JANVIER 2020
January is Alzheimer's Awareness Month
Janvier est le mois de la sensibilisation à la maladie d'Alzheimer
This January, we're challenging misconceptions so that the stigma that surrounds the disease can be reduced. One

in five Canadians have experience caring for

someone living with a form of dementia.

Among

them, 52% have personally experienced stigma and

discrimination.

Dementia doesn't define a person. They're still the same individual as they were before their diagnosis. Their story continues – dementia is just part of their story.




 

En janvier, nous remettons en question les fausses idées afin de réduire la stigmatisation qui entoure la maladie.

1 Canadien sur 5 a l'expérience de la prestation

de soins à une personne atteinte d'une forme de

maladie cognitive. Parmi ces personnes, 52 %

ont vécu la stigmatisation et la

discrimination. Une personne n'est pas différente parce qu'elle a reçu un diagnostic de d

émence

. La maladie n'est qu'un chapitre dans son histoire.
| | | |
| --- | --- | --- |
| By reading the stories of people living with dementia, you'll quickly see that dementia is not an "old person's disease," and doesn't signal the end of a life. Dementia happens in stages, but what is always constant is that there are still lives to be lived, dreams to pursue and people to love. |   | En lisant les histoires de personnes atteintes de démence, vous verrez que la démence n'est pas une «maladie de la personne âgée» et ne signale pas la fin d'une vie. La démence progresse en stades, mais ce qui est toujours constant, c'est qu'il y a encore des vies à vivre, des rêves à poursuivre et des gens à aimer. |
Get Involved in
Alzheimer's Awareness Month!

 




Do you want to help spread awareness of Alzheimer's and reduce the stigma surrounding the disease? Here's your chance to make a difference. By learning more about Alzheimer's disease and other dementias or sharing our campaign with your networks, you can help shift perceptions and eliminate the stigma surrounding this disease.

 

 

Impliquez-vous dans le
Mois de la sensibilisation à la
maladie d'Alzheimer!

 

Voulez-vous sensibiliser les gens à la maladie d'Alzheimer et aider à réduire la stigmatisation entourant la maladie? En apprenant davantage sur la maladie d'Alzheimer et d'autres démences ou en partageant notre campagne avec vos réseaux, vous pouvez aider à changer les perceptions et à éliminer la stigmatisation entourant cette maladie.

 

 


 

My father, Ron, was diagnosed on February 24, 2015 with Lewy body dementia. At that moment, I started looking after my dad during the day so my mom could go to work. I'm 28 years old. Click here to read our story.

 

Mon père, Ron, a reçu un diagnostic de maladie à corps de Lewy le 24 février 2015. C'est à ce moment que j'ai commencé à m'occuper de lui pendant la journée pour que ma mère puisse aller travailler. J'ai 28 ans. Cliquez ici pour lire notre histoire.


 
My husband, Yves, was diagnosed with Alzheimer's when he was 63. His condition worsened after a 12-foot fall. In the end, he was transferred to a trauma center and then to a long-term care home; he would never come back home. Click here to read our story.





Yves a reçu un diagnostic de maladie d'Alzheimer à 63 ans. En juin 2017, une chute de 12 pieds a cependant beaucoup aggravé son état. Il a finalement été transféré dans un centre d'hébergement de soins de longue durée (CHSLD). Mon mari ne reviendra plus à la maison. Cliquez ici pour lire notre histoire.




 

 

 
Thank you to the Nurses Association of NB /
Merci

à

l'Association des
infirmières et infirmiers du NB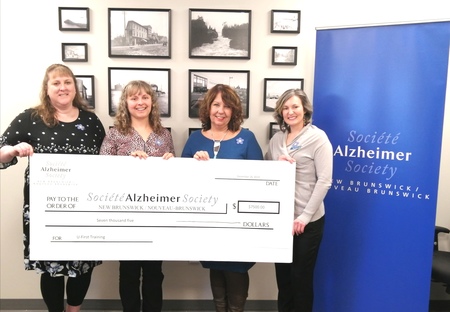 La générosité de la collectivité est un rappel tellement incroyable des choses incroyables que nous pouvons accomplir ensemble.




Nous sommes très heureux que notre organisme ait été choisi pour recevoir le cadeau annuel que l'Association des infirmières et infirmiers du Nouveau-Brunswick offre à leur collectivité au nom de leurs membres. Ce don généreux de 7 500 $ servira à former les fournisseurs de soins de première ligne.




Nous remercions sincèrement l'AIINB et leurs membres! Restez à l'écoute pour des mises à jour sur cette nouvelle initiative!

 

The generosity of the community is such an incredible reminder of the amazing things that we can accomplish together.




We were thrilled to be selected as the organization to receive the annual gift that the Nurses Association of New Brunswick provides to their community on behalf of their members. This generous donation of $7500 will be used to provide education to front line care providers.

 




We offer heartfelt appreciation to the NANB and their members! Stay tuned for more updates on this exciting new initiativ

e!



Join us for a screening of The Caregiver's Club Documentary /
Joignez-vous à nous pour la projection du film The

Caregivers Club



 

The Caregivers' Club steps inside the private lives of four families as they navigate through heartbreak with humour and frustration. It's an inspiring journey of love, loss and letting go that thousands of families will be forced to take as their family members age. Watch the trailer here.




Join us January 25th, 2020 at the Moncton Lions Centre, 473 St. George Blvd. Doors open at 12:45 p.m. and the film starts at 1:30 p.m. For more information, please contact us at 506-858-8380 or jrichard@alzheimernb.ca




Thank you to our sponsor, ProTem Health Services, for making this event possible!
---
Le film The Caregivers Club suit quatre familles alors qu'elles traversent le chagrin avec humour et frustration. C'est un voyage inspirant d'amour, de perte et de lâcher-prise que des milliers de familles seront obligées de prendre à mesure que les membres de leur famille vieilliront. Regardez la bande-annonce ici [en anglais seulement].
 
Rejoignez-nous le 25 janvier 2020 au

Moncton Lions Centre

, 473 boul. St George. Les portes s'ouvrent à 12 h 45 et le film commence à 13h30. Pour plus d'informations, veuillez nous contacter au 506-858-8380 ou au jrichard@alzheimernb.ca
 
Merci à notre commanditaire, ProTem Health Services, d'avoir rendu cet événement possible!
*Film en anglais seulement*
Save the Date /

La Marche pour l'Alzheimer IG Gestion de patrimoine
Le 31 mai 2020
L'inscription lance
bientôt
!
Bathurst -

Doaktown -

Edmundston - Fredericton
Grand Manan

-

Moncton

- Oromocto

- Tracadie

  Sackville

-

St George

-

Saint John

-
Woodstock
IG Wealth Management Walk for Alzheimer's
May 31, 2020
Don't see a Walk near you? Hosting your own event
is easier than ever with our DIY Walk in a Box!




Walk in a Box allows people who are unable to attend one of our provincially-organized Walks to manage and run their own event, on their own time, in a location that works for them! You can organize an event at work, at church, in your neighborhood, or with family and friends! Contact us at events@alzheimernb.ca to learn more.


 


Vous ne trouvez pas une Marche pres de chez vous?
Ou vous voulez organizer la votre?
C'est facile avec notre trousse Mini Marche!
La Mini Marche permet aux gens qui ne peuvent pas se rendre à une de nos Marches organisées dans la province d'organiser et de tenir leur propre Marche au moment et à l'endroit qui leur conviennent le mieux.

Vous pouvez organiser un événement au travail, à l'église, dans votre quartier, ou avec votre famille et vos amis! Contactez nous au events@alzheimernb.ca pour plus d'informations.
Nominations are Open for the Pauline Spatz Leadership Award
Les appels aux candidatures sont lancés pour
le Prix de leadership Pauline Spatz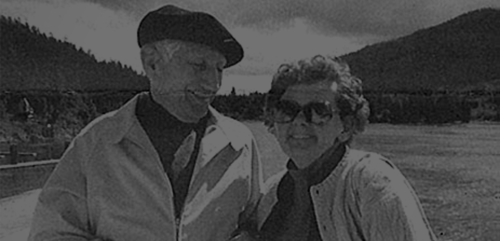 In honor of a generous and passionate woman, the ASNB enacted an award to be given to an individual, individuals or group who is making their community a better place to live.

Through this award, it is our intention to allow the memory of Pauline Spatz to live on, and for her legacy to be one that inspires others to live a life of gratitude, service and kindness. 

 




The deadline for submissions is March 31, 2019.

 

 

Click here to view the criteria for the award and for the nomination form.


 

 

Pour rendre hommage à une dame généreuse et passionnée, la SANB a créé un prix à être remis à une personne ou à un groupe qui contribue au mieux-être de la communauté.  

Avec la remise de ce prix, nous voulons garder la mémoire de Pauline Spatz vivante et que son héritage en soit un qui inspire les autres à vivre une vie de gratitude, de service et de gentillesse.




La date limite des mises en candidature est le 31 mars 2019

. 

 

Cliquez ici

pour lire les criteres de mise en cadidature et pour le formulaire.



In the New / Dans les nouvelles

 

Ken, diagnosed with young-onset dementia at 58, and his husband Mark, a retired nurse, live in B.C. and have been passionate gay rights activists all their lives. Now, they want to 'out' dementia and help reduce the stigma around the disease.

Click here to watch their story.

 

 

En ce mois de sensibilisation à l'alzheimer, la Société Alzheimer du Canada souhaitent que soit institué autour de personnes souffrant de déficit cognitif un climat de confiance et de sérénité.

Cliquez ici pour lire l'article complet

.
Thank you to everyone that has participated in Alzheimer's Awareness Month!
Merci à tout ce qui a participé dans
le mois de la sensibilisation à la maladie d'Alzheimer!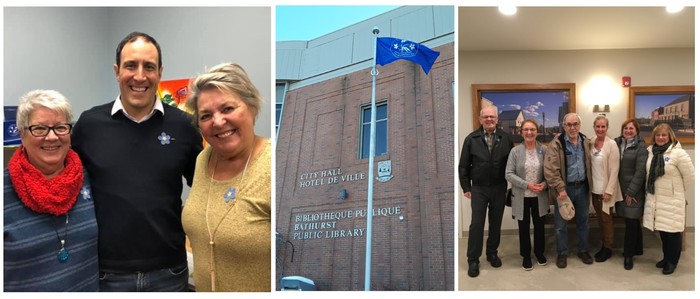 Our Mission: To alleviate the personal and social 
consequences of Alzheimer's disease and related dementias through the provision of support, education 
and advocacy, and to promote the search for a cause and a cure.
Our Vision: We see communities where no one suffers from dementia – we have taken a stand against 

the disease, defied its predicted path, and defeated its dark shadow. 
To learn more about the Alzheimer Society of NB, our programs or to volunteer contact any of 
our 6 local Resource Centres in Edmundston, Fredericton, Miramichi, Moncton, Tracadie and Saint John.
------------------------------------------------------------------------------------------------------------------------------------
La mission : d'alléger les conséquences personnelles et sociales de 

la maladie d'Alzheimer et des démences connexes en offrant des services de soutien, de formation et de 

défense des droits, et de promouvoir la recherche sur les causes et les traitements de la maladie.
Notre vision est celle d'un monde où personne ne souffrirait de démence – nous avons contrecarré la 

maladie, 

défié sa progression présagée et vaincu sa sombre menace!
Pour en apprendre davantage à propos de la Société Alzheimer du N-B et de nos programmes

ou pour faire du bénévolat, communiquez avec l'un de nos 6 centres de 

ressources 

régionaux 

situés à Edmundston, Fredericton, Miramichi, Moncton. Tracadie et Saint John.
Follow us, we're going places!
Alzheimer Society of New Brunswick, 
320 Maple Street, Suite 100
Fredericton, New Brunswick, E3A 3R4
-------------------------------------------
Société Alzheimer du Nouveau-Brunswick, 
320, rue Maple, bureau 100
Fredericton (Nouveau-Brunswick) E3A 3R4