The Protest.
By Ari Barshi
Laser decks and bottoms are built in two separate molds. Due to the nature of fiberglass and resin, finished decks and bottoms fluctuate in weight. To assure each boat leaves the factory at the correct weight, the builder matches light decks with heavy bottoms and vice versa. But is it possible that a Laser builder knowingly and intentionally matched light decks with light bottoms for a preferred customer base? Laser champ Julio Alsogaray from Argentina certainly believes so.
On July 15th 2015, during the PanAm games held in Toronto Canada Julio protested 9 of the class elite sailors for racing on Lasers for not complying with class rules.
As you can see in the Jury Decision form below 'The Protest' was denied. Julio had no proof of the legal weight of the Laser, and normal procedure and protocol were followed by the organizers to admit the boats in to the race.
Normally, boat builders are allowed some measurement tolerances. In the 1994 Olympic games in Los Angeles windsurfing provider Windglider was allowed a +/- 10% weight tolerance from the official board weight of 18Kg*. This meant that boards weighing 16.2 Kg competed against boards weighing 19.8 Kg. The boards weighing 20% less could plane in marginal conditions while the heavier ones were still bumping along. Boards at the 1994 games were allocated randomly, which still did not make it a fair playing field. It is important to mention that lighter is not always better, as a 20% heavier mast can offer a totally different stiffness.
With the growing pressure on sailors to win, looking for advantageous construction "tolerances" and even altering boats and spars is an issue that is on the mind of sailors of other Olympic classes as well.
Julio Alsogaray's protest was denied also because all the boats in question had the ISAF Plaque.
It is time for ISAF to implement, new and thorough boat and spars inspections before, and during its world cups, and world championships. These inspections should go beyond size and weight, to include stiffness, and weight distributions. In events of randomly allocated boats, re-allocation should be done daily to avoid any doubt of "controlled randomization" prior to the event. ISAF must also have a way to implement heavy fines and punishments for builders, sailors, and governing bodies that turn a blind eye or take part in the construction of custom-made gear. Measurement tolerances should be reduced to fit today's precise building technologies and market needs.
According to the Laser Class rules, the Laser is a strict one-design dinghy where the true test, when raced, is between helmspersons and not boats and equipment. ILCA must maintain the spirit of this rule, by making relevant portions of the 'construction manual' public, to remove any unfair advantage due to non-compliance with the Construction Manual.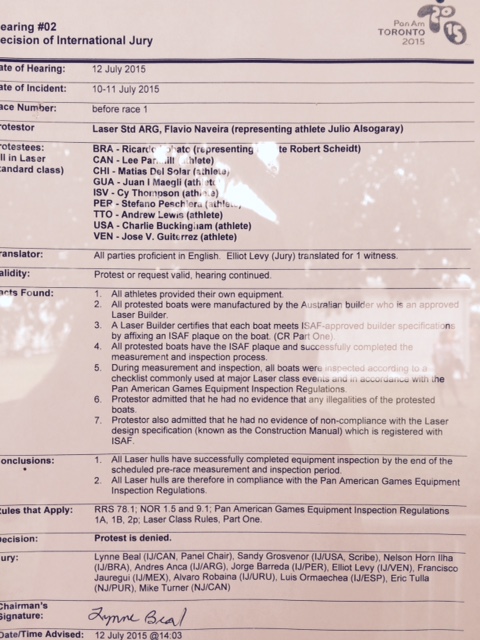 Seems that an open builder One design class, offers more transparency. * I was representing Windglider in 1994, but can not remember if the official weight was 18Kg or 20Kg.
I am sure though that although it was a one design class, due to weight differences, some boards planed much earlier than others. It is also important to note that the fact that tolerance is allowed, does not necessarily mean that measurements are at the extremes.
---
Coaches Tabernero and Silvestri, January 2016, Cabarete. (25% prebooking discount).
Coach Angelo Tabernero ESP in the pictures below is a very experienced coach, and at the same time, he is an incredible sailor who can show what speed on a Laser really means.
His coaching career spans over 15 years, and include working with the National Spanish Laser Standard youth team, and sailors who are on an Olympic Campaign. His results as a young sailor included Gold fleet placements in ISAF grade 1 events, and a recent 4th in the 2014 Mater Worlds in Hyeres in the apprentice class.
Streett Silvestri will be Angelo's assistant coach. Streett is also an ex-Laser racer, who coached the US national Opti team, and plenty of Laser clinics.
In our three week training camp will be working on boat handling for a secured start, on-time acceleration, creating and keeping a lane, windward mark approach tactics, finding the first wave while-rounding the upwind mark, reaching, and downwind transitions on Cabarete's user-friendly waves that later make any other downwind easy to master. Downwind strategy, and tactics. Speed, speed, speed. Deciding on the right angle to the wind at any given point on the upwind leg, depending on waves, coming shifts or gusts, and the relative position of other boats. Below are the planned sessions. Partial participation is possible, but priority on boat charter will be given to the longer staying sailors.
January 4th -8th, 2016
. Speed, and trim session.
January 10th -13th, 2016.
Pre-race session. Starts, acceleration, creating and keeping a lane.

January 15th-17th, 2016.
14th Caribbean Laser Midwinter Regatta.
Coaches will be busy running the regatta but at the same time on regatta days, there will be a pre-race briefing including weather forecast, daily goal setting etc. Between races coaches will approach sailors, with immediate feedback of what was observed on the race course and what needs to be improved. There will also be an after-race debrief.
January 19th-23rd, 2016
. Rounding session.
Training fees:
Laser Charter per day $90.00 includes hull, spars, blades, and dolly. What to bring?
Coaching: $120.00 Per day.
Regatta Fees:
Laser Charter per day $125.00 includes hull, spars, blades, and dolly. What to bring?
Regatta entry fee: $80.00
Pre-booking discount structure. For all paid bookings done no later than October 15th 2015, we offer the following discounts.
10-13 coaching days, 15 % off.
14-17 Coaching days 25% off.

---
The new MKII sail is legal for the 14th Caribbean Laser Midwinter Regatta.